1. New-Look Magic Yield Same Old Results
By Michael Wallace
ESPN.com
ORLANDO -- Stan Van Gundy doesn't adjust well to change.
Take, for example, his reaction to the league's new dress code for coaches. The Orlando Magic coach nearly pitched a fit at the start of this season when he thought he was required to ditch the mock turtlenecks that had become a staple of his wardrobe for more business-like collared attire underneath his suit jackets.
Turns out that was all a misunderstanding. Van Gundy's mocks were not in violation. But by the time everything got ironed out, he had already reluctantly replaced his old garb with sports polos.
If it were only that easy to adjust to the revamped outfit he's coaching these days.
In the span of three weeks, the Magic have gone from title contenders to a team in transition, thanks to a roster-overhauling trade this weekend that brought back Hedo Turkoglu and brought in Gilbert Arenas, Jason Richardson and Earl Clark.
There has been turbulence amid the turmoil, as evidenced by a disjointed display in Tuesday's 105-99 loss to the Dallas Mavericks, Orlando's eighth defeat in its past nine games. Two seasons ago, the Magic were a team teetering on a championship.
On Tuesday, they were a team tumbling toward what amounts to a midseason training camp.
"It's not even a matter of taking a couple of steps back," said Van Gundy, in what was more a therapeutic confessional than a postgame media session. "We're literally starting at square one. Nobody wants to be there 28 games into the season. But I'm telling you, realistically, that's where we are."
And that's a sobering reality. The Magic (16-12) are operating on faith that their bold moves will eventually spark a turnaround at some point this season. Meanwhile, they're trying to maintain some semblance of bigger-picture perspective until Turkoglu locates his confidence, Arenas finds his shooting stroke and Richardson develops some chemistry with his new teammates.
For now, the Magic are a team that alternates flashes of potential and flawed possessions on seemingly every other trip down the court. There was no better example of that than what played out over the final seven minutes of a very competitive game.
There was an unforced turnover by Turkoglu on a bad pass to Howard with 6:34 left in the game and the Magic trailing 87-80. Dallas capitalized with a Dirk Nowitzki jumper that pushed the lead to nine.
On the Magic's next possession, Howard lost the ball when he didn't have enough room to operate in the high post because of poor spacing between him and Richardson. But even with those miscues, Orlando was still able to rally to within 101-99 after a pair of late 3-pointers from Richardson with 24 seconds left.
So there is promise mixed in with the growing pains. But the Magic just happen to be reeling during an unforgiving stretch of the schedule. After losing Monday in Atlanta and Tuesday at home to Dallas, Orlando continues a difficult home stretch with games against Boston and San Antonio, who own the two best records in the NBA.
"We're just in a tough stretch right now, but it's December," Magic center Dwight Howard said. "It can't get any worse. One thing I tell the guys is 'Don't get frustrated with what's going on right now.' We all hate losing. But you know, we've got to learn from our mistakes and we have to stay together. We can't allow games we lose to take us off our goal and keep us from each other."
Even with all of the hardships -- which started well before the trade -- the Magic are a team that's faltering but not fracturing. They are confident it will all eventually come together.
"Even still, with the trades and acquisitions that we made, we're still a good team," point guard Jameer Nelson said. "It's going to take a little time for us, but there are no excuses."
Van Gundy wasn't ready to commit to a time frame when asked how long a turnaround might take. He just knows the job requires a lot of patience. And that's something he's normally had in short supply. Sort of like those collared shirts he wears beneath his jacket.
Now, he's loading up on both by the bulk.
"We've got a long, long way to go," Van Gundy said. "I'd like to get it going sooner rather than later. I don't want to drop too low down in the standings. But I don't know how long it's going to take. It's going to take as long as it takes. This is a whole new situation. It's a whole new team, and the last three weeks here have been not a lot of things working in our favor."


NBA Writer Michael Wallace
• On Twitter @WallaceNBA_ESPN | On ESPN.com
• Follow ESPN's NBA coverage on Twitter | On Facebook | On Google+
Dimes past: Dec. 2 | 3 | 4-5 | 6 | 7 | 8 | 9 | 10 | 11-12 | 13 | 14 | 15 | 16 | 17-19 | 20 | 21
2. Lakers Feeling Heat Before Miami Matchup
By J.A. Adande
ESPN.com

Who needs a trio of superstars to beat the Lakers when a 5-foot-5 journeyman guard is all it takes?
Before the Lakers could get to their long-anticipated showdown with the Heat they were tripped and shoved in the mud by the Milwaukee Bucks, specifically Earl Boykins. If you stacked the jerseys of the nine NBA teams Boykins has played for they'd probably stand taller than he does. Yet he used 26 of the minutes vacated by the injured Brandon Jennings to drop a game-high 22 points on the Lakers and lead the Bucks to a 98-79 victory that had boos tumbling toward the Staples Center court at the end.
Truth is, the list of Lakers issue is a lot longer than Boykins as well.
Phil Jackson said "we have to analyze our individual games and how it applies to what we're doing as a group," which sounds like they have some very fundamental problems to work out.
"Our ball movement, our execution skills," were the first two that Jackson enumerated. "Guys are doing things one-on-one in the offense instead of letting the offense work for them, making it much too hard."
How about anger management? Kobe Bryant lost his cool after he was called for charging in the fourth quarter, getting technical fouls from a pair of officials, then directing a certain two words immortalized in the Grammy-nominated Cee-Lo song toward official Bill Spooner as he left the court. Those were two more words than Bryant said to reporters, as he departed without comment. (It was Bryant's first two-technical game since March 26, 2008, versus Charlotte.
Then there's that season-long matter of defense, which Jackson first cited as an argument against this team winning 70 games and hasn't encountered any resistance lately. The Bucks made eight of their first 11 shots and shot 61 percent in the first quarter.
The defense improved in the second half, except on Boykins. He hit six of eight shots and made all four of his 3-pointers, while the Bucks' starters were a combined 7-for-20 in the half.
• Click here to read the rest from Adande at TrueHoop, ESPN.com's NBA blog.
3. Daily Dime Live Recap
ESPN.com writers and TrueHoop Network bloggers chatted with fans and gave their in-game opinions throughout Tuesday's games -- all in Daily Dime Live.
4. Arenas Still On Ice
By Elias Sports Bureau

Arenas
• Gilbert Arenas followed his 2-for-11 debut with the Orlando Magic on Monday by shooting 1-for-6 from the floor in Tuesday night's loss to Dallas. Arenas is the first NBA player to shoot less than 20 percent in each of his first two games with a team (minimum five FGA in each game) while losing both since Jacque Vaughn went 0-for-8 and 0-for-5 in his first two games for the Hawks in 2001.
• The Golden State Warriors rallied from a 14-point deficit at the end of the third quarter to win 117-109 in overtime at Sacramento. That matched the biggest end-of-third-period lead the Kings have blown in a loss since the team moved to California in 1985. The Rockets in 1987 and the Cavaliers in 2009 both came back from 14 down after three to win. All three such losses for Sacramento have come at ARCO Arena.
• Dwight Howard's 26 points and 23 rebounds weren't enough for the Magic to avoid a 105-99 home loss to the Mavericks. NBA players scoring 20 points and pulling down 20 rebounds in a game have now lost 17 of 21 games over the past nine months. But before that, the teams of the 21 previous 20-20 point/rebound performers had gone 19-2.
By Justin Verrier
ESPN.com
TUESDAY'S BEST

Boykins
Earl Boykins, Bucks: It's the little things that matter this time of the year. The 5-foot-5 Boykins, who has played in only 16 of Milwaukee's 27 games, led the Bucks to a 98-79 win over the champs in L.A. with 22 points (two more than Kobe) in just 26 minutes.
---
TUESDAY'S WORST

Sixers' defense: The Bulls shot 65 percent from the field, had 52 points in the paint, and scored 121 total points (two shy of their season high) … all without Joakim Noah and Taj Gibson. Only two months until spring training, Philly.
---
TWEET OF THE NIGHT
The Lakers just Feared the Deer Tonight…….. Great game Guys!!!! #grinding1:30 a.m. ET via Twitter for BlackBerry®
BRANDON JENNINGS

---
QUOTE OF THE NIGHT
"It can't get any worse."
-- Dwight Howard, after a 105-99 loss to the Mavs, Orlando's eighth defeat in nine games.
7.

All Coming Together For Mavs
By Jeff Caplan
ESPN Dallas.com

ORLANDO -- One for all, and to all a good night.
The Dallas Mavericks, in fact, will have five of them ahead as they get a rare and welcome holiday vacation after a satisfying Florida sweep on consecutive nights.
If Monday's 98-96 Miami Heat streak-snapper followed by Tuesday's 105-99 outlasting of the Orlando Magic wasn't enough to feel festive, listen to what Dirk Nowitzki had to say about his team after its latest collective effort took them into the break with a 23-5 record, having won 16 of their past 17.
"The best thing is the atmosphere in the locker room," Nowitzki said. "Everybody is getting along with each [other], we're having fun, we're making fun of each other all the time, we like being around each other. So yeah, it is the best group I've probably been around in my 12, 13 years."
No one said everyone has to like each other for a team to win, but it sure doesn't hurt when veteran players are being asked to make personal sacrifices. The skeptical masses want to know what makes this Mavs team different from the rest. Well, start with a real commitment to defense, and second is an undeniably genuine and refreshing brotherhood.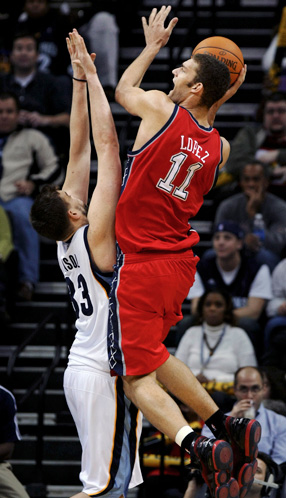 (AP Photo/Jim Weber)
Brook Lopez and the Nets soared to new heights in Memphis, earning a second straight win for the second time in 2010-11 with a 101-94 victory.
By Nick Friedell
ESPNChicago.com

Thomas
CHICAGO -- So far in his brief tenure with the Chicago Bulls, first-year head coach Tom Thibodeau hasn't cracked a lot of jokes in front of the media. It's all basketball, all the time.
After watching 38-year-old Kurt Thomas give the Bulls 12 points, eight rebounds and five blocks in a 45-point laugher over the Philadelphia 76ers on Tuesday night, even Thibodeau couldn't resist taking a light-hearted jab at the grizzled veteran.
"He has been doing it for 100 years," Thibodeau said.
Maybe not quite that long, but long enough to know that Thomas could produce when it counted. After sitting on the bench for most of the season, Thomas has been called into action after Joakim Noah's thumb surgery and has shown his team that he still has some gas left in the tank. With Taj Gibson on the bench with a concussion Tuesday night, Thomas got the starting nod and made the most of it.
"He is a smart player," Thibodeau said. "He plays great rebounding position. He's a great communicator. He helped out on defense tremendously. Offensively, he sets great screens, whether it's a pick-and-roll or catch-and-shoot play. He is often going to be open and has the ability to step back and shoot. He spreads the defense out."