1. Banged-up C's Grind Out 14th Straight Win
By Chris Forsberg
ESPNBoston.com
BOSTON -- The Boston Celtics haven't lost in more than a month, boast an NBA season-best 14-game winning streak, and easily own the best record in a loaded Eastern Conference.
If only they could enjoy it.
On a winning streak best described as "gritty," the Celtics have won nearly half their games by single digits. Gino, the "American Bandstand" dancer who gyrates his way through the final moments of lopsided home triumphs on the Garden scoreboard, has been spotted only once during the streak (Dec. 3 versus Chicago), and coach Doc Rivers spends most of his free time trying to generate possible lineup combinations for a rotating cast of available bodies.
"It's not very enjoyable because, you've got so many guys [injured], you're just trying to figure out a lineup on the floor," Rivers said after Boston scraped through an 84-80 triumph Wednesday night over a Philadelphia 76ers squad that lost by 45 points the night before.
"It is [the oddest streak] as far as I've been connected with. Usually when you're on a streak, everybody is healthy, everybody is playing well, and you're rolling. You can make the case it's the exact opposite with us."
Health? The Celtics played Wednesday without Rajon Rondo (ankle sprain), Kendrick Perkins (ACL surgery), Jermaine O'Neal (sore left knee/flu), and Delonte West (fractured right wrist). During the course of its winning streak, Boston has also been without Shaquille O'Neal (calf), Semih Erden (groin), Nate Robinson (foot) and Glen Davis (illness) for at least a portion of games.
Playing well? The Celtics shot a season-worst 38.8 percent Wednesday, going a gruesome 31-for-80 overall from the floor (this from a team that shoots a league-best 51.2 percent, with its closest competition three percentage points away). What's more, the Celtics were plagued by foul trouble and endured two technical fouls (Paul Pierce and Kevin Garnett) for yapping at officials on what Pierce later dubbed, "one of the most frustrating games in a long time."
Rolling? Sure, Boston has won 14 in a row, the longest streak in an NBA season decorated by winning patches (including 12-game streaks by the Spurs, Mavericks and Heat). So while Rivers can't always savor it, the bottom line is they don't seed the playoffs based on style points.
"We're finding ways to win, any kind of way, and that just shows the versatility of the team this year," Pierce said. "We've won games in the 100s, we've won games in the 80s, and we're finding ways to grind it out because we don't have the healthy bodies, and you don't know who's going to be in there, night in and night out. So we've got to win differently every night. That's the way it's going to be."
What Boston can savor is the fact that it's overcoming the sort of injuries it couldn't overcome a year ago, when the ailing Pierce and Garnett limped through the final four months of the season, the Celtics settled for a 27-27 record over its final 54 games, and Boston earned the fourth seed in the East. In the process, the Celtics sacrificed home-court advantage that they believe would've been the difference in the NBA Finals.
To the Celts, this current streak shows they've grown from last season and they'll enjoy the victories more when they have a full roster available.
"Living and learning, man," Garnett said. "We're not perfect. We work at this every day. We have a deeper and better team this year, a lot smarter team, a lot more experience on this team. We've paid attention to the past, and we've learned."
But where exactly do the Celtics stand entering a Christmas Day showdown against the Orlando Magic?
"I don't know," Rivers said. "Because we don't have our team, really. Record-wise, we're great. But as far as getting better and progressing as a team, as a coach, that's my concern.
"We're winning games, but we're not improving a lot because we don't have enough guys right now. Our second unit is not getting any work because the whole second unit is in street clothes, for the most part. So we're just going to keep trying to win as many games as possible through this stretch. It feels like we got a finger in a dam right now and we need some bodies to plug it up."
The scary thought for the rest of the league is wondering what Boston is capable of when it's not plugging dams.
ESPN Boston Celtics reporter Chris Forsberg is a regular contributor to the Dime.
Dimes past: Dec. 3 | 4-5 | 6 | 7 | 8 | 9 | 10 | 11-12 | 13 | 14 | 15 | 16 | 17-19 | 20 | 21 | 22
2. Lewis Joins Experiment In Washington
By Kyle Weidie
TrueHoop Network

Lewis
In his Washington Wizards debut, Rashard Lewis performed about as expected for a 31-year-old 3-point-shooting wing player who just got traded from a championship contender to a rebuilding team. In 22 minutes off the bench, Lewis scored eight points on 4-for-10 shooting (0-for-5 from 3) with three rebounds, one block, an assist, two turnovers and five fouls.
The biggest challenge for Flip Saunders is how to integrate Lewis into a team that's also just welcoming Josh Howard back into the mix after offseason knee surgery. Saunders is not only getting to teach his young team -- a lot -- but he's also getting to experiment.
Lewis was inserted at the 3-spot late in the first quarter, creating a lengthy unit with Howard, Andray Blatche and JaVale McGee, and Kirk Hinrich running the show. The lineup produced instant results for Lewis, as the new addition got his first points as a Wizard on a putback about a minute after he entered. More his style, his second basket came when he slipped a ball screen and Hinrich found him for a 17-footer in the left corner.
But putting him at the 4 to start the second quarter didn't work as well. The Bulls' Carlos Boozer went for blood, sticking a 13-foot fader from the corner on Lewis one play, and losing him among screening action in the paint for a layup soon after. Lewis picked up his second foul at the 9:42 mark of the second while giving up an offensive board to Omer Asik.
Lewis' benefits ultimately come down to his ability to knock down shots, and the perfect shooter's redemption came with 1:30 left in the game. Down 83-80 with a chance to tie, Lewis set a ball screen for Al Thornton on the left wing and then popped out behind the arc to receive the pass. Boozer was far enough away to give Lewis time to set himself before launching a shot, but Lewis missed badly to the right.
"Every time he shot it, because that's what he can do, the whole arena expected him to make it," Saunders said after the game.
That can only last for so long.
• Read more from Weidie at the TrueHoop Network Wizards blog Truth About It.
3. Daily Dime Live Recap
ESPN.com writers and TrueHoop Network bloggers chatted with fans and gave their in-game opinions throughout Wednesday's games -- all in Daily Dime Live.
4. Who's More Clutch: Kobe Or LeBron?
By Tom Haberstroh
ESPN.com

James

Bryant
To be clear, no two people will have identical opinions of when a basketball game enters the proverbial game-on-the-line territory. But if we stick to the generally accepted criteria of clutch -- thanks to the go-to crunch-time source 82games.com -- we draw the line at less than five minutes left in the fourth quarter or overtime, with the game within five points. Using those thresholds, we see some eye-catching facts: Despite Kobe Bryant's six game winners last season, LeBron James bested him in just about every statistical category down the stretch in clutch situations.
Here are the facts: James has posted a mind-boggling 47.2 player efficiency rating while averaging 48.1 points on 45 percent shooting, 10.9 rebounds and 5.6 assists per 40 minutes in the clutch over the past two seasons. Bryant? He checks in at a 37.6 PER, with an average of 44.5 points on 43 percent shooting, 4.3 rebounds and 4.3 assists. Statistically, James outperformed Bryant on the defensive end as well, averaging 1.8 blocks and 2.1 steals. Kobe, on the other hand, has averaged 1.6 steals with no blocks in crunch time.
That's just an absurd level of production from both players, but James clearly has the upper hand. (And career-wise, James has the edge as well).
• Click here to read the rest from Haberstroh at ESPN.com's Heat Index.
By Justin Verrier
ESPN.com
WEDNESDAY'S BEST

Neal
Gary Neal, Spurs: Neal, who scored 10 of his 22 points in the final 6:30 of the game, hit a 3-pointer with less than two minutes to go to give the Spurs a four-point lead. His 10-footer two possessions later effectively sealed San Antonio's second victory over the Nuggets -- this time, free of charge.
---
WEDNESDAY'S WORST

Minnesota Timberwolves: Shocking, we know. Up 12 heading into the final frame, the Wolves allowed 41 fourth-quarter points -- 27 coming from the Jefferson-Millsap-Williams troika -- in a 112-107 Jazz win punctuated by Gordon Hayward's and-1 slam on Martell Webster.
---
TWEET OF THE NIGHT
Kevin Love is putting up video game numbers..Can he become an All-Star even though his team has one if the worst records in the NBA?10:30 p.m. ET via Echofon
Jared Dudley
JaredDudley619
---
QUOTE OF THE NIGHT
"The team has clearly not lived up to either of our expectations and we both agreed that a change was necessary."
-- Bobcats owner Michael Jordan, on Larry Brown's decision to step down as head coach.
7.

Tall Order For Cavaliers
By John Hollinger
ESPN.com

ATLANTA -- Size matters in basketball, and in more subtle ways than you think. Take the Atlanta Hawks' win over the Cleveland Cavaliers on Wednesday, a perfunctory 98-84 triumph that came about almost entirely because the Hawks' wing players were several inches taller than Cleveland's.
The resulting attack wasn't necessarily exhilarating, but it was highly effective. Atlanta posted Joe Johnson on the right block … and then Marvin Williams on the left block … and then Johnson on the left block … and back to the right block … and so on.
Atlanta posted up the 6-foot-7 Johnson on Daniel Gibson (6-2) nearly every possession, and while Gibson is a capable defender in other respects (my Cleveland spies said he's the best team defender the Cavs have beside Anderson Varejao), he was no match for Johnson, physically. Cleveland's best hope would have been to put him on a medieval stretcher rack at halftime and have him come out of the locker room 6-5. Sadly, the players' union frowns on such tactics.
Here's the insidious part: Johnson himself didn't have a monstrous game, as he finished with 23 points. But with Cleveland double-teaming on nearly every catch, it set the ball whirling around the perimeter to another open Hawk, inevitably leading to an open jumper for Williams (7-of-11, 17 points) or Al Horford (8-of-13, 18 points).
At the end of the night, Johnson had seven assists and several more "hockey assists," and the Hawks slowly wore down Cleveland's resistance after a post-heavy attack produced only 17 first-quarter points for Atlanta.
"When you see what you think is an advantage, matchup wise, you've got to go to it," Hawks coach Larry Drew said. "We did a good job of being patient, accepting the double-team, and then making the pass out of the double-team and getting the ball to the open man."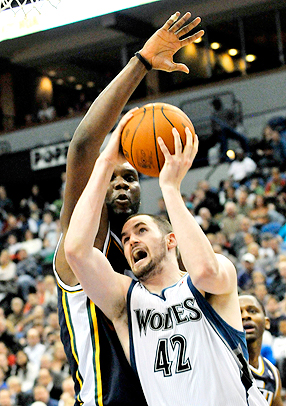 (AP Photo/Jim Mone)
Al Jefferson and the Jazz clamped down on Kevin Love and the Wolves in the fourth quarter to turn a 12-point deficit into a 112-107 Utah win.
9.

Knicks Storm Past Thunder
By Chris Sheridan
ESPN.com

NEW YORK -- Amare Stoudemire was waiting when Russell Westbrook drove down the lane after stealing a pass by Wilson Chandler, and Stoudemire's rejection was so forceful the ball would have landed in Spike Lee's seats if James Harden hadn't been standing in the way to catch it.
Harden fired up a 3-pointer that missed, and Kevin Durant came down with the offensive rebound and tried to go right back up with it, only to be deterred once again by the outstretched arm of Stoudemire.
Those were just two of the nine blocks the New York Knicks accumulated Wednesday night in a 112-98 victory over the Oklahoma City Thunder that snapped a three-game losing streak, and they brought the loudest roar of the night from a Madison Square Garden crowd unaccustomed to cheering for excellence of any kind -- but especially excellence on the defensive end.
"That was great. They noticed the hard work and our dedication to playing defense, and that sequence right there in the fourth quarter, we needed to take that step toward closing the game out," said Stoudemire, whose three blocks augmented a stat line that included 23 points, seven rebounds and four assists.