5.

One-On-One ... To Five

Hamilton
Five questions with Pistons guard Rip Hamilton:
Q: When this team struggles, how often do you and Tayshaun [Prince] and Ben [Wallace] start talking about the glory days? Or is it better to not even go there?
A: We talk about it. You can't help but talk about it sometimes when you're losing games. It's tough, man. It's very tough. You're used to being in wars, night in and night out, making a long run in the playoffs. And now the mindset's totally different.
Sometimes you talk about [the glory days] just to keep you sane. But I think the most difficult part is when you play against teams that you used to dominate for so many years. That's what hurts the most. When [those teams] beat you up, that's the worst.
Q: Does the fact you've already won a ring make the struggles any easier?
A: I think our patience is a little bit better in this situation. If we didn't ever win it and didn't know what it took to win, I think we would have gotten a lot more frustrated.
We're all used to playing 40-some minutes, night in and night out, and now you might play in the fourth quarter or you might not. But we still gotta be professional, still be leaders in a way where we don't get frustrated with time and shots and things like that. We've always been about team and we're still going to be about team.
Q: But it seems like we've been hearing stories about turmoil with this team and player relationships with the coach [John Kuester] from the minute the season started.
A: Everything is exaggerated when you don't win. In every NBA locker room, you're going to have [stories] about tension. When a team has so much success and we're winning all the time … and then when you don't win? People are just going to nitpick on each and every little thing. That comes with the territory when you don't win basketball games.
Q: There were [offseason] rumblings that you were almost traded to Charlotte for Tyson Chandler and your name comes up a lot now [in trade speculation]. How closely are you following that stuff?
A: I really don't. I really don't follow up on the rumors. There was a lot going on this summer with people talking about me and Tay, different trades. But I think, [with only] two or three years in the league, I'd have been caught up in it. Now being in my 12th season? [You] just play.
Once you get caught up in it, then that stirs up a whole new mix. I'm here [in Detroit]. I put my jersey on every day. The city has been so good to me, the organization has been so good to me, it's just like: "You know what? Play. Leave it on the line. Don't get caught up in any trade rumors."
Q: Do you think we've really seen the last of Sheed? Is [Rasheed Wallace] really retired?
A: He said he is, but you know never know with Sheed. I think he's still got a lot in his tank. But with that, who knows?
(Editor's note: This interview was conducted before a recent Detroit News story quoted a team source -- citing Hamilton's three ejections this season and a game he missed with a reported upset stomach as evidence -- as saying Hamilton had "quit" on the team. Earlier this week, Pistons president Joe Dumars responded by issuing a strongly worded statement in full support of Hamilton, amid months' worth of speculation that Hamilton's hard-to-move contract has been shopped in trades as aggressively as Dumars can try to move him while the Pistons are up for sale.)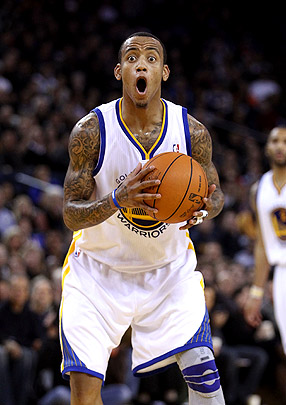 Ezra Shaw/Getty Images
With Brandon Roy out and Steph Curry's status uncertain, Monta Ellis headlines the last game of the Christmas Day marathon. (See Box 1)

Comparisons to the unbridled fear Cleveland lived with for years about LeBron James leaving -- and all that fretting proving justified in spite of all the expensive moves made by the Cavs in hopes of convincing their Ohio-reared superstar to stay -- have been plentiful since Orlando's two big trades last weekend.
The similarities are obvious. Dwight Howard can leave the Magic in free agency in the summer of 2012, just as LeBron did last summer and just like Magic draftee Shaquille O'Neal did in the summer of 1996 when he bolted Central Florida for Los Angeles. So Magic GM Otis Smith felt he could no longer wait to make changes and also felt he had to swing as hard as he could when his chance came.
Yet one source close to the process said this week that there was at least one other trigger that led to Smith's finally acquiring Gilbert Arenas, which has been anticipated in some precincts for nearly a year because of the close bond they formed when Arenas was breaking in with Golden State and Smith was breaking into team management on Chris Mullin's staff.
The Wizards and Arenas, according to the source, had at last begun to discuss a buyout that the Wiz had maintained for months was unrealistic to even consider with so much money (more than $60 million over the next three seasons after this one) still left on Gil's contract.
Had buyout terms been reached, Arenas suddenly would have become a free agent, which would have scuttled any possibility of trading for him after Smith figured for months that no other team would dare trade for him first. A buyout also surely would have widened the field of teams willing to consider gambling on Arenas after the gun incident in Washington last season which ultimately earned him a 50-game suspension, since the price would have been a lot lower.
Amid all the second-guessing of Smith's gambles, however, is another interesting debate: Wouldn't it have just been cheaper for Washington to buy out Arenas rather than absorb the two years and $44 million left on Rashard Lewis' contract after this season?
---
Some numbers of note in the East this week:
1,000:
Ben Wallace
appeared in his 1,000th regular-season game in Detroit's win Wednesday night at Toronto, making him the 95th player in history to reach that plateau … but the first to do so without a single 25-point game. (Big Ben, though, did score 29 points for the Pistons in a first-round playoff game at Philadelphia in 2005 and had a 23-point game against Toronto earlier this month.)
28: Dwight Howard is up to second among active players with 28 career 20-point, 20-rebound games. Shaquille O'Neal leads active players in that category with 34 … but began his career in 1992-93. Howard's first season was 2004-05. Since Howard's rookie season, Kevin Garnett is closest to Howard's total of 28 20-and-20 games … with eight.
8: Derrick Rose has eight 30-point games for the Bulls this season, equaling his career total coming into the season.
143: Nearly half of Amare Stoudemire's 288 baskets so far this season -- 143 to be exact -- have come inside of 5 feet.
82: Milwaukee's Brandon Jennings, who will miss four to six weeks after surgery on his fractured left foot, was the only rookie in the league last season to start all 82 games and only the sixth since 2000 to do so, joining Carmelo Anthony in 2003-04, Dwight Howard and Andre Iguodala in 2004-05 and Mario Chalmers and O.J. Mayo in 2008-09.
---
One aspect of the Magic's trade with Phoenix that hasn't been discussed much: Orlando did create a trade exception worth $6.3 million that it can use to take on additional salary in deals through Dec. 19, 2011.
Whether the Magic actually use that trade exception with such a high payroll already remains to be seen, but they did also save more than $4 million in luxury-tax payments after their two trades, dropping from $24,019,804 over the tax threshold to $19,591,145.
The Wizards, meanwhile, did have to take on a little extra money this season for the right to exile Arenas and reinforce John Wall as the new face of the franchise, going from $442,929 under the salary cap to $1.4 million over.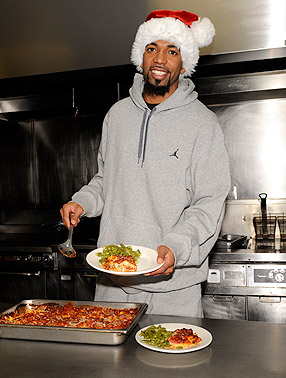 Allen Einstein/NBAE via Getty Images
'Tis the season for unrest? Reports suggest Rip Hamilton is upset with the Pistons. (See Box 5)