1. Elusive Progress Sighted In Clipperland
By Breene Murphy
ESPN TrueHoop
Christmas weekend in Staples Center saw two NBA games, but it wasn't the Lakers who won their touted matchup. It was the Clippers, the perennial losers, who won, beating the Phoenix Suns 108-103. It was the Clippers' fourth win in five games.
Some things are still the same. The Clippers' 9-22 record is as familiar to NBA fans as is a 21-9 record for their richer arena roommates. In past seasons, the wins seemed futile and random, a quick fix for an enormous problem. Now those rare wins don't feel like aberrations for the Clippers; they feel like progress.
Unlike with other lottery-bound teams, the wins aren't bittersweet, because draft position doesn't mean as much to the Clippers. The confidence gained by wins is much more important than whom they could take with their first-round pick. They finally seem to be developing what the best teams have -- and what so few bad teams have -- and that is identity.
The Clippers' identity doesn't manifest itself as any one thing. It's more than Blake Griffin's airborne theatrics and gaudy stats. It's more than Eric Gordon's scoring. Highlight plays and stats offer only the opportunity to influence and unite a team, they don't guarantee it. Fortunately for the Clips, Griffin and Gordon bend the team to shape their personalities: hardworking, tough and resilient.
In the game against the Suns, the Clippers' identity manifested as Griffin laughing with Eric Bledsoe after the crowd booed Bledsoe for not throwing Griffin a lob for a gratuitous dunk. It manifested as Griffin helping up Al-Farouq Aminu after a hard foul from Suns forward Mickael Pietrus, then subsequently having words with Pietrus, and DeAndre Jordan holding Blake back to prevent any penalty to the team. It was Ryan Gomes fighting for a rebound and getting the putback, restabilizing the team, right after Blake fouled out. It was Eric Gordon struggling through Steve Nash's screen and thieving the ball from Pietrus' hands with the game on the line and quickly sending an outlet pass to Aminu and Baron Davis, clinching the win.
Many wondered why the Clippers hadn't won more. But in hindsight it is simple. Aminu, Bledsoe, Gomes, Brian Cook, Willie Warren, Randy Foye, Jarron Collins and Ike Diogu are all in their first year with the team. With a new cast that large, and an opening schedule as tough as the Clippers had, it's no wonder that they started as poorly as they did. Starts of 1-13 and in-game taunts from the owner generally are reserved for astonishingly terrible teams, not teams on the rise. But still, the Clippers needed time to adapt to each other and learn.
Even when the Clippers appeared to hit their stride at the end of November and the beginning of December, they made classically Clipperish turnovers to lose heartbreakers to the Lakers and Memphis. But the Clips didn't get down; they kept their heads up and treated losses as necessary experiences to becoming a good team instead of insurmountable roadblocks trapping them in mediocrity. Shortly after, the Clippers won three games in a row, starting on the road.
So when they came into Sunday's Christmas hangover game against the Suns, it's no surprise that they played well right from the opening tip. The Clippers knew they couldn't let the Suns run out ahead, similar to what happened in the game after Thanksgiving. Griffin and Gordon combined for 23 points in the first quarter. When the Grant Hill and Marcin Gortat combo repeatedly bullied and pushed Griffin down, the Clippers held their ground. When Griffin fouled out with the game on the line, the Clippers didn't let his absence affect their play. They just kept building. Fighting. And with their identity based on Griffin's and Bledsoe's personalities, it might not be too long before they are consistently winning.
•For more from Breene Murphy, check out clipperblog.com
Dimes past: Dec. 11-12 | 13 | 14 | 15 | 16 | 17-19 | 20 | 21 | 22 | 23 | 24 | 25-26
2. Heat Happy To Be On This D-List
By Kevin Arnovitz
ESPN.com

LOS ANGELES -- There's a particularly telling sequence early in the fourth quarter of Miami's 96-80 win over the Lakers on Saturday. Heat coach Erik Spoelstra stands arms akimbo on the sideline, frustrated by an ugly Miami defensive possession. His gritty Heat team has put on a defensive clinic for most of the afternoon, an effort that's forced the Lakers to break off from their triangle offense in the second half. But Spoelstra has just witnessed a glitch.
The Lakers have run a basic ball screen for Kobe Bryant out on the left wing with Andrew Bynum as the pick man. The Heat trap Bryant off that screen, and as he turns the corner, he sees a wide, wide-open Steve Blake in the short right corner. Mario Chalmers had watched Blake clear to the far side, but the Heat's point guard had hung back to roam in the paint. Bryant slings a jump pass to Blake. James Jones, who has been monitoring Shannon Brown up top, tries to erase Chalmers' carelessness with a last-ditch closeout. James arrives at Blake about the same time that Chalmers scampers back. This, of course, leaves Brown wide-open. Blake moves the ball over to Brown, who drains a 3-pointer to bring the Lakers to within single digits with 10:32 to play.
It's a testimony to the Heat's defense that the mere appearance of a wide-open shooter in the weakside corner is like seeing a red panda on the court. Spoelstra stares down his point guard, then conferences with Heat assistant coach Ron Rothstein on the sideline, presumably to diagnose the breakdown. Meanwhile, Chalmers makes amends on the other end, attacking off a screen into open space to launch a successful, uncontested jumper.
As the Heat trot down the court for the next defensive possession, Spoelstra yells something from the sideline.
"Trust each other!"
Over the next 11 defensive possessions, that's exactly what Miami does.
• Click here to read the rest from Arnovitz at ESPN.com's Heat Index.
3. Without Noah, Bulls Still Finding A Way
By Nick Friedell
ESPN Chicago.com

Boozer
AUBURN HILLS, Mich. -- The relief was palpable in the Bulls' locker room after Sunday night's 95-92 overtime victory over the Detroit Pistons.
Derrick Rose joked with his teammates as he rubbed lotion over his beaten-up hands. Brian Scalabrine chided Bulls head coach Tom Thibodeau as the happy coach rolled his luggage out of the locker room. Carlos Boozer sat in front of his locker, wrapped in ice, trying to wrap his mind around the past few games.
"We'll take the win any way we can," Boozer said. "It was ugly tonight, but sometimes on the road you're going to win ugly and we did."
That is a common refrain heard from Boozer and his teammates the past few days. For the third game in a row, the team's offense stalled down the stretch. The Bulls couldn't find a basket when they needed one late in regulation, allowing the Pistons to force an overtime that almost cost the Bulls the game. For the second time in three games though, the Bulls managed to scrape out a win against a weaker opponent.
This is the new normal if you're Tom Thibodeau.
In the span of this three-game road trip, the Bulls have shown what their future holds for the next eight to 10 weeks without Joakim Noah. Against lesser opponents, Rose and Boozer will lead the way, as they did once again Sunday night, combining for 54 points, 23 rebounds and 11 assists. The Bulls will play solid defense and try to manhandle teams on the boards. (The Bulls outrebounded the Pistons 55-39.) And they'll probably have just enough to win, especially if they get a boost from a bench player. On Sunday night, that role was played by Taj Gibson, who chipped in with 5 points and 9 rebounds in 30 minutes.
4. Daily Dime Live Recap
ESPN.com writers and TrueHoop Network bloggers chatted with fans and gave their in-game opinions throughout the Christmas Day marathon -- all in Daily Dime Live.
SUNDAY'S BEST

Gay
Rudy Gay, Grizzlies: This is how you fill a stat sheet en route to a 104-90 win in Indy: Net 30 points, make all your 3-point shots and free throws, and toss in 8 boards, 5 steals and 5 dimes.
---
SUNDAY'S WORST

Wacky Wizards: With Andray Blatche and JaVale McGee serving a one-game team suspension, the Wiz managed 80 points in a loss to San Antonio. The Wiz haven't won in SA this millennium.
---
TWEET OF THE NIGHT
I wanna apologize to the fans and the wizards organization for the immature acts that I was involved in.2 p.m. Sunday via Twitterrific
JaVale McGee
bigdaddywookie
---
QUOTE OF THE NIGHT
"This one stings a little bit more, probably than any one all season. We were almost scared to win the game."
-- Cavaliers coach Byron Scott, reflecting on losing at home to the Wolves
7.

Mavs Keep Eye On Spurs
By Jeff Caplan
ESPN Dallas.com

DALLAS -- Most players will tell you they don't scoreboard watch, and especially so this early in the season. Jason Terry is not one of those players.
"Oh no question," Terry said. "The only scores I'm focused on is San Antonio and they finally lost the other night. I'm definitely looking at all the teams in the West, but the only team we're trying to catch is them, so I'm always watching."
Remarkably, despite having won 16 of 17 and starting the season with 23 wins in 28 games, the Dallas Mavericks still find themselves looking up at those San Antonio Spurs (26-4).
"They're having a phenomenal year and there's about three or four teams having a good year to this point," Terry said. "But, the key is, can you maintain it? Can you continue to stay focused, and can you get better? A couple of those teams are going to peak out. I'm going to tell you right now it's not going to be the Mavericks."
The Mavs will try to stay on a roll Monday night as they get back to work after a rare five-day break from games with a tough assignment against Kevin Durant and the Oklahoma City Thunder (21-10). And they'll have to do it with coach Rick Carlisle watching on TV back home recovering from minor arthroscopic knee surgery. Assistant coach Dwane Casey will call the shots.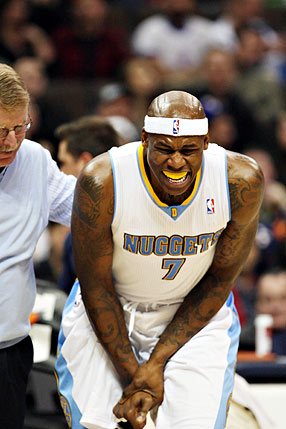 (Andrew Carpenean-US PRESSWIRE)
Nuggets forward Al Harrington grimaces in pain
after injuring his hand
against the Philadelphia 76ers at the Pepsi Center.
9.

Parker Participation Rising

Parker
Tony Parker scored 20 points, shooting 8-for-15 from the field, and added 14 assists in the Spurs' 94-80 win over the Wizards. It was the fourth time in 30 games this season that Parker either scored or assisted on at least half of San Antonio's field goals. He had only one such game last season.