1. Despite Star Struggles, Spurs Dominate Lakers
By John Hollinger
ESPN.com
SAN ANTONIO, Texas -- Once upon a time, the formula for beating the San Antonio Spurs was simple: Shut down two of their three stars and their limited role players couldn't score enough to make up for it.
Not any more.
The Los Angeles Lakers erased two San Antonio stars -- an under-the-weather Manu Ginobili labored to just nine points and Tim Duncan mustered a mere two, along with only four rebounds and nary a blocked shot -- but that didn't stop the Spurs from crushing the Lakers 97-82 on Tuesday in a potential Western Conference finals preview.
"We went 4-for-20 between Tim and me. First half, two points between us," Ginobili said. "We were sticking around, [down two at the half], so we knew [we] had a big shot at winning it. Defensively, we were there, and Tony [Parker] was great."
Here's how bad it was: Duncan's 29 minutes were the most he's played in his career while making no more than one field goal, while Ginobili hadn't taken at least 12 shots and made a quarter or less of them in more than two seasons.
Yet San Antonio not only beat the Lakers, it crushed them. (If this is what the conference finals will look like, they might be over quickly.) With Duncan and Ginobili struggling, the Spurs used this game to showcase their multitude of secondary weapons, most notably power forward DeJuan Blair.
In a game that featured surefire Hall of Fame frontcourt players in Duncan and Pau Gasol and stars like Andrew Bynum and Lamar Odom, it was the 6-foot-7 Blair who dominated the paint at both ends. The second-year forward finished with 17 points, 15 rebounds and two deft poke-check steals on Lakers guards, and dominated a stretch at the start of the third quarter to open up a working margin the Spurs would never relinquish.
But the hits kept on coming. Parker's 23 points again magnified the difficulty L.A. has with fast point guards, while Richard Jefferson continued his solid season with 15 points and seven boards, even though -- as one rival assistant coach noted to me -- the Spurs hardly ever run any plays for him. (By my count they ran one Tuesday, a beautifully executed alley-oop.)
Gary Neal again ably filled his role as a designated shooter off the bench, hoisting nine 3-point attempts in 17 minutes and keeping the defense honest with three makes. Matt Bonner spread the floor when Blair wasn't in the game and nailed two more 3s in three tries, raising his season mark to 51.6 percent.
But most of all, there was the defense. Oh, was there defense.
That's where George Hill comes in. For as much as Gregg Popovich has lamented his team's merely solid defense -- they've rolled to a league-best 27-4 start mostly on the back of a prodigious offensive effort -- the Spurs executed their game plan to perfection, and Hill was a huge part of it.
The plan: Bait the Lakers guards into shooting and ignoring their size advantage in the paint, and force Kobe Bryant into tough jump shots. Even after Bryant made four of his first five shots, the Spurs kept after it. And with Hill and Ginobili pestering Bryant, he went on to miss his next 13 shots, commit five turnovers and generally shoot L.A. out of the game while Gasol and Bynum sat waiting fruitlessly in the post.
"When the game started, I thought it was going to be a long night," Ginobili said. "He made the first four and they were pretty tough shots, but then I could bother him a little more on the catch. [But guarding] Kobe is not one-on-one defense, ever. You need the team to be there contesting and crowding the paint, so we did a great job in that regard."
Gasol took two shots after halftime and didn't add to his total of nine; Bynum had 10 points but was often being guarded by Bonner and Blair and wasn't exploited nearly enough. Meanwhile, Shannon Brown, Odom and Ron Artest combined for 29 hoists. They made eight of them.
"I don't think we played the smartest game, let's put it that way," Gasol said.
Hill went toe-to-toe with Bryant after a confrontation late in the first quarter that led to technical fouls on both, setting the tone for a spirited evening throughout. (As much as the players and coaches talked beforehand about this being one game out of 82, the concept seemed laughable once the ball went up; this one ended up being of the hardest-fought regular-season games you'll see.)
It's no accident that San Antonio's uncharacteristically permissive defense of late has coincided with Hill's absence as a result of a sprained ankle. With him out, the Spurs allowed four straight opponents to hit the century mark, culminating in the 123 they permitted Orlando on Thursday. For the season, San Antonio gives up 4.6 points per 100 possessions fewer with Hill on the floor.
"He's our best defender," Ginobili said. "He's the one that's always going to chase the opponent's top scorer. He did great today, showing his hands without fouling, contesting every shot, getting to loose balls, he always there on the help. He was unbelievable."
What stood out this most about this game, though, was the depth and breadth of the contributions up and down the San Antonio roster. The Spurs' two biggest stars had two of their worst games of the season (in Duncan's case, arguably the worst of his entire career), and they still had enough help to smoke the two-time defending champions.
That goes a long way toward explaining how the Spurs are 27-4 … and how, with San Antonio now a comfy six games ahead of the reeling Lakers, the title of "Western Conference favorite" might have just changed hands.


ESPN Insider John Hollinger
• Twitter @johnhollinger | ESPN.com | TrueHoop | Email | Stats
• Follow ESPN's NBA coverage on Twitter | On Facebook | On Google+
Dimes past: Dec. 14 | 15 | 16 | 17-19 | 20 | 21 | 22 | 23 | 24 | 25-26 | 27 | 28
2. Heat-Knicks 'Rivalry' A One-Sided Affair
By Michael Wallace
ESPN.com

MIAMI -- Dwyane Wade proved yet again why he wants no part of a renewed rivalry with the New York Knicks.
"No," Wade said defiantly when asked if he would like to see the Heat-Knicks series return to the drama-filled, knockdown, drag-out style of basketball that defined their matchups a decade ago. "You'd lose too much money [in fines]. Can't do that."
Instead, Wade continued to do his part Tuesday night to make sure the series remains as one-sided as possible in the Miami Heat's favor. With Spike Lee sitting courtside, a sold-out AmericanAirlines Arena as his backdrop and a feisty Knicks team that just wouldn't go away, Wade had all the elements he needed to set the stage for another show-stopping performance against one of his favorite nemeses.
In carving up the Knicks for a season-high 40 points, including 15 in the fourth quarter, Wade led the Heat to a 106-98 victory that ran their winning streak against New York to seven. In mixing up all facets of his game, Wade was 13-of-28 from the field, 13-of-16 from the free throw line and had nine rebounds, two assists, two steals and a block in 38 minutes.
Rivalry? What rivalry?
3. Daily Dime Live Recap
TrueHoop Network bloggers chatted with fans and gave their in-game opinions throughout Tuesday's games -- all in Daily Dime Live.
4. Bulls' Uneven Keel
By Nick Friedell
ESPNChicago.com

CHICAGO -- As is so often the case these days with the Chicago Bulls, there is both good news and bad news stemming from their latest 90-77 win over the Milwaukee Bucks.
The good news first:
After stalling down the stretch in their previous three games, the Bulls finally appeared to show life in the waning moments of the game. Leading by just three with 9:04 left in regulation, the offense went on the type of run it has been searching for the past week. Led by Carlos Boozer, the Bulls rattled off a 19-9 run to shut down the Bucks and close out the game. More importantly, the Bulls shut down the Bucks' offense for almost four minutes and didn't give them a chance to crawl back into the game, as they had in recent road games against the Wizards, Pistons and Knicks.
What was the difference late offensively?
"We did a lot of pick-and-roll from the elbow," Bulls point guard Derrick Rose said. "Where [Milwaukee's] big men, they have to decide whether to step up against me, or I'll give it to Carlos and he was hitting the shot tonight."
By Justin Verrier
ESPN.com
TUESDAY'S BEST

Wade
Dwyane Wade, Heat: Wade gave Spike Lee a show worthy of bright lights, pouring in a season-high 40 points, sealing a 106-98 win over the Knicks with a late dribble-dive and playing some Chuck-approved d-e-f-e-n-s-e.
---
TUESDAY'S WORST

Dallas Mavericks: Even with Dirk Nowitzki sidelined, it's hard to defend an eight-point loss to the 11-win Toronto Raptors. Toronto -- playing without Jose Calderon, Andrea Bargnani, Reggie Evans, Peja Stojakovic and Sonny Weems -- controlled the paint and held the Mavs to 76 points, tying a season low.
---
TWEET OF THE NIGHT
Concern for the Lakers isn't if they will play better (they will at some point) but when they do how low will they be playoff seeding-wise.11 p.m. ET via web
Arash Markazi
ArashMarkazi
---
QUOTE OF THE NIGHT
"If I was playing, I probably wouldn't pass him the ball the next time."
-- Lakers coach Phil Jackson, on Kobe Bryant's 13 consecutive misses.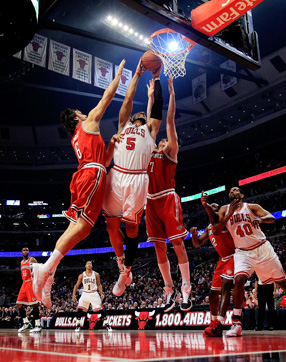 (Jonathan Daniel/Getty Images)
Powered by matching 24-point performances from Carlos Boozer (above) and Luol Deng, the Bulls bagged the Bucks at the United Center.
7.

Orlando Eyeing Camby Trade?
By Chris Broussard
ESPN.com

Camby
One name you're likely to hear on the trade market is that of Portland Trail Blazers center Marcus Camby. In fact, last week a rumor surfaced about Camby and teammate Andre Miller going to the Charlotte Bobcats for D.J. Augustin and Gerald Wallace.
Camby wasn't happy about the rumor and would not take kindly to being traded to Charlotte or any other noncontending team, according to a person close to him. The 36-year-old Camby would even consider retirement if he were traded to a mediocre or rebuilding team, the source said.
"If he was traded to Charlotte, he would think about retiring," the source said. "He's made plenty of money. He'd rather play, but he's at the point in his career where he doesn't want to get bounced around from team to team. If he's traded, it would have to be to a contender."
Even going to an elite team does not appeal much to Camby, who is in his 15th season. His ultimate desire is to remain in Portland. After signing a two-year, $21 million extension with the Blazers in the spring, Camby moved his family to Portland and has his two young daughters enrolled in school there. One place Camby wouldn't mind going is Houston, where he lives in the offseason.
With productive big men at a premium, several clubs are interested in Camby's services. He's still averaging 11 rebounds and 1.8 blocks a game, which would provide a huge boost to any contender. While acquiring Camby is probably a long shot, Orlando is one team I'm told has interest.
9.

What's Their Motivation?
By Tim MacMahon
ESPNDallas.com

DALLAS -- It goes down as a victory for the Toronto Raptors, but credit human nature for the assist.
The Mavericks were coming off an emotional win Monday in Oklahoma City and were well aware that the Interstate 35 rival San Antonio Spurs will arrive at the American Airlines Center for a much-anticipated Western Conference showdown Thursday night. Oh yeah, and the 10-20 Raptors came to town Tuesday night.
Make that the 11-20 Raptors, who didn't trail for the final 47 minutes while handing the sleepwalking Mavs only their sixth loss of the season, 84-76.
"These are the most dangerous teams," said Shawn Marion, who had 12 points and five rebounds while filling in for Dirk Nowitzki at power forward. "They come in and they're not doing good and have one of the worst records in the league. These are the teams that are the hardest to get up for. It's that much harder when you go up there and miss a few shots and they hit a few shots. It's an uphill climb for the rest of the game."