1. Dwyane Wade's Revenge Tune: A Classic 45
By Brian Windhorst
ESPN.com
HOUSTON -- With his knees wrapped in ice and a blood-soaked patch on his lip, Dwyane Wade shuffled down the hallway inside Toyota Center toward the Houston Rockets' locker room to get stitches.
"I [blanking] hate playing in Houston," Wade said to Rockets trainer Keith Jones, forcing a smile through the swelling upper lip.
At least this time Wade didn't need to leave in a wheelchair. In 2007, Wade suffered a season-ending shoulder injury, the primary reason he's less than fond of the building. Instead, Wednesday's incident turned the adrenaline from an injury into an anger-filled burst that continued the Heat's remarkable road winning streak.
Wade became the first player since Kobe Bryant in 2007 to score 40 points on back-to-back nights by leading the Miami Heat to a 125-119 victory over the Rockets. He finished with a season-high 45 after putting up 40 on the New York Knicks on Tuesday night in Miami.
The Heat finished off December with a 10-0 record away from home and 15-1 overall, the first team in league history ever to go 10-0 on the road in a calendar month.
Fifteen of Wade's points came in the last 10 minutes when he played with an unmistakable edge after Rockets guard Aaron Brooks ripped open his lip when he fouled Wade from behind on a breakaway dunk attempt.
Wade was face down on the court, blood dripping on the floor for a couple minutes. After a few more minutes to stop the bleeding, the officials ruled Brooks had committed a flagrant foul. It was a bit of a controversial call from the Rockets' point of view because it came so late, because there was no video review and because it proved to be a significant turning point.
The Rockets and the crowd's perspective was that Wade's blood forced the officials to upgrade the foul after it was initially whistled a standard foul on the floor.
However, Brooks appeared as though he'd swung his arm at Wade's head and blindsided him, entirely missing the ball in the process. Had there been no flagrant, the Heat would've likely been the ones fired up.
"I wasn't trying to hurt him," Brooks said. "It was a bad attempt at the ball but it was definitely intended for the ball."
It was a two-point game when the foul was committed, and Wade made it costly. He made both free throws and then, after getting the ball right back after the flagrant, Wade drove and scored for what turned into a 3-point play. It was a 5-point Wade possession that catapulted the Heat to a lead they'd never give up.
"Certain fouls are hard and certain fouls are a little too much," Wade said. "At the end of the day, you've got to know the player. Aaron is a good guy, he's not a dirty player."
After the game, lead official Dick Bavetta issued a statement to explain the call. He said that the delay in making the ruling was to see if the Heat wanted to call a timeout. Then he said there was no video review because it wasn't a flagrant-2, which by league rules requires a review. Bavetta also said all three officials felt it was a flagrant foul.
For the sake of record-keeping and transparency, the veteran official's explanation was appreciated. But in reality, it really wasn't needed. By the time Bavetta was explaining himself, Wade had long since issued his own formal reply.
As has been the case so often in his career -- and even earlier this month in New York -- a hard foul on Wade led to a flurry of scoring. He channeled his reaction by aiming at his opponent. He was helped by the fact that the defensively challenged Rockets didn't have anyone who could contain him as he attacked time and time again.
"I was in a zone, I was very angry, I wasn't looking at anybody," Wade said. "My teammates know me, they know at times like that I focus a little better. So I decided to get a little aggressive at that moment."
Wade finished the game 17-of-24 from the field, with most of his baskets coming in the paint, where the Heat converted 23 of their 28 attempts and shot 58 percent overall.
"We don't take for granted his talent and his gift and his competitive nature; he's one of the ultimate competitors in this league," Heat coach Erik Spoelstra said.
"You don't see it much in professional sports," Spoelstra added. "The majority of athletes, when they get angry, they lose their focus, their composure and their poise. He's one of the very few that the exact opposite happens. He was angry after that hit, he was bleeding. You could see after that point an absolute laser-like focus."
LeBron James scored 20 points and had nine assists, while Chris Bosh added 21 points. But in the tight fourth quarter it was all about Wade, his teammates sensing how the hit was driving him.
"I already knew what goes on when he sees blood," James said. "I knew exactly what was about to happen, he was going into attack mode."
It was a quality win for the Heat. Houston was on a five-game win streak and had won its last eight at home. The Rockets played the game at their pace, racking up 23 fast-break points and scoring 28 points off turnovers to become the first team in December to crack 100 points on Miami.
But the game still went the visitor's way, mostly because of Wade. That earned him the Heat's own brand of appreciation afterward.
With the locker room nearly empty, Wade was the last player into the shower after being delayed by the stitches procedure and talking to the media.
"C'mon man, hurry up," James barked. "We're trying to get out of here."


NBA Writer Brian Windhorst
• On Twitter @WindhorstESPN | On ESPN.com
• Follow ESPN's NBA coverage on Twitter | On Facebook | On Google+
Dimes past: Dec. 14 | 15 | 16 | 17-19 | 20 | 21 | 22 | 23 | 24 | 25-26 | 27 | 28 | 29
2. Lakers End Skid With Sizeable Effort
By Dave McMenamin
ESPN Los Angeles.com

NEW ORLEANS -- Basketball highlights are often littered with dunks and stuffs, but basketball games are rarely defined by slams and jams.
Yet the Los Angeles Lakers' 103-88 slump-busting win Wednesday in New Orleans was defined by three dunks by two players who swapped places in the starting lineup.
With the team reeling from three consecutive losses by a total of 50 points after their first seven losses of the season were only by a combined 36, the six points on two dunks from Andrew Bynum and one from Lamar Odom signified the change of the day.
Perhaps too it was a change in the season that the Lakers had been sleepwalking through for too long.
A first-quarter stuff and a third-quarter alley-oop, both off passes from Kobe Bryant, was proof that Bynum has his bounce back. It's his athleticism as much as his size (7-foot, 285 pounds) that make him one of the bright young big men in the game.
For Bynum, who finished with season highs in points (18 on 8-for-12 shooting) and minutes (30), the dunks simply meant a sign of health.
The 23-year-old center had been tethered to the bench for the first six weeks of the season as he rehabbed his surgically repaired right knee. In his first seven games since returning to the lineup as a reserve, he averaged 7.3 points and 5.0 rebounds, while never playing more than 22 minutes.
"What told me something about [his improvement] was his ability to dunk the ball," Lakers coach Phil Jackson said. "He missed one, but he has not been finishing strong at the basket. Getting that pop and getting up and dunking the ball. It looked like he was ready to do it.
"A healthy Andrew Bynum is a major factor in the ballgame. His size is overwhelming in a lot of concerns."
For Odom, whose 24 points (on 10-for-15 shooting) were the most points he's ever scored coming off the bench, one amazing play stood out as a sign of joy -- his loop-around-the-back, finger-roll-off-the-glass, put-back slam midway through the fourth quarter.
3. Daily Dime Live Recap
Zach Harper and the TrueHoop Network bloggers chatted with fans and gave their in-game opinions throughout Wednesday's games -- all in Daily Dime Live.
WEDNESDAY'S BEST

Wade
Dwyane Wade, Heat: Earning this honor for a second straight night, D-Wade bled for his Heat, dropping in 45 points on 17-for-24 shooting, along with hitting all 10 of his free throws in Miami's 125-119 road victory over the Rockets.
---
WEDNESDAY'S WORST

Celtics without KG: When Kevin Garnett went down, visions of 2009 danced in Boston fans' heads. Even with Rajon Rondo's rise, and improved complementary pieces, can this team win without KG? The season-high 21 turnovers in a 104-92 loss to Detroit weren't a good sign.
---
TWEET OF THE NIGHT
After 40 and 45-point outbursts in consecutive games, is 50 out of the ? for D-Wade on Saturday? Not with Golden State on deck.10:30 p.m. via Twitter for BlackBerry®
Michael Wallace
WallaceHeatNBA
---
QUOTE OF THE NIGHT
"We don't think this one is too bad, but we'll see. He'll probably miss some time, and we'll have to adjust."
-- Celtics coach Doc Rivers, on Kevin Garnett's lower leg injury.
5.

Carter's Phoenix Debut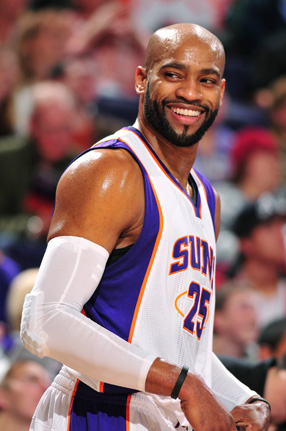 ( Barry Gossage/NBAE via Getty Images)
Vince Carter, perhaps the least-liked player in Canada, joined that nation's favorite native son, Steve Nash, on the court. Carter had 18 points in a 123-110 loss to the Sixers.
6.

Wishing Away The Unthinkable
By Peter May
Special to ESPN Boston

Garnett
This was the ONLY reaction coming out of the disappointing, dispiriting result in Michigan: A loss? It happens. A serious injury to Kevin Garnett? It cannot happen, not if the Celtics are to have any realistic chance of bringing an 18th NBA title to Boston this season.
We still don't know the extent of Garnett's injury. X-rays were negative and it appears to be muscular in nature. But two things immediately jump out, and neither is good for Celtics Nation.
First, the injury was to the right leg -- the same leg Garnett hurt in the 2008-09 season, which eventually required surgery. The Celtics said Wednesday's injury was a lower leg injury, which may not technically mean the knee; for KG's sake, let's hope that is the case. The other more unnerving thing about the incident was that there was no contact. Garnett did it to himself. Just like he did in Utah a couple of years ago.
There was no landing awkwardly on another player's foot. There was no shoving or pushing. KG went up unmolested for a dunk and appeared to hurt the knee on the takeoff. No one was near him. That is not a good sign. And, let's not forget, there are a lot of miles on the Garnett body, so any injury is cause for concern.
We may know in the next day or two whether this injury is short-term. The Celtics cannot be serious championship contenders without Garnett. He anchors their defense. He holds others accountable. And when the Celtics are at their best, they are playing stifling, smothering defense.
"When Kevin is not on the floor, it doesn't just affect his man -- it affects our entire defense,'' coach Doc Rivers said.

Wall
John Wall handed out 12 assists in 35 minutes off the bench as the Washington Wizards turned back the Indiana Pacers. Wall joined Jose Juan Barea and Jordan Farmar as the only NBA players to register at least a dozen assists in a game as a non-starter this season. Wall was the first Washington player to accomplish that since John Williams had a triple-double as a substitute on Jan. 6, 1989 (11 points, 10 rebounds and 13 assists).
The B.S. Report: 12/29
Bill Simmons and J.A. Adande discuss whether it's time to panic about the Lakers, the emergence of Blake Griffin and more from the NBA.