1. Spurs-Mavs Entertaining If Not Enlightening
By Marc Stein
ESPN.com
DALLAS -- You can put Dirk Nowitzki in a suit, stuff Manu Ginobili's sinuses with a mystery ailment that saps all the volume out of his voice and stumble onto a bizarre fourth quarter in which the home team gets as much from Alexis Ajinca as resident closer Jason Terry.
And you know what?
You'd still be reasonably entertained.
With these two teams?
You can't help but get sucked in by the San Antonio Spurs and Dallas Mavericks, heading into crunch time for the umpteenth time, no matter who or what was missing from the traditional mix that has delivered tight games for ages.
"I understand it more now that it's my second year here," San Antonio's Richard Jefferson said after the Spurs secured Thursday night's 99-93 escape on the Dirk-less Mavs' home floor.
"The more you're around the more you understand that these teams really don't like each other. But it's more like respect than dislike because of all the battles over the years."
The reality, though, is that the zillionth battle these teams have generated in the 2000s could only be so captivating without Dirk Nowitzki. You were eventually going to remember that a game that should have shoved the NBA's most underappreciated rivalry back into the national conversation, where it belongs, lost its broad appeal when Nowitzki tweaked his knee Monday night in Oklahoma City.
Spurs coach Gregg Popovich summed it up as only he can when someone finally convinced him that Nowitzki was not going to risk playing on that sprained right knee.
"That's why," Pop said, "tonight sucks big time."
Suspicious as that might sound -- since avenging a loss at home to Dallas on Nov. 26 sure doesn't sound like a bad thing and given Pop's own history of being extra cautious with injuries -- there was some logic embedded in the claim.
With Nowitzki active, this would have been a certifiable Texas steel-cager for the two teams that A) arrived for work holding the top two records in the league and B) have given the Lakers something to think about in a deeper-than-expected West. This would have been a game, played out in the glare of a TNT Thursday, to put the Spurs' progress playing at a faster pace and with more of an offensive bent, as well as the Mavs' growing emphasis on D, up for discussion and dissection.
Yet as soon as Nowitzki was ruled out, after tests in the morning determined that even Saturday's game in Milwaukee is a maybe, there would be no need to bust out the measuring stick.
"Because Dirk's not there," Popovich explained. "You win ... fine. You lose, you feel like s---.
"It's like a win-win [for Dallas]. If we win, in a way, we won't give a crap. If you think about it, what exactly does [this win] mean? If you lose, you really feel like crap because they don't have all their guys.
"It's a lousy situation. I hate it."
The evening's only solace, especially for the neutrals in the live or TV audience, was that the aesthetics didn't suck.
San Antonio's Gary Neal continued his Cinderella rise from European obscurity by splashing home five 3-pointers and finishing with 21 points in just less than 22 minutes off the bench. Ginobili played through nasty congestion that legitimately rendered him unable to speak -- "It's not quite laryngitis," Pop said, "but it's something" -- to throw in four 3s of his own. Matt Bonner managed to throw down a rare putback dunk. And that Tim Duncan fellow, coming off a whopping seven points combined in his previous two games, scored on three straight possessions during a crucial stretch in the third quarter after the makeshift Mavs had drawn within one point of the 28-4 Spurs.
The hosts had their moments, too. Ajinca got the minutes that usually go to $55 million backup center Brendan Haywood and responded with a sequence early in the fourth quarter that lifted every one of his teammates -- including Nowitzki -- off the bench, rejecting Bonner's drive at one end and floating in a hook shot of sorts at the other. Jason Kidd rumbled for his 106th career triple-double (12 points, 13 assists and 10 rebounds) but trumped all those numbers when he chased down the fastbreaking Tony Parker in the first quarter for a flying, LeBron-style swat that, after a scramble, led to a 3-pointer from Nowitzki stand-in Brian Cardinal. Caron Butler, meanwhile, delivered his first 30-point game in the regular season as a Mav.
The Mavs (24-7) might even have been the successful escapees, after falling behind by 16 points in the first half and getting absolutely pounded on the boards (50-35), if not for Terry's woes.
A string of big fourth quarters this season has spawned Terry's new practice of raising four fingers to the sky before every final period starts, but he was 1-for-14 from the floor before finally getting two 3s to drop in the final minute. Dallas, as a result, ultimately couldn't do more than keep it close in the fourth.
"With Dirk out," Mavs coach Rick Carlisle said, "our margin for error is extremely slim."
With Dirk out, sadly, America lost out on a potential Game of the Season contender before they even threw the ball up.
"We don't take too much out of the win," Popovich said. "A lot of things I think we did pretty sloppily. We're thrilled to get a win on the road -- anybody would be -- but we didn't show very much. We didn't improve as a team, that's for sure."


ESPN.com senior writer Marc Stein
• On Twitter @ESPNSteinLine | On TrueHoop | On ESPN.com | On email
• Follow ESPN's NBA coverage on Twitter | On Facebook | On Google+
Dimes past: Dec. 14 | 15 | 16 | 17-19 | 20 | 21 | 22 | 23 | 24 | 25-26 | 27 | 28 | 29 | 30
2. Howard In Touch With His Inner Sheed
By Michael Wallace
ESPN.com

Howard
ORLANDO, Fla. -- Meet the NBA's new Rasheed Wallace. Well, not quite. Technically speaking, Dwight Howard is beginning to embrace another preeminent distinction along with ranking among the NBA's leaders in rebounders and blocked shots.
"I guess," Howard said Thursday night, "I'm the NBA's bad boy."
Howard, the Orlando's playfully loquacious center, cracked a smile as he made that statement after his team's 112-103 victory against the New York Knicks. But the consequences of Howard's words and actions on the court these days are no longer a laughing matter for the Magic.
Less than two minutes into Thursday's game, Howard was assessed his league-leading 12th technical foul of the season for an outburst after he missed a close shot and had the ball bounce out of bounds off his leg. It marked the fourth time in the past five games that Magic was hit with a tech as part of the league's mandate to aggressively enforce it's "Respect the game" rules.
For some reason, Howard has been on a technical tear this season and is already within striking distance of a one-game suspension once his total reaches 16. If Howard continues at this rate, old 'Sheed might have to come out of retirement to defend his technical foul title.
The league has already repeatedly warned Howard about taking too long to shoot his free throws. Now, his coach strongly suggested that the NBA is now targeting Howard with a quick whistle on technicals -- so much so that punitive measures sometime soon might be inevitable.
"Well, he'll probably end up at some point with a suspension," Magic coach Stan Van Gundy said. "They're (referees) looking for him, there's no question. They make a call on him, they're looking to see his reaction. Other guys get away with stuff. He's not going to. He's going to have to accept that. They're looking for him. Every one of them. So that's the way it's going to be."
Technically, Van Gundy had clearly made his point -- potentially even a costly one that will likely warrant some sort of fine from the league. But he wasn't finished. He then drew a distinction between what he believed other ranting players get away with and what Howard was nailed for saying.
"Why he's been the guy to get all the technicals? I don't know," Van Gundy said. "Other guys get away with stuff. He yelled, 'Damn' after he missed a shot. I guess, 'damn' is a technical and bull(expletive) is OK, based on what I saw tonight."
Thursday's game was billed as a marquee matchup of two of the best big men in the Eastern Conference, with Howard facing Amare Stoudemire. It was also a showdown of the league's leaders in technical fouls. After Howard was called for his technical with 10:04 left in the first quarter, Stoudemire picked up his 10th tech of the season at the 9:24 mark of the second quarter for taunting at no one in particular after he blocked a Gilbert Arenas layup.
3. Daily Dime Live Recap
Zach Harper and the TrueHoop Network bloggers chatted with fans and gave their in-game opinions throughout Thursday's games -- all in Daily Dime Live.
THURSDAY'S BEST

Neal
Gary Neal, Spurs: Sinking 5-of-8 3-pointers en route to 21 points in 22 minutes, the 26-year-old rookie from Towson helped keep the feel-good Spurs riding high atop the NBA with a win in Dallas.
---
THURSDAY'S WORST

Terry
Jason Terry, Mavs: All the holiday travel woes must have somehow affected this JET. He shot 3-for-16 in the loss to the Spurs, finishing with his lone singe-digit scoring night (eight points) in December.
---
TWEET OF THE NIGHT
Charles n the crew dont give us any credit...kenny smith is the only one..but its all good!!! we will keep workin to prove him them wrong11:45 p.m. via web
Kevin Durant
KDthunderup
---
QUOTE OF THE NIGHT
"I'm going to start learning sign language. I'll just do signs to the bench and to the fans. Just sign language. That way, [referees] can't hear me."
-- Magic center Dwight Howard, cracking wise over his T dilemma.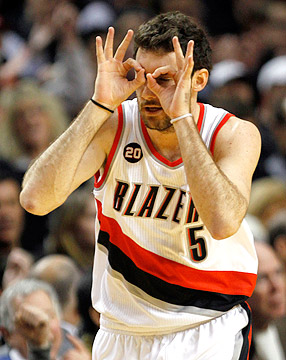 (AP Photo/Don Ryan)
Trail Blazers guard Rudy Fernandez celebrates one of his two 3-point baskets during Portland's 100-89 win over Utah. Wesley Matthews scored 30 to lead Portland.
By Chris Forsberg
ESPN Boston

Garnett
Considering the celebrations that seemingly came with Thursday's news that Celtics forward Kevin Garnett would be sidelined for a mere two weeks, one would think New Year's came to Boston 32 hours early.
Celtics president of basketball operations Danny Ainge's declaration that Garnett has a strained right calf calmed fears from 20 hours earlier, when pundits from coast to coast made the, um, knee-jerk reaction that Garnett might have reinjured his surgically repaired right knee and that his time away from the court would be measured in months instead of weeks.
Even after Celtics coach Doc Rivers hinted following Wednesday's loss to the Detroit Pistons that the team was confident it was merely a muscle injury in Garnett's right leg, a cryptic suggestion that it was a region above his ankle but below his knee left room for skepticism.
But Ainge, making his weekly appearance on Boston sports radio WEEI on Thursday afternoon, said an MRI taken that morning confirmed the strained calf diagnosis and went so far as to suggest that Garnett "may be out for a couple of weeks, at the most." Ainge added that such a timetable might be "on the conservative side."
The Celtics have rarely undersold a player's return date. Quite the opposite, players have been given extra time to make sure they are healthy before being thrust back onto the floor, even in the face of mounting injuries.
Jermaine O'Neal initially was given a two- to three-week window to deal with left knee soreness in early November, but ultimately missed nearly two months before returning on Christmas. Rajon Rondo got a one- to two-week diagnosis after spraining his left ankle against the New York Knicks on Dec. 15, but Ainge expressed hesitation Thursday about whether Rondo is ready to get back on the floor after missing the past six games.

Despite losing their final game of the calendar year to San Antonio on Thursday, the Dallas Mavericks posted the NBA's highest winning percentage during 2010 (.704, 57-24), slightly better than the Spurs (.702, 59-25), and that won't change with the results of any games played on New Year's Eve. It's the lowest winning percentage to lead the NBA for a calendar year since 1994, when the Seattle SuperSonics posted a league-high .702 mark (59-25). The Mavericks had the NBA's best record in two previous years: 2002 (.744, 61-21, tied with Sacramento) and 2007 (.768, 63-19).