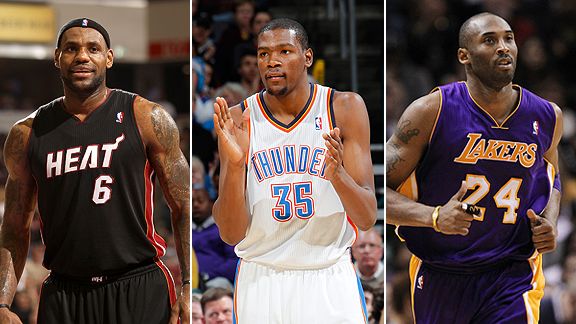 Getty ImagesBy any figuring, LeBron James, Kevin Durant and Kobe Bryant all figured prominently in the year gone by.
1. The Year In Numbers
I've said it before and I shall repeat it now: There's only one John Hollinger around here.
The consolation for those of us lesser brains?
There are plenty of numbers out there for everyone.
The proof: Our annual Year in Numbers compilation, in the time-tested tradition of year-end reviews from every media operation in circulation, follows here to say a fitting farewell to 2010 and all of its standout NBA stories.
With many assists from Peter Newmann and all our friends from ESPN Stats & Information as well as the Elias Sports Bureau ...
4
In the hard-to-fathom continuation of a dispute with teammate Javaris Crittenton that began on the team plane over gambling debts, Gilbert Arenas brandished four unloaded guns he kept the Wizards' locker room shortly before the end of 2009. The incident became public knowledge almost as soon as the calendar flipped to 2010 to start the year with unprecedented and unsavory headlines that ultimately resulted in a suspension without pay for Arenas for the final 50 games of the season and a monthlong sentence in a halfway house after Arenas pleaded guilty to a felony charge of possessing a gun without a license. (Arenas, as you'll surely recall, wasn't the only one to have a gun in the locker room; Crittenton was also suspended for the rest of the season and is still struggling to get back in the league after Charlotte released him in training camp.)
10,000,000
More than 63 years after New York's Ossie Schectman scored the first basket in league history at Maple Leaf Gardens on Nov. 1, 1946, Detroit's Ben Gordon scored the NBA's 10 millionth point Jan. 9 in a home loss to Philadelphia.
27-27
After winning Christmas Day in Orlando to move to 23-5, Boston was a .500 team for the remaining two-thirds of the season, going 27-27 thereafter. Which would have made the Celtics' ensuing march through the playoffs a full-fledged fairy tale if they could have finished off the Lakers in the Game 7 decider.
18,000,000,000
With an estimated net worth of $18 billion -- although some in the league put the number as high as $25 billion -- Russian playboy Mikhail Prokhorov was officially ushered in May 11 as the new owner of the New Jersey Nets. It remains to be seen how long before his riches and party-hearty rep, as captured in a memorable "60 Minutes" profile, actually lead to a landscape-changing signing or trade. Ditto for the notion that a flood of foreign investment in the league is looming now that Prokhorov has broken through. The Nets, though, will begin 2011 as the closest thing there is to a favorite in the Carmelo Anthony Sweepstakes, even after the grave disappointment of Prokhorov's first free-agent haul (Travis Outlaw, Jordan Farmar, Anthony Morrow and Johan Petro) this past summer. The fact remains that the Nets, frustrated as they are by the drawn-out Melo trade saga, have more assets to offer Denver than any other suitor ... along with a persuasive Prokhorov sales pitch and the prospect of a move to Brooklyn in time for the start of the 2012-13 season to offer Melo in hopes of convincing him to forget about the Knicks and sign the three-year, $65 million contract extension that would clinch the trade.
27, 19, 10 ... and 9
In what would be his final game as a member of his home-state Cleveland Cavaliers, LeBron James posted a near quadruple-double with 27 points, 19 rebounds, 10 assists ... and nine turnovers. No one remembers any of that, though, after Boston stunningly finished off the Cavs in this second-round series with a 94-85 road win, prompting James to infamously rip off his jersey almost as soon as he left the floor. Speculation about James' curiously detached play during the Boston series, mysterious elbow injury and, of course, his free-agent future -- along with the loudest sustained criticism he has ever endured -- began in earnest that night and overshadowed everything else in the NBA (including the Finals to a large degree) for much of the next two months.
99
John Wooden never spent a minute in the pros, but his death June 4 at the age of 99 hit the NBA community hard, starting with legendary former UCLA centers Bill Walton and Kareem Abdul-Jabbar. Wooden remains one of just three Basketball Hall of Fame inductees, along with Lenny Wilkens and Bill Sharman, to be enshrined as both a player and a coach. Other notable deaths in the NBA family in 2010 included Hall of Famer Dick McGuire, former All-Star Carl Braun, 7-foot-7 gentle giant Manute Bol, slain big man Lorenzen Wright, famed enforcer Maurice Lucas, longtime Pistons public-relations chief Matt Dobek and peerless Sixers beat writer Phil Jasner of the Philadelphia Daily News.
6-for-24
Kobe Bryant missed 18 of the 24 shots he hoisted in Game 7 of the NBA Finals, but the Lakers still managed to overturn a 13-point deficit -- with Ron Artest supplying 20 points, five steals and steadiness pretty much no one predicted -- to escape with an 83-79 victory and the 16th championship in franchise history. The Celtics, meanwhile, are stuck on 17 titles, which is largely why they began this season as hungry as they've been in the Kevin Garnett era, after coming so close to the title on their biggest rivals' floor even without the injured Kendrick Perkins.
48
In a wild 48-hour span in July that attracted arguably more media coverage than any other two days in league history, LeBron changed his image forever by announcing his free-agent defection to Miami to join Team USA buddies Dwyane Wade and Chris Bosh in a roundly slammed, one-hour TV special titled "The Decision." That was July 8. The world was still digesting the stunningly cold-hearted manner of James' exit after seven seasons with the Cavs when the Heat's new star trio took to a stage July 9 in Miami to toast their three-sided marriage with the sort of over-the-top vigor normally reserved for championship parades. Plenty of people were turned off by the idea that LeBron would be teaming up with two other top-five picks from the starry draft class of 2003, but you can safely conclude that how LeBron left Ohio and how that decision was celebrated -- more than the switch to the Heat itself -- are the bigger reasons Miami in now see as one of the biggest bull's-eye teams in history.
445
Scorned Cavs owner Dan Gilbert responded to James' exit with another apparent first, firing off an open letter to Cleveland fans containing 445 emotional words of anger, trash talk and promises to the city LeBron left behind. Acknowledging the sports "curse" that has tortured Clevelanders for decades, Gilbert said he would "personally guarantee" that the Cavs would win a championship before James did and went on in subsequent interviews to accuse James of quitting on the Cavs during the Boston series. The resulting $100,000 fine from the outburst is bound to be far easier for Gilbert to stomach than the cost and complexities involved in trying to drag the Cavs back to the NBA elite, given how far it appears they've already fallen not even halfway through their first season post-LeBron.
7
Seven of the top 10 free agents (as chosen by ESPN.com entering July) wound up staying with or going to teams in the East: LeBron James (Miami), Dwyane Wade (Miami), Chris Bosh (Miami), Joe Johnson (Atlanta), Paul Pierce (Boston), Amare Stoudemire (New York) and Carlos Boozer (Chicago). The only three who either stayed or moved West: Dirk Nowitzki (Dallas), David Lee (Golden State) and Rudy Gay (Memphis). The West, though, not only continues to be the far deeper conference, but also appears to house just as many title contenders as the revamped East thanks to the recent revivals of San Antonio and Dallas.
6
The Celtics became the sixth team to employ Shaquille O'Neal when they signed the future Hall of Fame center Aug. 4. Shaq previously played for the Magic, Lakers, Heat, Suns and Cavs, leaving him behind only Joe Smith (12 teams) and Danny Manning (seven) when it comes to well-traveled No. 1 overall picks.
16
As if the 30.1 points per game he averaged to lead Oklahoma City to 50 wins and finish second in MVP voting weren't strong enough clues, Kevin Durant announced his leap to superstardom in even louder fashion during the summer. First he signed a max contract extension with the Thunder, with the minimum amount of fuss, to unwittingly earn himself a reputation for being the huggable franchise player most unlike James. The 21-year-old, who has since turned 22, then led an American team missing everyone from the squad that won gold at the 2008 Olympics in China to its first gold medal in the world championships in 16 years, ending a drought dating to 1994.
18
Some 18 years after they changed the game forever as the first NBA players to represent the United States internationally -- turning the 1992 Olympics in Spain into the true launching pad for the league's globalization movement -- members of the Dream Team were inducted as a group into the Basketball Hall of Fame in September.
1,335

When he was ousted by the Golden State Warriors at age 70, Don Nelson left the game with a record 1,335 coaching victories. The Warriors' 5-3 record in April nudged Nelson past Lenny Wilkens for the all-time lead and gave the polarizing three-time NBA Coach of the Year some semblance of solace after his 31 seasons and change in coaching couldn't deliver a ring to go with the five he won as a player.
31
With an eye-popping 31 points and 31 boards Nov. 12 at Madison Square Garden, Kevin Love became the first player since Moses Malone in 1982 to post a 30-30 game. Now he's trying to become the first player since Malone to average 20 points and 15 rebounds for an entire season. Love enters the weekend at 20.8 points and 15.5 boards per game for the eight-win Wolves while shooting 43 percent from 3-point range.
450,000,000
For a record $450 million, Joe Lacob and Peter Guber purchased the Warriors from the locally loathed Chris Cohan, surpassing the $401 million paid by Robert Sarver's group in 2004 to buy the Phoenix Suns.
2
The sad saga of Greg Oden in Portland got only sadder in November, when the No. 1 overall pick in the 2007 draft was forced to undergo microfracture surgery on his left knee. That means Oden, who will turn 23 in January and has played in just 82 games in the pros in three-plus seasons, is the second player in NBA history to endure microfracture on both knees, joining Denver's Kenyon Martin. The story gets impossibly sadder when you factor in the ongoing deterioration of teammate Brandon Roy's knees, which threatens to end Roy's season as well and force the Blazers to start totally over roster-wise.
17
Allen Iverson managed to play in just 17 games in his not-so-storybook return to the Philadelphia 76ers in 2010 -- only three after the All-Star break -- before shocking the sport in November by agreeing to sign with Besiktas in the Turkish League for a reported $2 million this season. He left the NBA as its No. 17 all-time scorer with 24,368 points ... and with virtually no one in NBA circles expecting the 35-year-old to make it back to the league back home after no one showed interest this past summer.
38
How did LeBron handle the cauldron of his first game in Cleveland wearing someone else's uniform? With 38 points -- 24 of them in the third quarter -- James powered Miami to a 118-90 rout Dec. 2 that not only hushed the scorned locals that came to hail hate on the Akron native for spurning them but also changed the course of both teams' seasons. The easy win was Miami's third straight in an eventual 12-game win streak; Cleveland has won just once in the 14 games since the reunion.
1
The New Orleans Hornets, in an NBA first reminiscent of Major League Baseball's takeover of the Montreal Expos, were sold to the league in early December after longtime owner George Shinn's anticipated-for-months sale to Louisiana-based minority owner Gary Chouest fell through. Commissioner David Stern said league officials had no choice but to step in immediately to keep the Hornets afloat financially, which Stern maintains will keep open the window to find a local buyer interested in keeping the team in the Crescent City. New Orleans is nonetheless back to No. 1 on the list of franchises considered most likely to relocate ... again. Just as much uncertainty, as a result, surrounds the future of star guard Chris Paul, who is highly unlikely to be traded this season but will almost certainly succeed Denver's Anthony (who succeeded LeBron) as the player whose looming free agency in 2012 and the endless trade chatter that status generates become near-daily topics of discussion.
5
Yao Ming played in only five games for Houston in 2010 before he was sidelined Dec. 17 for the remainder of the season thanks to yet another stress fracture in his left ankle. The 30-year-old's career is in jeopardy after Yao said coming into the season -- which happens to be the final year on his contract with the Rockets -- that he would strongly consider retirement if he couldn't shake his injury woes. By the end of the 2010-11 campaign, Yao will have missed 250 games over the past six seasons. He's played in just 242 regular-season games in that span.
10-0
The Heat have banished memories of their 9-8 start and the national media firestorm it caused by going 10-0 on the road in December. No NBA team has ever had a better month of traveling ... not even the 1971-92 Lakers, who won a record 33 games in a row. L.A. went 9-0 in December 1971.
325
Precisely 325 days after Arenas was hit with a 50-game suspension, Washington did what so many skeptics said the Wizards would never pull off by finding a trade taker for the disgraced former All-Star. Magic general manager Otis Smith -- also known as the last Arenas fan standing in the league among execs and coaches -- consented to take on the $60-plus million left on Arenas' contract after this season in exchange for the fast-declining Rashard Lewis on Dec. 18. Arenas' exile, after the February clearout of Caron Butler and Antawn Jamison, enabled the Wiz to fully establish No. 1 overall pick John Wall as the new face of the franchise ... while Orlando orchestrated a virtual roster redo less than a season and a half removed from a trip to the Finals by swinging a second trade with Phoenix to reacquire Hedo Turkoglu along with Jason Richardson and Earl Clark for Marcin Gortat, Mickael Pietrus and Vince Carter.
20
Clippers darling Blake Griffin -- so spectacular in his recovery from January knee surgery that you can put Clippers and darling in the same sentence with a straight face -- will enter 2011 on a run of 20 consecutive double-doubles to go with all those You Tube-worthy dunks. The only three players with a longer streak as a rookie all ended up in the Basketball Hall of Fame: Walt Bellamy (79 in 1961-62), Elvin Hayes (60 in 1968-69) and Wilt Chamberlain (56 in 1959-60).


ESPN.com senior writer Marc Stein
• On Twitter @ESPNSteinLine | On TrueHoop | On ESPN.com | On email
• Follow ESPN's NBA coverage on Twitter | On Facebook | On Google+
Dimes past: Dec. 17-19 | 20 | 21 | 22 | 23 | 24 | 25-26 | 27 | 28 | 29 | 30 | 31
2. Western Conference

Clippers owner Donald Sterling faced no formal discipline from the league office in the wake of recent media reports that he heckled some of his own players -- most notably guard Baron Davis -- from his courtside seat earlier this season.
As one source close to the situation noted: "It's a team issue, not a league issue. He didn't break any rules."
Sterling, though, was forced to promise NBA commissioner David Stern that he would cease with the verbal abuse, since holding his tongue in public apparently required more common sense than the Clips' much-maligned patriarch could muster. Yet there is bound to be a big cost here for Sterling, whether or not it comes directly from the league office. He's faced far more serious off-the-court complaints than this over the years, but the heckling stories attached to him now could prove rather damaging to Sterling down the road if the likes of Blake Griffin or Eric Gordon never forget them.
"We've been assured that Mr. Sterling will not be engaging in this type of [behavior] going forward," NBA spokesman Tim Frank said.
---
Some numbers of note in the West this week:
5: The half-court heave from Sacramento's Tyreke Evans that beat Memphis at the buzzer Wednesday night was just the fifth game winner at the horn in the 2000s from at least 35 feet away. The other four were heaved in by New Jersey's Devin Harris (February 2009 against Philadelphia), New Jersey's Vince Carter (January 2007 against Utah), Seattle's Ray Allen (January 2006 against Phoenix) and Houston's Moochie Norris (December 2000 against Golden State).
3: The Clippers' Blake Griffin is averaging 21.5 points and 12.4 rebounds heading into 2011. If he maintains his current levels, he would be just the third rookie since the NBA/ABA merger in 1976-77 -- joining Shaquille O'Neal and David Robinson -- to reach those plateaus for an entire season.
3: If Minnesota's Kevin Love keeps his 3-point shooting (currently at 43 percent) at 40 percent for the season, he'll join Larry Bird and Troy Murphy as the only players since the inception of the 3-point line in the 1979-80 season to shoot at least 40 percent from deep and average at least 10 rebounds per game. Bird did so twice (1979-80 and 1984-85) and Murphy qualified in 2008-09 with Indiana when he shot 45 percent on 3s and averaged 11.8 boards.
13: Jason Kidd's 106th career triple-double in short-handed Dallas' loss Thursday night to San Antonio was the 13th triple-double registered this season. Miami's LeBron James has three of those 13 and 31 triple-doubles for his career, second to Kidd among active players. The other triple-doubles so far in 2010-11 were posted by John Wall, Josh Smith, Rajon Rondo, Paul Pierce, Brandon Jennings, Stephen Jackson, Pau Gasol , Tim Duncan and Kobe Bryant.
1: When the Lakers started Andrew Bynum against the Spurs on Tuesday night, that left San Antonio as the only team in the league that has used the same starting five for every game this season.
3. Eastern Conference

The Nets, sources say, have been trying to rope in Cleveland as a third-team facilitator in their long-standing attempts to acquire Carmelo Anthony from Denver. Yet there are at least two obstacles.
1. The Cavs want a nice slice of compensation to make their $14.5 million trade exception -- created in the LeBron James sign-and-trade with Miami -- available to one of the other teams involved.
2. The Cavs have been willing to join the Melo discussions largely because they covet future first-round draft choices as much as Denver does, so they're not likely to participate unless at least one of those top-shelf picks is coming their way. Which conflicts with the Nuggets' goals in terms of pick-hoarding.
Sources say Cleveland, in general, is telling teams that it's willing to take on long-term salary in a trade -- something you don't hear often these days thanks to all the fear about the next labor agreement and how restrictive it could be -- but only if a quality prospect or draft pick is attached.
The Cavs aren't interested in cap-clearing deals. They obviously need talent ... as their current 1-15 nosedive would suggest.
---
Some numbers of note in the East this week:
16,081: LeBron James' total of 16,081 career points before his 26th birthday -- which he celebrated Thursday night -- is tops in NBA history. Anthony is second by a long way in that category with 12,711 points.
9: Nine years before LeBron was born on Dec. 30, 1984, Tiger Woods was born on the same day. Other notable Dec. 30 birthdays in the world of sports include Sandy Koufax (Dec. 30, 1935) and Laila Ali (Dec. 30, 1977).
3: John Wall became just the fourth non-starter this season to record a double-digit assist total with 12 dimes Wednesday in Washington's home victory over Indiana. Wall is also the first Wizard to record at least 10 assists off the bench since our old friend John "Hot Plate" Williams rumbled for 11 points, 10 boards and 13 assists as a sub in January 1989. Wall's predecessors this season: Dallas' J.J. Barea, New Jersey's Jordan Farmar and Orlando's Gilbert Arenas.
26: Dwyane Wade entered Wednesday's game in Houston ranked No. 1 among guards and No. 5 overall in the NBA in points in the paint with 11.4 per game. He then proceeded to score 26 of his 45 points against the Rockets inside.
6: Boston's Shaquille O'Neal is the first player in league history to play on Christmas Day for six franchises. Shaq also played in two Christmas Day games with the Magic, five with the Lakers, three with the Heat, one with the Suns and one with the Cavs. Dave Gambee, Johnny Green, Darrall Imhoff and Don Kojis played on Christmas for five teams.
4.

One-On-One ... To Five

Ellis
Five questions with Warriors guard Monta Ellis:
Q: I've heard a lot about the "new Monta" and how different you were when you reported for camp in September. What kinds of specific changes did you make?
A: I'm a totally different person. I just tried to come back with a better attitude and a positive attitude and give off positive energy for guys to want to play with me and play for this organization. And so far it's been great. We've bonded as a team. We do everything as a team. We do everything that a team should do. We've just got to get everybody back [healthy] on the court and try to make a push.
Q: What do you think the chances are that we see you or Kevin Love in the All-Star Game? Do you think you guys will get any consideration when the teams you play for have losing records?
A: If it's going to happen, it's going to happen. I know how it works. I've been in this situation for the last few years. I'm pretty much thinking about helping this team. To me, making the All-Star Game, that's just an individual goal that I never really looked at. If I did make the All-Star team, it would be great for me and my organization and my team, but I'd rather make the playoffs.
Q: I'm sure by now you're used to hearing people say that your numbers were inflated by playing in Don Nelson's system. So what do you say in response now that your numbers have gone up without Nellie?
A: I gotta give a lot of credit to Don Nelson. If it wasn't for him, I probably wouldn't even be known at all in the NBA, because he gave me an opportunity to show my talent and let me do me.
[But] playing for Keith Smart is just like playing in the Nellie system. It's just a younger Nellie [coaching]. He's just got more energy. Nothing's really changed. The system is still the same.
I would say numbers-wise it's the best that I'm playing. But I have a lot of guys around me who are willing to work and can actually make plays, so it really makes my job much easier than last year. I don't have to force too many shots. I don't have to try to make plays for everybody. We've got guys that make plays for me also.
Q: The stuff about you and Steph Curry being too small to play in the same backcourt together ... has all that been buried?
A:Me and Steph talked about that this summer and we've let that go. We're moving on, we're growing together and we're not worrying about what people think about what I said [almost] two years ago. He don't worry about it and I don't worry about it.
I think it's going great [alongside Curry]. It started [at] the end of last season. It's not like it just started this season. We just said we're gonna go out full blast with it.
Q: You're hugely popular with Warriors fans, but your name has also been in a lot of trade rumors. So how do you see your future in Golden State? Do you go to management and ask them what their plans are for you?
A: I don't want to leave. That's my second home. That's where I grew up at. I call Golden State my second home. I've been here for six years. Got a lot of great memories, got a lot of miserable memories, but I've got more great than bad.
I'm comfortable where I'm at and I want to stay there. I'm not worried about if they're gonna trade me or not. I'm going to let them handle that upstairs and I'm just going continue to play basketball otherwise.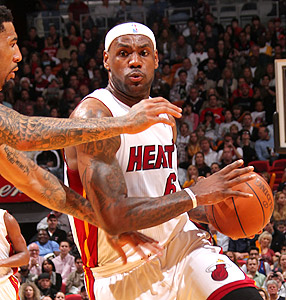 Chris Graythen/Getty Images
LeBron James and the Heat rebounded from a 9-8 start to earn a slice of history with their December play on the road. (See Box 1.)

Popovich
"We're not going to keep this pace up for the entire year."
Spurs coach Gregg Popovich, offering up a fairly tame entry for those of you collecting predictions for 2011.
You have little choice but to agree with Popovich, rather than dismiss the sentiment as typically pessimistic coach-speak, once you do the math on San Antonio's 28-4 start. That's because Thursday night's victory in Dallas put the Spurs on a 72-win pace, which would mean we've got some huge news coming in April 2011 if Popovich is wrong, since Chicago's 72-10 record in 1995-96 is the best of all time.
Anyone out there think the Spurs really can make a run at the exclusive 70-win club?
It's no knock on the Spurs to be skeptical, because you also have to know that Popovich will be the last coach to chase such a thing. He's been riding them hard lately, worried that teamwide slippage in the focus department is somewhat inevitable when a team starts this hot, but nothing has changed in his mind. Nothing is more important to Pop than keeping Tim Duncan, Manu Ginobili and Tony Parker as fresh as possible for the playoffs.
The Spurs unquestionably have more depth, balance and offensive weaponry than we've seen from them for ages, which has eased the offensive burden on Duncan and allowed Popovich to play him less than 30 minutes nightly without consequence. But veteran Spurs-watchers insist that the top condition their stars are in -- as well as the refreshing responsibility Ginobili and Parker feel to live up to the contract extensions they signed in 2010 -- is what's really driving them.
"This team hasn't been this healthy for years," Mavs coach Rick Carlisle said of the Spurs.
This team also is suddenly more dangerous when it has the ball than anyone can remember. San Antonio's defense can still dig into elite scorers with ferocity, as Kobe Bryant found out Tuesday night, but Popovich has no choice but to talk about the shift in offensive focus from Duncan to the run-minded Ginobili and Parker when his Spurs are tops in the league in offensive efficiency at 110.3 points per 100 possessions.
He doesn't have to like it, though.
"I'm still not buyin' it," Popovich said of San Antonio's supposed new offense-first identity. "That's the truth. That's the truth. I don't know what else to tell you. I ain't buyin' it.
"That's not who we are. We don't do that."
That would appear to be who they are now.

Dampier
The NBA's first key date of 2011, when it comes to player movement, comes Wednesday.
That's when teams are allowed to start signing free agents to 10-day contracts ... and when players with contracts that aren't fully guaranteed must be released in time to clear waivers by Jan. 7.
Jan. 7, you see, is the NBA's final business day before Jan. 10. And that's the date contracts for any player on an NBA roster become guaranteed for the rest of the season.
So ...
There are 38 players, by our count, who either must be waived by Wednesday or will know they'll be receiving their 2010-11 salaries in full. (As always, though, there are a few names on the following list -- such as Boston's Delonte West, Golden State's Reggie Williams, Miami's Erick Dampier and Milwaukee's Luc Richard Mbah a Moute -- who obviously have nothing to sweat.)
Atlanta: Damien Wilkins
Boston: Von Wafer* and Delonte West
Chicago: John Lucas III
Cleveland: Alonzo Gee, Manny Harris* and Samardo Samuels*
Dallas: Brian Cardinal and Steve Novak*
Denver: Melvin Ely and Gary Forbes
Golden State: Rodney Carney*, Acie Law, Jeremy Lin* and Reggie Williams
Houston: Ishmael Smith*
Indiana: A.J. Price*
L.A. Clippers: Jarron Collins and Ike Diogu
Miami: Erick Dampier

Milwaukee: Luc Richard Mbah a Moute and Brian Skinner
Minnesota: Sundiata Gaines
New Orleans: D.J. Mbenga* and Pops Mensah-Bonsu
New York: Shawne Williams
Phoenix: Garret Siler*
Portland: Sean Marks and Patrick Mills
Sacramento: Darnell Jackson
San Antonio: Chris Quinn and Ime Udoka
Toronto: Ronald Dupree and Sonny Weems
Utah: Jeremy Evans*
Washington: Lester Hudson, Cartier Martin and Hamady N'Diaye

* Players began the season with partially guaranteed contracts
Notes: Four players on this list at the beginning of December had provisions in their contracts that fully guaranteed this season's salary if they were still on their respective team's roster by a certain date. They are: Charlotte's Sherron Collins (Dec. 14), New Jersey's Stephen Graham (Dec. 1), Orlando's Malik Allen (Dec. 1) and Toronto's Joey Dorsey (Dec. 1). ... Acie Law began the season with a partially guaranteed contract with Memphis but was waived Dec. 5 before the deal became fully guaranteed Dec. 8. Law was subsequently signed by Golden State to a nonguaranteed deal Dec. 9. ... Players with nonguaranteed contracts who were waived earlier this month include Golden State's Jeff Adrien, Phoenix's Earl Barron, Washington's Alonzo Gee and Cleveland's Jawad Williams. Gee was then signed by Cleveland on Tuesday.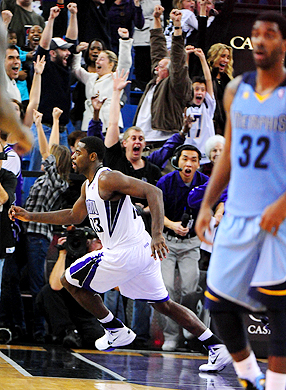 Kyle Terada-US PRESSWIRE
Kings guard Tyreke Evans sent the Sacramento crowd into delirium, joining some notable company when he drained a game-winning shot from beyond half court. (See Box 2.)
10.

The Rivalry America Ignores

Ginobili
DALLAS -- You can put Dirk Nowitzki in a suit, stuff Manu Ginobili's sinuses with a mystery ailment that saps all the volume out of his voice and stumble onto a bizarre fourth quarter in which the home team gets as much from Alexis Ajinca as resident closer Jason Terry.
And you know what?
You'd still be reasonably entertained.
With these two teams?
You can't help but get sucked in by the San Antonio Spurs and Dallas Mavericks, heading into crunch time for the umpteenth time, no matter who or what was missing from the traditional mix that has delivered tight games for ages.
"I understand it more now that it's my second year here," San Antonio's Richard Jefferson said after the Spurs secured Thursday night's 99-93 escape on the Dirk-less Mavs' home floor. "The more you're around the more you understand that these teams really don't like each other. But it's more like respect than dislike because of all the battles over the years."
To read the full story, click here.