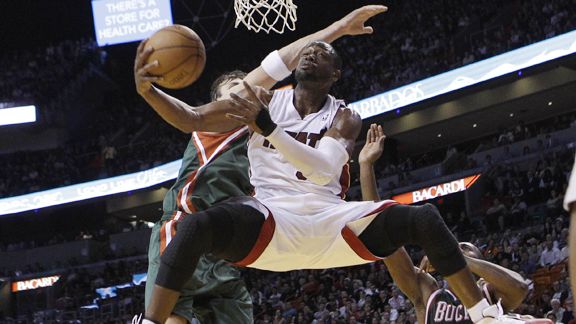 AP Photo/Lynne Sladky Have the Big Three's MVP chances really gone "out the window"? Dwyane Wade is stating his case.
1. Wade Making MVP Push
By Brian Windhorst
ESPN.com
MIAMI -- LeBron James is wrong.
Last week James, for rational reasons, said neither he nor Dwyane Wade could win the MVP this season. As a point of fact, James said that an MVP for him or Wade "went out the window" when they signed with the Miami Heat.
His case makes sense. Their numbers are lower than in previous seasons, and their presence on the same team not only will split some votes but also works against the formula of what a classic MVP is.
James is still wrong -- or least half wrong. For several reasons, he probably won't win his third consecutive MVP.
But Wade most certainly could win his first.
Unlike the Heisman Trophy, the MVP rarely has a signature moment, a highlight that is shown over and over again that cements a player's status. In the NBA, a player often makes his case for MVP with cumulative performances, the result of game after game after game of being the difference.
Even on a team loaded with talent as the Heat are, Wade is starting to assemble that type of portfolio. The most recent example came Tuesday night when he shook an average-looking game from the doldrums with another majestic fourth quarter to lead the Heat to a 101-89 win over the Milwaukee Bucks.
Wade did it with his standard blend of grace, aggression, defense, speed and creativity that had the Bucks dropping their heads and his own teammates shaking theirs.
The Heat have now won seven in a row and 19 of 20, which makes running over another sub-.500 Eastern Conference team seem uneventful. The game featured no single play that will make the year-end highlight reel, and neither team did anything all that impressive.
Yet Wade scored 17 of his 34 points in the fourth to turn a close game into a lopsided one. He's been doing that more and more lately, including a huge fourth quarter in Houston last week en route to a season-high 45 points.
That is how MVP candidacies are built, and Wade has been steadily adding to his résumé. He's second in the league in fourth-quarter scoring at 6.5 points per game; Amare Stoudemire is first at 7.4, one of the reasons he's already in the MVP conversation.
"Dwyane has been averaging like 50 points in the last five games," Bosh said after his own 19-point, 12-rebound effort. "We're just going to keep giving him the ball, keep getting him open and keep encouraging him to shoot it."
Actually, Wade is averaging 35 points per game during the past five games, but more than just scoring is playing a role here. The Heat are 28-9 and right on the Boston Celtics' heels for the best record in the East. While there are certainly politics involved, being at the top of the standings makes a difference.
Wade probably should have won his first MVP two years ago when he returned from an injury-plagued season to average 30.2 points, 7.5 assists and lead the Heat to 43 victories after they'd won a league-low 15 the season before.
But that season James won his first MVP, having led his Cavs to 66 wins.
James probably should have earned his first the season before when he won the scoring title and carried a controversy-riddled Cavs team to 45 wins and nearly to an upset of the champion Celtics in the second round.
But that season Kobe Bryant won his first MVP, having led a renaissance in Los Angeles after the Pau Gasol trade. Yet Bryant probably should have won his first award in 2006, when he flat-out carried to Lakers to 45 wins and back to the playoffs, averaging an amazing 35.6 points.
Winning matters when it comes to the MVP. You can't just squeak into the playoffs. You have to win big all season long. And the Heat are winning big as the season nears the midway point, with Wade carrying the Heat more than a third of the time.
James' numbers (24.8 points, 7.3 assists, 6.8 rebounds per game) are actually better than Wade's (24.7 points, 4.3 assists, 6.6 rebounds). But as the two-time champ who switched teams in the offseason, James is unlikely to earn the support of media voters for a third consecutive season. (Only Larry Bird, Wilt Chamberlain and Bill Russell have won three in a row since the 1955-56 season.)
Wade also has sentiment on his side. He is the spiritual leader of the team, which is why the crowds at AmericanAirlines Arena save the foul-line "MVP" chants only for him and not for the actual two-time MVP on the team.
Plus there's the off-the-court aspect. No, not his NBA Cares work. Wade played a large role in recruiting both Bosh and James to Miami, then got them to accept pay cuts to make room for Mike Miller and Udonis Haslem.
Actually, Wade took the biggest cut of them all, accepting $500,000 less than James and Bosh this season alone. They may not look at it that way, but Wade is, in essence, signing some of his teammates' checks.
Unless he can share in Pat Riley's likely forthcoming honor as executive of the year, Wade's efforts to create his team probably should have some value in the race for most valuable.
There's a great deal of basketball to be played and health to maintain. There are several big names already lining up support for the MVP honor, including Dirk Nowitzki and Stoudemire.
But taking Wade's name out of the running for MVP -- as James and likely quite a few others might have done already -- because he plays for the team America enjoys hating may prove to be more than shortsighted.
It might be a big mistake.


NBA Writer Brian Windhorst
• On Twitter @WindhorstESPN | On ESPN.com
• Follow ESPN's NBA coverage on Twitter | On Facebook | On Google+
Dimes past: 20 | 21 | 22 | 23 | 24 | 25-26 | 27 | 28 | 29 | 30 | 31 | Jan. 1-2 | 3 | 4
2. Knicks Push Pop Overboard
By Chris Sheridan
ESPN.com

NEW YORK -- When you can make a military man like Gregg Popovich surrender, you have accomplished the rarest of feats.
Yet there was the San Antonio Spurs coach throwing in the towel and/or raising the white flag with 3:13 remaining in what turned out to be the New York Knicks' most complete and most impressive victory in, what, a decade?
Go ahead, think back and try to remember another night in the past 10 seasons when the Knicks brought the very best team in the NBA to its knees, imposing their will with such efficiency and determination that the opponent simply got up and quit.
We've seen the Knicks quit. But the other guys? It just never happens.
But it did on this particular Tuesday night, with Popovich pulling his starters en masse with his team trailing by only 11 points in what ended up as a 128-115 victory for New York. The Knicks put up the highest point total of any Spurs opponent this season and handed the team with the NBA's best record just its fifth loss.
"We have a game tomorrow, and it's a long season. The chances of winning that game were not good," said Popovich, whose team had held its previous four opponents to 80, 82, 93 and 74 points. "There's not going to be a line outside of the arena to buy any one of our defensive playbooks. If there is a line, they're a bunch of wackos."
This was the kind of signature victory the Knicks had been missing from their collective résumé, through this better-than-expected-but-far-from-great season of theirs, a season that had been marked by a 13-1 streak that turned around their fortunes but was followed by a bundle of losses to quality teams -- Miami (twice), Boston and Orlando -- over the past three weeks.
But on this night, playing their first game since learning that Danilo Gallinari would be sidelined for the next 2-3 weeks because of a sprained knee, the Knicks put on a display of offensive efficiency and relentlessness that even they probably didn't know they had in them.
• Click here to read the rest from Sheridan at ESPN New York
3. Daily Dime Live Recap
Zach Harper, TrueHoop Network bloggers and fans gave their in-game opinions throughout Tuesday's slate of NBA games in Daily Dime Live.
By Justin Verrier
ESPN.com
TUESDAY'S BEST

Chandler
Wilson Chandler, Knicks: Chandler gobbled up most of the shots available with Gallo (knee) gone and made the most of them. The fourth-year swingman scored 31 points on 13-for-19 shooting and pulled down nine rebounds in a 128-115 walloping of the NBA-leading Spurs.
---
TUESDAY'S WORST

Green
Jeff Green, Thunder: Maybe Kevin Durant's time-traveling buddy should have flashed back and warned Green to sit this one out. Green was held to eight points on 1-for-5 shooting and was brutalized by Zach Randolph (31 points, 16 rebounds) in the post in OKC's 110-105 loss to the Grizz.
---
TWEET OF THE NIGHT
Knicks played exceptionally well. Gregg Popovich looks angry enough to scare Frank Martin.9 p.m. ET via TweetDeck
Jemele Hill
jemelehill
---
QUOTE OF THE NIGHT
"I love that Jeanie Buss' boy-toy had something to say about us. I don't know if it was his thought or Jeanie's thought, but it's nice to know that she lets him speak in public about other teams."
-- Mark Cuban, talking from his famed stair-stepping machine, in response to Phil Jackson.
6.

Jackson Confronts Artest
By Dave McMenamin
ESPNLosAngeles.com

LOS ANGELES -- Four losses in the past six games by an average of 17.3 points have things getting a little testy in Lakers Land.
Before Tuesday's game against the Detroit Pistons, Los Angeles Lakers head coach Phil Jackson confirmed a Yahoo! Sports story that reported Ron Artest "loudly confronted Jackson" at a recent practice.
"That's not accurate, but it's close to accurate," Jackson said. "It was not a loud confrontation; it was a man-to-man confrontation. And it was obviously out of character for both that to happen at practice, and for Ron. And it wasn't about embarrassing him publicly; it was about some of the issues that had been brought up that have focused about him."
Jackson said that neither he nor Artest was loud during the incident.
"It was direct, but it wasn't loud," he said.
• Read the full story at ESPN Los Angeles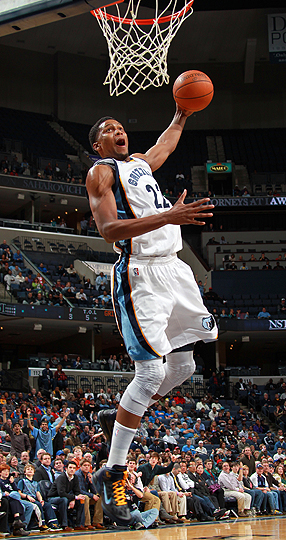 (Photo by Joe Murphy/NBAE/Getty Images)
A day after dropping the champs (again), Rudy Gay and the Grizzlies staved off a late Thunder surge in Memphis to preserve a 110-105 victory.
By Tim MacMahon
ESPNDallas.com

Butler
DALLAS -- For a man fresh off a vacation in the Cayman Islands, Mark Cuban sure wasn't in a very good mood Tuesday evening before the Dallas Mavericks' 84-81 win over the Portland Trail Blazers.
Ain't no sunshine on the day your two-time All-Star small forward undergoes season-ending surgery to repair a knee injury. Plus, Cuban got a wee bit perturbed by the predictable question from reporters:
How does the loss of Caron Butler affect the Mavericks' approach in the trade market?
"We do the same thing regardless," Cuban said with a huff. "Our approach never changes."
The Mavs are always "opportunistic," which might be Cuban's favorite word that's fit to print. They always work the phones hard. They always explore every opportunity that doesn't involve dealing Dirk Nowitzki.
• Read the rest from MacMahon at ESPN Dallas
By Nick Friedell
ESPNChicago.com

Noah
CHICAGO -- Chicago Bulls center Joakim Noah has already started working out and will have the cast taken off his right hand next week. Noah, 25, had surgery Dec. 17 to repair a torn ligament in his right thumb and was expected to miss 8-10 weeks.
"Being injured as an athlete, it sucks," Noah said. "It definitely puts things in perspective. It makes you appreciate the game a little bit more. I think I had to deal with that a little bit last year. But being injured is part of the process. Every athlete goes through it, and it's just how you deal with it."
• Read the full story at ESPN Chicago