1. This Could Make One Excellent NBA Finals
By John Hollinger
ESPN.com
BOSTON -- We know Lakers-Heat is the NBA Finals everyone at the TV networks wants. But after Wednesday night, one has to think Celtics-Spurs wouldn't be such a shabby alternative.
In a battle of the teams with the NBA's two best records, the Boston Celtics shot the lights out for 47 minutes and then narrowly avoided a Van de Veldian collar job in the final 60 seconds to outlast the San Antonio Spurs, 105-103.
Boston's near-collapse at the end stole some of the attention from a ridiculous shooting performance by the Celtics in general and Ray Allen in particular, as well as the use of some tactics normally foreign to the Kevin Garnett-era Celtics that allowed Boston to emerge victorious. We'll get to that in a minute.
But first, the near-shocker at the end. The C's led by nine with 57 seconds left but after two turnovers and a shocking pair of missed free throws by Ray Allen, the Spurs had a chance to tie with eight seconds left. But Manu Ginobili, who to that point had 20 points in the final quarter without missing a shot, had his last-second 3-pointer blocked by Paul Pierce. Ginobili missed a wide-open Antonio McDyess rolling to the basket.
Boston's Rajon Rondo quickly swooped in on the loose ball for his triple-double-clinching 10th rebound to seal the win. Rondo became the second player in history to have a triple-double with at least 20 assists and five steals, joining Fat Lever in that exclusive club.
Nonetheless, this game was a testament to Boston's amazing shooting in general, and the beauty of Allen's jump shot in particular. The Celtics shot 61.1 percent from the floor, and many of their points came on contested midrange jumpers. In fact, the Celtics were 23-of-43 -- a jaw-dropping 53.5 percent -- on 2-pointers taken outside the paint. Even by Boston's lofty standards (the Celtics lead the league in 2-point shooting percentage), this was an exceptional shooting performance.
Allen, in particular, appeared to benefit from the Spurs' strategy of defending Paul Pierce. San Antonio sent an extra big man to help on Pierce any time he came off a screen, so Boston would have the same screener turn and screen for Allen -- leaving Allen's defender without anyone to help him on the screen.
As a result, a frenzy of Allen pick-and-pop jumpers riddled the Spurs' defense. He made 13-of-16 shots from the floor, and a look at his shot chart (which he should have bronzed) shows that only two of them were in the paint. Allen made all seven shots from the right side of the floor, and all seven were from 16 feet or farther.
"Ray needs to work on his shooting a little bit," deadpanned Spurs coach Gregg Popovich. "If it was practice and you did pin downs and you came off of that -- I don't know if anyone in the league would hit 13 of 16. He does it in a game. I think he's pretty good."
Allen wasn't the only Celtic to shoot well from distance. Davis made six midrange jumpers, which Rivers credited to staying within his range rather than trying to make 22-footers or rehashing the ill-fated 3-point attempt from the loss to New Orleans. Paul Pierce made six of his nine shots from 15 feet or farther, Nate Robinson lobbed in three jumpers and even Rondo made three of his six shots from beyond 15 feet.
Yet they barely won. "The fact we shot 61 percent and won by two is scary," admitted Boston coach Doc Rivers.
The reason? Boston takes fewer shot attempts per game than any team in the league and lived up to that again Wednesday. With only five offensive boards but 18 turnovers, the Celtics took 11 fewer shots than the Spurs. The Celtics also shot worse on unmolested 15-footers (8-of-15 from the line) than on the tough long 2s they nailed all evening.
That Boston survived owes to the other standout feature of this game, an unusual tactic they've virtually never used in the Garnett era: small ball. Boston played with a freakishly small lineup for much of the second half, with Marquis Daniels (6-foot-6) at power forward and Robinson (5-9), Rondo (6-1) and Allen (6-4) on the perimeter.
In this case, it worked. Matt Bonner had bedeviled Boston in the first half by running Boston's bigs off screens and popping out for jumpers. With a smaller defender he couldn't do that and went scoreless in the second half.
"Bonner was killing us," Rivers said. "I thought the way they were guarding Paul in the first half, and with the overplays and using the other big [man], I thought if we could put another small on the floor then they could no longer overplay Paul. And then, defensively, we could match up with Bonner and take his shots away."
Of course, it also was partly the result of necessity. Boston has rarely needed to play small given its enviable frontcourt depth, but with Shaquille O'Neal struggling, Luke Harangody ineffective and Semih Erden limited, the Celtics needed to consider different options tonight.
As for San Antonio, the Spurs at least fixed some of the defensive problems that plagued them in an embarrassing loss to the New York Knicks a night earlier. Popovich wasn't going to tolerate any more soft play at that end, sending Boner to the scorer's table 75 seconds into the game, calling two timeouts in the first four minutes and sending in three more subs at the 7:01 mark.
"We started the game, the first three or four minutes, making mistake after mistake after mistake." Ginobili said. "He made himself pretty clear that we were not on the right track."
Yet Popovich's greatest ire came late -- when a two-step layup by Marquis Daniels produced no whistle, a day after the Celtics had benefited when the same fourth-quarter maneuver was called a travel on Minnesota's Luke Ridnour. Popovich got a tech for his efforts, and it took some serious persuasion by his assistants to prevent his getting a second.
Nonetheless, it was hard for either side to be too upset about the outcome. Both teams played at a high level, and in the end it took an epic shooting performance from Boston to topple the Spurs. The big takeaway was that this was a showdown that lived up to the hype, even in Garnett's absence. Lakers vs. Heat may capture the imagination of more fans, but in the wake of this thriller, one has to wonder if Celtics vs. Spurs would give us a better Finals.


ESPN Insider John Hollinger
• Twitter @johnhollinger | ESPN.com | TrueHoop | Email | Stats
• Follow ESPN's NBA coverage on Twitter | On Facebook | On Google+
Dimes past: 20 | 21 | 22 | 23 | 24 | 25-26 | 27 | 28 | 29 | 30 | 31 | Jan. 1-2 | 3 | 4 | 5
2. Favors A Starter But Still Trade Bait
By Chris Sheridan
ESPN.com

Favors
NEWARK, N.J. -- Derrick Favors is a starter now for the New Jersey Nets, but he has no illusions about the permanence of that move -- or lack thereof.
As Favors well knows and has known for several months, any day could be his last in New Jersey if the Nets are somehow able to pull off their dream trade and acquire Carmelo Anthony from the Denver Nuggets.
"Just because I'm starting now doesn't mean they're not going to trade me," Favors said before going out and proving once again that, at this point in his NBA career, he is still more of a foul magnet than an impact player.
Favors logged only nine minutes and had seven points, five rebounds and four fouls in the New Jersey Nets' 96-94 victory over the Chicago Bulls, with the player he replaced in the starting lineup, Kris Humphries, having a bigger impact than any other big man in the game (and that includes both Carlos Boozer, who was benched for the entire fourth quarter, and Brook Lopez, who grabbed just three rebounds in 35 minutes) with a season-high 20 points to go along with 11 rebounds.
Nets coach Avery Johnson said he had circled this game a long time ago as the one in which he planned to elevate the No. 3 overall pick in June's draft into the starting five, emphasizing that the move had nothing to do with the ongoing talks between the Nuggets and the Nets in which Favors has been a central figure.
The Nets are still holding out hope that they can convince Anthony to sign the $65 million contract extension that is sitting on the table if they can reach agreement with the Nuggets on the parameters of a trade, but New Jersey will not make a deal unless the team is assured that Anthony will sign the extension that'll keep him under contract through 2014-15. Team officials have their doubts as to whether Anthony would ever give that OK, but they are exploring all trade options -- including taking on additional long-term money from the Nuggets -- in the event that the pressure of leaving all that money on the table prompts Anthony to change his mind. As ESPN.com reported in December, Anthony has made it known to the Nuggets that if he is traded, he will not agree to sign the extension unless he is dealt to the New York Knicks.
Favors has been the centerpiece of numerous Nets offers that include several of the five first-round picks they have the rights to in the 2011 and 2012 drafts, and he is in the unique situation of being the only NBA rookie who has been on the trade bubble since the day he first donned his current team's uniform.
"The NBA is a business, so I don't know. Still might be traded, you never know," Favors said, adding that he had received no assurances of any kind from the Nets that he was no longer being included in trade discussions with the Nuggets.
3. Daily Dime Live Recap
Zach Harper, TrueHoop Network bloggers and fans like "lz" (attending the Magic game) gave their in-game opinions throughout Wednesday's slate of NBA games in Daily Dime Live.
WEDNESDAY'S BEST

Rondo
Rajon Rondo, Celtics: This was impressive -- a triple-double punctuated by 22 assists, with six steals thrown in for good measure in a win over the Spurs. Having your team shoot 61.3 percent helped RR pile up the dimes.
---
WEDNESDAY'S WORST

Bucks starters: Plenty of blame to go around here in a 97-87 loss to the Magic. Andrew Bogut and the rest of the starters shot 27 percent from the floor. Keyon Dooling went scoreless. At least Larry Sanders came off the bench for 15 points.
---
TWEET OF THE NIGHT
give me mascot trampoline and i'll get in it8 p.m. via web
Tracy McGrady
TheReal_TMAC
-- Pistons guard/forward Tracy McGrady, on participating in 2011 Dunk Contest.
---
QUOTE OF THE NIGHT
"If it was practice ... I don't know if anyone in the league would hit 13 out of 16. He does it in a game."
-- Spurs coach Gregg Popovich, on Ray Allen's 13-for-16 shooting night.
6.

Beaubois Return Closer
By Tim MacMahon
ESPNDallas.com

Beaubois
DALLAS -- Rodrigue Beaubois repeatedly caught the ball, jumped off the floor, snapped his wrist and talked trash in celebration of a swish as the Mavericks' practice wrapped up Wednesday.
That's a significant step in his recovery from a broken foot that has sidelined the dynamic second-year guard all season. It's not a sign that his return is imminent, however.
"It's a big step for me because it's been a long time," said Beaubois, who was headed for a regularly scheduled doctor visit after practice. "I feel good about it. I really feel good.
"Now I can jump on my shot. Week by week, I'm going to add some things."
Shooting jumpers is the most strenuous basketball activity that Beaubois has been cleared to do. He has competed in post-practice shooting competitions for the last four days.
Beaubois beat DeShawn Stevenson on the last shot Wednesday, with Dominique Jones a distant third. Stevenson and Beaubois talked good-natured trash throughout the competition, which sounds especially fun with Beaubois' French accent. Roddy B. claims that he's won three of the four sessions, with a loss to J.J. Barea the lone blemish.
"It's the last time, too," Beaubois said.
• Read the full story at ESPN Dallas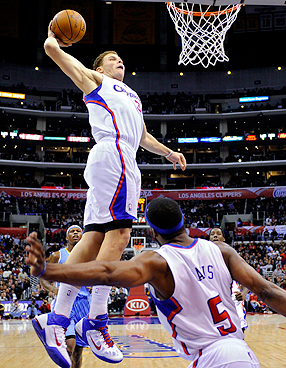 (AP Photo/Mark J. Terrill)
Clippers forward Blake Griffin goes up for a dunk during Wednesday's game with the Nuggets. Griffin had 22 points, 18 rebounds and seven assists in a 106-93 win.

Love
Blake Griffin (versus Denver) and Kevin Love (versus Charlotte) both posted their 22nd consecutive game with double-digit points and rebounds on Wednesday night. It marked the first time that two different NBA players had streaks of at least 22 straight games with double-doubles in the same season since 1976-77, when both Bill Walton (34 games) and Kareem Abdul-Jabbar (24) did it.