Steve Nash turns 37 in a month. Feb. 7 to be exact.
All signals, though, continue to suggest that he'll be celebrating that birthday in the desert.
It's not just the Suns who have been publicly insisting -- yet again -- that they will not consider moving Nash this season. A quickie check with a few highly interested suitors generated the same update: Phoenix is also still telling any team that calls that Nash is not available.
"No sign yet," one source said.
There's still time for the Suns to alter that stance, with 49 days to go before the Feb. 24 trading deadline, but owner Robert Sarver repeated his insistence in an e-mail to ESPN.com this week that he will not respond to Phoenix's 2-6 slide since its big trade with Orlando by dealing away his All-Star point guard and starting over completely.
And Nash isn't protesting, based on what he told The Arizona Republic's Paul Coro in Friday's editions. Referring to new team president Lon Babby, Nash said: "He told me a month ago when it first sprung up that he had no plans to move me."
As for trying to push for a trade himself, Nash repeated his recent claim that the two-year extension worth $22 million he signed in the summer of 2009 should tell you where he wants to be.
"I signed up for this," Nash said. "I'm committed to trying to build a team here. Obviously last year was a phenomenal year. Tied 2-2 [in the conference finals against the Lakers], I thought we could win a championship. I genuinely believed we could and would win it. It's tough to be in this position six months later. [But] I'm still committed to it. I love the guys. I think we've got potential, but we've had so much change and haven't been able to put it together."
Nash, meanwhile, is on pace to become the oldest player ever to average at least 10 assists per game and is shooting better than 50 percent for the seventh successive season. The only two players who can currently match that percentage are big men: Dwight Howard and Pau Gasol. All of which means that the Suns will continue to be subjected to calls from outsiders who believe that cashing in on Nash now for young assets, when he's still playing at such a high level, is the smartest play they can make.
---
Some numbers of note in the West this week:
45: Kevin Martin's 45 points in Wednesday's loss to Portland accounted for the first 45-point game for a Rocket since the team began playing in the Toyota Center in 2003. Two visiting players beat Martin to it: Carmelo Anthony (45 on March 15, 2010) and Dwyane Wade (45 on Dec. 29, 2010). Martin was also the first Rocket to score 45 points in a home game since Hakeem Olajuwon (March 29, 1997, against Denver).
45: If Vince Carter can ever manage a 45-point game for Phoenix, he'll become the first player in history to do so for four franchises. Carter, Jamal Crawford and Shaquille O'Neal are the only active players to score 45 points in a single game with three teams. Ray Allen, Antawn Jamison, Tracy McGrady and Houston's Martin have done it with two.
20: Marcus Camby's 20 rebounds Tuesday in Portland's loss at Dallas was his 41st career game with at least 20 boards, placing him third among active players just behind Orlando's Howard (43) and Detroit's Ben Wallace (42). Boston's Kevin Garnett (36) and O'Neal (35) are next in line.
101: The Knicks' 101 points after three quarters Tuesday in an eventual 128-115 victory over San Antonio made them the first team to reach 100 points before the fourth quarter against the Spurs in Tim Duncan's career. The Spurs hadn't allowed 128 points since March 3, 1993, when their squad featuring David Robinson, Avery Johnson and Vinny Del Negro -- and coached by John Lucas -- surrendered 132 to the Celtics in Boston.
22: Kevin Love and Blake Griffin have each recorded double-doubles in 22 consecutive games, marking the first time two players have had streaks that long in the same season since 1977-78, when Chicago's Artis Gilmore posted a 20-gamer and one of our favorite players back in the day -- Swen Nater -- went for 22 straight games late in my beloved Braves' final season in Buffalo.
---
Blazers center Marcus Camby, when asked what advice he would give teammate Brandon Roy about trying to play again this season or perhaps sitting out for the final 46 games to give his ailing knees an extended hiatus: "We'd love to have him out there, but it's his career. He has to make the call, weigh all his options, see all the doctors." One source close to the situation termed the idea that Roy -- who's out indefinitely -- will sit for the remainder of the season to be "an unlikely option." …
A few more teams that have expressed interest in Sacramento's in-demand Omri Casspi have emerged since ESPN.com's report earlier this week that Chicago and New York are trying to persuade the Kings to part with the second-year swingman. One source close to the situation said Toronto and Washington have joined the Casspi chase, while Sam Amick of AOL FanHouse reports that Denver and the Los Angeles Clippers have inquired as well. As stated from the start, though, Sacramento will insist that any team take on the contract of Beno Udrih or Francisco Garcia in any Casspi deal and could well ask for even more than that. The Kings' desire to find a new point guard to pair with Tyreke Evans is no secret among rival teams.
Marc Stein joins Jay Harris on "SportsCenter" to discuss the likelihood of one last comeback from Yao Ming after the Houston center's latest injury setback. They also address the knee sprain that has sidelined Dallas' Dirk Nowitzki for the past six games, which matches the highest total of games he's ever missed in a single season (six in 2001-02) in 13 seasons in the league.

Camby
Five questions with Blazers center Marcus Camby:
Q: What's this team's mental state after losing Brandon Roy and another season filled with injuries?
A: It's tough, man. This is my first full year here, but they've been dealing with the injury stuff before I even got here. So things are tough right now.
Brandon's situation, we don't really know what's going on. As players we're pretty much out of the loop. We just heard that he's gonna be out indefinitely. It's tough when your best player's not out there. This team has weathered the storm before, managed to win 50 games and make the playoffs [last season], but we're up and down.
A lot of people like to say this team is snakebitten. And if you look at it and really analyze the whole situation, sometimes it's hard to really second-guess that.
Q: How hard is it for the players not to give in to that kind of thinking?
A: It does get frustrating at times. Especially up there [in Portland]. We're the only show in town, so that's pretty much what everybody's talking about, just the injury situation and what's going on with the team.
Q: For you personally, I'm guessing at this stage of your career you want to be competing for championships. How much harder does that make the situation?
A: Definitely want to win. But I don't like to embark on something and not finish it. Even last year I wanted to remain with the Clippers, because I felt we had a lot of young talent and I knew we had Blake [Griffin] coming back this year and things might have been different.
This is right where I want to be. I had every intention of staying here and they were pushing me to sign the extension [last April] before I was able to go to free agency. So that's pretty much what I'm banking on. I would like to remain in Portland. I still feel we have enough pieces to compete.
Q: But I'm sure you're aware that your name is popping up in trade rumors. How big a distraction is that for you and the team?
A: There's a lot of uncertainty. When there's smoke, there's fire. But I don't know if or when something's gonna happen or what type of changes they're going to make.
They're there. [Rumors are] always going to be there. I take it as applause. It's always nice to be wanted.
Q: How do you think it affects some of the younger players like [Nicolas] Batum? Do they come to you for advice on how to deal with trade talk?
A: I just let [younger teammates] know that I've been on four or five different teams. This is all they know, but it's very rare that you can play your whole career with one team. Guys like Tim Duncan, Kobe, Dirk, Paul Pierce … they're the only ones. I always tell guys, "When they stop talking about you [in trade scenarios], that's when it's time to worry."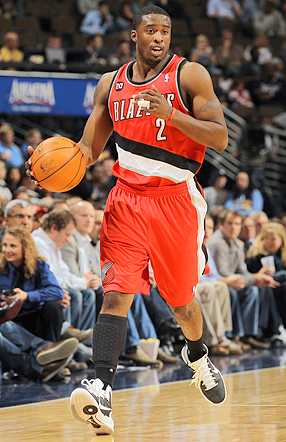 Doug Pensinger/Getty Images
Playing in place of injured star Brandon Roy, Portland's Wesley Matthews is making a strong case for Most Improved Player. (See Box 2.)
8.

Captain Jack To Big D?

Jackson
Team officials consider the Mavs' in-house harmony to be the best in their locker room for years, but sources say that it's really not chemistry concerns that would put them off the edgy Stephen Jackson. Not with Dirk Nowitzki and Jason Kidd -- veterans Jackson respects -- around to bond with him. And not with Jackson's proven abilities to make 3s, play dogged D and perform in the playoffs … all of which would have sounded appealing even with Caron Butler healthy.
The pause with Jackson would be mostly financial, since Jackson turns 33 in April and is in only the first year of a new three-year contract valued at $28 million. Dallas would be discouraged further if Bobcats owner Michael Jordan asks for more in trade talks than a mere Butler-for-Jackson salary dump.
The ex-Warrior wouldn't be as pricy as Philadelphia's Andre Iguodala -- who isn't as well-rounded offensively as Jackson and thus not nearly as appealing from a fit standpoint -- but one source close to the situation says Mavs owner Mark Cuban would have to be sold that acquiring Jackson is an "over the top" move.
Even in a West far more wide open than anticipated, Dallas isn't quite sure.
Houston's Kevin Martin remains a fantasy target -- coveted by the Mavs since last winter -- but the Rockets have made it clear that trading Martin is not in their plans … and that trading him to an in-state rival probably never will be.
As Cuban noted in his Tuesday night session with reporters, speaking generally about players he'd want to go for: "The other side has to want to make the trade."
Memphis' O.J. Mayo, although he's not a small forward, is an interesting name and presumed to be available given all the troubles Mayo is having in Memphis. Sacramento's Omri Casspi -- whose modest $1.3 million salary more than fits into the $4.3 million and $3 million trade exceptions Dallas has available through July 13 -- is a small forward and is another name that intrigues the Mavs.
The price for either, however, would be high. The Grizzlies are expected to ask for a lot in return for Mayo, no matter how mad they are about his role in this week's fight with teammate Tony Allen on the team plane, largely because they gave up Kevin Love to get him in the 2008 draft. Casspi, meanwhile, has several teams chasing him, but sources say Sacramento wants a point guard or another need-filler in return for the Israeli, who is treasured by Kings co-owners Joe and Gavin Maloof. It remains to be seen whether the Kings will eventually be willing surrender Casspi to a team offering, say, a future first-round pick and a willingness to take on Francisco Garcia's or Beno Udrih's contract.
But Dallas has begun scouring league rosters for potential trade targets in the $3 million-or-less category who, thanks to their trade exceptions, could be acquired for as a little as a future second-round pick if another team out there is simply looking to unload some money.
• Read the full ESPNDallas.com blog post
Tim Legler and host Kevin Connors check in from the "NBA Tonight" desk to weigh in on Marc Stein's latest edition of the weekly NBA Power Rankings, which are updated every Monday.