By Justin Verrier
ESPN.com
TUESDAY'S BEST

Rose
Derrick Rose, Bulls: With Carlos Boozer sidelined again with an ankle injury, Rose took more shots (28) than the rest of the Bulls' starting lineup but made half to tally a game-high 33 points in Chicago's loss to the Bobcats.
---
TUESDAY'S WORST

Offensive basketball: Each game in Tuesday's double dose of NBA action went down to the wire ... but the fans who didn't check out earlier had to avert their eyes at times to make it the distance. All four teams shot 40 percent or less, and Tuesday's two losers (Bulls, Heat) combined for 29 turnovers.
---
TWEET OF THE NIGHT
Elias: Joel Anthony becomes 3rd player since 1967 w/ at least 16 rebs and no field goal attempts, joining Dennis Rodman & Wilt Chamberlain.11 p.m. ET via web
Tom Haberstroh
tomhaberstroh
---
QUOTE OF THE NIGHT
"I stopped following it. It's getting to the point where you're just like, move on already or don't. I'm sure Melo is more tired of it than anybody. But it's just to the point, as a sports fan, you're just, 'All right, it's just enough.'"
-- Dwyane Wade, six months removed from the Heatles' decision-making dramatics, on Denver's ongoing Melo drama.
7.

LeBron Goes Cold Without Bosh
By ESPN Stats & Information

Bosh
Without Chris Bosh in the lineup on Tuesday, LeBron James attempted a season-high 10 3-point field goals, connecting on just two. For the season, when Bosh is not on the court, James takes almost twice as many 3s per 48 minutes as when Bosh is on the floor, and he misses a significantly higher percentage.
LeBron James With Chris Bosh On/Off Court
| | On | Off |
| --- | --- | --- |
| 3-pt FG pct | 40.2 | 29.9 |
| 3-pt FGA per 48 min | 3.9 | 7.6 |
| Heat +/- per 48 min | +12.5 | +3.2 |
The Heat's half-court offense was not in sync on Tuesday with Chris Bosh out and LeBron James making his return from injury, as Miami missed more half-court shots and turned it over more frequently than their season average. Overall on the season, the Heat shoot 48.3 percent from the field with Bosh on the floor and 43.6 percent with him off it.
Heat Half-Court Offense: 2010-11 Season
| | Tu vs. Hawks | Season |
| --- | --- | --- |
| FG pct | 34.8 | 44.7 |
| Points per play | 0.76 | 0.94 |
| TOs per game | 14 | 10.8 |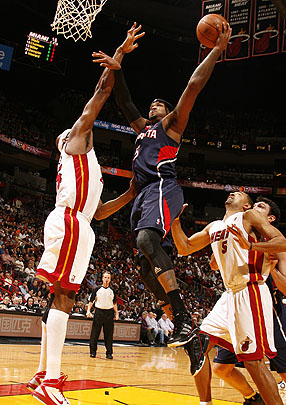 Issac Baldizon/NBAE/Getty Images
Josh Smith dropped the hammer on Erick Dampier and the Heat, scoring 15 points and pulling down 12 boards in Atlanta's 93-89 overtime victory.
9.

Allen Within Record Range
By Peter May
ESPNBoston.com

Allen
The students in John Williams' classes at Cheshire High School in Connecticut will arrive Wednesday to find a new number on the whiteboard. When they left Friday, the number had been 35. After four days off (three for the holiday weekend and another for a snow day), they will return to see the number now at 28.
Williams doesn't teach math. He teaches what is now called technology but back in the day was known as industrial arts. He also happens to be the father-in-law of Ray Allen of the Boston Celtics.
And the number he writes on his whiteboard is the number of 3-pointers his son-in-law needs to overtake Reggie Miller as the NBA's career leader in 3-point conversions. Miller's record stands at 2,560.
"I noticed at the end of last year how close Ray was, and when I went to their exhibition game in Hartford, I turned to my wife and said, 'He's going to break the record. This [school] year. Do the math,'" Williams said in a telephone interview.