THURSDAY'S BEST

Augustin
D.J. Augustin, Bobcats: Posted one of the great halfs of the season, sinking 10-of-11 shots en route to 25 points, finishing with a career-high 31 points overall in the Cats' 100-97 win over the Sixers.
---
THURSDAY'S WORST

Mavericks' bench marksmanship: In a game most notable for defensive play, four bench Mavs combined to shoot 8-for-28 (28.6 percent) in the loss.
---
TWEET OF THE NIGHT
Having a superbowl party sat night before gm. Usher playing. Be there11:47 p.m. via txt
Mark Cuban
mcuban
-- Mavs owner Mark Cuban, throwing open the doors! You heard the man, be there or be square. Oh, wait, it's invite only. But all is not lost -- a previous tweet says you can still win an invite.
---
QUOTE OF THE NIGHT
"It's just a dirty little creek."
-- TNT analyst Charles Barkley, taking aim at San Antonio's fame "Riverwalk."
By Ric Bucher and Chris Broussard
ESPN The Magazine

Jackson
Question: Who has been the best coach of the past decade?
BUCHER: Two coaches have stood above the rest of the NBA during the past decade: The Lakers' Phil Jackson and the Spurs' Gregg Popovich. There are coaches who have been impressive in various ways -- the Jazz's Jerry Sloan and the Celtics' Doc Rivers immediately come to mind -- but they are, at best, fighting for a distant third. The question is, who deserves to be considered the best? I'm going to go with the man they call Pop.
BROUSSARD: Obviously, Pop is a terrific coach, one of the best to do it. But my pick for coach of the past decade or so is Jackson. With five titles and seven NBA Finals appearances since 2000, he's led two separate dynasties in one decade. Not only has Jackson been the best coach of the past 10 to 12 years, he's been the best in NBA history.
RB: That was my initial thought, too. Who argues against all those rings? Jackson's five versus Pop's three since 2000, right? In fact, I'd be willing to concede that Jackson is battling Red Auerbach for best of all time when you include Jackson's Chicago run. But when I look at what he's working with, and where and for whom, this feels like a race in which one runner has a 10-yard head start every time.
The Los Angeles Lakers' winning has never come as a surprise; in fact, when they've lost, it has been an upset. The San Antonio Spurs, on the other hand, have been the favorite very few times because their talent never warranted it. Yet every season, including this one, they win more games and go deeper in the playoffs than their pure talent says they should. If you measure strictly by results, there is no argument here: Jackson wins. But measure results against what they were working with, and Pop clearly has "coached up" his teams more consistently than Jackson has.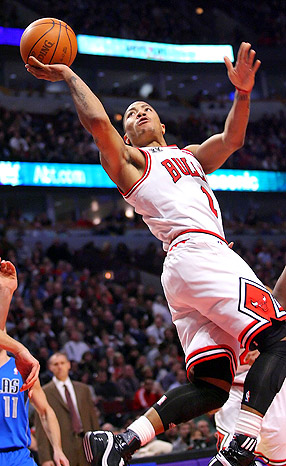 Dennis Wierzbicki-US PRESSWIRE
Bulls point guard Derrick Rose lifted his team to a win over Dallas. Chicago's 29-14 record is the fifth-best in the NBA, third in the East. Chicago is now one game behind Miami in the East standings.

It wasn't pretty, but Derrick Rose led all players with 26 points despite shooting only 9-for-28 from the field in the Chicago Bulls' 82-77 win over the Dallas Mavericks. It was the third time this season that Rose missed as many as 19 field-goal attempts, something no other Bulls player has done even once over the past seven seasons. The only other players to miss 19 or more FGAs in a game this season are Kobe Bryant (four times) and LeBron James (once).
But what made Rose's performance most unusual was the fact that no teammate scored even 10 points. Over the past 10 seasons only two other teams won a game in which just one player scored in double-figures: The Cavaliers, behind a 37-point night by LeBron James three years ago, and the Lakers, with a 62-point performance by Kobe Bryant in December 2005. The Bulls had only one other such victory in team history, behind Michael Jordan's 45 points against the Sonics in 1997.