SUNDAY'S BEST

Anthony
Carmelo Anthony, Nuggets: If a guy's shooting 25 percent from 3, it's probably a good idea to leave him open. Well, Mr. Twenty-Five Percent sank 6 of 8 3-pointers in the win over the Pacers, finishing with 36 points in a 121-107 win.
---
SUNDAY'S WORST

Granger
Danny Granger, Pacers: On the second night of a back-to-back at altitude, Granger posted only his third single-digit scoring night of the season. Granger made just 2 of 10 shots en route to eight points.
---
TWEET OF THE NIGHT
More good Hornet news: Need just 11,758 for OKC game on Monday to void exit clause in arena lease ... should be able to pull that off.1 p.m. via web
John Hollinger
johnhollinger
---
QUOTE OF THE NIGHT
"He had some open looks and made the shots. He is Carmelo Anthony and he's going to make shots."
-- Pacers forward Tyler Hansbrough, on Melo's aim
7.

Boozer Shakes Off Rust
By Nick Friedell
ESPNChicago.com

Boozer
CHICAGO -- Chicago Bulls forward Carlos Boozer knows he can play better, but after missing a week with a sprained left ankle, he was satisfied with his performance in Saturday's 92-79 win over the Cleveland Cavaliers.
"I was a little rusty," he said. "I didn't have the lift I wanted to have. Couldn't rebound the way I wanted to, but I pushed through it. [I'm] looking forward to the next one."
Boozer called the pain in his ankle "more of a soreness than a sharp pain" and said he could deal with it.
"Some good, some bad," Bulls head coach Tom Thibodeau summed up Boozer's performance. "Mostly what I expected. He had a week off without doing anything. He still had 20 [points] and 10 [rebounds]. He had one practice. He will get better and better."
By Peter May
Special to ESPNBoston.com

Perkins
Seldom has there been so much anticipation and out-and-out fuss over the return of a career 6.4 points-per-game scorer who doesn't make his free throws and has an uncanny ability to draw offensive fouls 20 feet from the basket.
But we all know how truly valuable Kendrick Perkins can be on this team with his defensive presence, shot-blocking ability and the occasional double-figure rebound game. He and Kevin Garnett form an excellent one-two punch anchoring the Celtics' defense, and the team legitimately feels that the only way it will raise another flag is if the defense returns to somewhere near the heady level of 2007-08. Perk helps in that area.
The one caveat in all this is that while Perkins may be medically cleared to play, that doesn't necessarily mean we will see the old, snarling, physical presence. Celtics team physician Brian McKeon cautioned that it takes a player 18 months to really get over an injury like Perkins had. He will be six-plus months out from the surgery when he does return, so realism will have to trump expectations for a while.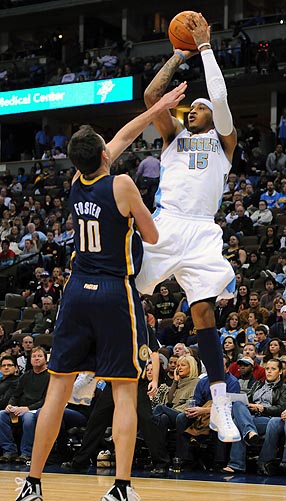 Ron Chenoy-US PRESSWIRE
Pacers center Jeff Foster gets a hand up, but Nuggets forward Carmelo Anthony still found the hoop with regularity on Sunday.