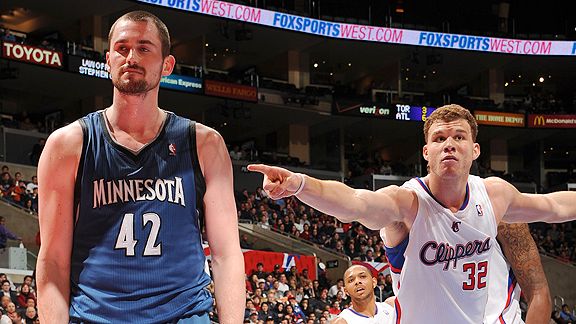 Andrew D. Bernstein/NBAE via Getty Images Marc Stein points to both Kevin Love and rookie sensation Blake Griffin as All-Star Game musts.
1. Reserve Judgment: Stein's All-Star Picks
Want to be an NBA coach?
Or at least make All-Star picks just like an NBA coach does?
You came to the right place.
You can just use the same formula employed in our annual compilation of All-Star reserve selections, which have been made by adhering to the same guidelines sent to the league's 30 coaches in an e-mail that went out Friday morning.
Head coaches are asked to vote for seven players in their respective conferences -- albeit none of their own players -- by Tuesday at 3 p.m.
Each ballot must include two forwards, two guards, one center and two wild cards -- with those picks ranked from one to seven to give each vote a point value for tiebreaking purposes -- but the coaches are also encouraged to ignore the listings on the actual All-Star ballot if they feel a player can play multiple positions. The goal there, obviously, is to get as many of the sport's biggest names into the game as possible, as opposed to, say, forcing the selection of a backup center who might not have unquestioned All-Star credentials.
The starters in the West, as announced Thursday night, are Oklahoma City's Kevin Durant and Denver's Carmelo Anthony at forward, Houston's injured Yao Ming at center and New Orleans' Chris Paul and Los Angeles' Kobe Bryant at guard.
The East's starters are Miami's LeBron James and New York's Amare Stoudemire at forward, Orlando's Dwight Howard at center and Miami's Dwyane Wade and Chicago's Derrick Rose at guard.
Using the instructions outlined above, here's how ESPN.com's benches would look:
Western Conference reserves
Forwards: Dirk Nowitzki (Dallas), Kevin Love (Minnesota)

Love

Nowitzki
If Carmelo Anthony wasn't voted in by the fans, I'm not totally sold that he'd make the West roster, even when he's rebounding the ball better than he ever has (8.0 rpg) and still scoring at an elite clip (23.6 ppg) in the face of the trade drama that has polluted the Rocky Mountain air since late September. That's how deep the talent pool is on this side of the conference divide.
There is zero hesitation, furthermore, when it comes to the following claim: Nowitzki should and would be starting over Anthony at West forward if the coaches had any control there. Dirk was shooting a ridiculous 54.5 percent from the floor and playing MVP ball before a knee sprain that wound up costing him nine games ... and the time away might have actually made a bigger impression on observers leaguewide who have grown somewhat numb to the German's greatness because the Mavs were so unwatchable without him.
Yet nothing about this process is harder than settling on two more forwards to fill out the West's roster, with as many worthy names in circulation as I can ever remember. Trust us: That point will be slammed home once you get to the full list of Westerners we're snubbing here.
So how does Love snag the spot opposite Nowitzki when the menu is overflowing with choices? The Mavs' Rick Carlisle publicly acknowledged this week that "the coaches' vote is always tipped heavily toward winning" -- and I know I've annoyed plenty of readers over the years with my own stubborn support of the same team-success doctrine -- but I can't ignore what Love is doing in the arctic climes of Sota. He's assembling a historically special season that has convinced me that Carlisle and his peers, for once, are going to look past Minnesota's 10-35 misery.
As you've surely heard by now, Love is bidding to become the first player since Moses Malone in 1982-83 to average 20 points and 15 boards for an entire season ... except that Moses sure didn't shoot 44.7 percent on 3s while he was vacuuming in board after board. It's only a humble hunch, but something tells me Love is going to get as much or more support from the coaches as Blake Griffin, partly because rookies (fair or not) always have it tougher to score All-Star votes but also because the Wolves aren't universally mocked like most 10-35 teams would be, since they've been in so many games before their youth eventually doomed them in crunch time.
It also doesn't hurt that folks are still buzzing about the magical 30/30 game Love uncorked against New York, which is something else we haven't seen since Moses did it in the '82-83 season.
Center: Pau Gasol (Los Angeles Lakers)

Gasol
Tyson Chandler, Nene and Emeka Okafor are all having impactful seasons as legit centers in the West. But this conference is so absurdly deep that there's no way West coaches can even try to find room for one of the other 5s who appeared on the ballot with the injured Yao Ming. Not when there are so many studly West forwards who demand consideration and not when, as Professor Hollinger so thoroughly explained earlier this week, we've long since reached the stage where it's time to think in terms of "bigs" as opposed to old-school centers.
You can thus rest assured that the coaches are going to the accept the NBA's invitation to apply the sort of points-wings-bigs thinking Hollinger outlined and, as stated right in the e-mail coaches get from the league office, make their selections based on what's "most advantageous for the All-Star team."
Unfortunate as that is for the likes of Chandler -- who didn't even appear on the ballot but is from Los Angeles and has a case to make his All-Star breakthrough in his hometown after helping Dallas forge its most credible defensive identity of the Mark Cuban era -- Gasol looms as the obvious choice to be voted in as the backup 5-man. Given how much the champs relied on him to play center early in the season while waiting for Andrew Bynum's return from offseason knee surgery and how much they still ask him to play there when Phil Jackson wants max mobility, Gasol getting the West's backup spot would only be appropriate.
Despite a so-so December based on the Spaniard's high standards, Gasol has given the Lakers plenty of his typical reliability and versatility, contributing 18.6 points, 10.5 rebounds, 3.9 assists and 1.9 blocks while averaging 37.3 minutes and missing zero games so far.
Guards: Manu Ginobili (San Antonio), Deron Williams (Utah)

Williams

Ginobili
Reinforcing the long-held notion that the Spurs are at their most dangerous when their crafty Argentine lefty is healthy, Ginobili has been the best player on the league's best team through the season's opening half. Which makes him an automatic.
D-Will, meanwhile, has carried one of the biggest loads in basketball and remains as individually dangerous as ever, despite being stripped of pick-and-roll partner Carlos Boozer and surrounded by new guys. The way he's coped without Boozer and all the changes in Utah puts him just ahead of Russell Westbrook in our backcourt pecking order, since D-Will doesn't have the benefit of playing alongside anyone in Durant's zip code.
Wild cards: Russell Westbrook (Oklahoma City), Blake Griffin (Los Angeles Clippers)

Griffin

Westbrook
I'm sure some voters are going to have Westbrook ahead of Williams on the West ladder given the leap made to elite status by the Thunder's springy lead guard ... and the way Utah has been sliding this month in spite of D-Will's nightly damage. I can handle that.
What you absolutely can't do is leave Griffin off this roster.
I know it's out there, but I'm not sure anyone is really listening any more to the stuff about how rookies never make it. Or the usual deterrent about how voting for Griffin and Love means putting two youngsters from losing teams on the squad at the expense of all those snubees from more successful programs. Point blank: Griffin, like Love, is in the midst of a for-the-ages season. He's almost made you forget last season's knee injury ever happened, displayed more all-around ability with his passing and board work than anyone imagined and has rebranded the Clippers into a relevant and borderline popular operation in one half-season.
Throw in the fact he was born to play in this game with his inimitable rim-assaulting skill set and Griffin has to be just the second rookie since 1980 -- joining Tim Duncan -- to be selected by the coaches. If there's any debate, it should only be about whether Griffin belongs in Nowitzki's section, with Love dropping down into the wild cards.
(P.S.: Something tells me this season will be the last time for a long time that we have to worry about whether the coaches vote for Griffin.)
(P.P.S.: Can't lie -- It does worry me for Blake's chances whenever someone reminds me that not even LeBron James was voted onto the East squad as a rook in 2004.)
West snubs: Tim Duncan (San Antonio), Steve Nash (Phoenix), LaMarcus Aldridge (Portland), Zach Randolph (Memphis), Monta Ellis (Golden State), Kevin Martin (Houston), Tony Parker (San Antonio), Eric Gordon (Los Angeles Clippers), David West (New Orleans), Rudy Gay (Memphis), Lamar Odom (Los Angeles Lakers), Luis Scola (Houston).
You counted right. That's another dozen luminaries out West with legit All-Star credentials ... which easily could have stretched to 15 by adding Chandler, Okafor and Nene.
The mere order that they're listed in here is bound to cause arguments, but Duncan shows up first -- even ahead of our beloved Nash -- because (A) San Antonio deserves more than one All-Star more than anyone else with that 39-7 record and (B) it's widely assumed that West coaches won't be able to resist voting for Timmay in a nod to the graceful manner in which he's accepted his diminished role (13.6 ppg, 9.5 rpg, 29.4 mpg) and still holds it all together chemistry-wise in the Alamo City.
You likewise get the feeling that David Stern will make Duncan his Commissioner's Pick to replace Yao if the coaches don't pick him ... so I decided to bank on that and leave him available to Stern.
Either way? Don't think I could ever mount a passionate protest against Duncan, who has to be on the team (and will be) one way or another.
As for the rest? I feel undeniable sympathy for Aldridge and Randolph especially -- ditto for Ellis and Martin in the backcourt -- but this is what the West is even after all of last summer's free-agent defections to the East.
Flat-out loaded.
The Line's 1-7 West Order:
1. Ginobili, 2. Nowitzki 3. Williams, 4. Gasol, 5. Love, 6. Griffin, 7. Westbrook
---
Eastern Conference reserves
Forwards: Chris Bosh (Miami), Kevin Garnett (Boston)

Bosh

Garnett
No one got more heat for Miami's 9-8 start than Bosh, but you scarcely remember that now because he was such a steady Heatle during the 21-1 surge after the infamous team meeting in Dallas on Nov. 27. And you can already see how much Miami misses its only reliable big man, after just three games without Bosh thanks to an ankle injury expected to shelve him for a week or two.
Paul Pierce has likewise been an overlooked source of dependability for the injury-hit Celtics -- averaging a team-best 19.1 points on 51.4 percent shooting from the field, 42.6 percent shooting on 3s and 85.3 percent shooting from the line -- but I'm taking advantage of the invitation coaches get to ignore the positions guys play for their primary employers and shifting Pierce to guard to counter the East's well-chronicled lack of backcourt depth.
My other forward spot thus goes to Garnett, who was inching back toward his Year 1-in-Boston form before the calf injury that knocked him out for nine games. The way he's quickly hushed the doubters who said we'd never see this KG again and his usual impact as Boston's defensive anchor makes Garnett as automatic as Pierce with East coaches ... no matter what they think of his various flaps with Charlie Villanueva, Howard, etc.
Center: Al Horford (Atlanta)

Horford
This spot almost surely would have belonged to Chicago's Joakim Noah had Noah (thumb) not missed the past 21 games.
Horford, though, still might have made the East squad for the second consecutive season after landing one of the league's few contract extensions for the draft class of 2007 just before the extension deadline on Halloween and then supplanting $120 million man Joe Johnson as the most reliable Hawk.
Guards: Paul Pierce (Boston), Rajon Rondo (Boston)

Rondo

Pierce
Pierce, as stated, has to get a spot for the high efficiency he's maintained in the face of a heavy, heavy burden caused by the Celts' various injuries to Garnett, Rondo, Kendrick Perkins, Jermaine O'Neal and Delonte West.
Rondo, though, tends to leave you with the same impression, despite those 11 games he's missed. There is undeniable frustration when you see Rondo's 47.1 percent shooting at the line -- he's made only 24 free throws in 33 games -- but he's the league leader in assists as a Stocktonesque 13-dimes-a-game guy while ranking No. 2 in steals behind MVP candidate Chris Paul.
Wild cards: Carlos Boozer (Chicago), Ray Allen (Boston)

Allen

Boozer
Don't have a great argument for ruling out Noah when Boozer has missed almost as many games (18 to Noah's 21). But the Bulls are 20-7 record with their new 20-and-10 power forward in the lineup and have maintained their spot as the league's No. 1 team in defensive efficiency without Noah. Which might be all the justification we need, although Kurt Thomas' effectiveness as a fill-in is a huge factor there, too.
Our final spot, then, comes down to New York's Raymond Felton and Allen ... with the elder Ray winning out because of the consistently deadly shooting (50.5 percent from the floor, 45.3 percent on 3s, 86.5 percent from the line) that has made him as feared at 35 as he's ever been when it comes to crunch-time clutchness.
If the coaches go with Allen, too, that'll almost certainly mean that four of the East's seven reserve spots are claimed by members of the Celtics. There's an equally good chance that the coaches, as we did here, wind up choosing seven Easterners out of 12 from Boston and Miami.
Have to confess, however, that I'm more comfortable with that lopsided proposition than sending two Knicks in spite of all the November and December raves for Felton. The Knicks and their point guard have dropped off noticeably in January to make it a must to make room for Allen.
The snubs: Joakim Noah (Chicago), Raymond Felton (New York), Joe Johnson (Atlanta), Andrew Bogut (Milwaukee) and Josh Smith (Atlanta)
There are not nearly as many snubees in the East, but here are five good names.
Noah, as stated, heads this group and only lost out through injury. The exclusions of Felton (shooting 36.3 percent from the field in the Knicks' 5-9 slide), Johnson (haven't forgotten his iffy November or his ongoing 3-point woes) and our man Bogut (dragged down by Milwaukee's unexpected struggles and 41.7 percent shooting at the line) were tough but unavoidable.
And Stein Line favorite Josh Smith, like Joe Johnson, couldn't quite displace Horford to fill the East's lone opening for Hawk.
The Line's 1-7 East Order:
1. Bosh, 2. Pierce, 3. Garnett, 4. Rondo, 5. Horford, 6. Allen, 7. Boozer


ESPN.com senior writer Marc Stein
• On Twitter @ESPNSteinLine | On TrueHoop | On ESPN.com | On email
• Follow ESPN's NBA coverage on Twitter | On Facebook | On Google+
Dimes past: 11 | 12 | 13 | 14 | 15-16 | 17 | 18 | 19 | 20 | 21 | 22-23 | 24 | 25 | 26 | 27 | 28
2. One-On-One ... To Five

Martin
Five questions with Rockets guard Kevin Martin:
Q: The West is so crowded this season that it's tough just getting into the conversation about who's being snubbed. How frustrating is that when you're putting up the numbers you're putting up?
A: This year, going into the season, I felt like one of the top shooting guards. I was left out of that discussion because of last year. I was just getting my game back [after wrist surgery]. But I feel like I'm back in that discussion. Like everyone says in the NBA, it is what it is.
Q: So it won't be a huge letdown if the [West] coaches don't vote you in?
A: There's a lot of guys worthy of being in the All-Star Game in the West. It's funny. There's just so much that goes into it. It's not just your talent. My main focus was playing again like one of the top shooting guards in the West. I feel like I'm an All-Star guard. But I can only control what I can control.
Q: You have a chance to lead the league in 3s made and free throws made, which no one's ever done before. What's clicked for you this season? Just being more comfortable after the trade?
A: I'm healthy.
Q: It's that simple?
A: I was coming off a broken wrist [last season]. I felt pain through the whole season [after wrist surgery in November]. Even when I got to Houston, I only shot 31 percent on 3s. I knew the bone was fixed, but the ligaments around it were sore and tight. I wasn't making any progress. I just thought it was something I'd have to play with my whole career.
Then working out during the summer, I don't know if it was the exercises I was doing or what, but it seemed like overnight the pain just left. Just like that I felt no soreness, no pain. That was like mid-July.
Q: I'm sure you've heard people throw out the Rockets as a team that could wind up with Carmelo Anthony. I'm guessing it's hard not to think about that sometimes, right?
A: You do hear stuff like that. He's a great player and that would be a dynamic scoring combo. But I'm happy with the team we've got right now.
3. Western Conference

The distinct vibe in circulation entering the weekend is that the offense itself committed by the Grizzlies' O.J. Mayo -- taking an unspecified over-the-counter supplement that earned him a 10-game suspension because whatever he took contained the banned substance known as DHEA -- will not dissuade other teams from trying to trade for Memphis' out-of-favor scoring guard before the Feb. 24 trading deadline.
The bigger issue, NBA front-office sources say, is that the Grizzlies could well choose to hold off on dealing Mayo because they won't want to "sell low" so close to such unflattering headlines that are bound to encourage other teams to try to steal him.
Relegated to a reserve role earlier this season -- in a move Grizzlies coach Lionel Hollins insisted was designed to get some scoring out of his subpar bench -- Mayo has endured major dips in scoring average (12.2 ppg down from 17.5 ppg) and shooting percentage (.408 down from .458) in addition to his highly publicized scrap on the team plane with teammate Tony Allen.
Yet even before the league announced Thursday that Mayo was being suspended for testing positive for DHEA -- which is the same violation that got Rashard Lewis banned for the first 10 games of the 2009-10 season -- Memphis was said to be seeking a lot in return for the 23-year-old. The Grizz want commensurate talent on favorable contracts in exchange for the player they acquired in a draft-day deal with Minnesota for Kevin Love in 2008. And who isn't looking top talent with a cap-friendly deal?
---
Some numbers of note in the West this week:
100: The Clippers' Blake Griffin, through Tuesday's games, shared the league lead in dunks with Orlando's Dwight Howard: 100 slams even for the season. Portland's LaMarcus Aldridge was third with 85, followed by the Clippers' DeAndre Jordan (82) and New York's Amare Stoudemire (81).
47: Griffin (Jan. 17 versus Indiana) and Kevin Durant (Wednesday in Minnesota) have the league's highest single-game scoring total this season at 47 points. Utah's Paul Millsap and Golden State's Monta Ellis each have a 46-point game.
3: Minnesota's Kevin Love recorded his third career 30-point, 20-rebound game this week, good for a fifth-place tie among active players with Memphis' Zach Randolph. Boston's Shaquille O'Neal has 18 such games, followed by San Antonio's Tim Duncan (six), Boston's Kevin Garnett (five) and Orlando's Dwight Howard (four).
2.7: The Lakers' Pau Gasol, averaging 2.7 points in fourth quarters, has the lowest fourth-quarter scoring average of any player in the league's top 60 scorers. San Antonio's Tony Parker is No. 59 at 2.8 points per game in the final period.
3: Golden State's David Lee, with 31 points and 12 rebounds in a home loss Monday to San Antonio, joined Kevin Love and Blake Griffin as the only players this season to post a 30-point, 12-board game against the Spurs. Only four opposing players, according to the Elias Sports Bureau, did that against the Spurs over the previous four seasons combined: Dwight Howard, Dirk Nowitzki, Carlos Boozer and Amare Stoudemire.
---
The Kings, sources say, are open to moving big man Samuel Dalembert during the next 27 days before the deadline, but they remain unwilling to take back anything other than expiring contracts to preserve maximum flexibility on the other side of a new collective bargaining agreement ... unless someone wants to donate a star. With Dalembert possessing an expiring contract valued at $13.4 million, it's not easy to find a match that keeps the Kings in the same cap position as they are now. As previously stated in this cyberspace, Sacramento's willingness to part with coveted swingman Omri Casspi is contingent largely on the other team's willingness to take back one of the Kings' two longer-term contracts (Beno Udrih or Francisco Garcia) as part of the exchange.
Although the volume on the Carmelo Anthony trade talks has been dialed way down since New Jersey's Mikhail Prokhorov announced last week that the Nets were pulling out of the Melo Sweepstakes, I continue to hear that (A) Denver does not want to wait until the week of the Feb. 24 deadline to make a deal to avoid having to scramble at the last minute if nothing can be worked out with Melo's first-choice team in New York, and (B) Nuggets officials don't see Anthony's repeated statements of concern about failing to sign an extension before this summer's anticipated lockout as a sign of hope that they can still convince him to stay. Sources say that the Nuggets know that an about-face from Melo on signing the extension, after months of balking since it was presented last June before the 2010 NBA draft, would be purely about money and likely stick them with an unhappy franchise player who still wanted out. As much as the Nuggets would love to believe that Melo might look at his remaining options in these final three-plus weeks before the deadline and suddenly declare that Denver actually is the best place for him to be, they certainly don't expect that to happen after months of Melo refusing to see it that way.

Would the Celtics have interest in signing Rip Hamilton if the Pistons buy him out before March 1 and thus send Rip to free agency with playoff eligibility wherever he chooses to sign?
Obviously.
How likely is a buyout when Hamilton has two guaranteed years left on his contract worth $25 million after this season?
Even less likely than Detroit finding another team willing to trade for the 32-year-old, which has been the Pistons' focus since the collapse of the three-way Carmelo Anthony deal that would have landed Hamilton in New Jersey.
The Pistons' pending sale has complicated Joe Dumars' attempts to make trades all season. But the idea that a new owner is going to start his or her tenure by cutting a big check to Hamilton makes the notion of buyout, with so much money left on Rip's deal, legitimately harder to imagine. The Pistons, remember, didn't even want to buy out Troy Murphy if they got him in the Melo deal, with Murphy in the final year of his contract at $12 million.
Yet if Detroit can't manufacture another trade to relocate Hamilton before the Feb. 24 trading deadline -- and I have my doubts about Utah's willingness to take on Rip's contract no matter how much the Jazz need to appease an increasingly frustrated Deron Williams or how well he might fit basketball-wise -- Dumars will have to try to broker an even-harder-to-fathom peace between Hamilton and coach John Kuester. And those two can't stand the sight of each after Rip's recent exile from the rotation.
---
Some numbers of note in the East this week:
5: New York's Amare Stoudemire, after being selected by the fans to start for the East in the NBA's 60th All-Star Game next month, will join Kevin Garnett, Jason Kidd, Tracy McGrady and Shaquille O'Neal as one of just five active players to start for both conferences.
15: In his 15th season, Boston's Ray Allen is shooting a career-high percentage from the field (.504) and 3-point range (.454). If that holds for the rest of the season, Allen would become the first player since 1979-80 -- when the NBA introduced the 3-point line -- to register career-bests in both categories in his 15th season or later.
39: The Celtics' Shaquille O'Neal, who turns 39 on March 6, is the NBA's oldest player this season. Chicago's Kurt Thomas, who turns 39 on Oct. 4, is second oldest, one day older than the Suns' Grant Hill.
3: There were 16 players last season who averaged at least 20 points per game. Only three of them -- Stoudemire, Chicago's Derrick Rose and Golden State's Monta Ellis -- have increased their averages.
2,159: Five years and 334 days -- which also computes to 2,159 days -- elapsed between Kurt Thomas' 21-point game for the Knicks in February 2005 and his 22-point game for Chicago in Monday's win over Milwaukee. It's the longest gap between 20-point games since Anthony Carter went seven years and 358 days without one after cracking the 20-point barrier for Miami in 2000 and waiting until 2008 with Denver to repeat the feat. Thomas, at 38, also supplanted Antonio Davis (36 in 2005) as the oldest 20-point scorer in Bulls history.
---
As a follow-up to our Thursday night item about Oklahoma City's interest in Cleveland's Anderson Varejao before the Brazilian was ruled out for the rest of the season by an ankle injury -- which can be found in a Box 8 excerpt -- I've since been strongly cautioned that Varejao is the last player that the Cavs want to trade. The price to steal him away, then, would have been quite high even if he hadn't gotten hurt. ... Alexis Ajinca had $690,748 left on his contract when dealt from Dallas to Toronto earlier this week so the Mavericks could make room for the signing of Raptors-ex Peja Stojakovic. So that's how much cash Dallas had to kick in to seal the trade.

Wall
The Wizards lugged their dreaded 0-21 road record Friday night to Oklahoma City.
The Cavs, meanwhile, have lost 22 consecutive road games as part of their ongoing 1-27 woes.
Yet this isn't the first time we've seen two teams mired in road skids in the 20s in the same season.
It's actually the fourth time two teams have lost at least 20 consecutive road games in the same season, as illustrated by the following list from the Elias Sports Bureau:
20 Straight Road Losses In Same Season
| Season | Teams (consecutive road losses) |
| --- | --- |
| 2010-11 | Wizards (21), Cavs (22) |
| 1997-98 | Mavs (22), Nuggets (22) |
| 1991-92 | Mavs (26), Bucks (24) |
| 1989-90 | Nets (28), Wolves (22) |
The most frustrating part for the Wiz, of course, is that they've posted a passable home record of 13-10 while becoming just the sixth team in history to start a season with 20 straight Ls on the road. None of Washington's five predecessors, as shown, had a winning home record at the time of their first road W:
Starting Season With 20 Straight Road Losses
| Year | Team | Road Start | Home Record | Home PCT. |
| --- | --- | --- | --- | --- |
| 1949-50 | Waterloo Hawks | 0-22 | 14-19 | .424 |
| 1953-54 | Baltimore Bullets | 0-20 | 5-10 | .333 |
| 1974-75 | New Orleans Jazz | 0-28 | 6-16 | .250 |
| 1992-93 | Dallas Mavericks | 0-29 | 5-28 | .152 |
| 1997-98 | Denver Nuggets | 0-22 | 2-16 | .111 |
Most Consecutive Road Losses Since 2000-01
| Team (Losses) | Dates |
| --- | --- |
| Cavs (34) | Jan. 13-Dec. 15, 2003 |
| Bulls (25) | Dec. 21, 2000-April 10, 2001 |
| Hawks (23) | Dec. 15, 2004-March 9, 2005 |
| Wizards (22) | April 12, 2010-Jan. 24, 2011 |
| Cavs (22) | Nov. 19, 2010-Jan. 25, 2011 |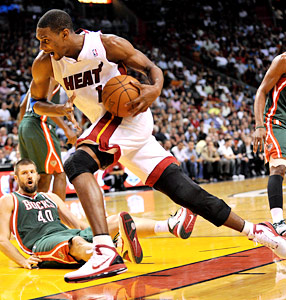 NBAE/Getty Images
After a slow start to the season, Chris Bosh deserves a trip to Los Angeles. (See Box 1.)

Davis
"I knew he was good. But I don't think anybody recognized that he was this good."
Clippers guard Baron Davis, when asked what his expectations were for Blake Griffin back in October when the Clips convened for training camp.
Davis certainly didn't foresee Griffin averaging 22.6 points and 12.8 rebounds and hauling the Clippers from the depths of a 1-13 start to the point where GRIFFIN 32 jerseys are now a standard sight in arenas around the league when L.A.'s long-suffering other team hits the road.
If you read last week's Weekend Dime, furthermore, you probably haven't forgotten that more than one scout rates Davis' resurrection as the neatest trick of Griffin's rookie season, better than any dunk you want to name.
Davis counters by saying that he's still recovering (physically and mentally) from a couple of beatdown seasons with his hometown Clips and pegs that as the root cause of his slow start, as opposed to new coach Vinny Del Negro's well-chronicled complaints early in the season about Baron's suspect conditioning. But Baron also doesn't deny that Griffin's emergence as the league's most exciting player has given the 31-year-old point guard new life in Year 3 of the five-year, $65 million deal he signed with the Clips in the summer of 2008.
The Blake Factor?
"It's [sparked] a revitalization of my game," Davis said this week. "I think, for me, this is a transitional year, not being able to explode over the rim and overpower people [after knee trouble limited him to one game in November]. I've just taken on more of a leadership role, [being] more of a creator for the other guys.
"I think this year is definitely a work in the progress, but this is definitely the foundation we want to have going forward. This is definitely the reason why I wanted to be here, to play with a team like this, with coaching, energy. It's great. I definitely know that this thing is turning around."
Any measure of enthusiasm will naturally be tempered by the eventual realization that owner Donald Sterling has a three-decade track record of sabotaging every new dawn in Clipperland and isn't going anywhere. The inevitable skepticism about how long Sterling will actually be able to keep Griffin and Eric Gordon is thus already starting to circulate.
Even the short-term outlook, for Clippers die-hards, sadly comes with caveats. The combination of a wrist injury that could sideline Gordon up to a month and a road-heavy schedule in the second half seemingly squelches any hope of a real surge into playoff contention.
Yet Davis, at the very least, appears to have hushed suggestions that the Clippers would try to move him before the Feb. 24 trading deadline. He's averaging a solid 15.8 points and 6.7 assists in January and is an undeniably savvy setup man for L.A.'s exciting young finishers when he's in this mood.
"Good," Davis said of the faded speculation, acknowledging that recent trade rumblings did briefly unsettle him.
"I don't want to be traded."
Said Clippers general manager Neil Olshey: "The early struggles BD had were a blessing in disguise. If we had to sacrifice 13 losses early in the year to establish that Eric and Blake are the cornerstones of the franchise and that they needed to understand that and play at a level commensurate with that responsibility, then that's 13 losses we'll give up because now we're in a much better place as a franchise than we would've been if their roles weren't as clearly defined.
"[But] we also needed Baron," Olshey continued. "We were a little bit of a headless horseman without him. Now there's somebody throwing those passes to Blake and DeAndre [Jordan]."
8.

Trade That Might Have Been

Varejao
The Cavs still have that infamous $14.5 million trade exception created in the LeBron James sign-and-trade salvation mission with Miami to take on a hefty contract if and when, in the words of Twitter-happy owner Dan Gilbert, they finally decide to "strike."
NBA front-office sources say that the Cavs have likewise been making guard Mo Williams available since the summer and continue to receive trade interest from rival clubs for the likes of veteran forward Antawn Jamison and swingman Anthony Parker.
However ...
Cleveland's most enticing trade asset -- rugged Brazilian big man Anderson Varejao -- was ruled out for the rest of the season in early January thanks to a torn ankle tendon. Varejao still hasn't decided whether he's going to have surgery on the ankle, but the severity of the injury brought an understandable halt to some thought-provoking negotiations that sources say had quietly begun to percolate between the Cavs and Oklahoma City.
The Thunder, as noted in Monday's Power Rankings, began the week having outrebounded opponents only 22 times ... compared to 55 last season. The Thunder, in short, need another big man to truly contend in the West. And they know it.
Varejao's injury, though, essentially ensures that it won't be him, tantalizing as it must be for Thunder fans to imagine what sort of impact he potentially could have had in the same frontcourt rotation with Serge Ibaka and Nick Collison.
It has to be noted that the Cavs, from everything I've heard, really didn't want to part with Varejao when he was healthy. The scrappy power forward, who averaged 9.1 points and 9.7 rebounds in the 31 games he did play, is naturally the sort of physical player beleaguered new Cavs coach Byron Scott is fond of.
It also seems safe to suggest that the Cavs would have asked for Jeff Green or James Harden in a Varejao deal, which almost certainly would have had Oklahoma City balking.
The Thunder, though, do have a stash of quality draft picks and other young big men (Cole Aldrich and Byron Mullens) to offer that likely would have forced the Cavs to keep taking their calls. A veteran big who can defend and rebound with greater regularity than Nenad Krstic is the sort of big man, sources say, that OKC is looking for ... even though Varejao is pricier than the typical Thunder target with three guaranteed years worth nearly $25 million left on his contract after this season heading into the uncertainty of a new labor agreement.
To read the entire TrueHoop blog entry, click here
Tim Legler and host Kevin Connors check in from the "NBA Tonight" desk to weigh in on Marc Stein's latest edition of the weekly NBA Power Rankings, which are updated at ESPN.com every Monday.