1. Celtics Show Team Cohesion Lakers Lack
By J.A. Adande
ESPN.com
LOS ANGELES -- Before we look at some of the box score disparities that grab your attention as if Hubie Brown were barking them into your ear canal, let's examine this moment in the victorious Celtics locker room that was every bit as revealing as the stats.
Kendrick Perkins emerged from the trainer's room to find Rajon Rondo holding court with the media, reporters spilling over into Perkins' locker. Normally Perkins is as protective of his space as a self-important bouncer. You want to get at a rebound that he's secured, you'll end up with a mouthful of elbow. So Rondo was properly respectful.
"You want me to move?" Rondo asked.
"Nah, you're good," Perkins replied. "I want to hear what you have to say."
These Celtics are all about collaboration and cooperation. In other words, they're everything the Lakers weren't on Sunday.
It was reflected in the lopsided numbers from Boston's 109-96 victory: 34 to 10 in assists, 60.3 percent to 44.4 percent in field goal shooting, 43 to 30 in rebounds.
In the 2008 NBA Finals the Celtics showed the Lakers that the tougher team wins championships. The Lakers learned their lesson and were able to stand up to the Celtics in last year's Finals.
And it wasn't as if the Celtics smacked the Lakers around Sunday. (In fact it was Kevin Garnett who shed the most blood and needed multiple stitches after catching a Pau Gasol elbow to the head.) The new standard the Celtics have established that the Lakers haven't reached is in the decidedly less physical but more aesthetically pleasing category of teamwork.
"When we play together as a team," said Paul Pierce, who led the Celtics with 32 points, "we're tough to beat."
There was none of that from the Lakers, with Kobe Bryant taking as many shots as the Lakers' entire starting frontcourt. Even though Bryant was more efficient than usual -- he made 11 of his first 18 shots and 16 of 29 on his way to 41 points -- the Lakers still couldn't hang with Boston. Bryant's offensive outburst caused his teammates to check out and stop participating in their sets.
On one first-half play, Lamar Odom remained in the corner while Bryant brought the ball upcourt, Odom not bothering to prepare for a pass he knew would never come (it didn't). On a second-half set, with Bryant on the wing and a low-post spot there for the taking, neither Odom nor Pau Gasol bothered to occupy it, as they both stood near the top of the key.
"We were horrible offensively, as far as our spacing is concerned," Odom said. "Whenever we play games like that we give Kobe no choice but to try to take over the game, we just didn't get everybody involved like we needed to."
Increasingly, when Bryant gets it going his teammates don't come along for the ride, they stand on the platform and watch as the train leaves the station. He had a 17-point second quarter Sunday in a loss. He scored 21 points in the first quarter Friday against Sacramento in another loss. He scored eight points in the first three minutes of a loss at San Antonio. His best single quarter against the Celtics in the 2010 Finals -- the 19-point third in Game 5 --came in a loss.
Granted, none of Bryant's teammates rose to the occasion the way, say, Nate Robinson did in scoring 11 points for the Celtics.
The telltale sign that the only athletes more solitary than Bryant Sunday were PGA golfers: He had no assists and only four of his 16 field goals were assisted. During one stretch in the fourth quarter Bryant took 10 consecutive shots for the Lakers.
"I didn't think anybody else wanted the ball," Lakers coach Phil Jackson said.
By that point the other Lakers might have forgotten what it felt like.
A stagnant offense is doubly dangerous for the Lakers because it dictates their defense as much if not more than any other team in the league. I'll let Andrew Bynum explain it:
"If you're standing around in the triangle, it's going to lead to fast breaks," Bynum said. "Because you have three guys on the baseline, you have a guy in the corner, a guy in the other corner, someone in the block. That's automatically, a long shot or long rebound, you're starting from the baseline."
In the second half the Lakers shot only 40 percent, the Celtics got into early offense and Rondo dished out 15 assists. Rondo was coming off his two lowest-assist games of the season, 6 and 5, and had only one assist in the first half Sunday, but was allowed to push the offense and set up his teammates again.
The Celtics are making a league-high 50 percent of their shots this season. Ray Allen (50 percent) and Pierce (51 percent) are both having the best-shooting seasons of their careers. When I asked Allen to explain it before the game he said, "We're so efficient. Great screen-setters from the bigs. Everybody's making great cuts. Rondo's doing his job getting to the hole, he's making great passes, getting the ball to guys when they're in scoring positions. So between me and Paul we've had great shots."
Notice he discussed three different elements to describe their hot shooting before he even got to, you know, shooting the ball. That shows the level of basketball the Celtics are playing when they're on, how team-oriented they've been.
The Lakers can't come to a unanimous agreement on what's wrong with them. This is twice they've followed a home loss to a losing team with a home loss to a championship contender (we all remember Milwaukee-Miami at Christmastime), in addition to road losses at San Antonio and Dallas in other marquee games.
Bryant says, "We've got to be more disciplined defensively," while Bynum seemed to agree with me that they get in trouble when the offense isn't working.
The only consensus is that it isn't time to panic.
"Is it the playoffs yet? No," Jackson said. "OK. It's not the playoffs yet. We're still playing regular-season games. We'll get there in time."
"It's not important to meet [the challenge] now," Bryant said. "We would love to meet it now, but we need it if we're fortunate enough to face them down the road."
Perhaps the Lakers will even get it together in time for their game in Boston on Feb. 10, in the midst of a seven-game trip.
What we do know is that the last two times Perkins lasted an entire game in Staples Center (Sunday and Game 2 of the NBA Finals) the Celtics walked out with a victory. We know the Celtics (36-11) are four games ahead of the Lakers (33-15) in the loss column in the race for home-court advantage in the NBA Finals.
Whether you look at the standings or watch the way the play together, the Celtics are the better team at the end of January.


ESPN senior writer J.A. Adande
• On Twitter @jadande | On ESPN.com | On TrueHoop | On e-mail
• Follow ESPN's NBA coverage on Twitter | On Facebook | On Google+
Dimes past: Jan. 15-16 | 17 | 18 | 19 | 20 | 21 | 22-23 | 24 | 25 | 26 | 27 | 28 | 29-30
2. Game On: Thunder-Heat Clash In Style
By Brian Windhorst
ESPN.com

Durant
OKLAHOMA CITY -- When Sunday began, the Heat and Thunder weren't rivals and the current groupings of players had virtually no history together.
By the time the heated contest was over, stars were firing unexpected trash talk, the Heat were considering whether their 108-103 victory was the best of the season, and the two had staged an instant classic replete with the type of clutch play and physicality that is typically reserved for the playoffs.
The emotions of it all poured out from the unlikely Kevin Durant, the low-key and usually reserved Thunder star who walked off the court barking at the newly returned Chris Bosh and added spice to what was a remarkably hard-fought game.
Durant and Bosh got into a brief exchange of words in the first quarter when both received technical fouls. What followed was an intense 48-minute struggle that saw 16 lead changes and nine ties. The Heat's top three players combined for 75 points, while the Thunder's had 77.
"I am a quiet guy, laid-back guy, but I'm not going to let nobody talk trash to me," Durant said. "[Bosh] on a good team now so he thinks he can talk a little bit. There are a lot of fake tough guys in this league and he's one of them."
If those are surprising words from Durant, they seemed to catch Bosh off guard as well.
"We just kind of went back and forth," Bosh said. "I don't think it was anything to get a tech over. It was just talking. He stood his ground. I respect that."
It isn't so much a feud as it was indicative of what this game meant. The Thunder, who had won six consecutive home games, are trying to establish themselves as one of the league's elite.
A popular underdog pick to challenge in the Western Conference, the Thunder have compiled a nice record at 30-17. But they have struggled a bit on defense and in putting away opponents, often relying on last-minute heroics by Durant or Russell Westbrook.
It has worked quite often, as Oklahoma City came into the game 15-4 in games decided by five points or fewer. So when the game was close in the fourth quarter, they looked to have the Heat right where they wanted them.
Miami was just 2-8 in games decided by five points or fewer, a larger reality that couldn't be explained away by injuries.
On Sunday, Miami was whole again for the first time in eight games, getting Bosh back from an ankle sprain and Dwyane Wade from a wrist injury. With LeBron James moving from the less comfortable power forward role to point guard in the stretch run, it was the first significant test of the Heat's mettle in a while.
James, Bosh and Wade combined for 75 points and found themselves in an arms race with Durant, Westbrook and Jeff Green, who collectively tallied for 77 points. Durant and James guarded each other for most of the game -- shoving, grabbing and pushing much of the way. Wade and Westbrook squared off as well, each landing blows on the other in the form of picked pockets, fierce rebounds and pure contests of strength and speed.
The Thunder were executing out of timeouts under pressure, twice perfectly orchestrating inbounds plays drawn up by coach Scott Brooks in the game's decisive moments. But their defensive intensity was questionable at times -- the Heat shot 52 percent. The Thunder also had difficulty finding the basket against Miami's set defense, shooting just 37 percent in half-court offense situations against the Heat.
3. Daily Dime Live Recap
Zach Harper, TrueHoop Network bloggers and fans gave their in-game opinions throughout Sunday's slate of NBA games in Daily Dime Live.
SUNDAY'S BEST

Boston's sharp aim: The NBA's top-shooting team shot 60.9 percent. As Jeff Van Gundy might say, that's hard to do when nobody's guarding you. If a similar sizzling C's squad were ever to meet the Lakers again at Staples this year, you could start stitching banner No. 18.
---
SUNDAY'S WORST

Artest
Ron Artest, Lakers: In his 24 minutes on court, he was the only Laker who was on the good side of the plus-minus ledger (plus-9). However, going 1-for-10 from the field against the team whose hearts you stomped on seven months ago is not worthy of Artest.
---
TWEET OF THE NIGHT
And yes I did realize it was against the cavs...8:30 via Twitter for iPhone
Kevin Love
kevinlove
-- Kevin Love, following up on a tweet in which he declared Dwight Howard a beast for going 20-20 in 26 minutes
---
QUOTE OF THE NIGHT
"He's on a good team now so he thinks he can talk a little bit. There are a lot of fake tough guys in this league and he's one of them."
-- Kevin Durant, taking exception to Chris Bosh's on-court remarks Sunday
6.

The Elite Beating Lakers
By Dave McMenamin
ESPN Los Angeles.com

Bryant
LOS ANGELES -- The Los Angeles Lakers have the banners hanging from the rafters of Staples Center that prove they are the NBA's current back-to-back champions, but they hardly have the résumé this season to suggest a third is in store.
Sunday's 109-96 loss to the Boston Celtics dropped the Lakers' record to just 1-5 against the so-called elite teams. The Lakers are 1-3 against the top three teams in the Eastern Conference, losing to the Celtics and Miami Heat once apiece and splitting two games with the Chicago Bulls. They are 0-2 against the top three teams in the West other than themselves, losing against the San Antonio Spurs and Dallas Mavericks.
There are 34 regular-season games remaining on the schedule for the Lakers and 23 of those games are against teams with records of .500 or better as of Sunday. So far this season, the Lakers are just 9-9 against teams that currently have records of .500 or better.
"To a certain extent, it is concerning," said Pau Gasol. "We got to step up and beat these teams when we face them because at some point we're going to have to end up beating them if we want to get to our goal. We have to understand that the regular season is not crucial, but it's important ... we have to have a little more of sense of urgency, a certain sense of getting better and just beating whoever we're facing."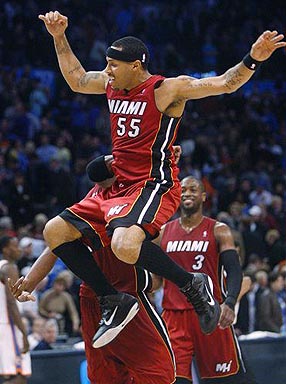 AP Photo/Sue Ogrocki
Heat guard Eddie House celebrates with teammate Chris Bosh (obscured) and Dwyane Wade, after House's late 3 helped deliver a win.
By Tom Haberstroh
ESPN.com

OKLAHOMA CITY -- Eddie House, Heat closer.
To borrow a baseball term, House has unexpectedly stepped into the role of Miami's closer in the end of tight games. In back-to-back contests, the star-studded Heat squad has entrusted House to register the go-ahead points with the game on the line.
On Friday night against the Pistons, the Heat were down one point with 15 seconds remaining, when LeBron James passed it to House, who earned a game-winning trip to the free throw line on the final possession.
And on Sunday against Oklahoma City, in one of the Heat's most theatrical games of the season, the Heat received an encore performance. Miami down one, less than a half a minute remaining -- James to House for the win.
Both times, House delivered.
Although the Heat reserve is an unlikely candidate for closing duties, the veteran would have it no other way.
"I'm just ready," House said about Sunday's game-clinching play. "If [James] passes it or he doesn't, we both had looks. He just made a pass for an easier look. He could have taken a shot, but at the same time, that shows trust in his teammates."
By Chris Sheridan
ESPN.com

Mozgov
NEW YORK -- Not since Mikhail Prokhorov pulled the plug on the Carmelo Anthony-to-New Jersey charade has a Russian meant so much to the New York Knicks.
The difference this time was that the Russian was a Knick, not a Nyet.
Timofey Mozgov was summoned from the Vladivostok section of the Knicks' bench Sunday night and made such a difference that coach Mike D'Antoni said there will be more Mozgov to come. It was a complete about-face from what D'Antoni told reporters before the game, insisting that he'd go back to his favorite nine players once those nine were all healthy no matter what any of the emergency subs did against the Pistons.
But after Mozgov produced a line of 23 points and 14 rebounds in 40 minutes, D'Antoni changed his tune.
"Twenty-three and 14, a one-shot deal? No, I think I'll try it again," D'Antoni said.
The sight of the Knicks playing with an effective center (OK, so he was dominant against the likes of Greg Monroe and Chris Wilcox, which mitigates the superlatives anyone should be throwing around) and thus allowing Amare Stoudemire to play at his natural position of power forward, gave the team a different and more natural look, allowing Stoudemire to expend his energy on scoring (33 points) instead of rebounding and trying to defend the paint.