1. LeBron MVP Bid Faces Toughest Hurdle
By Michael Wallace
ESPN.com
MIAMI -- Just when LeBron James gains a bit of momentum, muscles his way alongside Derrick Rose, Amare Stoudemire or Manu Ginobili and establishes firm position in the league's MVP debate, something always seems to come along to weaken his case.
First there was the early-season stretch of turnovers amid the Miami Heat's turbulent 9-8 start.
Then there were the self-inflicted Twitter controversies and apparent lack of humility as Miami won 21 of 22 games to establish itself among the league's elite teams.
On Monday night, it was his teammate: Dwyane Wade. Yet again.
There might not be a more convincing way to quantify a player's value to a team than what was on display at AmericanAirlines Arena -- the Heat's 117-90 further dismantling of James' former team, the Cleveland Cavaliers.
With James, the Cavaliers were title contenders who won a combined 127 games in the past two seasons, each of which ended with his hoisting an MVP trophy but no championship hardware. Without LeBron, the Cavaliers are a complete mess of a team that has now lost 21 consecutive games and are two defeats away from tying the longest single-season losing streak in NBA history.
The stage was set for James to further exploit the disarray of his former franchise. Instead, the focus after Monday's performance was fixed on appreciation. James finished with 24 points, eight assists, four rebounds and a block in another solid, well-rounded game on the same day he was named the Eastern Conference's player of the week for the second time this season.
But the best thing James continues to have going for him -- and against his MVP cause -- this season is the constantly productive presence of Wade, who set the tone for the Heat en route to 34 points, seven rebounds, five assists and three steals.
"With our team, as we've seen, it can go for any one of us," Wade said of the equal opportunity breakout efforts. "That's just the way the flow has gone."
It was Wade's third consecutive 30-point game and his 16th this season. The Heat are 48 games into their season, and coach Erik Spoelstra said Wade and James are settling into a rhythm that he's long expected, but can never take for granted.
"I think [Wade] and LeBron have a good feel now," Spoelstra said. "I wasn't concerned whether it would work. We just knew it would take time. You're talking about two dynamic players that have played with the ball the majority of their careers because their teams have required that. You put those players together -- I've said it before -- you can't run a high pick-and-roll with both of them, at the same time, with one ball. So they had to make sacrifices. They want to make this work."
James spoke about some specific sacrifices after Monday's game. The depths to which the Cavaliers have fallen while on pace to go from winning 60 games one season to losing that many the next shows the kind of heavy lifting James had to do in Cleveland the past few seasons.
It's the type of burden he no longer has to carry on a nightly basis in Miami. Still, it's taken James a while to appreciate the type of relief that comes with sharing the load with a competitive equal. Wade has gone through this type of talent cohabitation before. Wade's rise to superstar status coincided with the tail end of Shaquille O'Neal's dominance as part of a collaboration that resulted in Miami's 2006 title.
But it's an experience LeBron has lacked. Until now. And it's a sacrifice that could come at the expense of winning a third consecutive MVP trophy, but one that could potentially result in an NBA championship.
"For me, just playing off the ball a little bit more [is my sacrifice]," James said of how his game has changed. "I dominated the ball a lot in my Cleveland days. I'm not saying it was a bad thing, because we were -- and I was -- successful. Having the caliber of players, and having the options we have here, I now just focus on what I can do to help this team when I'm not handling the ball."
A strong case can be made that a bit less of James this season doesn't necessarily mean the Heat aren't getting the best of LeBron. If you judge James' MVP case based on his numbers the past two seasons, his averages of 26 points, 7.3 assists and 7.2 rebounds are on par with his award-winning production.
There are those who might suggest James couldn't carry the injury-riddled version of the Cavaliers -- with Christian Eyenga, Manny Harris, Ramon Sessions, Ryan Hollins and Alonzo Gee -- to 60 wins. But those same doubts probably existed before he took then-rookie Daniel Gibson, an aging and oft-injured Eric Snow, an out-of-the-league-to-start-this-season Sasha Pavlovic and journeyman Drew Gooden to the NBA Finals four years ago.
The presence of an elite-level teammate might hurt James' MVP chances this season. But that hasn't historically been the case, especially with the three previous players who won the honor in three consecutive seasons.
Bill Russell won the MVP in three straight seasons from 1960-63. He earned the third trophy after a season in which he led the league in rebounding at 23.6 per game, but was the Boston Celtics' third-leading scorer behind Sam Jones and Tom Heinsohn. When Wilt Chamberlain won his third straight MVP in 1968, he and Philadelphia 76ers teammate Hal Greer both averaged 24 points per game, with Billy Cunningham not too far behind. And Larry Bird played along bona fide All-Stars in Kevin McHale and Robert Parish when he took home his third consecutive MVP award in 1986.
Of those three, only Bird failed to lead his team to a championship the season before winning his third consecutive MVP. LeBron doesn't have that built-in momentum either, after his Cavaliers were dumped by Boston in the second round of the playoffs last season.
James said earlier this season that he doesn't believe he'll win it again because of the help he has on a Heat roster that also includes Chris Bosh. But it isn't the first time James has said one thing while his actions have shown another.
The combination of fan resentment, Heat hate and Wade's presence might work against James in the MVP debate. But history suggests his candidacy this season will remain strong.


NBA Writer Michael Wallace
• On Twitter @WallaceNBA_ESPN | On ESPN.com
• Follow ESPN's NBA coverage on Twitter | On Facebook | On Google+
Dimes past: Jan. 15-16 | 17 | 18 | 19 | 20 | 21 | 22-23 | 24 | 25 | 26 | 27 | 28 | 29-30 | 31 |
2. Nets Don't Have Melo, But They Do Get Win
By Devin Kharpertian
ESPN TrueHoop

Anthony
Carmelo Anthony made his Newark debut -- albeit for the opposing team -- and if fans came to see a show, they certainly got one. Melo lit up the arena for 37 points on a beautiful 12-for-22 shooting night. Running on all cylinders, most of Melo's shots were midrange jumpers in isolation, although he did post up when smaller defenders such as Anthony Morrow were on him. He was also found for a couple of spot-up 3-pointers. But at the end of the day, basketball isn't a one-on-one game, it's five-on-five, and the Denver Nuggets just didn't know how to handle the New Jersey Nets when they had the ball.
Besides, who needs Melo when you have Morrlaw?
I know you remember him. Tranthony Morrlaw, the two-headed creature that's half good, half bad, and you can never quite guess which half. Well, that guy's finally figured it out. Both halves of Morrlaw played excellent basketball, combining for 39 points on 14-20 shooting, 7-11 from the field, seven rebounds and zero turnovers. Individually, Travis Outlaw finished with 21 points, and Morrow didn't miss a shot -- 6-of-6 from the field, including four 3s. Huge game from Morrlaw. He completely neutralized Melo.
3. Lakers Have Spurs Hurdle To Consider
By Dave McMenamin
ESPN Los Angeles.com

Jay (Santa Monica): As an athlete, I'm a firm believer in peaking. While the San Antonio Spurs have been playing lights out, I find it highly probable that they'll not maintain their pace for the next 40 games and have the extra gear for the playoffs. You need to be able to go to fifth gear for an extended amount of time in the playoffs. What say you?
McMenamin: I have said all season that I think the Spurs are playing above their heads. No way can they keep up the 40 percent shooting from 3-point range as a team and getting big nights out of guys like Gary Neal. That said, I don't think they'll tank either. Just maybe level off a bit. I still say that the Los Angeles Lakers on their best day are better than the Spurs on their best day.
4. Daily Dime Live Recap
Zach Harper, TrueHoop Network bloggers and fans gave their in-game opinions throughout Monday's slate of NBA games in Daily Dime Live.
MONDAY'S BEST

Conley
Mike Conley, Grizzlies: CP3, D-Will, Nash … Conley? On this night, he was among the point guard elite, going for 26 points and 11 dimes in a 100-97 win over the Magic. It was the fourth-year PG's first-ever 20-10 game.
---
MONDAY'S WORST

Post-LeBron Cavaliers: That's 21 straight losses for Cleveland, the third-longest in NBA history. Cleveland is now two more consecutive losses shy of tying the mark shared by the 1995-96 Vancouver Grizzlies and 1997-98 Denver Nuggets.
---
TWEET OF THE NIGHT
I think me and Ray Allen need to have a shootout in this years 3pt contest what y'all think come on NBA make it happen12:30 a.m. via Twitter for iPhone
Paul Pierce
paulpierce34
---
QUOTE OF THE NIGHT
"If I sit here and say I'm willing to lose 15 or 20 million dollars, I'd be lying to you. But at the same time this has never been about money. … Now I'm focused on trying to win a championship."
-- Carmelo Anthony, saying his impending free agency is about the money and not about the money. That clears that up.
By Nick Friedell
ESPN Chicago.com

Rose
DEERFIELD, Ill. -- Derrick Rose ate an entire waffle by himself Monday morning.
On most days that would seem completely normal, but given the up-and-down past week for the 22-year-old, the mere act of downing the breakfast treat is an accomplishment. After being diagnosed with two stomach ulcers last week, it was the first actual meal for Rose in a long time.
"A whole waffle," he said. "It was good. Just a little bit of syrup."
That revelation is even sweeter to Bulls fans, considering that Rose believes the ulcer problem is behind him for the time being.
"It's not painful anymore," he said of his stomach. "I can sleep good. Other than me eating too much and it hurt, I'm feeling all right."
A few days after the fact, Bulls head coach Tom Thibodeau is still impressed Rose was able to play through so much pain.
"It just speaks volumes as to who he is," Thibodeau said. "He's a great leader. He wasn't feeling his best, but he was out there giving everything he had and we didn't know whether it was going to be five minutes, 10 minutes, but it says a lot about him. I think it was inspiring to his teammates. He felt a lot better [on Sunday]. And today he was great. "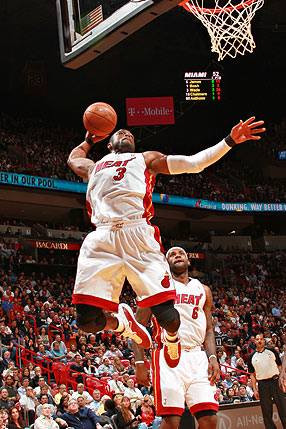 Victor Baldizon/NBAE via Getty Images
Dwyane Wade goes for two of his 34 points in the Heat's win over Cleveland, while LeBron looks on.
By Chris Forsberg
ESPN Boston.com

The San Antonio Spurs have far and away the best record in basketball, but don't be deceived. The Boston Celtics are far and away the best team in basketball as the calendar flips to February.
After Boston's 109-96 thumping of the Los Angeles Lakers on Sunday at the Staples Center, there can be no argument. The Celtics wrapped up the month of January with a glossy 5-1 record against teams with records better than .500, including a 105-103 triumph over those very Spurs (which, if not for some careless final moments, wouldn't have been as close as the final score suggests).
It's clear the Celtics have saved their best basketball for top competition. For the season, they have a 17-5 mark overall against teams above .500. In fact, against the seven other Eastern Conference teams that would currently qualify for the postseason, Boston boasts a 13-2 mark, falling only to Chicago (the second night of a back-to-back to wrap up a slate of six games in nine days in January) and Orlando (a Christmas Day battle in which Boston fumbled away a double-digit second-half lead).
Boston is not too shabby against the potential West playoff squads either, with a 6-3 mark against the eight current qualifiers (those losses being to Oklahoma City, New Orleans and Dallas). For what it's worth, the Spurs' seven losses this season include Boston, Orlando, Dallas, New York, the LA Clippers and a pair against New Orleans.