1. Lakers Must Make Current Roster Work
By J.A. Adande
ESPN.com
LOS ANGELES -- Really, now, who are the Lakers going to trade?
Ron Artest in the middle of the least productive season of his career, with three years and $21 million left on his contract? Luke Walton's never-seems-to-be-expiring contract, which doesn't end until 2013?
Kobe?
If there's any feasible option it's Andrew Bynum. He's young enough, tall enough and has a contract that's flexible enough (team option at $16.4 million for 2012-13) to attract interest, and I know other general managers have asked. But so far the Lakers aren't inclined to move him.
So that, in all probability, means the roster you see now will be the Lakers' roster at the end of the season. That means they'll have to find a way to win another championship on their own.
That means they'll have to play a lot more basketball like the five minutes they played in overtime to beat the Rockets 114-106 on Wednesday night.
That means Kobe Bryant ceding the ballhandling to Lamar Odom, instead of Bryant trying to initiate and finish every crunch-time play by himself. It means Pau Gasol embracing his inner Kobe and trying to take more shots. It means the Lakers actually getting defensive stops down the stretch.
Even if it was against a front line that had 6-foot-5 Chuck Hayes at center, the Lakers did win a game without Bynum, who sat out with a bone bruise in his left knee. (Bynum said he expects to play Thursday against San Antonio.)
Maybe the Lakers actually found something. Or maybe it's only temporary. They seemed pretty pleased with the victory, even if they were dragged into OT by the perpetually undersized and undermanned Rockets.
The Lakers did end a two-game home losing streak. And they ensured that the next 48 hours won't be like the previous 48, when a loss to Boston prompted Magic Johnson and Lakers general manager Mitch Kupchak to suggest the team needs to make a trade to get back to championship form.
If Kobe can have 11 assists to go with his 32 points, Lamar Odom can post a 20-20 game and Gasol goes for 26 and 16, the Lakers can win games.
Gasol's play is the most important. If he can get back to his play through the first 20 games of the season, then the Lakers can look like one of the league's best teams. But Gasol wore down by the end of November and has yet to perform on that level on a nightly basis again. Bryant had had enough, and told him what to do about it.
"Be a little bit more selfish," Bryant told him. "Be aggressive.
"When I'm out there being aggressive and doing my thing, he needs to follow suit and be just as aggressive, which is hard for him. It's kind of against his nature. I think tonight was a good step."
Bryant looked particularly proud when Gasol gathered his own missed shot and threw down a dunk. That brought Bryant off the bench with applause.
A more significant shot came with just over a minute left in overtime, when Bryant passed to Gasol for a reverse layup that put the Lakers ahead by two. On the next possession, Bryant came through the lane, took a pass from Odom and was so open he looked like a well-protected quarterback surveying the field before he put up a shot that gave the Lakers a four-point lead.
This was a different Bryant than the one who dominated the ball and took 11 consecutive shots in the fourth quarter Sunday against Boston. It was even different than the guy who forced a baseline jumper through a crowd while an open Odom waved his arms late in overtime. This was Bryant playing off the ball, not giving the defense a chance to load up against him.
"Me going one-on-three, one-on-four at the end of games … I don't care how good you are, it's tough to do," Bryant said. "So [let Odom] be the playmaker, let me come off the ball. Now I catch it, the defense is not set, now I can make plays I can take a shot or make the defense collapse. I think that's much better."
Phil Jackson was cranky afterward, complaining about the defense at the end of the fourth quarter, and Odom's missed shots early in the game. But before the game, when he was asked to respond to all the swirling trade talk, he stood his ground and said the team did not need to make a move.
"I'm still prepared in any series to put this team against anybody," he said.
He just might have to. If it's the version that played in overtime Tuesday, that might be just enough.


ESPN senior writer J.A. Adande
• On Twitter @jadande | On ESPN.com | On TrueHoop | On e-mail
• Follow ESPN's NBA coverage on Twitter | On Facebook | On Google+
Dimes past: 17 | 18 | 19 | 20 | 21 | 22-23 | 24 | 25 | 26 | 27 | 28 | 29-30 | 31 | Feb. 1
2. Let's Make A Deal: Best LA Trades
By ESPN.com
We asked you through Twitter to put your GM hats on and make the best possible trade for the Lakers using ESPN.com's NBA Trade Machine. Here are the three most intriguing:
GOING GASOL … AGAIN
Suggested by @CardinalDes

Gasol
To Lakers: Marc Gasol, Zach Randolph (Grizzlies)
To Grizzlies: Andrew Bynum, Lamar Odom
Our take: The Lakers used a midseason Gasol swap to spark one postseason run. Why not another? Although three years older than Bynum (11.4 ppg, 7.3 rpg, 1.8 bpg, 20.60 PER), the younger Gasol offers near identical production (11.8 ppg, 7.2 rpg, 1.7 bpg, 16.62 PER) without the injury risk. And while LA would lose some versatility with the departure of Odom, Randolph is a double-double machine who could provide potent low-post scoring.
Both Gasol and Randolph are in the final years of their deals, but the former is a restricted free agent, and the latter could at least bring back some assets in an offseason sign-and-trade. Memphis isn't exactly getting Javaris Crittenton back, either. A front line of Bynum, Odom and Rudy Gay ain't half bad … although paying for it is another story.
---
SOARING TO NEW HEIGHTS?
Suggested by @STBruce

Smith
To Lakers: Josh Smith, Jeff Teague (Hawks); Jeff Foster (Pacers)
To Hawks: Pau Gasol (Lakers); Dahntay Jones (Pacers)
To Pacers: Jamal Crawford (Hawks)
Our take: If the Lakers were ever to get rid of Gasol, Smith is the type of player they'd want in return. Although he's not as polished (or as grizzled) as Gasol, the 25-year-old power forward is a staunch defender who can block shots, stretch the floor offensively and keep LA in contention while also building for the future. And as an added bonus, the Lakers would get a point guard to groom behind Derek Fisher and some added depth at center.
On the other ends, a frontcourt of Gasol and Al Horford would turn the Hawks into instant contenders in an already top-heavy East, and the Pacers, 24th in offensive efficiency, would get instant offense in the reigning Sixth Man of the Year.
---
ADD A PRINCE, WIN A CROWN?
Suggested by: @RealWesSneider

Prince
To Lakers: Tayshaun Prince, Tracy McGrady (Pistons)
To Pistons: Andre Iguodala (Sixers); Luke Walton, Matt Barnes (Lakers)
To Sixers: Richard Hamilton (Pistons); Shannon Brown (Lakers)
Our take: Without giving much up, the Lakers could rent a pair of Pistons for the remainder of their three-peat quest. Prince is still a reliable midrange shooter who would give LA's imposing front line even more length, and McGrady could reminisce with Kobe about when they could jump. Detroit, meanwhile, would shed itself of Rip and upgrade on the wing. And while the Sixers wouldn't get much, they'd at least acquire a playoff-tested 2-guard to lead them in their postseason chase.
3. Daily Dime Live Recap
Zach Harper, TrueHoop Network bloggers and fans gave their in-game opinions throughout Tuesday's slate of NBA games in Daily Dime Live.
By Justin Verrier
ESPN.com
TUESDAY'S BEST

Aldridge
LaMarcus Aldridge, Blazers: Too bad All-Star ballots were due at 3 p.m. Aldridge -- who may get left off the West's star-studded roster in LA by NBA coaches despite a monster first half of the season -- poured in a career-high 40 points and pitched in 11 rebounds in Portland's victory over the Spurs.
---
TUESDAY'S WORST

Road-Weary Wizards: Everybody beats the Wiz at home. Washington dropped its road record to 0-25 with a 97-89 loss to the Okafor-less Hornets. But there's some hope on the horizon: Cleveland, 3-25 on the road this season, is the Wizard's next road stop.
---
TWEET OF THE NIGHT
Has anybody seen Ron Artest lately? Seems like another one of those 20 minutes on the treadmill after the game nights for Ron Ron.1 a.m. ET via web
Ramona Shelburne
---
QUOTE OF THE NIGHT
"We have to do something. The Lakers are not responding, and two things showed me that -- the Miami Heat Christmas game and then the Boston Celtics game [on Sunday]. When you don't get up for your two biggest games during the season and you have flat performances, then you have to start looking at trade possibilities to improve the team and bring some energy to the team and bring some new life to the team."
-- Magic Johnson, echoing Lakers GM Mitch Kupchak's claim that the champs may need to shake things up before the trade deadline.
6.

Smith Steps Up With Okafor Out
By Joe Gerrity
TrueHoop Network

Smith
The night was supposed to about the clash between the point guard widely regarded as the best in the league and the presumed heir to his throne. Unfortunately, that battle never really took place. Chris Paul thoroughly dominated rookie John Wall, leaving little doubt as to where the PG hierarchy stands at this point in a 97-89 Hornets win.
Wall finished with only four points on 2-for-10 shooting and was equally ineffective stopping Paul on the defensive end. In 31 minutes, Paul scored 15 points on only nine shots to go with nine assists. He could have gone for more, but in a game in which the Hornets held a double-digit lead for nearly the entire second half, he didn't need to.
But the spotlight Tuesday belonged to Jason Smith -- a relative unknown among even the most die-hard NBA fans -- who exploded for 20 points, all of which came in the first three quarters on only 10 shots. Smith started off the game with nine consecutive baskets, coming close to equaling the Hornets' record of 11 straight shots made. Uncharacteristic thunderous dunks complemented his reliable jump shot, and the home crowd roared for more each time he scored.
They'll get more soon enough. Smith, a player known for his hustle, got his first start at center for the Hornets in place of the injured Emeka Okafor, whose streak of 306 consecutive games played came to an abrupt end as a result of a strained left oblique muscle.
The Hornets will be relying on Smith, now the starting center, to provide the team with interior defense and scoring. He proved against the Wizards that he has the potential to hold his own against starting-caliber frontcourt players. If the Hornets are going to remain successful while Okafor is injured, they will need Smith to continue to produce on both ends of the floor.
7.

Mr. Smith Throws On Washington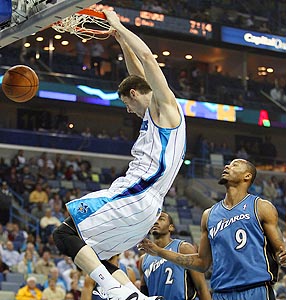 AP Photo/Patrick Semansky
This center thing isn't so hard after all. In his first start at the 5, Jason Smith scored a career-high 20 points as the Hornets coasted to a victory.
8.

Houston Still In Playoff Hunt
By John Hollinger
ESPN.com

At 22-28, five games behind eighth-seeded Portland, the Rockets seem like a real long shot to make the postseason. According to Tuesday's Playoff Odds, however, they still retain a 27.8 percent chance of making it.
Why? A couple of reasons. First, the schedule gets easier. The Rockets have 17 of their final 33 games against losing records (unusual in the West, where nine of the 14 other teams are above .500) and three more home games than road games. Second, they're better than their record -- the Rockets have scored more points than they've allowed and have essentially the same point differential as Portland or Utah; they just have been spectacularly unlucky thus far.
One other reason to like the Rockets isn't accounted for in the odds -- unlike a couple of the teams ahead of them, they're likely to be buying rather than selling at the trade deadline.
• Read the rest of Hollinger's PER Diem

By John Hollinger
ESPN.com

The rumor mill has spun into overdrive after an underwhelming winter -- compounded by bad losses to Sacramento and Boston -- prompted reports of Mitch Kupchak's openness toward a trade. Who would the Lakers move? Who could they get? How radical a shakeup are we talking about? Is this the equivalent of the panic button pushed?
No.