1. Rose The Top Sight At Griffin Observatory
By J.A. Adande
ESPN.com
LOS ANGELES -- The Bulls-Clippers game was played at Derrick Rose's speed, not Blake Griffin's altitude. Everything happened so fast. Rose and Griffin scored a combined 17 points in the first six minutes. The highlights piled on top of each other. Rose driving, tantalizingly keeping the ball away from defenders and making a reverse layup, Griffin elevating to throw down an alley-oop dunk over Kyle Korver. The back-to-back No. 1 overall draft picks were putting on a show throughout an entertaining first half.
And then, just as suddenly, it was over, a mere two minutes into the third quarter. Rose scored four points and fed Luol Deng for a 3-pointer, and the Bulls led by 13 points and were in control of a game they'd win 106-88.
Rose showed why he's an elite player, and the Bulls demonstrated that they belong in a different class than most of the visitors the Clippers had beaten to run up a nine-game winning streak at Staples Center.
"We've been playing at home, we've been playing well, we've always had control of the game, always been in striking distance," Clippers guard Baron Davis said. "I think when a team like that, they went up 13, we got a little frustrated. It was unfamiliar territory, something we weren't used to at home."
Here's something else they're not used to around here: someone else coming into this building, the Griffin Observatory, and taking the buzz from Blake. Rose matched Griffin with 32 points. Rose had 11 assists, masterfully controlling the game. While the Bulls' defense found a way to hold Griffin to seven second-half points, the Clippers never contained Rose. He had 19 points and five assists in 19 second-half minutes.
Bulls forwards Deng (26 points) and Carlos Boozer (16) threw plenty back at Griffin. Rose outscored the Clippers' top three guards -- Davis, Randy Foye and Eric Bledsoe -- by six points. Rose got to the basket and made 4 of 8 3-pointers.
Rose reminded us that as breathtaking as Griffin has been, Rose ranks ahead of him in the NBA hierarchy right now. Rose already has a Rookie of the Year award that Griffin is still months away from claiming. Rose was voted an Eastern Conference All-Star starter, while Griffin is hoping to be named as a Western Conference reserve.
And Rose rightfully belongs atop the Most Valuable Player list for the way he runs the Bulls, through thick or thin, with or without Carlos Boozer and Joakim Noah (who said he's still two weeks away from playing).
"He's never satisfied, he wants the team to do well, he's always driving himself to get better," Bulls coach Tom Thibodeau said. "I thought he had great command in this game. The way he started out this game set the tone for us."
Actually, he set the tone earlier in the day, when he told reporters he wanted some payback for losing to the Clippers by a point in Chicago on Dec. 18, when Rose missed a potential game-tying free throw at the end. Even after winning Rose still sounded mad.
"They beat us last time," Rose said. "I wanted some revenge. It was because of me that we lost. I missed a free throw. That really hurt me. If anything, that made me stronger as a player."
Maybe the nine free throws that Griffin missed on Wednesday will make him even stronger. As spectacular as Griffin has been, if he wants to be the best, one of the people he'll have to catch up to first is Rose --- and man, is that dude fast.


ESPN senior writer J.A. Adande
• On Twitter @jadande | On ESPN.com | On TrueHoop | On e-mail
• Follow ESPN's NBA coverage on Twitter | On Facebook | On Google+
Dimes past: Jan. 19 | 20 | 21 | 22-23 | 24 | 25 | 26 | 27 | 28 | 29-30 | 31 | Feb. 1 | Feb. 2
2. The Underachievers
By Tom Haberstroh
ESPN.com

Arenas
You often hear that a player needs a change of scenery, as if the new environment will magically transform him into something new and exciting. Many pegged Gilbert Arenas as a metamorphosis candidate when he got shipped to Orlando. And he has changed ... for the worse.
As a member of the Magic, Arenas hasn't found his former self. Almost impossibly, his shooting has gotten worse. He was at a below-average 50.5 true shooting percentage in Washington and has dipped to a subterranean 46 percent in Orlando. And despite shooting just 30 percent on 3-pointers in a Magic uniform, he's still chucking up six long balls every 36 minutes. There have been only four instances in NBA history in which a regular has shot that poorly and that often over a full season.
Although Arenas has picked up more assists since leaving Washington, remember that he left one of the worst shooting teams in the league to join one of the best. The sad part: As bad as Arenas has played in Orlando, he's still better than the alternative, Chris Duhon. There's still time to salvage what's left of Arenas' career, and the sooner the better because the Magic owe him another $62 million after this season.
• See the full Haberstroh story, click here »
3. Joe Johnson Sharp From All Ranges
By Elias Sports Bureau

Johnson
Joe Johnson led the Hawks past the Raptors on the strength of 15-for-21 shooting from the floor, including 5-for-8 from beyond the arc. Johnson is the first NBA player this season to make at least 10 2-point field goals and five 3-point field goals. Johnson has had six such games in his career, but the only other players ever to do that for the Hawks were Dominique Wilkins and Jason Terry (once each).
The only active NBA players with more 10/5 games than Johnson are Tracy McGrady (10), Kobe Bryant (8) and LeBron James (7).
• For more Elias notes, click here »
4. Daily Dime Live Recap
Zach Harper, TrueHoop Network bloggers and fans gave their in-game opinions throughout Wednesday's slate of NBA games in Daily Dime Live.
WEDNESDAY'S BEST

Durant
Kevin Durant, Thunder: He had the same amount of FG attempts as Brook Lopez but ended up with a much better outcome. Drops in 43 points on 14-for-19 shooting in a 104-93 win over the Hornets. By contrast, Lopez had 16 for Nets.
---
WEDNESDAY'S WORST

Cavaliers, on road to infamy: Cleveland's slide reached 22 games in a 117-112 loss to visiting Indy. The Cavs need to win Friday in Memphis to avoid tying the all-time longest NBA losing streak.
---
TWEET OF THE NIGHT
I just figured out Vinny Del Negro's substitution pattern with Blake. He waits until Blake looks like he might pass out or throw up.11:30 p.m. via ÜberTwitter
Bill Simmons
sportsguy33
---
QUOTE OF THE NIGHT
"People don't understand that when you boo me, I play better. People still remember that incident, and I hate that it happened, but I'm just having fun. I love hecklers."
-- Bobcats guard Stephen Jackson, the former Pacer involved in the Ron Artest brawl with Detroit fans in 2004, on dropping 39 points on the Pistons. At one point, he mimed crying after hitting a key 3-pointer.
---
DUNK OF THE NIGHT
• Griffin throws it down over Kyle Korver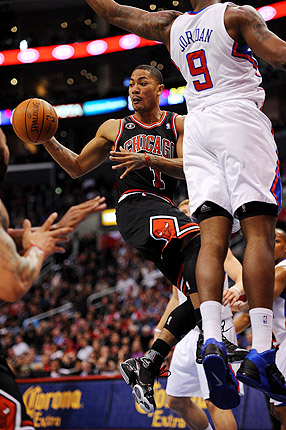 Kelvin Kuo-US PRESSWIRE
Bulls point guard Derrick Rose heard MVP chants on the road, and played like one. Rose had 32 points and 11 assists in the 106-88 win over the Los Angeles Clippers.
8.

Rookie Report: John Wall

Wall
John Wall's incredible speed can sometimes be a curse. He has used it his whole life as a deadly weapon on the court, and it has always been there for him whenever he needed to make something happen. But in the NBA, with teams expecting him to use it, he ends up sometimes blazing to a spot near the rim with no way out. The size that most teams have inside causes him all sorts of problems.
Over time, and with enough film study, he'll learn to modulate his speed and anticipate how a play will end up before it even begins. He'll stop and pop more often or slow down enough to let defenders leave the paint and find shooters, opening up space for Wall to jet through -- if he's patient enough to let the play develop.
• See Wall's rookie card: click here »