1. LeBron Shoots Down The Magic
By Brian Windhorst
ESPN.com
ORLANDO, Fla. -- This would be a much more interesting story if LeBron James had seen Dwight Howard mocking his pregame "powder toss" and those old "family portraits" from James' Cavs days before the Heat played the Magic Thursday night.
But James, honestly, said he didn't.
The 51 points the Miami Heat star dropped on the Orlando Magic in Miami's 104-100 victory would earn a higher macho rating if he was motivated by some of the offseason words Orlando general manager Otis Smith and coach Stan Van Gundy had for him after James signed with the Heat.
But even though he'd like to credit his mega-effort to Smith's questioning his character and competitiveness, James can't honestly claim that either. After all, the Heat had already played the Magic twice this season and James averaged a pedestrian 20 points in those statement opportunities.
Instead, what happened inside Amway Center was James had one of the best shooting nights of his career. Simple as that. Actually, somewhat predictable as that.
"I've done this before," James said matter-of-factly while icing his feet following the game. It was Heat's second quality road win in five days after Sunday's victory in Oklahoma City.
"Hopefully, I'll do it again."
History says he will. It just won't be in Miami and maybe not until next season.
During his career, James does this about once a season and the qualities are usually nearly identical. It requires a run of unconscious mid-to-long-range shooting and any road game.
It was the ninth time in James' career he's topped 50 points -- each occasion on the road. In all of them, he's shot better than 50 percent. This time it was an impressive 17-of-25 shooting, which may qualify as his best effort ever. His 11 consecutive makes to start the game was the best streak of his career.
"His numbers say that he's a pretty mediocre jump shooter," Van Gundy said. "Tonight he was a great jump shooter."
The opposition's standard game plan is to swing extra defenders into James' line of sight to prevent him from wanting to drive and instead settling for long jumpers and 3-pointers.
The reason, as Van Gundy said, is because James is usually at his weakest launching beyond 15 feet from the hoop. This season he's a 39 percent shooter on 2-pointers from 16-23 feet out and 36 percent on 3-pointers.
On Thursday, James was 6-of-10 on midrange jumpers and 3-of-5 on 3-pointers, blowing the defensive game plan as he'll do from time to time.
On the road during his career, James tends to settle for jumpers more often and that sometimes provides the recipe for getting 50-point hot.
Usually, it includes a barrage of 3-pointers. In James' 50-point games only once had he made fewer than four 3-pointers before Thursday, when he made just those three.
But it was clear from the opening moments that James was comfortable with his jumper. Blame it on Smith's summer statements if it makes for better bulletin board fodder, but it was really just more in the profile of a classic James 50-pointer.
He's done it in meaningful games and more routine ones, everywhere from New York to Milwaukee to Utah to Sacramento.
It was clear right from the start in Orlando on Thursday. James' first five shots came from that zone and none touched anything but the net. In the back of his head, something clicked on.
Yes, it was going to be one of "those" nights on the road.
"I was definitely in a zone," James said. "I felt like everything I put up was going to go in and the first 11 did."


NBA Writer Brian Windhorst
• On Twitter @WindhorstESPN | On ESPN.com
• Follow ESPN's NBA coverage on Twitter | On Facebook | On Google+
Dimes past: Jan. 19 | 20 | 21 | 22-23 | 24 | 25 | 26 | 27 | 28 | 29-30 | 31 | Feb. 1 | 2 | 3
2. Better And Closer? Not Good Enough

McDyess
LOS ANGELES -- Better and closer wasn't good enough. The Lakers lost another game against one of the league's top teams -- this time on a tip-in at the buzzer against the Spurs, as opposed to their double-digit home losses to the Heat and Celtics.
Better and closer won't be enough to quell the grumbling by voices from the courtside season-ticket holders to the concession-stand workers that the Lakers need to do something. Better and closer won't change the fact that it's February and the Lakers have twice as many losses as the Spurs.
The question now is if better and closer will be enough to alter the increasingly unusual activity in Lakerland, starting with general manager Mitch Kupchak's public proclamation that the Lakers might need to make a trade and continuing with the presence of owner Jerry Buss at Thursday's morning shootaround. Both moves were out of character. The most extreme outcome would be to use Andrew Bynum in an attempt to lure Carmelo Anthony from the Nuggets.
On the one hand, Bynum had 10 points, 10 rebounds, six assists and three blocked shots against the Spurs Thursday night, returning after missing a game with a bruised bone in his left knee. But he also sat on the bench for the final seven minutes. If a sixth-year player's not going to be used in crunch time against the biggest conference rival, how much is he really a part of the team's present or future?
At least Ron Artest found himself on the court for fourth-quarter minutes this time, a reward for his 13 points on 6-for-11 shooting (only his second double-figure scoring night in the past eight games) and his defense that held Manu Ginobili to 5-for-17 shooting.
• See Adande's full story, click here »
3. In Good Company
By Elias Sports Bureau
LeBron James scored 51 points, grabbed 11 rebounds and dished out eight assists in the Miami Heat's 104-100 win over the Orlando Magic. It was only the 11th time in NBA history that one player reached those levels in the same game, and LeBron was just the sixth player to do it. The others were Wilt Chamberlain (four times), Elgin Baylor (twice), Kareem Abdul-Jabbar (twice), Richie Guerin and Michael Jordan. Jordan and James are the only players to do it in the past 39 seasons.
• For more Elias notes, click here »
4. Daily Dime Live Recap
Zach Harper, TrueHoop Network bloggers and fans gave their in-game opinions throughout Thursday's slate of NBA games in Daily Dime Live.
THURSDAY'S BEST

James
LeBron James, Heat: This is the kind of game that makes a three-peat MVP seem realistic. Who else is going to go 17-for-25 from the field en route to 51 points, along with 11 rebounds and eight assists?
---
THURSDAY'S WORST

Howard
Dwight Howard's FT shooting: When you shoot 3-for-13 from the line, even the original Superman might raise an eyebrow. This was also only the second game D12 did not block a shot. The other? A Jan. 17 loss to Boston.
---
TWEET OF THE NIGHT
When Yao Ming retires will he still get voted into the All-Star starting lineup?10:20 p.m. via ÜberTwitter
J.A. Adande
jadande
---
QUOTE OF THE NIGHT
"I think they are the best team in the West. I think the struggles are overblown by you guys and gals. They are who they are. They've been doing this a long time. They just won two [championships] in a row again and there's no doubt perhaps there's going to be some nights when it's just not all there emotionally. "
-- Spurs coach Gregg Popovich, before his team beat the Lakers at the buzzer.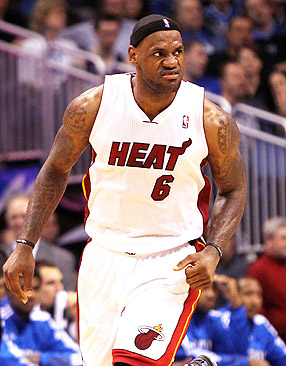 Kim Klement-US PRESSWIRE
LeBron James had his game face on after dropping a 3-pointer on the Magic.
By Nick Friedell
ESPN Chicago.com

Deng
He is having the best season of his career. Luol Deng is averaging 18 points, six rebounds and almost three assists a game. He's also played in every one, which, given his history, is impressive. But was he really going to make it over Paul Pierce, Joe Johnson, Ray Allen, Chris Bosh, Al Horford or Rajon Rondo? All of those guys are name brands. Deng has been great for the Chicago Bulls, but his game is the opposite of flashy. Unless you've been watching the Bulls closely you don't understand how solid he has been under new head coach Tom Thibodeau. He has done everything for the Bulls, but he has done it so quietly that the rest of the league still hasn't taken much notice.
The coaches went for the safe bets and, it seems, gave the benefit of the doubt to aging stars Allen, Garnett and possibly the personal pleas of East head coach Doc Rivers. Deng isn't just a complementary player, he's the type of player who can drop 25 on you without the other teams noticing it. That's great for the Bulls, but it doesn't work as well as well during a "me-first" game like the one that will be played in Los Angeles in three weeks.
• See Friedell's full post: click here »
By John Hollinger
ESPN.com

Rose
Blake (Chicago): Are you ready to call Derrick Rose the best point guard in the game yet?
John Hollinger: Did Chris Paul retire?
Phil (Chicago): No, Chris Paul didn't retire but his numbers are down across the board compared to two years ago. Live in the present, John.
John Hollinger: Which numbers? Turnovers? Missed shots? Paul is second in the NBA in PER. ... He's become the master of efficiency.
Mike (Chicago): I know you love PER, but it's YOUR made up stat. Why should fans trust it when clearly our eyes can tell us that D Rose is playing way better than Paul and when PER doesn't account for how a player has to play when teammates are hurt?
John Hollinger: I trust you reached this eye test after watching all the Hornets' games too?
Adnan (Chicago,IL): No.1 Rule of chats: Don't say anything but Derrick is best player alive!!
John Hollinger: I think he's actually surpassed Kobe when it comes to the Army of Unreasonably Enthusiastic Supporters.
• See the full Hollinger chat: click here »