1. When Streak Ends, What's Cavs' Course?
By Marc Stein
ESPN.com
DALLAS -- There is that gleaming practice facility back in Cleveland that so many other teams envy. The owner, whatever you think of his unforgettable letter to LeBron James, has never been afraid to spend. And the salary? Good coaching money in this economic climate.
It all adds up to a job that Byron Scott says he couldn't possibly regret taking.
Not even after 35 losses in 36 games. Not even after clinching the longest winless run this league has ever seen.
"Not at all," Scott said, willingly plopping down for a quick chat about the "R" word on the night his Cavaliers would slink away with their record 25th straight defeat.
"I still think," Scott insisted, "that this is one of the best jobs in the NBA."
He's stubborn enough to believe it, too. He's stubborn enough to believe it even after what happened late Monday in Dallas, where the Cavs sealed a 99-96 loss to the Mavs and a historic slice of futility with a fittingly agonizing sequence that seemed to have been drawn up especially for this dubious occasion.
Just a 3-pointer away from forcing overtime -- against an elite-but-asleep team that frankly played like it wanted the visitors to finally win a game for the first time in 51 days -- Cleveland walked off with the memory of the buzzer sounding with the ball still flying around the perimeter because Jamario Moon and Antawn Jamison both passed when they should have hoisted.
"We're in the record books, we all know that, something we didn't want to be a part of," Jamison said. "But it is what it is. We can't turn back the hands of time. We just have to move forward.
"Has it been tough? Yes. Do you ask the question, 'Why?' Yes. ... I won't lie. After the games it's tough, man. So many losses in a row. But I still have to wake up the next morning, try to do my job and make it fun as well."
Jamison is a lot like his $4 million-a-year coach. He's the closest thing that the post-LeBron Cavs have to a star, stubbornly professional like Scott, patiently answering the same questions over and over. Cleveland's plight isn't Jamison's fault any more than it is Scott's, but they're both right there at every morning shootaround, resisting the urge to complain to a media pack that swells with every L.
The steepest decline in NBA annals -- no team has ever gone from the best record in the league to the worst in the space of one season -- obviously began with LeBron James' decision to defect to Miami in free agency in July. Gilbert angrily (and regrettably) vowed that the Cavs would win a championship before LeBron ever did, amid a flurry of far angrier farewell rantings to Ohio's former favorite son, but the subsequent spiral has taken them far deeper into the abyss, starting with the 28-point hammering that James and the Heat inflicted in his return to Cleveland on Dec. 2.
Yet the notion that the Cavs' spirit was irretrievably broken that night, nearly two months ago, is an undeniable embellishment of LeBron's might and his old team's misery. Take a good look at this roster to see the real problem. As one Eastern Conference scout colorfully explained in a recent Weekend Dime, Cleveland minus the injured Anderson Varejao and Mo Williams is "a summer-league team and Antawn Jamison." Spirit is hardly their biggest issue.
Even with Varejao and Williams -- accomplished role players who snapped so specifically well into a LeBron puzzle -- Cleveland's margin for error was minimal after the departures of Shaquille O'Neal, Zydrunas Ilgauskas and Delonte West along with James. Without Varejao and Williams? There is zero margin for error, especially inside and on the boards. Varejao was supposed to be Cleveland's own Tyson Chandler, anchoring the D and playing goalie. The Cavs' defense vanished almost as soon as the Brazilian banger's ankle injury was deemed to be season-ending.
You have to say they're still trying, though. The Cavs' average margin of defeat in those 25 straight Ls is nearly 14 points, but if their spirit was truly crushed would they have managed to be tied or take the lead in the fourth quarter in each of the last four games?
It was just a few days ago that Mavs swingman DeShawn Stevenson memorably explained that the two things you don't want to do in today's NBA is lose a home game to the Washington Wizards (with their 0-25 road record) or lose anywhere to the woebegone Cavs. Yet there was plucky Cleveland, wiping out a 15-point deficit at American Airlines Center and generating audible groans and then boos from the home crowd when they pulled even at 79-79 in the fourth quarter against the team with the league's longest active winning streak.
J.J. Hickson is starting to play harder even though he's being forced to operate as a woefully undersized center, which translated here to 26 points and 12 boards that stood out along with the Cavs' repeated ability to abuse the Mavs' lazy transition D, leading to a stunning 34-9 edge in fast-break points. In short? A team half-filled with no-name kids has apparently convinced itself that a breakthrough isn't far away.
"Let's be honest," Jamison said of James. "One guy did a lot for this organization, for the city of Cleveland, for the game in general. [But] before the season we had Andy, Mo, myself, a couple veterans here and there. You think, 'This is still a unit that can win and compete.' We believed that. And still believe that.
"[Now] we've just got to keep competing. We're doing something we love to do. I tell people every day, 'If this is the only problem I have to worry about, I wouldn't want to take it, but I'll take it.' A lot of people are doing a lot of things and have worse problems than what we have."
The toughest stuff, if Jamison were prone to confessions, would surely be the growing likelihood that he'll have to spend the rest of the season as a Cav. NBA front-office sources say that few teams have been as active in recent weeks in trying to swing a trade or two before the Feb. 24 deadline than Cleveland -- with Jamison high on its list of movable assets -- but increasing apprehension about how restrictive the next labor agreement will be has prompted several teams to back off on deal-making.
Sources say New Orleans, for example, has a level of interest in Jamison, but also expressed skepticism that a suitable deal can be assembled before the deadline to send out the 35-year-old anywhere. It's true that Jamison has only one year left on his contract after this season, but that one season is valued at a meaty $15.1 million, which means Cleveland would almost certainly have to take back multiple players back to make the salary-cap math work.
The Cavs' apparent preference, like many teams out there unsure about what the future holds for the NBA's financial landscape, is preserving flexibility and accumulating young assets to take into the league's new frontier unless a trade delivers a certain talent upgrade. Cleveland also still possesses a $14.5 million trade exception created in the sign-and-trade transaction that officially dispatched LeBron to South Beach, but importing more pricey vets like the Cavs did so often in vain during the LeBron era -- in hopes of convincing King James to stay in Cleveland -- doesn't sound too appealing now.
With word reaching us this week that the Cavs also see little benefit to buying out Jamison (one of their few coveted assets) if no trade materializes in the next two-plus weeks, odds start to increase that Jamison will be brought back with Scott for the new season -- whenever that might be post-lockout -- given how admirably those two have been coping with what's happened since Cleveland's forgotten 7-9 start. Gilbert might never be a sympathetic figure after the way he reacted to LeBron's departure, but it's hard not to root for the likes of Jamison and Scott, who are suffering in their own way like the long-tortured Clevelanders that James left behind.
"I'm not a loser," Scott said. "I'm not used to this. I'm very used to winning. But I never say woe is me. I've just never been that type of guy. ... It's going to take us a little time, but we're going to get back to it."
Reminded later in the evening that the Cavs' next three games are all at home against the Pistons, Clippers and Wizards, Scott added: "Just like I said to the guys afterward: 'We've got to keep playing like that and it's going to happen.' It's going to happen real soon."
Said the Mavs' Mark Cuban, who regards Gilbert as one of his longtime allies among owners: "It's got to be brutal for Dan, brutal for the players themselves. ... [But] in 60 days, all of a sudden, your fans are talking about [whether] they get the first pick [in the draft] and who will they draft and what will you do with cap room. And that's exciting. It creates a ton of hope. No one remembers last year ever. Ever. In 60 days, it's last year."
Dimes past: Jan. 25 | 26 | 27 | 28 | 29-30 | 31 | Feb. 1 | 2 | 3 | 4 | 5-6 | 7
2. Bulls Defense Goes Missing
By John Hollinger
ESPN.com

PORTLAND, Ore. -- Regression to the mean ... or just plain regression?
That's the question for the Bulls tonight after the Blazers sliced and diced Chicago's normally airtight defense in a 109-103 Portland win -- the second straight defeat in which the Bulls had allowed an opponent to eclipse the century mark. LaMarcus Aldridge led the charge with a career-high 42 points, while afterward the Blazers' Nic Batum was feeling giddy enough to label Bulls star Derrick Rose a bad defender.
To an extent, a game like this was probably inevitable. As I pointed out earlier this week, the Bulls' opponent 2-point field goal and free throw percentages were well below the norm, and both of those stats were unlikely to continue tilting quite so heavily in Chicago's favor going forward. Certainly, we can't hold it against the Bulls that Portland made a ridiculous 37-of-40 from the line, although the huge quantity of free throw attempts was indicative of poor defense. And the 55 percent that Portland shot on 2s included many high-difficulty deliveries from Aldridge and Andre Miller (27 points).
On the other hand, there was some clear slippage here. Bulls coach Tom Thibodeau was particularly upset with the transition defense, as a Portland team not exactly renowned for its running game nonetheless tallied 18 fast-break points & several of them coming after made baskets when the Bulls were caught napping. This comes on the heels of a loss to Golden State where similar mistakes were made, as the Warriors ripped Chicago for 31 fast-break points in that contest.
"Every aspect of the defense was missing," Thibodeau said. "This is two games in a row where we put ourselves in a bad position by not guarding anybody. Miller got whatever he wanted, Aldridge got whatever he wanted & we weren't able to take anything away from them. It was an easy game for them offensively. You're playing with fire, trying to outscore people. We can't win like that."
• See Hollinger's full blog post, click here »
3. Daily Dime Live Recap
Zach Harper, TrueHoop Network bloggers and fans gave their in-game opinions throughout Monday's slate of NBA games in Daily Dime Live.
MONDAY'S BEST

Anthony
Carmelo Anthony, Nuggets: His team took a 108-103 loss to the Rockets, but give credit to Melo for a 50-point, 11-rebound night. He sank 16 of 24 shots from the field. Would be a good final note to go out on, if a deal ever gets done.
---
MONDAY'S WORST

The Cavaliers' 25th straight loss: As Sheed might say, both teams played hard. Problem is, Cleveland doesn't play well enough to win. And the 99-96 loss to Dallas keeps the Fighting Gilberts in maddening pursuit of the win column
---
TWEET OF THE DAY
I'll trade this 50 for a W. Anyone, Anyone.12:45 via Twitter for iPhone
Carmelo Anthony
carmeloanthony
---
QUOTE OF THE NIGHT
"I just told him he hits like my grandma."
-- Cats reserve Eduardo Najera , responding to a Kevin Garnett elbow to the face. (Hope a certain abuela isn't as, ahem, wide-ranging as KG is with his blows.)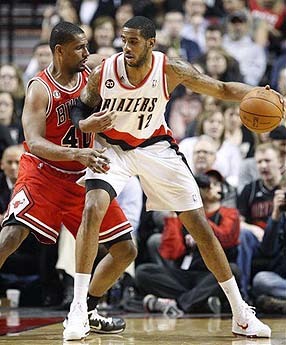 AP Photo/Rick Bowmer
Blazers big man LaMarcus Aldridge couldn't be contained by Kurt Thomas or any other Chicago Bull, posting a career-high 42 points.
7.

In Mailman's Footsteps
By Elias Sports Bureau

Love
Kevin Love had 27 points, 17 rebounds and was 14-for-14 from the free throw line in Minnesota's win in New Orleans on Monday. Love was the first player to have a 25/15 (points/rebounds) game while having a perfect night from the line with at least 14 attempts since Nov. 14, 1992, when Karl Malone had 31 points, 19 rebounds and was 17-for-17 on free throws against the Clippers. The Timberwolves made all 25 of their free throws, the most makes without a miss in an NBA game since the Nets went 25-for-25 on Feb. 25, 2009
• For more Elias notes, click here »
8.

Artest Keeps A Lid On It
By Dave McMenamin
ESPNLosAngeles.com

Artest
Here are your 10 additional things to take away from the Los Angeles Lakers' 93-84 road win against the Memphis Grizzlies on Monday. &
Ron Artest sprung himself on Marc Gasol in the short corner, taking the ball away from Gasol to gain a steal and then taking an unintentional shot to the face from the Grizzlies center, suffering a swollen nose.
Artest covered his face with his hands, sprinted to the far side of the court, sure that he had broken his nose again like he did while playing basketball back in high school and once again earlier in his career in the NBA.
His first feeling was pain. Blood flowed from his nostrils and pooled in his mouth. His next feeling was anger. The Lakers forward stared Gasol down as he made his way toward the team's bench as the referee called a medical timeout.
"Ron knows how to remove himself from situations like that so he got out of there," Lakers head coach Phil Jackson said. "Instead of standing there and getting in a confrontation, he got out of there and removed himself from anything that could contain any problems. So, that was good, that part."
The bad part was Artest continuing to stew as he was corralled towards the bench. First he pushed Lakers trainer Gary Vitti's hands away when he tried to take a look at him. Next it took his longtime confidant Chuck Person looking him in the eye and Kobe Bryant touching him on his face to grab Artest's attention and try to center him.
"We have a relationship where even though things may get a little crazy for him, I'll go up to him and check on him and make sure he's all right and he'll respond," Bryant said. "So I just wanted to make sure he's OK."
Play resumed with the Lakers up by five with 34.6 seconds left in the third quarter and Artest discarded a bloody towel on the sidelines and marched back in to shoot two free throws. He missed them both.
"I want to see him go back out and make those free throws," Jackson said, assessing Artest's anger management. "Get control so he can get his breath going the right way and calm himself down and make those free throws."
• See the full story, click here »