1. Pacers Get Heat's Attention In Loss
By Brian Windhorst
ESPN.com
MIAMI -- Frank Vogel, the newly minted interim head coach of the Indiana Pacers, is a strikingly confident man.
He simply does not act like the NBA's youngest coach, or one with an uncertain future. He's firm, he's positive and he's focused. He's got his Pacers playing that way, too.
Technically, Tuesday night was a setback for the Pacers, as they struggled in the fourth quarter and lost to the Miami Heat, 117-112.
Miami is hot right now, notching its seventh consecutive victory to pull within a half game of the Boston Celtics for the top spot in the Eastern Conference.
LeBron James was again sensational, staying on his recent hot streak by racking up 41 points, 13 rebounds, eight assists and three steals. James made a clutch jumper and two free throws in the final minute to do in the Pacers, who are now 4-1 since Vogel took over for the fired Jim O'Brien.
But the Pacers did accomplish something: They got the Heat's attention. So much so that Miami left AmericanAirlines Arena contemplating a possible playoff meeting with a team that has given it plenty of trouble this season.
Indiana blasted the Heat by 15 points on the same floor back in November when Miami was still very much in search mode. Not this time. The Heat are rolling and generally healthy, yet they still had problems with the Pacers' length, speed and athleticism for most of the game. The two teams meet again next week in Indianapolis.
"They're a playoff team, they're probably going to be there and we have a chance of playing them," said Chris Bosh, who had 19 points but also had his hands full with Josh McRoberts and Tyler Hansbrough all night.
"We have to keep that in mind."
Right now the Pacers are in a dead heat with the Charlotte Bobcats for the last playoff spot in the East, buoyed by their recent strong play under Vogel. He has simplified the offense aimed at playing toward the Pacers' strengths, especially direct post-ups to Roy Hibbert and aggressive pick-and-rolls with speedy point guard Darren Collison.
Last month, Hibbert, who has experienced a roller-coaster season, told the Indianapolis Star that he was planning on seeing a sports psychologist to help him deal with the mental toll the season was taking on him.
Tuesday, Hibbert had 20 points and 10 rebounds but fouled out late in the fourth quarter when he was forced to foul James, who had beaten Danny Granger on the perimeter. A few moments later, Bosh grabbed an offensive rebound that ended up being a huge moment in the game, a rebound Hibbert might have collected if he were still in.
But an hour or so later, Hibbert wrote on his Twitter account: "Love this coach [and] I love this team. We can go far this year if we play like that. 2night we played our hearts out. Just didn't get the win."
Attitudes on the Pacers are changing.
"I think we match up well with anyone," Vogel said. "We have good players. We have good size inside. We have good athleticism on the wings and we have good point guards. We are doing some things this year."
Vogel has oozed this sort of bravado since taking over, virtually guaranteeing the Pacers were going to surge their way into the playoffs. The Pacers played with that confidence against the Heat, attacking their usually stout defense from the outset and leaving the Heat scrambling for a lineup that could contain Indiana's weapons.
The Heat had plenty of trouble dealing with Hibbert, McRoberts and Hansbrough, especially when they hooked up with Collison. The Pacers put up 54 points in the paint and 51 percent shooting with a nice balance of 18 second-chance points and 17 fastbreak points. They were beating Miami in the open court and in the trenches. Six different Pacers scored in double figures as the Heat had difficulty matching up.
"They have some unique talent, they have a lot of speed and guys who can shoot the ball," Heat coach Erik Spoelstra said. "We believe this is a deep conference and we have great respect for the Pacers."
Ultimately, Miami won the decisive fourth quarter, as elite teams usually do. The Heat increased their defensive intensity and the Pacers tightened up a bit. Spoelstra put James on Collison to help slow down the Pacers' pick-and-roll options. Indiana shot just 5-of-18 and scored just 15 points in the fourth after putting up 97 through three quarters.
Dahntay Jones failed to get the ball in and was hit with a five-second call with 8.9 seconds left, costing the Pacers a chance to tie the game late.
Despite these late-game failures, however, the Pacers left believing they'd made an impression. Not just on a potential playoff foe, but to themselves as well.
"We pretty much had the game all the way up until five minutes left," said Granger, who finished with 19 points. "It shows we can compete with anybody."


NBA Writer Brian Windhorst
• On Twitter @WindhorstESPN | On ESPN.com
• Follow ESPN's NBA coverage on Twitter | On Facebook | On Google+
Dimes past: 24 | 25 | 26 | 27 | 28 | 29-30 | 31 | Feb. 1 | 2 | 3 | 4 | 5-6 | 7 | 8
2. Would Bynum-For-Melo Deal Work?
By John Hollinger
ESPN.com

Anthony
Bynum for Melo.
Yep, sounds insane, and at first glance it sounds mostly like somebody -- either Carmelo Anthony's people or Denver the Nuggets -- is blowing smoke to create leverage with other parties.
Nonetheless, it's too titillating not to discuss further. The idea of the Los Angeles Lakers sending a core of Kobe Bryant, Melo, Lamar Odom and Pau Gasol onto the court, with any random civilian inserted at point guard, certainly is a scary proposition for opponents. And for the Nuggets, one has to concede that coming away with Andrew Bynum is vastly preferable to getting, say, Wilson Chandler and a draft pick.
Additionally, the Lakers can dramatically sweeten the deal with spare parts. By also taking on Chris Andersen using the trade exception created by dealing Sasha Vujacic to the Nets, for instance, the Lakers can help the Nuggets further clean up their cap situation and save them more than $10 million in salary and luxury tax. That becomes $13 million if L.A. throws in cash, $14 million if the Lakers take back Shelden Williams too, and $17 million if they do a side deal of Renaldo Balkman for Theo Ratliff and Devin Ebanks.
Adding Andersen and Williams to the mix also allays the greatest fear of this trade for the Lakers: L.A. would be short-handed up front, giving opponents free rein to beat Gasol senseless.
Still, some areas of concern obviously remain. The Lakers would be sacrificing their single greatest advantage -- two 7-footers who create matchup problems for opponents' frontcourts -- to add a high-volume, middling-efficiency shot taker ... a role that Bryant already fills more ably.
• Read the rest of Hollinger's take on a potential Bynum-Melo swap

3. Daily Dime Live Recap
Zach Harper, TrueHoop Network bloggers and fans gave their in-game opinions throughout Tuesday's slate of NBA games in Daily Dime Live.
By Justin Verrier
ESPN.com
TUESDAY'S BEST

James
LeBron James, Heat: Forty-one is the new 50. Behind a bevy of royal flushes -- including one that gave best bud D-Wade a bloody nose -- King James finished with 41 points, 13 rebounds and eight assists.
---
TUESDAY'S WORST

Horford-less Hawks: Without their All-Star center patrolling the paint, the Hawks allowed 117 points in a loss to the 76ers. Horford's replacements, Zaza Pachulia and Josh Powell, combined for two points on 0-for-5 shooting and two rebounds.
---
TWEET OF THE DAY
Two GM's I talked to tonight don't see it, don't think Melo wants to be in Kobe's shadow. Bynum is easier sell to fans than Chandler/Brewer-9:30 p.m. ET via Twitter for iPhone
russillo
ryenarussillo
-- "NBA Today" host Ryen Russillo on the latest Bynum-for-Melo trade chatter.
---
QUOTE OF THE NIGHT
"It's just something that's not part of me. People who know me are probably shocked by it. I made a bad decision, bad timing. That was probably the worst thing I could do at that time."
-- Rockets guard Aaron Brooks, apologizing to Rockets coach Rick Adelman and GM Daryl Morey for leaving the bench early Saturday out of frustration over playing time.
6.

Dwight Takes Down Blake
By ESPN Stats and Information

Howard
Dwight Howard and Blake Griffin entered Tuesday's game as the top two players in the NBA in dunks made, field goals made and points scored inside of 5 feet of the basket. Howard was dominant in that area as all seven of his made field goals were within 5 feet compared to Griffin's four in the Magic's 101-85 win. Howard, who leads the NBA in dunks, also outperformed Griffin in that category, four to two.
Field Goals Made Inside 5 Feet: NBA Leaders
| Player | FGs |
| --- | --- |
| Blake Griffin | 302 |
| Dwight Howard | 284 |
| LaMarcus Aldridge | 167 |
NBA Dunks Leaders
| Player | Dunks |
| --- | --- |
| Dwight Howard | 135 |
| Blake Griffin | 118 |
| LaMarcus Aldridge | 97 |
7.

It's A Bird! It's A Plane!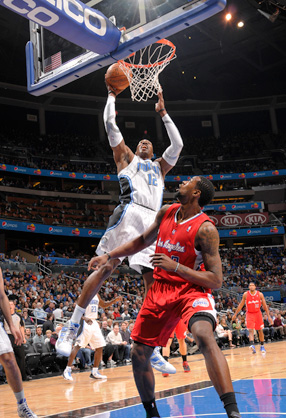 Fernando Medina/NBAE/Getty Images
No, it's Dwight Howard, who powered in 22 points and pulled down 20 boards in a Magic victory.
By Tom Haberstroh
ESPN.com

Jones
From a percentage standpoint, James Jones is more than qualified for the 3-point competition. And he may have a leg up on the rest of the contestants because of his shooting style.
Unlike others in the contest, Jones is a set shooter who spends most of his time lurking along the perimeter waiting for the defense to collapse on Dwyane Wade, LeBron James, and Chris Bosh. Jones is a specialist's specialist. He has been assisted on every single one of his 93 three-pointers this season. Denver Nuggets wing Arron Afflalo and Jones are the only players this season to make at least 75 3-point field goals and have all of them assisted so far this season.
"It caters to a guy like me, being a stand-still shooter," Jones said. "Pick it up -- or catch it -- and shoot, not off of movement. The way I shoot it is the easiest way to shoot it, whereas those guys like Ray [Allen] shoot it off of screens full-speed trying to get their body in position. That's tough."
Not only is James a stand-still shooter, but he's exclusively a 3-point artist.
9.

New York State Of Mind?