1. In The End, Rose Quiets The Boos For Booz
By Nick Friedell
ESPNChicago.com
SALT LAKE CITY -- Carlos Boozer wasn't exactly sure how he would be received during his homecoming game on Wednesday in Utah, but he had a pretty good idea. Knowing that there were still plenty of fans who harbored a lot of hostility toward him for all the games he missed during his six-year stint with the Utah Jazz, he tried to convinced the assembled media and himself, that he would only hear one thing when he walked on the floor for the first time before Wednesday night's clash between his old team and his new one.
"It's all Booooz to me," the Chicago Bulls forward said after Tuesday's practice. "I'm looking forward to it, it's going to be a fun night."
Derrick Rose knew better.
He saw the signs around Energy Solutions Arena and knew what his new big man could expect. The one that mentioned, not so subtly, that Boozer missed 132 games during his six seasons in Utah, while John Stockton and Karl Malone missed just a combined 20 over almost four decades of playing basketball in Salt Lake City. Or the one that said, "Boozer, don't trip over your duffel bag on the way out." Or even the 30-something fan in the front row who held up an old Boozer Jazz jersey with a red X taped on it.
Rose could sense the visceral antipathy that some fans still felt toward the veteran forward, and he could hear the boos echoing through the arena every time Boozer touched the ball. That's why the 22-year-old point guard seemed to be even prouder of the way Boozer and his teammates played on this night, and even happier that they were able to pull out a 91-86 win that they needed.
"I don't see how he played through it," Rose said. "Where the whole arena is booing you. I told him before the game, just playing around, 'I hope you're ready for it, because they're not saying 'Booz' they're saying 'Boo,' so get used to it. He was laughing, he said he was used to it."
As much as he tried to downplay it and say that he was (especially after enduring another unhappy homecoming in Cleveland earlier in his career) it was clear that Boozer was pressing at times during the game. He badly wanted to play well and quiet all the rabid Jazz fans, but Rose and his teammates did that for him.
"You're not going to have a great game every night," Boozer said after his 14-point, six-rebound performance. "This wasn't one of my better nights, but it's a team. Our whole team played good enough to win."
On Boozer's big night, it was actually Rose who ended up stealing the show. Rose had 29 points and played strong defense on Deron Williams throughout the game, holding the All-Star point guard to just 11 points.
"I thought he was in attack mode," Thibodeau said of Rose. "He'll do whatever you need to win a game. ... He did everything. He ran the team. Made shots. Made hustle plays. And then he had to chase [Deron] Williams around a ton of screens, too, and that's not an easy thing to do. His effort was great."
Boozer, who seemed relieved that his return to Utah had finally come and gone, put it this way.
"I told him after the game he's a bad ..., I can't say the other word I said. He's a bad man," Boozer said of Rose. "Humble, aggressive, made shot after shot, tough shots. Made defensive play after defensive play. He was a man tonight."
In the end, although Boozer may not have played the type of game he would have liked, it's clear that in the short-term he has found greener pastures with the Bulls. The Jazz are always going to be good, but with Rose leading the way the Bulls have a chance to be great. Although he didn't come right out and say it, you got the sense that's exactly what Boozer was thinking on his way out of Utah this time around.
"It's just one game," Boozer said. "It's not a monster game or the biggest game of the season. I don't know who said that, but it's another game. We got to move on and keep winning. ... I know everybody wanted to make this an individual thing about me, it wasn't for me. It was about the Chicago Bulls. We had to get back on track and we did that tonight."
See more from Nick Friedell at ESPNChicago.com
Dimes past: Jan. 25 | 26 | 27 | 28 | 29-30 | 31 | Feb. 1 | 2 | 3 | 4 | 5-6 | 7 | 8 | 9
2. 'The Perfect Storm Of Ineptitude'
By John Krolik
ESPN TrueHoop

What does a team have to do wrong to lose 26 games in a row? Quite simply, everything. And the Cleveland Cavaliers have been doing everything wrong since Dec. 18.
Teams that go on prolonged losing streaks are generally terrible offensive teams, terrible defensive teams, teams that lack discipline, teams that give inconsistent effort, or teams that have simply forgotten how to win. The Cavs are different, because they don't fit any one of those descriptions -- they fit all of them.
On Wednesday, Cleveland's plethora of flaws were on display. In the first quarter, they came out flat offensively and scored only 16 points. Later in the half, Detroit was able to build a double-digit lead because of multiple defensive breakdowns by the Cavaliers. The fact that the Cavaliers played with the effort level of a team that had already clinched a top playoff spot made matters even worse. The Cavs ran into each other on fast breaks, had an inbounds pass stolen from them, were destroyed on the offensive glass, and made a number of unforced turnovers at bad moments.
The Cavaliers are fundamentally broken on every level. The only time the team can get a good look offensively is when Ramon Sessions can push the ball in transition or drive into the paint, and they're still not a very good team when they get out on the break; in fact, Synergy Sports has them as the worst team in the league in transition situations.
Antawn Jamison is the team's only proven scorer and supposed veteran leader, but he has been just as responsible for Cleveland's struggles as anyone on the team. Jamison is capable of scoring in bunches, but he has also been arguably the worst defensive player in the NBA this season. The only thing worse than the Cavalier offense is the Cavalier defense, and Jamison's weak man-to-man defense, atrocious pick-and-roll rotations, and general disinterest in playing any defense at all are the cause of most of Cleveland's defensive breakdowns.
The 2010-11 Cavaliers are the perfect storm of ineptitude. Not only are they incapable of making teams play the type of game they want, but they're not very good at playing the type of game they want. They have the least talent of any team in the NBA, and they have been worse than the sum of their parts this season. They don't move the ball on offense or rotate well defensively. They wilt in big moments and regularly get outworked. The team has no identity, and no excuse for efforts like the one they had on Wednesday. There is no hope for this season's Cavalier team. All that's left to do is play out the string, wait for the draft, and make history with each consecutive loss.
• For more by John Krolik see, Cavs: The Blog »
3. Daily Dime Live Recap
Zach Harper, TrueHoop Network bloggers and fans gave their in-game opinions throughout Wednesday's slate of NBA games in Daily Dime Live.
WEDNESDAY'S BEST

Vujacic
Sasha Vujacic, Nets: That's right, The Machine. He sank 5-of-7 3-pointers en route to a career-high 25 points for the Nets. The whole Jersey bench stood out in a 103-101 OT win over the Hornets.
---
WEDNESDAY'S WORST

The disappointing Bucks: Losing to a woeful Wiz team by 15 hurts. The preseason darling Bucks are now 20-31, 2 1/2 games behind the Pacers for the eighth and final East playoff spot. And Brandon Jennings is still shooting 38 percent.
---
TWEET OF THE DAY
Took my son to the Nets-Hornets game tonight to see one of the best guards in the league ... now he wants a Sasha Vujacic jersey.11:30 p.m. ET via web
Maurice Brooks
MoBrooksESPN
---
QUOTE OF THE NIGHT
"I'm mad as hell. I can deal with losing, especially when our guys play as hard as they have in the last couple weeks, but I find it very hard to deal with when guys don't come out ready to play."
-- Cavs coach Byron Scott, after his team lost at home to Detroit for a 26th straight loss.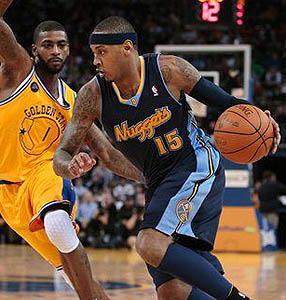 AP Photo
While trade rumors swirl, Nuggets forward Carmelo Anthony scored 28 points, but the Nuggets fell to Golden State 116-114.
By Elias Sports Bureau

Jason Terry (22 points) and Jose Juan Barea (20), neither of whom started, led the Mavericks past the Kings, 102-100. It was the second time this season (both over the past 16 days) that Terry and Barea each scored at least 20 points off the bench in the same game. No other pair of NBA teammates has had more than one such game this season.
• For more Elias notes, click here »
By Chad Ford
ESPN.com

James
Mendel (FL): Chad, are you one of those that detracts from LBJ's MVP candidacy due to his supporting cast? It seems like we are heading to a travesty worse than the AI MVP in 2001. Another 40 point game Tuesday night, Cavs lost 26 in a row, how is LBJ not MVP!!?
Chad Ford:
He is by virtually every standard. Is he the best player in the league? Yes, by virtually every measurement available. Is he the most valuable player to a team? Ask the Cavs. Does he benefit from playing with D Wade? Sure. Did MJ benefit from playing with Scottie Pippen? Or Bird with McHale and Parish? Yep. I love Derrick Rose and I think he might win it based on what a great, humble kid he is and the terrific season he's having. But let's not kid ourselves. Love him or hate him, LeBron is hands down, the best player in the league.
• See Ford's full chat, click here »