1. Despite Heat's Progress, C's Still Have Edge
By Brian Windhorst
ESPN.com
BOSTON -- With his head down and eyes closed, LeBron James pulled off his uniform inside a quiet and dejected visitors locker room at TD Garden and shuffled into the shower.
The color of that uniform is different now but he's been there before, leaving Boston with depression and frustration in his stomach.
So has Dwyane Wade, who sat nearby, shoulders slumped, icing his feet. Like James, Wade's season ended in this place last year. Like James, he was searching for optimism that this season, despite the Heat's radical makeover, is destined to end differently.
The Celtics won a game against the Heat on Sunday 85-82. Kevin Garnett made a clutch shot late, Mike Miller missed one. Glen Davis made pressure free throws, James missed one. Those are the final details but they say nothing of the subtext.
Both sides attempted to deny it. The game was played Feb. 13, not even Valentine's Day much less the All-Star break, which triggered a stream of platitudes about how in the grand scheme it is meaningless.
Frankly, though, that's too tough a sell. Wade and James know it and so do the Celtics, their pride at the victory and their continued dominance over this potential new rivalry shining through.
Boston is now 3-0 against the re-tooled Heat this season, re-tooled to beat Boston, as a matter of fact. The two wins in the season's first month can be minimized because they occurred squarely in the Heat's adjustment period.
This one came with the Celtics using really only seven players -- five potential rotation players were out with injury -- and with Paul Pierce having one of the worst shooting games of his career because of injuries to his hand and foot.
"You can tell I'm upset," James said in an uncharacteristic tone. "I just want to win. We all want to win."
The Celtics started four All-Stars and were playing at home, so it wasn't like they got it done with smoke and mirrors. Actually they did it with their old standbys, poise and defense, despite having to resort to some odd tactics, such as Rajon Rondo defending James at times and Von Wafer carrying the load on offense for a bit.
But it worked and that's what counts. Other than Pierce, the rest of Boston's six core players Sunday scored in double figures, including Davis and Wafer combining for 26 off the bench. Rondo logged a triple-double with 11 points, 10 rebounds and 10 assists with just one turnover. Garnett and Kendrick Perkins combined to shoot 12-of-20 to offset Pierce's 0-of-10.
The Celtics held the Heat, who arrived in Boston with an eight-game winning streak and determined to stake a claim, to 41 percent shooting and shut down Miami's supporting cast. Wade, James and Chris Bosh combined for 62 points but the rest of the team was 7-of-25 shooting.
"It was obviously a huge win for us with all the stuff we have going on," Celtics coach Doc Rivers said before making sure to downplay the accomplishment. "If there's a mental message, I don't know what it would be. They're pretty tough over there. So, I hope there is, I just don't think there is."
Oh really? How about that James has lost 13 of his past 14 games in Boston including the playoffs? Or that the Heat have lost 13 of the past 14 to the Celtics including the playoffs? The message was the Heat aren't gaining any ground on the top dogs.
"I know everybody wanted to really overstate this game and make it probably bigger than it was," Heat coach Erik Spoelstra said. "We've got another 28 games to continue to get better and move along in this process."
Spoelstra reached back to the Heat's 2006 title year to remind everyone the Heat were 0-2 against the Mavericks in the regular season and then fell down 0-2 in the Finals before raging to the victory. A few minutes after Spoelstra spoke, James and Wade both talked about how they'd each already mimicked Michael Jordan in their careers by having to get past the Pistons in the playoffs after suffering defeats.
"I've got the same feeling right now as I had in my third year or my fourth year when we continued to play Detroit and could not get over the hump," James said, referencing a series loss to the Pistons in the playoffs in 2006 and falling down 0-2 in the 2007 conference finals before rallying to win.
"It took a long time for us to finally get over the hump. I've been in this position before."
All those stories do have happy endings. There have been innumerable occasions in league history when the scales reverse when the playoffs start -- it happens nearly every year. But pointing toward the history books and actually making the history are two different things.
The Heat and Celtics know that.
"This is classic, typical bigger brothers. You've got to get over it," Wade said. "We've got plenty of time, it can happen in the playoffs. That's when we'd like it to happen anyway."
All of that is sound thinking. But so is this: The big brothers still have the Heat in a headlock.


NBA Writer Brian Windhorst
• On Twitter @WindhorstESPN | On ESPN.com
• Follow ESPN's NBA coverage on Twitter | On Facebook | On Google+
Dimes past: 26 | 27 | 28 | 29-30 | 31 | Feb. 1 | 2 | 3 | 4 | 5-6 | 7 | 8 | 9 | 10 | 11-13
2. Facing LeBron, Rondo Plays Pest Best
By Chris Forsberg
ESPNBoston.com

Rondo
BOSTON -- Celtics assistant coach Lawrence Frank, the man in charge of all things defense on a Boston team that tops the league in points allowed per game, was incredulous.
Boston opened the second half with Rajon Rondo applying full-court pressure as Miami's LeBron James brought the ball up the floor, creating what should have been an exploitable matchup for the Heat. As he recounted the story of the bench chatter at that moment, Celtics head coach Doc Rivers even threw in some of Frank's high-pitched inflection (often audible on TV broadcasts) when relating that his top assistant was screaming, "We can't do this!"
Rivers, on the other hand, soon decided it was crazy enough to work.
"I [told Frank], 'You're right, but we're just going to keep doing it,'" said Rivers, who was rewarded when the Celtics outscored the Heat by 16 over the first 5:15 of the second half and held on for an 85-82 triumph in a Sunday showdown at TD Garden.
Rondo produced his seventh career regular-season triple-double with 11 points, 10 assists and 10 rebounds over 43:06 of court time. But it was his defensive effort, particularly the pressure against James, that turned the game around for Boston.
"It was Rondo's idea," Rivers said. "I told him to pressure the ball, and he took that as whoever brought it up. I didn't mean that. He took it that way and I stayed with it. Actually, during a timeout, he thought we were going to switch back, and when I didn't say anything, he was surprised. Because I liked it.
"Sometimes you go off the books, and today was clearly that. That matchup made no sense, honestly. And it hurt us a couple of times. The only thing I saw, honestly, was that it gave us life."
For a Boston team down to essentially seven available players (10 dressed, but Nate Robinson was limited by a bruised right knee, rookie Avery Bradley barely got off the bench and fellow rookie Luke Harangody earned a DNP), that life translated into a dizzying 20-4 run to open the second half, transforming a four-point halftime deficit into a game-high 13-point advantage (one that Boston would need all of in the end).
• For the full story, click here »
3. Daily Dime Live Recap
Zach Harper, TrueHoop Network bloggers and fans gave their in-game opinions throughout Sunday's slate of NBA games in Daily Dime Live.
SUNDAY'S BEST

Howard
Dwight Howard, Magic: Made mincemeat of the Lakers' big men in the paint, putting in 13 of 16 shots en route to 31 points and 13 boards. He was even good at the line, making 5 of 6 in the 89-75 win over the defending champs.
---
SUNDAY'S WORST

Pierce
Paul Pierce's aim: As 0-for-10 nights go, it could have been worse. An ailing Pierce did put in some defense on LeBron and contributed in other ways. Now The Truth might find out the truth about the health of his left ankle on Monday when he has an MRI.
---
TWEET OF THE NIGHT
Of the 10 All-Stars in action so far today, Dwight Howard's looked the All-Starriest.5:30 p.m. ET via TweetDeck
J.A. Adande
jadande
---
QUOTE OF THE NIGHT
"This is classic, typical bigger brothers. You've got to get over the hump. We're getting closer and closer, but we're not there yet. It can happen at any time. It can happen in the playoffs."
-- Heat guard Dwyane Wade, after his team lost to Boston for the third time this season.
---
DUNK OF THE NIGHT
•
Blake Griffin throws down the oop

6.

Watch Out For Superman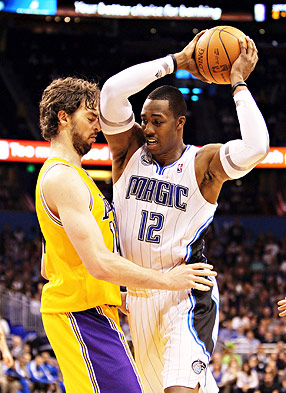 Kim Klement-US PRESSWIRE
Magic center Dwight Howard was not easily deterred by Pau Gasol and the Lakers.
By Nick Friedell
ESPNChicago.com

Noah
NEW ORLEANS -- With the imminent arrival of Joakim Noah back in the Chicago Bulls' starting lineup, it's time to ponder just how much different the Bulls' offense will look in a couple of weeks. It's a question Derrick Rose already has an answer to. He knows things will change with the 25-year-old big man running up and down the floor again, and he is looking forward to having him back.
Noah is on schedule to return after the All-Star break. "It's going to be like an up-tempo type game," Rose said before Saturday morning's shootaround. "Kurt [Thomas], with him, you've got to slow things down a little bit. Or you can't keep running up and down with him. But he's been doing a great job for us, trying to do it. But Joakim, when he comes back, I think we'll be back getting more easy points and fast-break points. But we're just going to have to live with Kurt right now. He's been doing great for us, until Joakim comes back."
Like Rose, Bulls coach Tom Thibodeau knows the offense will change, it's just that he doesn't think it will change as much as you may think.
"It's not going to change a lot," Thibodeau said. "It will change from an energy standpoint. I think [we'll have] extra possessions, great offensive rebounding and playmaking ability. I think when teams are trying to get the ball out of Derrick's hands he has the ability to make good decisions with the ball."
For his part, Noah believes that his shot, the one he's been practicing religiously now for several weeks, is rounding back into form.
"Better every day," he said of his jumper. "The tornado is coming back in full effect."
• For the full story, click here »
8.
Washington's Monumental Win
By Elias Sports Bureau

The Wizards took a 68-46 lead at halftime and cruised to a 115-100 win at Cleveland, snapping their season-long streak of 25 losses on the road. It was Washington's largest halftime lead in a road game since Dec. 3, 2004, when the Wizards led by 27 points at the half in a 114-90 win at Atlanta.
• For more Elias notes, click here »
By ESPN Stats & Information

Bryant
Kobe Bryant
went 6-of-15 (40.0 percent) from the floor on Sunday when guarded by
Jason Richardson
. In the six previous matchups against Richardson (all with Phoenix), Bryant shot 52.4 percent from the floor with the Lakers winning four of those six games.