1. Which Teams Need To Get Dealing?
By ESPN.com
The Feb. 24 trade deadline approaches. We asked our writers which team they think needs to make a move, and propose a (workable) trade, using the Trade Machine. Here's some deals they would like to see.

Anthony
Chris Sheridan, ESPN.com

Trade Machine: See blockbuster Knicks-Nuggets deal

I went pretty darn hard on this topic after the New York Knicks' last home game when they lost to the Los Angeles Lakers, and I'll hit it again: The Knicks need to offer value, financial relief and some face-saving to the Nuggets if they are going to get them to part with Carmelo Anthony, and this deal provides it.
Part of this deal can be tweaked, with the Denver Nuggets getting a No. 1 pick from a third team (i.e. Minnesota, Indiana) instead of Anthony Randolph. Also, the Knicks would toss the Nuggets $3 million in pity money. The deal I have proposed is more than the Knicks would want to give up (especially when it comes to Landry Fields), but they cannot run the risk that their offer is so much of the lowball variety that Denver has no choice but to say no.
Acquiring Al Harrington would take away their 2012 cap space, but adding a third max player is a pipe dream because they'd have to sacrifice the rest of their roster to get far enough under the cap to make a max offer to Chris Paul, Deron Williams or Dwight Howard in the summer of 2012. For the Nuggets, this trade would allow them to make subsequent deals to move Nene and J.R. Smith for more young pieces and draft picks.
---

Jackson
Danny Savitzky, ESPN TrueHoop, NetsAreScorching.com
Trade Machine: Charlotte trades Stephen Jackson to Dallas for Caron Butler

Since Caron Butler underwent season-ending surgery on his knee in early January, it has been a priority for the Dallas Mavericks to bring in a potent wing scorer to replace some of the offense lost when Butler went down. Even though the Mavericks' defense has been stifling all season, Dallas averages only 98.3 points a game on offense, good for only 12th in the Western Conference.
Acquiring Stephen Jackson, who has averaged 19.2 points a game for the Charlotte Bobcats this season, in exchange for Caron Butler would alleviate the team's offensive concerns in the starting lineup. For Charlotte, which is stuck in no-man's land at 23-31, the trade would jump-start the rebuilding process, shedding Jackson's three-year deal in exchange for Butler's expiring contract. For the Mavericks, the deal would represent a short-term push for a title before aging overcomes the roster at the expense of Jackson's stiffening contract.
---

Biedrins
Jeremy Schmidt, ESPN TrueHoop, Bucksketball.com

Trade Machine: Oklahoma City sends Nenad Krstic and Morris Peterson to Golden State for Andris Biedrins and Lou Amundson

Question marks dot the top of the Western Conference. The Lakers have been up and down all season. The Spurs have been breezing through the season, but have come up short in recent playoffs. With two stars seemingly at the top of their games, the time to strike may be now for the Oklahoma City Thunder. But it's hard to strike with such a middling defense and poor rebounding.
Krstic isn't much of a defender or rebounder at center, and his problems are compounded playing next to Jeff Green. Biedrins would give a badly needed rebounding boost to the Thunder. The downside with Biedrins is a contract that's a bitter pill to swallow, one that would probably leave Green on the outside looking in at season's end. But Biedrins is just nearing age 25 now and could shore up the middle in Oklahoma City for a few years.
---
Nick Friedell, ESPNChicago.com


The Chicago Bulls need to deal, because they aren't going to beat the Miami Heat or Boston Celtics in a playoff series with the 2-guard tripod of Keith Bogans, Kyle Korver and Ronnie Brewer.
Here's the problem, I don't think there's a deal out there right now that gets the Bulls over the top this season. Maybe if they landed Carmelo Anthony, but I think he wants to play only for the Knicks. They could trade Omer Asik for Houston Rockets swingman Courtney Lee, but the team really likes Asik and doesn't want to trade a young big man that is only getting better.
As much as the Bulls may want to make a deal, I think they may want to wait to pull the trigger until after the season. They want to see what happens with the new CBA and they have some expiring deals that come off the books next season. They'll be in a lot better shape to make a move next season and they know it.
Dimes past: Feb. 1 | 2 | 3 | 4 | 5-6 | 7 | 8 | 9 | 10 | 11-13 | 14
2. Spurs Keep Winning On Rodeo Trip
By Chris Sheridan
ESPN.com

NEWARK, N.J. -- It had been five weeks since Gregg Popovich and the San Antonio Spurs rolled through this geographical section of the NBA landscape, back when the man who is now the NBA's longest-tenured coach was predicting imminent doom for his team.
Has to happen sometime, he reasoned. An injury, a flu bug, a slump.
No way would the Spurs keep up their 70-win pace.
Popovich looked like a sage that night as his Spurs played one of their worst games of the season in losing to the New York Knicks, followed the next night by a loss to the Boston Celtics.
But since then San Antonio has gone 17-3, the latest victory coming with ease against the New Jersey Nets 102-85 in the eighth stop of the Spurs' annual rodeo road trip.
They have played only one home game since Jan. 21, they won't play another home game until Feb. 23, and yet the Spurs (46-9) are one victory away (they'll need to get it Thursday night at Chicago) from going into the All-Star break still sitting on single digits in the loss column.
"Well, I have thought about it, and I did say that because I just assumed it probably wouldn't last -- the record was too good, and a lot of teams were injured, and we've been lucky that way, we haven't had any super injuries or anything," Popovich said. "But now we're X games beyond that -- maybe close to two-thirds of the way through -- and we still have a pretty good record, a good record.
"I keep waiting for the hammer to fall -- somebody get injured, and we lose five of seven or something like that -- but so far that hasn't happened. I just assumed the basketball gods would come around and bite us, too, at some point, but so far they haven't."
The player the basketball gods frowned upon Monday night was Nets rookie Derrick Favors, who picked up (actually, he was baited into it on a veteran arm-locking move by Antonio McDyess) his fourth foul with 6:22 left in the second quarter with the Nets trailing by just one point. San Antonio turned it on from there, getting a fast-break three-point play from Tony Parker with 1.4 seconds left in the half off a made 3-pointer by Sasha Vujacic with 5.9 seconds remaining, and led by 20 after three quarters.
The Spurs remain on pace to win 68-69 games and will play seven of their first 10 after the All-Star break at home, where they are an NBA-best 25-2.
Not that Popovich is buying into that number.
"That's like saying I lost 2 pounds last week, so I'm on a 40-pound pace if I hold it for an amount of time -- the extrapolation doesn't really work," Popovich said. "No, we'll get the flu, or something will happen."
Sounded a lot like what he was saying back on Jan. 4, over on the other side of the Hudson River.
But so far, and Monday night was no exception, the basketball gods have done nothing but smile on the Spurs.
3. Daily Dime Live Recap
Zach Harper, TrueHoop Network bloggers and fans gave their in-game opinions throughout Monday's slate of NBA games in Daily Dime Live.
MONDAY'S BEST

Delfino
Carlos Delfino, Bucks: Sinks 7 of 10 3-point attempts in the Bucks' blowout of the Clippers. Delfino's season-high 26 points were up there with John Salmons' 12 dimes as rare pleasant surprises in Milwaukee's disappointing season.
---
MONDAY'S WORST

Lakers' pride: Kwame Brown outrebounds Andrew Bynum. Yes, easy to pile on the 20-point loss for the Lakers, who can be thankful the Cats are not in the West as a 7-8 seed. Lakers have lost eight of last 10 to MJ's crew.
---
TWEET OF THE NIGHT
When racing hard times, look at life through the windshield, not the rear view mirror. That goes out to the lovers.... Happy Valentines Day.11:20 p.m. ET via web
Charlie Villanueva
CV31
---
QUOTE OF THE NIGHT
"I'm embarrassed about what we did and that's it."
-- Lakers coach Phil Jackson, after losing to the Bobcats by 20 points.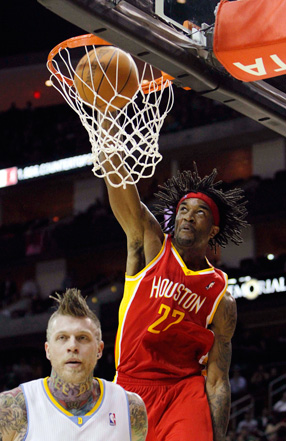 Brett Davis-US PRESSWIRE
Rockets forward Jordan Hill and his bench mates jammed against the Nuggets and Chris Andersen in a 121-102 win. The Nuggets hold a one-game lead for the final West playoff spot over Memphis.
7.
Talking Hoops With Wilbon
By Michael Wilbon
ESPN.com

Travis (New York, N.Y.): What player do you most likely see the Knicks acquiring at the trade deadline to help them with their run to the playoffs and hanging on to the 6 seed?
Michael Wilbon: Carmelo Anthony would help them hold on to the sixth seed, but I don't think anybody else they'd get would have that impact. Remember, they're going after Carmelo in the offseason so they won't acquire anybody not in the last year of his contract ... so I don't know who they could get on the cheap who would matter that much.
The Knicks are going to have a hard time holding on to that spot regardless. Philly is much, much better and improving. Charlotte is playing so much better under Paul Silas, and Indy is playing better. The Knicks had better be careful. Amare can't carry that team by himself all season. The Knicks do need a little added help, but they're not going to spend money that might cost them Carmelo in the offseason.
• For the full chat, click here »
8.
99 Blowout-Free Wins Off Wall
By Elias Sports Bureau

The Charlotte Bobcats beat the Los Angeles Lakers 109-89. The Lakers had played 99 consecutive regular-season games without losing by 20 or more points, which was the longest current streak of its kind among NBA teams. That distinction now belongs to the Mavericks, who have played 69 straight regular-season games without losing by 20-plus points.
• For more Elias notes, click here »
The B.S. Report: 2/14
Bill Simmons talks with commissioner David Stern about the state of the NBA heading into All-Star Weekend, Stern's regrets about Seattle, the CBA, possible contraction and more.