1. Star-Powered Heat Still Susceptible To Lapses
By Brian Windhorst
ESPN.com
INDIANAPOLIS -- Incredible star power. Breathtaking highlights. Smothering defense. Focus issues. Lazy play. Uneven finish. Another victory.
That stream could describe the Heat's season to this point just as much as it could Tuesday's 110-103 victory over the Pacers.
The Heat can be an amazing team to watch, and they were this night. Playing in front of another road sellout -- Conseco Fieldhouse was unusually packed -- their stars put on an incredible display in both individual moments and total performance. For a while, they played such beautiful basketball that all the hype and attention they received seemed to sell them short.
Then, without warning, the Heat look incomplete. Their bench looks hollow. Their point guard play starts costing them at both ends. Their defensive intensity fades. They stop running, jumping and chasing loose balls. They look average.
These less-than-stellar moments often are fleeting; they certainly don't define the Heat. They have been a strong team indeed, Tuesday marking their 40th win of the season and ninth in the past 10 games. But those moments also hold them back.
"We need to push for a championship-level consistency where we're playing all 48 minutes," Heat coach Erik Spoelstra said in a not-unkind fashion after seeing his team go up by 24 points then fall down by five then win by seven.
"We talk about greatness, and that is consistency. We need to keep on pushing and not get satisfied until we get to that level."
That next level is still out of the Heat's firm grasp, Sunday's loss in Boston serving as a clear reminder. But, as this game proved, it is well within their reach.
Dwyane Wade was a Hall of Famer in the first quarter, scoring a remarkable 20 points in the first six and a half minutes. It was bewildering to see, Wade lurching and twisting in the lane to six layups before the crowd was settled. It sent his defender, Mike Dunleavy, to the bench looking like a pitcher who had lost his stuff and was begging for the manager to come get him.
At one point, Wade made a jumper that went conservatively 18 feet in the air and splashed through the net with such precision that it seemed like some CGI effect from James Cameron.
Yet, none of Wade's nine baskets in the quarter were as impressive as one pass, a play that could go down as one of the highlights of the season. That was when Wade plucked one of his 12 rebounds and turned to see LeBron James running a post pattern toward the opposite rim.
Wade, still near the Heat's basket, reared back and heaved a one-handed pass that appeared to transform into a tight spiral in midair.
"I never knew how Tom Brady, Aaron Rodgers or Jay Cutler felt, but I did on that one," said Wade, who finished with 41 points. "I felt that was a perfect pass. You've got to have a great receiver on the other end of it, and LeBron made it look good."
He certainly did. The ball was placed perfectly for James to leap, haul it in and lay it up for what could only be described as an awesome alley-oop.
"That was like Aaron Rodgers to Greg Jennings right there," James said, referring to the Green Bay Packers' combination that led to two touchdowns in the Super Bowl. "The ball was in the air so long. I was like, 'I'm running out of room' so I had to go get it before I went out of bounds."
Wade ended up with 22 points in the first quarter and the Heat led 41-19, whipping a Pacers team that had been as hot as Miami over the past three weeks. The Heat had 14 fast-break points and allowed just 35 percent shooting. The Heat in full.
About 90 minutes later, they were trying to fend off what could have been their worst loss of the season. The defense turned stunningly passive, allowing 64 points on 54 percent shooting in the second and third quarters combined. The Pacers waltzed to the basket without reproach and executed pick-and-rolls like it was a shell drill in some September practice.
James, Wade and Chris Bosh combined for 52 points in the first half (and 90 for the game), but only four Heat players scored in the first half. Not exactly a shining moment for the supporting cast that, while being key in the recent winning streak, was equally absent in Sunday's loss to the Celtics.
But just when it would be easy to slam the Heat for their flaws, they suck you right back in. In the fourth quarter, they looked like defensive wizards again, allowing just 23 percent shooting. James, Wade and Bosh shared the ball and the responsibility, and looked untouchable, leading the Heat to yet another satisfying road victory.
These are the Heat. A made-for-TV crew with unlimited potential and undeniable flaws. And it was a reminder that they're a team that could do just about anything this season, from spectacular finish to spectacular failure.
"I know it is going to happen," James said. "We're going to pull it all together."


NBA Writer Brian Windhorst
• On Twitter @WindhorstESPN | On ESPN.com
• Follow ESPN's NBA coverage on Twitter | On Facebook | On Google+
Dimes past: Feb. 2 | 3 | 4 | 5-6 | 7 | 8 | 9 | 10 | 11-13 | 14 | 15
2. Kings' Cousins Bounces Back
By Royce Young
TrueHoop Network

Cousins
OKLAHOMA CITY -- Right before tip-off in Oklahoma City, as a song blared throughout the arena, Donte Greene danced like a crazy person on the Sacramento bench, laughing with teammates. Sitting right in front of Greene, joining in on the fun? DeMarcus Cousins, who couldn't get enough of it.
Maybe it was a conscious effort to show that things between he and Greene are cool after their dust-up in the locker room following Saturday's game against the Thunder. Or maybe the incident truly is behind them.
Either way, sitting out the Kings' last game and being fined one game's pay didn't seem to bother Cousins on the court. Although the Kings were rolled by the Thunder, 126-96, the rookie played one of his best games of the season, piling up 13 rebounds to go with 21 points in 29 minutes.
"To be honest, it wasn't as big as people made it out to be," Cousins said. "I mean, teams do that. I mean, when it's a team sport, you're going to have disagreements because it's five opinions trying to get along. But they made it bigger than it is. It's really not an issue. There's no beef, there's none of that. We're fine."
For Cousins, who has been dogged by a bad reputation before he even stepping foot on an NBA court, this could be a big learning experience. Or maybe even a turning point.
"I believe I was taking steps forward before the incident happened," he said. "But, you could say I took steps back. And that can happen. But I'm just going to continue to progress."
• Read more from Young at Daily Thunder, the TrueHoop Network's Oklahoma City Thunder blog.
3. Daily Dime Live Recap
Zach Harper, TrueHoop Network bloggers and fans gave their in-game opinions on all topics throughout Tuesday's slate of NBA roundball action, all in Daily Dime Live.
4. Griffin A Sight To Behold
By Pedro Moura
Special to ESPNLosAngeles.com

Griffin
LOS ANGELES -- In the locker room tunnel an hour before a recent home game at Staples Center, longtime Clippers team president Andy Roeser stands, by himself, and watches his prized rookie forward practice 15-footers from each spot on the floor.
Both men -- Roeser, a Clippers employee since 1984, and the forward, 21-year-old burgeoning superstar Blake Griffin -- exhibit exact focus on their tasks at hand.
Griffin shoots. Roeser watches, happily. Things are going well for the Clippers these days, with the franchise in the middle of its longest stretch run of fame on the national media circuit in recent memory, thanks to the prized forward.
Later, Roeser, who famously was the Clippers' representative at the May 2009 draft lottery that gave them the rights to select Griffin, is only half-joking when he quips that the NBA forgot to order enough threads to accommodate the demand for his star player's No. 32 jersey.
By Justin Verrier
ESPN.com
TUESDAY'S BEST

Wade
Dwyane Wade, Heat: D-Wade outscored the Pacers by himself in the first quarter (22-19), connected on his first eight attempts from the floor, and served up a cross-court alley-oop to LeBron James that would make Peyton Manning ooh and aah. He cooled down after halftime, but Wade's 41 points were enough to keep Indiana at bay in a 110-103 win.
---
TUESDAY'S WORST

Post-Sloan Jazz: Down two late in the waning seconds Tuesday against the Suns, the Jazz had three shots at either tying or taking the lead. But none of Utah's big three (Jefferson, Millsap, Williams) could convert, and the Jazz fell to 0-2 since longtime coach Jerry Sloan hung up his whistle.
---
TWEET SPEAK
Since 04, there have been 448 instances where a player took 29+ FGA in a game. Tonight, Wade became the first to do it next to LeBron. Ever.less than a minute ago via web
Tom Haberstroh
tomhaberstroh
---
VERY QUOTATIOUS
"That was like Aaron Rodgers to Greg Jennings right there."
-- LeBron James, on the full-court alley-oop from Wade that he finished off in the first quarter of the Heat's victory in Indiana.
---
STAT CHECK
Wade's 22-point first quarter tied Houston's Kevin Martin as the second-highest first-quarter total in the NBA this season, according to Elias. LeBron currently holds the league lead with 23 in the opening frame against Orlando on Feb. 3.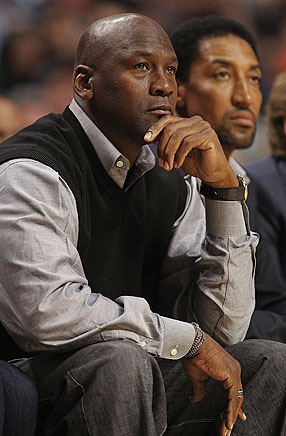 Jonathan Daniel/Getty Images
Michael Jordan and Scottie Pippen were side by side again at the United Center, this time to take in the Bulls' 106-94 win over MJ's Bobcats.
By Nick Friedell
ESPN.com

Deng
CHICAGO -- Luol Deng, the man who had just finished dropping 24 points on the Charlotte Bobcats, picking up the offensive slack from Derrick Rose, could have stood in front of the assembled media and talked about himself late Tuesday night.
Deng could have talked about his performance in the Chicago Bulls' 106-94 win, and about his high level of play over the past two weeks. Instead, he did what pretty much every other member of the Bulls has been doing throughout the season after a big victory -- he talked about everyone else.
"I was aggressive. I looked for my shot early," he said. "But it's the kind of team we have. Some nights you're going to get a lot of looks, some nights it's going to be someone else. But we're a deep team. And that's what's been so great about this year. The whole team, our mindset every night is just to win. Somebody's going to get it for us and it's been a different guy every time."
On Tuesday night, that guy was Deng. But, as has been the case so often lately, he had help from different places.
Rose scored 18 points and was just 5-for-14 from the field after taking several hard shots from the Bobcats, but he also managed 13 assists and created open space for his teammates most of the night. Carlos Boozer had 16 points and nine rebounds. Kyle Korver was 5-for-5 from the field for 15 points, while Taj Gibson added 11 points.
9.

Russell Receives Honor