1. Losing To Cavs Makes Road Look Rougher
By J.A. Adande
ESPN.com
What we make of the Lakers' loss to the Cavaliers isn't as important as what it makes the Lakers.
They're worse than the Wizards and no better than the Clippers, if you use the Cavaliers' past three games as a measurement.
We think of the Lakers in loftier terms, of course; hold them to higher standards. We can't simply write it off when they fall to a team that just ended a 26-game losing streak, losing to a team they beat by 55 points last month.
We have to view it as the latest weight added to the pile that is keeping the Lakers from greatness so far this season.
They have as many losses against the bottom three teams in the league as they have victories against the top five teams in the league. And no, the Lakers don't qualify for top-five status based on their record -- not to mention their sporadic efforts.
We won't be talking about the Cavs and Kings come May; we won't be talking about the times the Lakers lost to them. But it's up to the Lakers to lose the qualities that caused those low moments in the first place: the poor effort and nonexistent defensive rotations. If you are what you repeatedly do, to borrow from Shaq's favorite Greek philosopher, then maybe the Lakers really are the team that lost to Cleveland and Sacramento and couldn't beat the Spurs, Mavericks or Heat.
If we're not supposed to make too much of any single regular-season game, does that mean last week's victory in Boston holds just as little significance as Wednesday's loss in Cleveland?
I'm big on historical precedent, but the ones I keep seeing in my Twitter timeline don't apply here.
Some still cling to the 2001 Lakers team that was a pedestrian 48-26 before winning the last eight games of the regular season and 15 of 16 playoff games to capture the championship. At their peak, before their own excellence contributed to a nine-day, rhythm-disrupting break, they beat the No. 1 seed San Antonio Spurs by a combined 68 points in the final two games of the Western Conference finals. I got Kobe, Derek Fisher and Rick Fox talking about that run a couple of years later and they quickly concluded that it would never be duplicated -- at least not by them. Teams just don't play that well for that long. Might as well wait for UCLA to win another seven consecutive NCAA tournaments.
Kobe and Fisher are 10 years older. Pau Gasol isn't going to break out a pair of 40-point, 20-rebound games the way Shaq did to start the Sacramento series that year. Just leave 2001 alone.
The other more commonly used security blanket is the Celtics' 23-22 record over the final 45 regular-season games last season before they put it together to reach Game 7 of the NBA Finals. That doesn't take into account the fact that the Celtics got off to a 23-5 start … a longer extended run of good ball than the Lakers have had at any point this season. The Celtics still had that in a readily accessible part of their hard drive. And you could argue the reason the Celtics didn't win that Game 7 is because they didn't have home-court advantage … because they lost so many games in the regular season. And those are the footsteps Lakers fans are looking to follow?
That brings us to the real ramifications of this loss:
They're nine games behind the Spurs in the Western Conference standings. The Lakers might as well book the hotel along the Riverwalk for Games 1 and 2 right now.
They're also three games behind the Mavericks, having given back all the ground they gained while Dirk Nowitzki was injured.
They trail the top three teams in the Eastern Conference: Boston, Miami and Chicago.
So the Lakers are looking at starting at least two series on the road if they're going to win a championship. And that could be one too many.
Put it this way: If fatigue's going to be a problem on the tail end of a road trip, won't extra trips across multiple time zones to play in hostile arenas be a factor?
Losing to the Cavaliers doesn't eliminate the Lakers from championship contention. It shouldn't even do so in our minds. It just makes their road more difficult to travel, and a successful conclusion more difficult to envision.


ESPN senior writer J.A. Adande
• On Twitter @jadande | On ESPN.com | On TrueHoop | On e-mail
• Follow ESPN's NBA coverage on Twitter | On Facebook | On Google+
Dimes past: Feb. 2 | 3 | 4 | 5-6 | 7 | 8 | 9 | 10 | 11-13 | 14 | 15 | 16
2. Bosh Returns To Resounding Boos
By Brian Windhorst
ESPN.com

Bosh
TORONTO -- What a fitting end to the Heat hatred tour: uncomfortable and bizarre.
As he walked off the Air Canada Centre floor after the Heat's 103-85 win over his former Raptors teammates, Chris Bosh looked up to the crowd and blew kisses. Half of the fans started to cheer and half of them continued to boo in a moment that was as odd and unprecedented as many have been since July
Was Bosh being sincere or sarcastic? For a guy who has admitted he's a bit of a geek and can seem socially awkward at times, it was hard to tell, but it was another strange sight during this season.
"What does sarcasm mean?" Bosh said with a smile. "It was sarcastic to all the naysayers, it is real to all the supporters. People are going to take it the way they want to."
Mostly, Wednesday night there were naysayers. Bosh was booed steadily from the moment he took the floor. Fans even cheered when he missed shots in warmups.
But the Heat are used to this sort of stuff by now. It also wasn't anywhere near the level of fire that fell on the team two months ago in Cleveland for LeBron James' return, where the hate was so heavy it seemed like it weighted down the air in Quicken Loans Arena.
"You can't compare it," Dwyane Wade said.
"It wasn't close; it was very different," James said.
Because no fan base exactly knows how to behave under these circumstances -- the Heat's moves last summer touching new nerves where loyalty and players' rights intersect -- the Toronto crowd actually cheered Wade when he was introduced. And, of course, booed James.
The same thing happened in Cleveland, Wade got some cheers from fans unsure where to put him. He didn't like it and after the game did his best to keep it from happening again.
3. Daily Dime Live Recap
Zach Harper, TrueHoop Network bloggers and fans gave their in-game opinions on all topics throughout Wednesday's slate of NBA roundball action, all in Daily Dime Live.
4. Most Improved Player Of The Year Watch
By Kyle Weidie
ESPN TrueHoop Network

Aldridge
1. LaMarcus Aldridge, Trail Blazers: He is scoring 29.6 points on 57.9 percent shooting in February, up from 22.1 and 49.5 on the season, and is seemingly determined to turn his All-Star snub into an MIP award.
2. Eric Gordon, Clippers: He has been set back because of injury but still owns one of the biggest increases in Adjusted PER, going from 13.84 to 21.22 (via HoopData.com).
3. Russell Westbrook, Thunder: He springboarded off Team USA to increase his scoring average from 16.1 points per game to 22.5, but he's done it by attempting 3.1 more free throws and two more shots within 10 feet per night, while also upping his FG percentage from .418 to .439.
4. Kevin Love, Timberwolves: He has upped his league-leading 15.5 rebounds per game from 11.0 last season and also grabs 23.3 percent of all boards when he plays; only Moses Malone, Dennis Rodman and Ben Wallace have done that (minimum 30 mins./game, 50 games/season).
5. Nick Young, Wizards: He has increased his scoring average from 8.6 last season to 17.6, dropping 20.7 points per game in 29 games as a starter since the Gilbert Arenas trade. Sure the Wizards are bad, but with few scoring options Young has had to fight through extra defense for his points.
WEDNESDAY'S BEST

Those feel-good Cavaliers: The Fighting Gilberts played with heart, style and extreme pride for ex-Laker Byron Scott. Ramon Sessions rolled in 32 off the bench for the Cavs, who are now three games behind Minnesota and Sacramento in their bid to escape the NBA basement.
---
WEDNESDAY'S WORST

The road-weary Lakers: Yup, Kobe couldn't handle LeBron … LeBron>Kobe …. uh, wait. This is actually 2011, LeBron is gone, and the team that just set the record for losing streaks handed the two-time champs an L.
---
TWEET OF THE NIGHT
i just got a call from from jesus he says you are the worst player in the history of the game but i love you thanks jesus11:40 p.m. ET via web
RON ARTEST
RONARTESTCOM
-- Ron Artest, finding some consolation after another disappearing act, this time in Cleveland.
---
DUNK OF THE NIGHT
Melo throws it down on Bucks

---
QUOTE OF THE NIGHT
"I think they took the break before the game started."
-- Lakers coach Phil Jackson, whose team was playing its final game before heading to the All-Star break.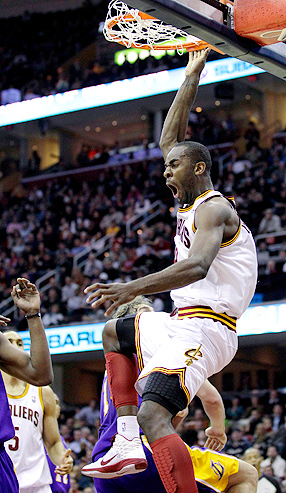 AP Photo/Amy Sancetta
Cavs rookie Christian Eyenga yells after throwing down a demoralizing jam over Pau Gasol in Cleveland's 10th win of the season.
By Tim McMahon
ESPNDallas.com

Beaubois
The hype was all about the return of Rodrigue Beaubois -- and there were entertaining glimpses of his enormous potential.
The dynamic young guard did play a role in the run that essentially sealed the win for the Mavs. It was the old guard, however, who carried the Mavs after they let the Kings rally midway through the third quarter.
Jason Kidd had one of the most phenomenal shooting frames of his 17-year career in the third quarter. He hit six of seven shots in the quarter -- five 3-pointers and a foot-on-the-line 2.
Kidd really heated up after the Kings -- who trailed by 13 at halftime -- tied it up. The Mavs responded with a 13-0 run, keyed by a pair of Kidd 3s and also featuring five points by Beaubois. Kidd also had a couple of 3s during a 9-0 run later in the quarter that pretty much put the Kings out of their misery.
Kidd finished with 20 points on 7-of-9 shooting -- a point shy of his season high -- and was able to put his feet up for the fourth quarter.
But let's get back to Beaubois' season debut. It was rather impressive, with some spectacular moments. He scored 13 points on 6-of-13 shooting and dished out six assists in 21 minutes. (We'd point out the three turnovers if we wanted to nitpick.)
Beaubois was one of four Dallas reserves who scored in double figures, a testament to this team's terrific depth and balance.
9.

Turnabout Is Fair Play
By Elias Sports Bureau
The Cavaliers' victory over the Lakers completes a 60-point turnaround from their last meeting. The win marks the only time since the 2000-01 season that a team has lost by at least 55 points, and came back to defeat that same team in their next meeting that season.
Worst Margin of Loss vs Opponent Since 2000-01 Defeated Team in Next Game, Same Season
| Team | LOST BY | WON BY |
| --- | --- | --- |
| '10-11 Cavaliers | 55 vs LAL | 5 |
| '07-08 Sonics | 52 vs DEN | 4 |
| '02-03 Celtics | 52 vs DET | 10 |
| '02-03 Bulls | 51 vs IND | 12 |
| '09-10 Knicks | 50 vs DAL | 34 |