1. Rose Changing Perception Of Bulls
By Nick Friedell
ESPNChicago.com
CHICAGO -- Gregg Popovich stood in front of the white cement walls in the bowels of the United Center looking like a man who had just seen a ghost.
Considering what he had just witnessed, the expression on his face was understandable.
"I thought the Bulls played very well," he began, just a few minutes after his team had dropped only its 10th game of the season. "They were very sharp. Sharper than we were. They played a good, physical game, and that point guard, what's his name? I didn't know his name before the game. I should have checked."
Popovich was kidding, of course. A man who has four championship rings has no problem appreciating greatness when he sees it. And make no mistake, what he saw from that point guard, Derrick Rose, on Thursday night was pretty great. As he has done so many times this season, Rose carried the Bulls on his back to the tune of a career-high 42 points in an impressive 109-99 Bulls win.
"Wow," Popovich continued. "Wow. He was something. We scored 99 points and shot 49 percent and [made] seven 3s, so you think you should have a pretty good chance to win, but he negated that. So he did a hell of a job."
In a season full of unbelievable performances, Rose saved his best one to date for a game in which he was hell-bent on making a statement for himself and his team. The 22-year-old is convinced there still are some people out there who don't believe in the Bulls, and he figured the best way to change their minds was to knock off the league's best team.
"We've got a lot of confidence right now," Rose said. "Knowing that we can beat some of the best teams in the NBA. But we just got to keep it going. When we come back, we've got to stay focused. We've got to work even harder because we're going to have a couple days off. People are going to let their bodies relax. But we've still got a goal, and that's to try to win a championship."
In case people haven't quite figured it out by now, bet against Rose and the Bulls at your own peril. The second you tell him he can't do something or he and his team aren't good enough is the second he does everything in his power to prove you wrong.
In many ways, that explains the Bulls' first half of the season. People laughed when Rose asked at the team's media day why he couldn't be MVP of the league this season. They chuckled when Tom Thibodeau repeatedly told his team that it would find a way to win without Carlos Boozer (broken hand) for the first month of the season and Joakim Noah (torn thumb ligament) for the past two.
Nobody is laughing now.
Rose and the Bulls are 22 games over .500, and have exceeded all expectations in Thibodeau's first season. They play the type of hard-nosed defense and have the type of swagger that good teams always have, but most importantly, they continually find a way to win. The scariest part for the rest of the league is that they haven't played completely healthy all season. With Noah expected to be back in the lineup Wednesday night in Toronto, the Bulls' locker room is brimming with a confidence that hasn't been seen in Chicago since Michael Jordan retired.
Why shouldn't it? With Rose leading the way, there really is no telling just how good this Bulls team can become.
"He has taken a monster leap this season," Popovich said. "What's really great about him is that he seems to love the pressure in putting his team on his back. He has the character and demeanor to do that. Superstars have that character and leadership gene. The Bulls are one of the top teams in the East, and Tom is a candidate for coach of the year."
After a season like this from Thibodeau's team and a performance like that by Rose, who could argue with him?
ESPNChicago's Nick Friedell is a frequent contributor to the Dime. Follow him on Twitter.
Dimes past: 3 | 4 | 5-6 | 7 | 8 | 9 | 10 | 11-13 | 14 | 15 | 16 | 17
2. Spurs, Bulls Unlikely Title Contenders
By Timothy Varner
ESPN TrueHoop Network

CHICAGO -- Gregg Popovich began his postgame interview with a simple quip.
"That point guard, what's his name?"
Popovich was referring to Derrick Rose, who dominated the Spurs to the tune of 42 points on 18-for-28 shooting. And he did it to the unceasing chant of "M-V-P" from the United Center crowd.
Coming into the season, few thought the Bulls could represent the East in the NBA Finals. No one thought Rose was an MVP candidate, let alone a frontrunner. The Spurs, for their part, were billed as also-rans in a conference whose youth had passed them by. And yet, midway through the season, one could argue that these two teams have strong chances at meeting in the NBA Finals.
Arguing for the Spurs is easy. Even with the loss to Chicago, San Antonio continues along on a franchise best pace of 46-10, a full six games ahead of Dallas, the next closest team in the conference. The Spurs are almost certainly guaranteed home-court advantage throughout the Western Conference playoffs, and, should they make the Finals, the Spurs are likely to own home court there as well. Add in their "been there, done that" pedigree, and San Antonio's case writes itself.
But the Bulls?
Chicago is not only fueled by Derrick Rose's MVP-caliber play, but as Popovich put it after the game, "Tom [Thibodeau] is an obvious coach of the year candidate." Thibodeau has transformed the Bulls into the best defensive team in basketball.
At 38-16, the Bulls are a mere two games behind the East-leading Celtics and Heat. And they're holding a couple trump cards back. The first is the return of Joakim Noah. If the Bulls' defense is currently a dark ale, Noah's return should transform them into a drink-with-a-spoon oatmeal stout. And while Noah marks the possibility of internal improvement, the looming trade deadline provides Chicago with an opportunity to improve externally. If Chicago is able to land a dynamic shooting guard to pair with Rose, they'll have even odds to win the conference.
So was Thursday night's Spurs-Bulls tilt an NBA Finals preview? It's a far more likely scenario than any of us previously imagined.
Read more from Varner at the TrueHoop Network Spurs blog, 48 Minutes of Hell.
3. Daily Dime Live Recap
Zach Harper, TrueHoop Network bloggers and fans gave their in-game opinions on all topics throughout Thursday's slate of NBA roundball action, all in Daily Dime Live.
4. Nets Making Melo Push ... Again

Anthony
The latest tidbits to dribble onto our radar from the Carmelo Anthony trade front:
• Although details of a formally scheduled meeting have yet to emerge, Denver officials are operating under the assumption that Melo and Nets owner Mikhail Prokhorov will finally meet face-to-face during All-Star Weekend in Los Angeles, according to sources close to the process. The Nuggets encourage that meeting, sources say, because trading with New Jersey has always been more favorable to Denver than dealing with New York and because the Nuggets -- who still like New Jersey's Derrick Favors better than any player who's been made available to them in the months-long Melo trade saga -- know that the Nets remain unwilling to participate in a trade unless Anthony also commits to an extension in New Jersey.
• Knicks coach Mike D'Antoni and Knicks president Donnie Walsh are understandably hesitant to give up too much of New York's depth to get Melo, as Chris Sheridan spelled out Wednesday night in this piece, but one source well acquainted with both teams' strategies echoes the rising notion that Walsh might have no choice if Knicks owner James Dolan takes a Melo-at-all-costs stance, as many observers anticipate. The source said: "Don't forget Donnie is still trying to get a contract extension." Translation: Getting Melo now, no matter what the cost, might be the clincher to get that extension.
By Justin Verrier
ESPN.com
THURSDAY'S BEST

Rose
Derrick Rose, Bulls: D-Rose wanted to make a statement against the NBA's best team. A career-high 42 points on 64 percent shooting, eight assists and a 109-99 win -- Chicago's fourth straight W -- should do the trick.
---
THURSDAY'S WORST

Run-and-gun Suns: The Suns outran the Mavs, scoring 10 more fastbreak points, but the fifth-best 3-point shooting team in the NBA fired off blanks from downtown, hitting just 26 percent of its treys in a 112-106 loss in Phoenix.
---
TWEET OF THE NIGHT
IF they meet at last, Nets will once and for all get chance to sell him on Brooklyn ... or finally believe he'll never sign extension w/them12 a.m. ET via ÜberTwitter
Marc Stein
STEIN_LINE_HQ
-- ESPN.com's Marc Stein, checking in with the latest on the Carmelo Anthony trade market.
---
QUOTE OF THE NIGHT
"That point guard, what's his name? I didn't know his name before the game. I should have checked."
-- Spurs coach Gregg Popovich, who couldn't forget Derrick Rose's name if he tried after the PG dropped 42 in the Spurs' loss to Da Bulls.
By Elias Sports Bureau

Nowitzki
• Dirk Nowitzki scored 35 points in the Mavericks' win against the Suns. It was Nowitzki's fourth career game with at least 35 points at Phoenix, the second most for any active visiting player, behind Kobe Bryant, who has nine regular-season 35-point games on the road against the Suns.
• Derrick Rose had 42 points, eight assists and five rebounds in the Bulls' win against the Spurs. Over the past seven seasons, only one other player recorded a 40/5/5 (points/assists/rebounds) game against San Antonio: Allen Iverson in an overtime win for the 76ers in February 2006.
Rose, who scored 33 points against San Antonio in November, is only the second Eastern Conference player in the past 10 seasons to score at least 33 points in two games against the Spurs in the same regular season. Iverson was the other, in 2005-06.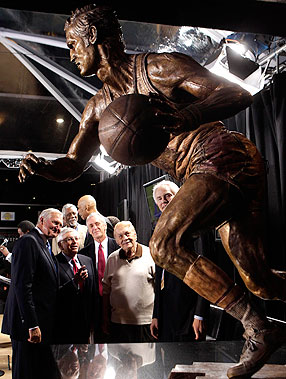 AP Photo/Jae C. Hong
A who's who of the NBA's upper crust, including (L-R) Jerry West, David Stern, Pat Riley and Jerry Buss, gaze at the new statue of West unveiled Thursday outside Staples Center in L.A.
9.

Improving All-Star Weekend
By ESPN Insider

Ric Bucher: All-Star Weekend is upon us and while commissioner David Stern didn't ask, I think it could use some sprucing up ... as in a competition that would assure some fiery competition. I have several ideas that I'd like to pitch, but the one I'd most like to see is a one-on-one contest.
Chris Broussard: I'd love to see a one-on-one competition as well, but only if the game's best players participated. Heck, who wouldn't want to watch Kobe Bryant versus Dwayne Wade in one semi, and LeBron James versus Kevin Durant in the other. But -- and I haven't asked the players so this is just speculation -- I would be shocked if any of the big names played. They won't even participate in the dunk contest, so I see no way they'd be in a one-on-one competition -- there is too much to lose. And without the big names I don't think it works. Does anyone really care who would win between Von Wafer and Shannon Brown? You couldn't even truly crown him the one-on-one champ because everyone would be thinking, "Kobe or LeBron would wipe the floor with him."
• Check out the rest of the debate