TUESDAY'S BEST

The left-behind Nuggets: With the ex-Knicks not yet arrived, the Nuggets played eight and beat their nearest West playoff competitor with relative ease. Ty Lawson staked a claim on the PG job with 21 points, seven assists, six steals and five boards in the 120-107 win over Memphis.
---
TUESDAY'S WORST

Prince
Tayshaun Prince, Pistons: The man who set the standard for the chase-down block doesn't look as attractive to those chasing him down the trade block now. Going 0-for-9 from the floor in a 108-100 loss to Houston doesn't exactly boost his value.
---
TWEET OF THE NIGHT
@TheMrDouglass I aint going no where8:30 p.m. via Twitter for BlackBerry®
Caron Butler
realtuffjuice
-- Caron Butler, responding to rumors. One deal would send the Mountain Dew aficionado known as "Tuff Juice" from Dallas to New Jersey for Devin Harris.
---
QUOTE OF THE NIGHT
"Who needs Melo?"
-- Nuggets crowd, during team's win over Memphis.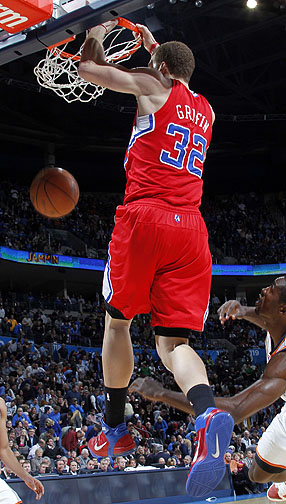 Steve Mitchell-US PRESSWIRE
Blake Griffin returned to his native Oklahoma and was back to his slamming Sooner ways, making a run at his first career triple-double. He followed his slam dunk title with 28 points, 11 rebounds and eight assists in the 111-88 loss to the Thunder.
By Brian Windhorst
ESPN.com

Miller
MIAMI -- The Miami Heat clearly made their major moves last summer, but that hasn't stopped them from being active on the trade market.
According to multiple league executives, the Heat have floated Mike Miller in several trade scenarios as they look to upgrade at the center or point guard positions. Miller missed his second straight game Tuesday -- when the Heat knocked off the Sacramento Kings 117-87 -- out of precaution as he recovers from a head injury and an ear infection.
Miller is the Heat's most tradable asset, even though he's in the first season of a five-year, $29 million contract he signed last summer and is averaging just 5.9 points on 41 percent shooting as he recovers from a hand injury that cost him the first two months of the season.
One executive said the Heat have been calling around but just "don't have much they can trade." This is literally true, as several of Miami's players who signed minimum contracts this summer -- such as Jamaal Magloire and Carlos Arroyo -- can't be traded without their permission because they'd lose their Bird rights. Two other players, Udonis Haslem and rookie Dexter Pittman, are both out recovering from surgeries.
The only other significant asset the Heat have that would merit any interest is the Timberwolves' 2011 second-round pick, which would be a sweetener at best.
The Heat have been unsettled at center and point guard for much of the season as Heat coach Erik Spoelstra has regularly changed his rotations -- as evidenced by Tuesday's decision to move Erick Dampier into the starter's role at center for the first time.
If the Heat are able to add a player, it will most likely come after a veteran has been bought out some time in the next week. With 15 players on the roster, such a move would require the team to cut a player.