Stephen Dunn/Getty ImagesDerrick Rose's 24.6 ppg and 8.2 apg have helped drive his Chicago team to a 41-18 mark.


1. Second Trimester Awards

By Marc Stein
ESPN.com
Archive
The big winners at the trade deadline?
All of us who got to take it all in.
As payback for the six-plus months of interminable, tease-filled Melo Drama that wore everyone out -- at least that's the karma-based theory I choose to believe -- what followed Carmelo Anthony's long-awaited landing with the New York Knicks was bliss.
Maybe only Trade Deadline 2008 -- when Pau Gasol, Shaquille O'Neal and Jason Kidd were all dealt in a slower-drip span of about 20 days -- can compare to the frenzy we just witnessed: Five trades on deadline day involving 23 players and headlined by a whopper (Kendrick Perkins to Oklahoma City) as surprising as the Utah-deals-Deron Williams blockbuster from the day before.
What now?
Good question.
The best we can muster is what we do after every trade deadline. Now that every team in the league is down to its final 20-odd games, let's proceed to our annual Second Trimester Report to pinpoint the hot names in the individual award races with two-thirds of the regular season gone and the stretch run looming:
EAST MVP OF THE SECOND TRIMESTER
Derrick Rose, Chicago Bulls

Rose
Didn't the Eastern Conference coaches already decide this one for us? Doesn't the fact that Chicago finds itself still alive for the East's top seed -- after Carlos Boozer (18) and Joakim Noah (31) both lost a mess of games to injury and only Rose represented the Bulls in the All-Star Game -- clinch D-Rose as the East's best heading into the season's final third?
Of course not.
Surely by now you know that pretty much nothing in this league is as polarizing as an MVP debate. The latest evidence is the rising chorus you hear these days from folks seemingly straining to list all the reasons why Rose shouldn't be the MVP. You might have expected the opposite since the Rose-led Bulls have overcome their injuries, youth and newness as a group to hang with the Celtics and Heat for 60 games. But you'll see a new labor deal before you see widespread MVP agreement at this stage of the season. It's the NBA way.
That's partly because MVP is not a clearly defined award, true, but I know my definition. I forever want to give it to the guy who's having the best season, which I calculate by factoring in team success relative to preseason expectations in conjunction with the individual numbers and my own subjective impressions to break deadlocks.
Using those guidelines, I have zero hesitation presenting Rose as the MVP front-runner at this juncture, even as I'm forced to acknowledge that two individual powerhouses in his conference -- LeBron James and Dwight Howard -- can legitimately claim to be playing at higher levels of efficiency than Rose on teams essentially right there with the Bulls in the standings.
I simply can't overlook Rose's long stretches without one of his top two teammates ... or the fact that the Bulls have been starting a shooting guard (Keith Bogans) who averages 3.9 points per game ... or how Rose has become a better finisher (and foul magnet) at the bucket while also stepping up to drain 87 triples this season after hitting just 32 3-pointers in his first two NBA seasons combined.
On this scorecard, Rose is having a better season so far than James, Howard and anyone else you want to nominate from the West. I certainly can't dispute that Chicago's defense, as orchestrated by rookie head coach Tom Thibodeau and stabilized by the ageless Kurt Thomas when Noah went down, is as important to the Bulls' fortunes as Rose's increasingly versatile O. But I also know that there's no stat to measure the intangible impact Rose has had in keeping the Bulls' self-belief at an elite level no matter which of their All-Star-caliber big men was out.
LeBron thus has to settle for second here, tempting as it is to conclude that he deserves to be No. 1 among East MVP candidates when you factor in the historic collapse of his old team in Cleveland -- no team has ever gone from the league's best record to the worst in one season like the Cavs are threatening -- along with how much he's done to raise Miami's ceiling.
WEST MVP OF THE SECOND TRIMESTER
Dirk Nowitzki, Dallas Mavericks

Nowitzki
Nowitzki probably wouldn't finish higher than third on most MVP ballots if they had to be turned in this week. Yet there can be little argument that he's having the most impactful individual season of any player out West, just like we said after the first trimester.
Even if you're familiar with the numbers by now, they're still worth repeating: Dallas is 42-9 when Dirk is healthy ... and unforgettably went 2-7 when he was sidelined by the worst injury of a career marked by extraordinary durability. The Mavs are likewise 6-2 against the Spurs, Celtics, Lakers and Heat this season ... with both losses coming to San Antonio in games Nowitzki missed with that badly sprained knee.
Mavs management has been undeniably frustrated to see its many efforts in recent years to acquire a starry sidekick to put next to Nowitzki consistently foiled. Something tells me Nowitzki would likewise probably see Tim Duncan's situation (flanked by Manu Ginobili and Tony Parker) or Kevin Durant's (with Russell Westbrook as his tag-team partner) as more appealing than winning back-to-back trimester nominations for West MVP.
Yet it is a high compliment to Dirk that Dallas has rebounded from last spring's latest playoff disappointment by amassing the league's second-best record after merely importing a few new role players to spruce up his supporting cast. Tyson Chandler's infectious energy and presence as a defensive anchor, along with the signing of Peja Stojakovic as a floor-spacer opposite Nowitzki, were the only notable injections of newness to a team -- until this week's signing of Corey Brewer -- that absorbed its third first-round exit in the space of four years.
The addition of Chandler has been legitimately huge, as mentioned often in this cyberspace, because he has indeed helped Nowitzki like no other Mavs center in Dirk's 13 seasons on these shores. But it's Nowitzki's timeless ability to wreck opposing teams' game plans as a matchup nightmare -- coupled with a willingness to share the ball like few superstars do as a co-catalyst with Jason Kidd in making Dallas' ball movement absolutely sing -- that makes it all work.
Maybe his rebounding numbers are down to a pedestrian 6.7 boards per game, but Nowitzki has countered that with the best across-the-board season of his life when it comes to shooting the ball. At age 32, Dirk finds himself safely ensconced in the league's top 20 in all the major shooting categories (field goal percentage, free throw percentage and 3-point percentage) even after Caron Butler's season-ending knee injury.
As Sixers coach Doug Collins said recently, with the Sixers becoming the latest victim in the Mavs' tidy 17-1 run since Jan. 22: "When he wasn't playing, they couldn't win."
COACH OF THE SECOND TRIMESTER
Doug Collins, Philadelphia 76ers

Collins
The hunch here is that San Antonio's Gregg Popovich and Chicago's Tom Thibodeau are the two favorites for this award when ballots go out in April. No argument here, either.
Popovich wins major points for his flexibility and creativity with a new (faster) offense and the willingness to trust kids like DeJuan Blair and the previously unknown Gary Neal to make Duncan's 30-something life as uncomplicated as possible, all of which has set the Spurs on an unforeseen 64-win pace. Thibodeau, meanwhile, has made a bigger-than-expected impact in his first season as a head coach, establishing defense as the other significant co-constant in Chicago along with Derrick Rose, despite the fact that the Bulls made so many roster changes in the offseason and have endured those long-term injury absences with Boozer and Noah.
But it's those two strong candidacies, along with the ever-looming threat of Boston's Doc Rivers, that make me want to single out Collins now, just to make sure everyone's favorite former TNT analyst is recognized for the near-immediate impact he's had in Philly.
When the Sixers started 3-13 and Collins endured multiple fainting spells and concussion symptoms in October and November, his many friends in the game began to worry that they were watching the start of the worst-case scenario for Collins' coaching comeback. Many of those same friends, after all, had urged him to stay away from the madness of X's and O's and reconsider the comforts of his courtside TV chair.
Now?
Collins has the starless Sixers at .500 entering the weekend with 22 games to go. Opposing coaches and scouts rave about Philly's defensive intensity, ball sharing and overall grittiness, which clearly start with Collins and have offset the fact that the Sixers don't have anyone averaging more than Elton Brand's 15.2 points per game.
Memphis' Lionel Hollins, New Orleans' Monty Williams, Dallas' Rick Carlisle and Denver's George Karl -- who has not only returned from his cancer battle with aplomb but also held up rather well in the face of the months-long Melo Drama -- are all bound to get consideration when the time comes. And Rivers would appear to have the best chance to nudge past Popovich or Thibodeau in the final voting if he can blend Jeff Green in smoothly after last week's complicated/controversial Kendrick Perkins trade.
But Philly is 17-10 in 2011, which is the league's ninth-best record since the calendar flipped. Which means this trimester, among coaches, belongs to Collins.
ROOKIE OF THE SECOND TRIMESTER
Blake Griffin, Los Angeles Clippers

Griffin
Suns coach Alvin Gentry made the provocative claim that Griffin shouldn't receive Rookie of the Year consideration because his full season as an injured Clippers observer in 2009-10 gave him a considerable advantage in the ROY race over John Wall, DeMarcus Cousins and the underpublicized likes of Landry Fields, Gary Neal and Greg Monroe.
Just don't forget that Gentry, when he made the argument in early February, also insisted that Griffin did deserve MVP consideration for the way he was playing, which ultimately landed Griffin on the West squad as the first rookie since Tim Duncan in 1998 to be selected as an All-Star by the coaches.
In reality, of course, Griffin is nowhere near MVP contention, with the Clippers making their usual slide into the lottery. But Griffin does remain eminently eligible to run away unanimously with the ROY trophy since he didn't play a regular-season game in his actual rookie season.
So let's dispense with the urge to get tricky and go ahead with Griffin as the landslide choice here for the second straight trimester ... although we do wish to note that Cousins' double-double flashes amid the endless turmoil in Sacramento have not gone unnoticed.


ESPN.com senior writer Marc Stein
• On Twitter @ESPNSteinLine | On TrueHoop | On ESPN.com | On email
• Follow ESPN's NBA coverage on Twitter | On Facebook | On Google+
2. Trimester Awards, Part Deux

Howard
DEFENSIVE PLAYER OF THE SECOND TRIMESTER
Dwight Howard, Orlando Magic
Dwight Howard might be getting routinely shortchanged given the offensive improvements he's made and thus unfairly penalized in the MVP race because the Magic remain mired in fourth in the East after their two December trades. But let's not get crazy.
I wouldn't dare insult him or you by suggesting that anyone else deserves to be the DPOY. Now or at season's end.
The Magic, folks, are actually slightly better in terms of defensive efficiency than they were last season. Which is nothing short of remarkable when you consider that the trades swung by GM Otis Smith before Christmas not only made Orlando smaller but also dropped defenders as vulnerable as Hedo Turkoglu and Gilbert Arenas in Dwight's lap.
It's simply gotten to the point that, no matter how far you've jumped off Orlando's bandwagon, Howard has separated himself from every other defender in the league. That includes standout individuals like Milwaukee's Andrew Bogut, Philadelphia's Andre Iguodala and Dallas' Tyson Chandler ... and even the Boston tag team of Kevin Garnett and Rajon Rondo.
KG and Rondo are unquestionably special, too, as defensive disrupters. Yet they also clearly benefit from the fact that they play for the same defense.
Who's helping Dwight?
SIXTH MAN OF THE SECOND TRIMESTER
Jason Terry, Dallas Mavericks

Terry
The Lakers' Lamar Odom technically isn't eligible yet in this category but will be by the time ballots arrive. Atlanta's Jamal Crawford is down three points per game in scoring this season (18.0 ppg to 15.0 ppg in 2010-11) but remains an outside threat to repeat as the NBA's Sixth Man Award winner. And Boston's Glen Davis? He's been quietly dependable off the Celtics' bench for ages and just became even more important to the Celts, with or without sparkly stats, after Kendrick Perkins was dealt to Oklahoma City.
All three of them, though, are chasing 2008-09 winner Jason Terry, who has a fine opportunity to win this trophy for the second time if he can avoid a drop-off in the stretch run.
The Mavs have needed even more out of Terry than usual since the Jan. 1 loss of Caron Butler to a season-ending knee injury. The response: Terry and Nowitzki are the second-best duo in the league in fourth-quarter scoring with a combined average of 12.7 points, behind only the 13.1 points that LeBron James and Dwyane Wade are averaging in fourth quarters in Miami.
It's been somewhat of a down year for sixth men -- at least partly because Manu Ginobili has been starting all season in San Antonio -- but not for the self-proclaimed JET.
MOST IMPROVED PLAYER OF THE SECOND TRIMESTER
LaMarcus Aldridge, Portland Trail Blazers

Aldridge
We can't go back in time and un-snub LaMarcus Aldridge. Blazermaniacs have to accept that Aldridge started generating big-time buzz too late to convince West coaches to pick him as an All-Star reserve ... even if they'll never accept the selection of Minnesota's Kevin Love over Aldridge when David Stern announced his commissioner's pick to replace the injured Yao Ming.
However ...
Now it's Aldridge's turn.
Love is a huge Most Improved Player favorite this season, thanks to his ridiculous run of 48 consecutive double-doubles with the lowly Wolves as well as the trusty 3-point weapon (42.3 percent) he's developed to complement his board work. Combined with his sharp decision-making and passing, Love's ability to step out and consistently hit the 3 has made him a legit headache for opposing game-planners.
But if my voting colleagues are going to insist on violating the long-held credo here that top-five picks should generally be excluded from the MIP discussion -- because they're supposed to develop this way if they're drafted that high -- then it's only fair that we put Aldridge right up there with Love to make sure that the serious progress in his game gets its deserved spotlight.
Scoring inside like never before -- and thus convincing the Blazers to make an aggressive/expensive move at the deadline by taking on Gerald Wallace contract -- Aldridge averaged 27.8 points and 9.3 rebounds in February to win Western Conference Player of the Month honors for the first time in his career.
Have to confess that my instincts for the official MIP ballot still favor candidates like Golden State's Dorell Wright, Toronto's DeMar DeRozan, Denver's Arron Afflalo and Portland's Wesley Matthews as opposed to the Derrick Roses, Russell Westbrooks and Eric Gordons.
Two trimesters in, though, LMA for MIP has to be strongly considered. The Wolves' rebound magnet has to be the stretch-run favorite, but let's throw Aldridge in another battle with Love and see how it turns out.
3.

One-On-One ... To Five

Finley
Five questions with former All-Star guard Michael Finley, who turns 38 on Sunday -- on the same day Shaquille O'Neal turns 39 -- and still hopes to make one more comeback attempt before retiring:
Q: Now that you're fully healthy (after offseason ankle surgery) do you think there's any chance someone might call to sign you before the playoffs start?
A: If a team calls, I'll be ready. And if a team doesn't call, I can handle that as well. Either way, I'll be OK.
I still think I can help a team, but I'm not going to hold my breath or make it mandatory or anything. Even if I wasn't planning on coming back, I'd still be working out. That's just how I am.
Q: And if no one calls between now and the end of the regular season, does that mean you'll move on to something else?
A: If I don't get [signed this season], I'm going to try to go to someone's training camp next season. I just want one more training camp. If I go to somebody's training camp, I either make the team or then that's it.
Q: This time last year, you were the big buyout guy who joined Boston after San Antonio agreed to release you. We've seen all kinds of buyout signings this week: Troy Murphy, Mike Bibby, Corey Brewer. How hard is to be the buyout guy and join a playoff team so late in the season?
A: It's a lot easier if you know the core guys. For me it was easy in Boston because I knew Paul [Pierce], I knew Ray [Allen], I knew KG [Kevin Garnett], I knew Marquis [Daniels], I knew Doc [Rivers]. Some guys come into a situation that's totally new and it usually takes a couple weeks to a month just to get the feel of the team and the environment. But you don't have a month, because that's when the playoffs start.
Q: I heard that you watched the Super Bowl in Mark Cuban's suite at Cowboys Stadium, so that must mean your relationship with him is good again.
A: I've never had a problem with Mark Cuban. I think that's a misconception that's been blown out of proportion over the years.
I didn't agree with the way that things happened [in the summer of 2005 when Dallas released Finley through the NBA's first "amnesty" clause"], but I never had a hatred for Mark or anything like that. And I've told him that.
We had a conversation about it [last summer]. I wanted to clear the air and let him know that it was never anything personal with Mark. Sometimes the media can look for something that isn't there.
Q: What's it like to share a birthday with Shaq?
A: He used to call me Twin. When I was in Dallas, every time we played him, he used to say that [at] every jump ball.

Jamison
"Why do a lot of things happen?"
Cavs forward Antawn Jamison, trying to be philosophical about his and his team's plight when I saw him about a month ago.
We chatted in Dallas on the night of loss No. 25 in a losing streak that eventually stretched to an NBA-record 26 games before Cleveland finally beat the Los Angeles Clippers at home in overtime on Feb. 11.
Yet there would soon be new developments for the 34-year-old to question.
As recently as a week ago, Jamison was nearly traded back to the Golden State Warriors, with whom he began his career in the lockout-shortened 1999 season.
But sources told ESPN.com that the trade talks, which got serious on deadline day and would have featured Jamison rejoining the Warriors in exchange for Troy Murphy's expiring contract, broke down at the trade buzzer over the draft compensation Cleveland wanted in return.
Three nights later, Jamison's roller-coaster season would be over. In Cleveland's second game after the passing of the trade deadline, Jamison suffered a fractured left finger that required season-ending surgery.
So you can understand why that quote came to mind.
• Tim Legler and host Kevin Connors check in from the "NBA Tonight" desk to weigh in on Marc Stein's weekly NBA Power Rankings, which are updated every Monday at ESPN.com.
6.

50 Is Just A ... Memory

James
LeBron James scored 51 points in Miami's win on Feb. 3. Carmelo Anthony scored 50 points for Denver at home versus Houston four nights later.
And that's it.
We've seen two measly 50-point games this season ... after seeing a whopping 18 as recently as 2006-07. That'll be the lowest figure in five seasons if someone can't manufacture at least one more 50-pointer to match last season's three, which were registered by Andre Miller, Melo and Brandon Jennings.
The recent breakdown:
50-Point Games, Last 5 NBA seasons
| Season | Games |
| --- | --- |
| 2010-11 | 2 |
| 2009-10 | 3 |
| 2008-09 | 11 |
| 2007-08 | 5 |
| 2006-07 | 18 |
According to the Elias Sports Bureau, LeBron's 51 points in Miami's Feb. 3 win at Orlando came 1,263 regular-season games removed from Andre Miller's 52 points in Dallas on Jan. 30, 2010.
Elias says that's the second-longest stretch in league history without a 50-point game behind the 1,338 games that elapsed between Karl Malone's 56 points on April 7, 1998, and Clifford Robinson's 50 on Jan. 16, 2000.
(Will let you know if I hear any good theories to explain the downward trend at this weekend's annual Sloan Sports Conference in Boston.)

Murphy
Assuming that Troy Murphy can avoid injury in the final 23 games of the regular season and thus join the rest of the Celtics in the postseason, Mike Dunleavy will replace Murphy as the active player with the most regular-season games without a single taste of the playoffs.
Dunleavy, though, wasn't far from relocating to a new playoff-bound team of his own.
Sources close to the situation told ESPN.com that the Pacers had advanced trade discussions last month with New Orleans on a swap that would have sent Dunleavy to the Hornets. But the teams never came to final terms on a trade before Dunleavy suffered a fractured left thumb Feb. 22 that required surgery, sidelining him for 6-8 weeks and thus squelching any remaining hope he had for a trade in the final year of a contract paying him $10.6 million this season.
The uncomfortable irony there is that Dunleavy had a real shot to join two other Hornets who are on the same list he and Murphy are dying to get off. Among active players, these are the six with the most regular-season appearances without appearing in a playoff game:
• Boston's Troy Murphy 639
• Indiana's Mike Dunleavy 620
• Detroit's Chris Wilcox 518
• Free agent Eddy Curry 511
• New Orleans' Jarrett Jack 466
• New Orleans' Emeka Okafor 463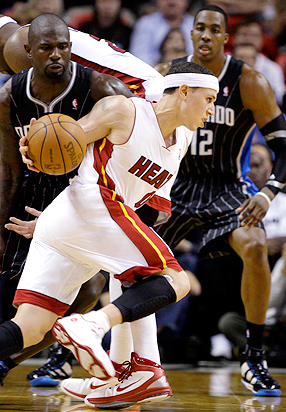 AP Photo
Mike Bibby is now with the Heat, but getting past Dwight Howard (see Box 2) always proves difficult.
Marc Stein joins the Mason & Ireland Show on ESPN Radio in Los Angeles (710) to delve into the Sacramento Kings' increasing desire to move south to Anaheim and also assess whether the Southern California market is big enough for three teams. Listen