1. Heat Flaws On Display During Magic Comeback

By Brian Windhorst
ESPN.com
Archive
MIAMI -- Each year the NBA teaches there are no absolutes in the regular season, the "playoffs" sticker affixed to the floor in late April having magical powers to erase so many supposed certainties learned over the first 82 games. It is a fundamental truth, but it can also be a crutch.
Right now the Miami Heat are using the crutch. But that isn't the worst part for the team that owned not just championship hopes, but championship expectations. They know they're clinging to hope and not belief -- and that current reality is going down like bitter medicine.
Calling the Heat's 99-96 loss Thursday to the Orlando Magic -- in which they blew a 24-point lead -- a collapse isn't really accurate. For a collapse, there must be something strong and towering that falls. The Heat, now more than three-quarters of a season into their fascinating experiment, can't honestly say they've ever fit that description this season.
Proper credit must be given to the Magic, who shot their way back into the game by making nine 3-pointers in the second half. They also showed some of their better defense, relying on Dwight Howard to wall off the paint and rebound while their bombers had a great night. Orlando has scored wins over the Oklahoma City Thunder, New York Knicks and now their in-state rivals in less than a week.
The majority of the attention is attracted by the Heat, who continue to fail against quality opponents and continue to do so in troublesome ways. For the third time in eight days they blew a big lead against a potential playoff opponent and for the third time they didn't execute on offense in the closing stretch, despite having two of the greatest offensive players in history.
For the third time, LeBron James missed a 3-pointer that would have been heroic. For the third time, historical closer Dwyane Wade didn't touch the ball on the last possession.
The consecutive misses have hit James like a right hook, his distant look and defeated body language after the game telling more than his words. James has never taken regular-season losses as hard as he has several over the past few weeks.
James, now a hardened veteran of eight seasons, knows how fickle it is to be in the spotlight. He knows a win in San Antonio on Friday or against the Chicago Bulls on Sunday or even the Los Angeles Lakers next week will be like a salve. It always is. In the regular season, you're only as healthy or sick as your last game.
But James also knows what's more important than individual wins or losses is to take stock and eye the long haul. Doing that, at the moment at least, is giving James and his teammates more indigestion than a few missed clutch jumpers.
"If we had the answer we would try to figure it out," James said after going scoreless in the fourth quarter following his 29 points in the first three periods. "Hopefully we can figure it out soon, hopefully this will make us a better team."
There's that word "hope" again.
When the Heat had their well-documented issues in November, even when the players started stressing a bit and calling meetings, it was because they were playing horridly and finding no flow. They were absolutely certain they'd come out of it. They knew, they didn't merely hope, and they were right.
As the Heat take stock of themselves now, with that postseason on the horizon, the worries are more real. They know this is when they should be getting a footing. Instead they are thrashing and doing so while they feel like they are playing pretty good basketball. It's more than unsettling them, it's unnerving them and time isn't on their side.
Wade and James aren't getting it done together. Chris Bosh is a vital piece but when he doesn't play well the Heat have no answer. And at the end of clutch games, Bosh hasn't been playing well.
The supporting cast has been erratic and generally unhelpful. Thursday's example was Mario Chalmers, who faced a chance to state his case to remain the starting point guard now that Mike Bibby had arrived. He answered by going 2-of-11 from the field.
On the bench, coach Erik Spolestra still doesn't have lineups he can trust and continues to mix-and-match weeks after coaches prefer to have comfort zones.
The record is still good but the substance isn't there, and everyone on the Heat knows it.
"We're going through this growing pains and it sucks," said Wade, who scored just two points in the fourth quarter when he and James again managed to not help each other and disappeared. "You're looking for the light at the end of the tunnel and maybe [in the playoffs] we'll look back on it and say, 'Oh, that's what it was for.'"
Spoelstra is attempting to keep his team together, hitting the same bedrocks as he was in October. None of them are wrong and it is the proper thing for a coach to do. After all, when the playoffs arrive the lessons learned in the journey often are vital.
But he's also no computer, knowing there's only so far rhetoric and star-clustering can go. He accurately senses his team is losing its grip on its dream. There's time to get it back but there's no guarantee.
"If you experience something like this and you're not getting the result you want, it's frustrating," Spoelstra said. "There are only two options for us: we can either collapse or we can continue to stay the course and continue to move forward."


NBA Writer Brian Windhorst
• On Twitter @WindhorstESPN | On ESPN.com
• Follow ESPN's NBA coverage on Twitter | On Facebook | On Google+
Dimes past: Feb. 9 | 10 | 11-13 | 14 | 15 | 16 | 17 | 18 | 23 | 24 | 25 | 28| March 1 | 2 | 3
2. Contenders Are Coming
By Stephen A. Smith
ESPN.com

Bryant
Contenders don't faze Kobe Bryant. Past champions don't concern him too much, either. In the world of the man known as the Black Mamba, known as much for his ability to demoralize with enjoyment as for winning titles, any threat to the Los Angeles Lakers' supremacy in the Western Conference is purely a figment of someone's elaborate imagination fueled by ignorant pundits and destined for exposure and humiliation in April, May and June.
But make no mistake, the contenders are coming.
"Luckily, some of us may actually have some say in the matter before it's all said and done," Dallas Mavericks coach Rick Carlisle told me recently. "Hey, if you don't believe you can change things, if you don't believe you can win, if you're not intending to go for it all, then why even bother playing?"
As great and intriguing as this NBA season has been, all indications say the best has yet to come. The Lakers, the reigning two-time defending world champions, may be 24 games above .500 (43-19), winners of five straight and a top-three seed in the West. But there's something to be said about one's aura of invincibility, and in the Lakers' case, they don't have it right now.
3. Daily Dime Live Recap
With Zach Harper away, DDL regulars held forth and gave their in-game opinions on all topics throughout Thursday's slate of NBA roundball talk in Daily Dime Live.
THURSDAY'S BEST

Richardson
Jason Richardson, Magic: The King of the Comeback scored 24 points for Orlando, 11 of them that helped turn a 73-49 deficit into an 89-82 lead. Richardson was 5-for-5 from 3-point range after halftime.
---
THURSDAY'S WORST

Miami's second half: A team has taken a 22-point lead and lost only six times this season. Who is the reigning El Foldo king? The Heat, who followed their stunning loss to the Millsap-led Jazz with a blown 24-point lead to the Magic.
---
TWEET OF THE NIGHT
I used to get #tigersblood at the snow cone shack as a kid... Is that not what Charlie Sheen is talkin about?12:05 a.m. ET via Echofon
Blake Griffin
blakegriffin
-- We can only hope so.
---
QUOTE OF THE NIGHT
"We've blown a lot of games where we were in full control. And we have to do something."
-- Heat forward Chris Bosh, on Miami's big vice, collapsing.
---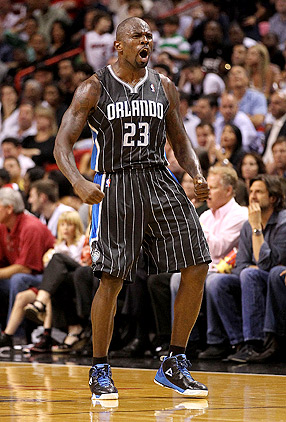 NBAE via Getty Images
Jason Richardson had reason to strike a pose -- he hit all five of his 3-pointers after halftime.
7.

Murphy Talkin' Practice
By Greg Payne
ESPNBoston.com

Murphy
WALTHAM, Mass. -- Troy Murphy received his official introduction to the Boston Celtics' offensive and defensive schemes at the team's practice Thursday afternoon at the Sports Authority Training Center at HealthPoint, one day after being thrown into the fire in Boston's 115-103 victory over the Phoenix Suns.
Having signed with the club mere hours earlier, Murphy checked into Wednesday night's game with practically no knowledge of the team's playbook (he was given a brief 15-minute crash course before the game), and often resorted to looking over to head coach Doc Rivers for instructions as to where he should be on the floor. He finished Wednesday's tilt with one point and two rebounds over 14 minutes of action. Thursday's practice allowed Murphy to start getting acclimated with what his new team likes to do on the court.
"It was great," Murphy said of running through the entire session. "[I'm] just trying to still get into it, remember the plays, everything like that. But [it was] very competitive, [it was] a lot of fun."
Murphy's current challenge is twofold. Not only does he have to master the Celtics' offensive and defensive sets, but he also has to work his way back into game shape, seeing as Wednesday night marked the first time he's played in an NBA game since Jan. 7, as a result of a fallout with his former team, the New Jersey Nets.

The Miami Heat's problems holding leads and closing out games reached new heights on Thursday night when, despite playing at home, they blew a 24-point lead and the Orlando Magic went home with a 99-96 victory. Only one other NBA team has lost a game after leading by 24 points or more this season: the Detroit Pistons, who blew a 25-point lead in a 120-116 loss to the Toronto Raptors on Dec. 11.
It's the second time that the Heat have lost a game in which they led by 20 points or more this season. On Nov. 9, also in Miami, the Heat blew a 22-point lead in dropping a 116-114 decision to the Utah Jazz. Miami and Detroit are the only NBA teams to have lost a pair of games after having leads of 20 points or more this season. The Heat are only the third NBA team in the past 10 seasons to lose two home games in one season in that manner. The Minnesota Timberwolves suffered a pair of home losses in which they blew leads of at least 20 points in the 2007-08 season. Prior to this season, the Heat had not lost a home game in which they led by at least 20 points since Nov. 28, 2000.
Miami has won only five of 17 games decided by no more than five points this season. That yields a winning percentage of .294, tying them with the Philadelphia 76ers (also 5-12) for second-lowest in the league in such games, ahead of only Minnesota (4-12, .250).