1. Tears Of A Crown? Long Way Off For Heat

By Brian Windhorst
ESPN.com
Archive
MIAMI -- Reality is spoiling the Miami Heat's season of good intentions.
They aren't bullies and don't want you to hate them, even if they've pretended like they do. Dwyane Wade isn't comfortable playing with LeBron James, even if they've both tried hard to eliminate egos and to figure it out. Chris Bosh thought he'd be applauded for taking less of a role, even if it has come off looking like he fades into the background.
Things simply aren't going as planned for the Heat, their 87-86 loss to the Chicago Bulls being the latest example. The Heat aren't just on a losing streak, they're on a backfiring streak.
Coach Erik Spoelstra is the man in the crosshairs, because when teams underachieve it is the default reaction to blame the coach, whether it makes sense or not. After the game, he tossed in a detail he may regret about the Heat's troubles.
"This is painful for every single one of us to go through this," he said. "There are couple of guys crying in the locker room right now. It is not a matter of want."
Spoelstra wanted to illustrate how vested his team was in getting things turned around. Instead it came off as a referendum on the club's collective manhood. Just another near miss with consequences for a team that's been dealing with this for months.
As the comment exploded with reactions when it hit "SportsCenter" and Twitter, the Heat were feeling like targets again. And were being reminded they're largely responsible for putting the bull's-eye on themselves.
"Inside our locker room, we stick together; we're like brothers," Wade said. "We win together, we lose together. Outside, the Miami Heat are exactly what everyone wanted, losing games. The world is better now since the Heat is losing."
The immediate reaction is a desire to know which players were crying. Bosh denied it was him, though he "almost did." Wade refused to answer.
Who shed tears or almost shed tears is really immaterial. What's clear is this team is steeped in talent but challenged in basketball chemistry. The Heat are hurting deeply and personally as they struggle to figure out what they've done wrong. The problem is they don't know. And all the recent losses -- four now by three points or less since the All-Star break -- are pushing them to the breaking point.
"We haven't addressed the problem yet," said Bosh, who took one shot in the fourth quarter. "We have to find the problem first."
The Heat genuinely believe they should be winning. They feel like they are putting in the work and making the required concessions to make it happen. But the results, unfairly or not, say otherwise. Sunday the Heat played the Bulls tough but, for the second time in two weeks, Wade and James were outplayed by Derrick Rose and Luol Deng in the fourth quarter.
The number that crystallized the issues is 1-for-18. That's what the Heat are shooting in the final 10 seconds to win or tie a game this season. It should be pointed out that the one make, a James dunk to force overtime in November in Memphis, didn't even result in a win, as the Heat ultimately lost on a Rudy Gay buzzer-beater.
Perhaps no one took the latest loss harder than James, who missed a shot in the closing seconds that could have won it, as did Wade.
This has happened to James four times in the past 11 days. He had chances to win or tie and has missed twice on 3-pointers and twice on drives to the basket. On none of the four attempts did James say he thought he'd made any mistake other than missing.
Just a few days ago, James was declaring to his Twitter followers that he was refocused and going into battle. It could have been seen as a confident, galvanizing statement from a player who has been accused often of not having a killer instinct.
Sunday afternoon, as James felt compelled to apologize to his teammates for not getting it done, it just seemed like another self-inflicted misstep.
"I told my team I'm not going to continue to fail them late in games," James said. "I put a lot of the blame on myself."
Enough blame to cry? That is what Wade's proverbial "world" really wanted to know, but James wasn't saying.
"That stays in the locker room," Bosh said about the outward emotion.
Beyond all the delicious focus on tears and the last-second shots was a game that unfolded in a way that showed the Heat's core flaw. Trailing in the fourth quarter and looking skittish, the Heat were carried by Wade, as he made three consecutive baskets and two free throws.
After that, the focus shifted to James down the stretch. He drained a couple of baskets to help the Heat establish a brief lead before his late miss. The final play, as it has been regularly, was drawn for James. Wade managed to get his hands on the ball for his own attempt, but it was off an offensive rebound.
Once again, James and Wade, the two superstars who agreed to join forces, were not joined and didn't have any force when they needed it.
It is clearly something Wade is struggling with.
"You're just trying to get comfortable with whatever role you're put in at the moment and you try to be your best at it," Wade said. "That was one of the things we had to understand when we all decided to come together. There was going to be sacrifices we're going to have to make, and you live with the consequences."
What Wade, James and Bosh didn't think they'd be sacrificing, though, was winning big games.


NBA Writer Brian Windhorst
• On Twitter @WindhorstESPN | On ESPN.com
• Follow ESPN's NBA coverage on Twitter | On Facebook | On Google+
Dimes past: Feb. 15 | 16 | 17 | 18 | 23 | 24 | 25 | 28| March 1 | 2 | 3 | 4 | 4-6
2. Bulls Are Winning Drama Kings
By Nick Friedell
ESPNChicago.com

Rose
MIAMI -- Unlike probably the entire city of Chicago, Derrick Rose's heart didn't sink when Chris Bosh came over to Luol Deng's side and set a pick on him that left Joakim Noah trying to defend LeBron James with the game on the line. Rose didn't doubt that his center could stay in front of James, because Rose knew that if Noah could stay in front of him he could stay in front of anybody.
"Jo sticks me sometimes in practice, so if anything LeBron is just bigger," Rose said. "Way bigger. And the biggest thing was not fouling him. I thought they were going to call a foul. After we saw that they didn't call a foul, our next thing was getting the rebound. We lost some games like that when we didn't get the rebound, and people got fouled or hit the shot, and then they won the game or whatever. It was a tough win, but we got it out of the way."
The Bulls got the 87-86 win, in part because Noah made two huge plays in the final 20 seconds. Not only did he stay in front of James and force him into a miss at the rim, he also tipped a Deng miss at the line back out to Deng and gave him another chance to give the Bulls the lead at the foul line.
"To me, that's the play of the game," Deng said. "Just that tip. I just saw the ball and I went for it and I thought I got pushed and got a chance to redeem myself."
Between Noah's tip and his defense on James, his coach couldn't have been more pleased.
"They're tough because of their quickness," Bulls head coach Tom Thibodeau said. "We're fortunate because we have three bigs that are capable of guarding small guys. In terms of our quickness, we can stay big if that's what we choose to do. And Jo gives you the ability to switch on pick-and-rolls, and then it's a tough cover from there. I thought he did a great job. I thought his activity was really, really good today. He did a lot of good things out there."
3. Daily Dime Live
Zach Harper, TrueHoop bloggers, ESPN.com's NBA crew and DDL regulars hold forth and give their in-game opinions on all topics throughout Sunday's slate in Daily Dime Live.

SUNDAY'S BEST
Lakers pride: After taking two losses to the Spurs this season, it was time for a display of two-time champ muscle. The end result was a 99-83 win, and the most dramatic moment was when Ron Artest crashed into the oblivious guy with the (thankfully) not-hot coffee.
---
SUNDAY'S WORST

Miami's hoop vices: With five losses in their last six games, things are not looking good for the "Chosen Team." Where's the Wiz when you need 'em? The next five are not cupcakes: Blazers, Lakers, Grizzlies, Spurs and Thunder. We could be talking No. 4 seed, people.
---
TWEET OF THE NIGHT
thank u lil biebs RT @Justinbieber: @THE_REAL_SHAQ happy bday big dude! it's your day. #shaqday6:30 p.m. ETago via web
THE_REAL_SHAQ
THE_REAL_SHAQ
-- Biebs' buddy just turned 39.
---
QUOTE OF THE NIGHT
"The Miami Heat are exactly what everyone wanted, losing games. The world is better now because the Heat is losing."
-- Heat guard Dwyane Wade, feeling low and painting with a broad brush.
---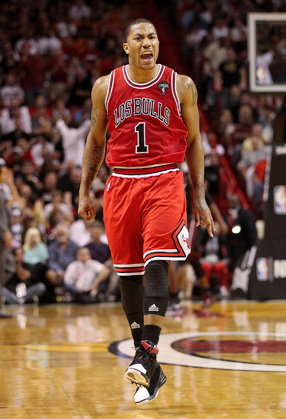 Mike Ehrmann/Getty Images
Bulls guard Derrick Rose reacts after making a key 3-pointer during Chicago's win that vaulted it into second place in the East.
By ESPN Stats And Information

As good as the San Antonio Spurs were against the Miami Heat, they were just as bad against the Los Angeles Lakers on Sunday.
It was a rare lopsided loss for the Spurs, a game in which they were never really in contention. How rare? According to the Elias Sports Bureau, the 28-point halftime deficit was the largest the Spurs have ever faced on their home floor.
The biggest change for the Spurs came in their inability to score inside. They were 18-for-26 from inside five feet in their easy win over the Heat on Friday night, but Sunday they were an uncharacteristic 9-for-22 (40.9 percent) against the Lakers.
Tim Duncan's 1-for-7 from the field epitomized San Antonio's woes. The Spurs were outscored by 29 points with Duncan on the court, the worst plus-minus he posted since registering a minus-29 against these same Lakers on November 28, 2003.
It's the second time this season Duncan shot 1-for-7 from the field, both at home against the Lakers. Prior to this season, Duncan had only two home games in his entire career in which he had one field goal or fewer.
By Brian Kamenetzky
ESPN Los Angeles.com

Artest
It's a stretch to say the Lakers have somehow been written off in the national conversation about this year's NBA champion, not when seemingly every opposing player and coach, along with substantial portions of the media, consistently refer to them as the team to beat. Still, for much of the season, the "What's Wrong With the Lakers?" drum has taken plenty of abuse.
Happily enough for the purple and gold, the answer since the All-Star break has been "Not much." Certainly not Sunday afternoon in San Antonio, when the Lakers went into AT&T Center, a building in which the Spurs have lost twice this season and not at all since November, and totally obliterated them to earn their seventh straight victory.
There have been plenty of times this year when the Lakers have played well -- road wins in Boston and Oklahoma City come to mind -- but none in which they managed together the total package on offense and defense quite like this. Particularly in the first half, when they shot 56 percent while holding their hosts to 35. More importantly, whether it was Ron Artest flexing to the crowd and kissing his biceps after swatting a George Hill corner 3 or Kobe Bryant exchanging some words with fans after sticking a 3 of his own in Manu Ginobili's face, L.A. showed genuine swagger for the first time this season.
9.

Who Doesn't Shoot Enough?
By Devin Kharpertian
ESPN TrueHoop

Paul
Matthew Goldman's idea of "overshooters" and "undershooters" [is fascinating.] Using his model of dynamic efficiency in the shot clock, Goldman found that since 2006 (not including this season) the best players in the NBA more significantly undershoot than the top gunners overshoot -- and the numbers aren't close.
Within the stipulated time frame, the top seven "undershooters" were Chris Paul, Brandon Roy, LeBron James, Al Jefferson, Joe Johnson, Amare Stoudemire and Vince Carter. Pretty surprising, right? All seven of these guys are known for their relatively high-usage offensive game (although Carter isn't anymore, for a variety of reasons), and yet they're considered the biggest undershooters according to Goldman's data.
The top seven overshooters? Russell Westbrook leads the way, followed by Tyrus Thomas, Lamar Odom, Monta Ellis, Larry Hughes, Drew Gooden and Tracy McGrady. This list is less surprising -- all seven of these guys are known for shooting more than they should, although Westbrook has turned a corner this year.