1. Young Grizzlies Ready To Roar?

By Royce Young
ESPN TrueHoop
Archive
If I'm Oklahoma City Thunder coach Scott Brooks, I'm telling my team to avoid making a push to the No. 1 seed at all costs. Because Oklahoma City doesn't want any part of the Memphis Grizzlies in a seven-game series.
Luckily, that's not realistic because Oklahoma City isn't catching the San Antonio Spurs. But with the way Memphis is playing -- and without Rudy Gay, mind you -- there absolutely is a chance of the Grizzlies climbing to No. 5 in the West to set up a major 4-5 clash between two of the West's youngest squads (Memphis is currently just 1½ games out of fifth). And I bet that's something that keeps Brooks up at night.
For whatever reason, the Thunder have a lot, and I mean a lot, of trouble with the Grizzlies. Oklahoma City went 1-3 against Memphis this season after dropping the most recent encounter, 107-101 on Monday. (Two of those wins came with the Grizzlies shorthanded without Gay.) Dating back a couple years, the Thunder and Grizzlies have now played 12 straight games decided by single digits or in overtime. There's not a lot separating these two teams.
The difference maker for Memphis Monday turned out to be unlikely hero Tony Allen who scored 20 points on 7-12 shooting. Allen has become a bit of a Thunder killer as he's a bulldog defender on Kevin Durant as well as averaging 18.7 points per game in the four games against Oklahoma City. (Allen averages just 7.6 ppg for the season.)
The Grizzlies just present Oklahoma City with a list of difficult matchups. Besides being a strong defensive team in general, Memphis has Shane Battier to go along with Allen to defend Kevin Durant. Between the two Monday, they held Durant to an 8-of-20, 23-point effort and did a good job of keeping KD off the free throw line (only five attempts). Of course, then there's the issue of Marc Gasol and Zach Randolph inside. Rebounding has been an issue for the Thunder for most of the season and it's stuck out like Chris Andersen's neck tattoo against the Grizzlies. Monday, Memphis piled up 15 offensive rebounds, which resulted in double-digit second chance points.
But other than just rebounding, Oklahoma City can't stop Memphis inside. In the four meetings, the Grizzlies have outscored the Thunder 236-168 in the paint. Overall, the score between the two teams is 422-416 in favor of Memphis, but the Grizzlies have scored 56 percent of their points in the painted area to just 40 percent for Oklahoma City.
One of the reasons Thunder general manager Sam Presti made the deadline trade he did to acquire Kendrick Perkins (and Nazr Mohammed) was specifically to match up better with teams like Memphis who have a strong front line. Unfortunately for the Thunder, Perkins still isn't available so Presti didn't get a look at how his new toy would change things. And Monday, Brooks went small with Durant at power forward for much of the game and Mohammed played just 13 minutes. Don't ask me why.
Coming into Monday's game at the FedEx Forum, both teams had just played the night before and actually arrived at the airport in Memphis at almost the same time. So again, not much separation.
It's kind of a point-counterpoint thing. The Thunder have Durant, but Memphis has Battier and Allen to guard him, plus Rudy Gay to score. Memphis has a good playmaking point guard in Mike Conley, but Oklahoma City has Russell Westbrook. The Thunder have James Harden off the bench, but the Grizzlies have O.J. Mayo providing secondary scoring.
But where Memphis currently has the edge in Randolph and Gasol, the Thunder hope that Perkins can even that out. At least that's what Scott Brooks is telling himself.
See more from Young at DailyThunder.com
Dimes past: Feb. 15 | 16 | 17 | 18 | 23 | 24 | 25 | 28| March 1 | 2 | 3 | 4 | 4-6 | 7
2. Jeffries Succeeds In Pointless Endeavor
By Chris Sheridan
ESPN.com

Jeffries
NEW YORK -- Amare Stoudemire and Carmelo Anthony are going to get all the ink.
Jared Jeffries will go down as a footnote: The only member of the Knicks who failed to score a single point in their highest scoring game of the season, a 131-109 drubbing of the Utah Jazz.
But Jeffries is more than a footnote.
He will likely remain the starting center for New York for the remainder of the season, a mini-bombshell that coach Mike D'Antoni dropped before watching his superstar duo click together better than they had in any of the eight games since the epic MeloDrama ended with the blockbuster trade that bought Anthony to New York.
"He's a very good defensive player, he moves the ball, he understands what we want done, he gives us that multiple possessions on the offensive rebounding, tapping balls out. He's just an energy guy that kind of glues everything together," D'Antoni said. "He's a valuable piece for us although he doesn't score, but he doesn't have to. This team is a little bit different than a normal team. You don't have to space the floor as much because you have such good individual players, so I just think it's a perfect fit for us."
Jeffries missed his only two shot attempts, both from point blank range. But he did grab six rebounds, three on each end, he blocked a shot, he came up with a steal, and he made two key plays before the game got out of hand that do not show up in the boxscore -- saving the ball as it was going out of bounds and firing it off an opponent's torso to allow the Knicks to retain possession.
He has appeared in four games and logged 100 minutes since re-signing with New York following his buyout from the Houston Rockets, all without logging a single field goal -- although he has scored one point as a Knick, making one of two free throws in New York's home loss to Cleveland last week. (ESPN colleague John Hollinger texted after the game that he is taking April 7 in the Jared Jeffries' First Knicks Field Goal pool.)
"I try to bring an element that I know I'm good at. It was tough not playing all year, I'm still trying to find my rhythm and get my legs underneath me," Jeffries said. "But for the coach to have that type of confidence in me, it means a lot. It's a testament to what they've put together here, and I'll find things I can do to compliment what Amare and Carmelo bring to the team."
Jeffries moved into the starting lineup against the Cavs on Friday when Ronny Turiaf was sidelined with a sore knee, he stayed in that role Sunday night as the Knicks won in Atlanta, and D'Antoni made the surprise announcement before Monday's game that he is planning to keep Jeffries in that role from here on out, no matter if the opposing big man is Dwight Howard, Shaquille O'Neal, Joakim Noah or Erick Dampier lining up against him in the first round of the playoffs.
3. Daily Dime Live
Zach Harper, TrueHoop bloggers, ESPN.com's NBA crew and DDL regulars hold forth and give their in-game opinions on all topics throughout Monday's slate in Daily Dime Live.

Anthony
MONDAY'S BEST
Carmelo Anthony, Knicks: Melo's people of Utah saw a 131-109 win over the visiting Jazz. Melo posted his Knick-high, 34 points, and sank 4-of-5 3-pointers as NYK improved to 5-3 since Melo's arrival.
---
MONDAY'S WORST

Harris
Devin Harris, Jazz: Goes 0-for-7 from the field in Utah's rout at the hands of New York. Harris' four points were his lowest output in six games with his new team, which appears ready to slouch below .500 in the weeks ahead.
---
TWEET OF THE NIGHT
Tony Allen: 2011 League Pass MVP. I am now to Griz games as Christopher Walken is to cowbell. I can't possibly get enough.9:45 p.m. ET via web
John Hollinger
johnhollinger
---
QUOTE OF THE NIGHT
"Without Cardinal, I don't think we'd have won the game."
-- Mavs coach Rick Carlisle, uttering praise for journeyman Brian Cardinal, who contributed 12 points and an energy boost in a 108-105 win in Minnesota.
---
7.

Portland Takes Advantage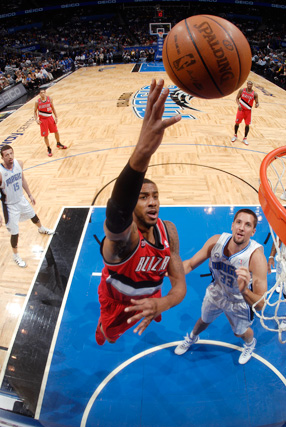 Fernando Medina/NBAE via Getty Images
With Dwight Howard sitting out with a one-game suspension, LaMarcus Aldridge had more room to operate in the paint, scoring 24 points in Portland's 89-85 win in Orlando.
By Michael Wilbon
ESPN

James
Easy (DC): At this point in LeBron James' career, seeing his ups and downs, is it more justified to say that Lebron does not have the inherent leadership ability, drive, and killer instinct to be the best player in the world? I'm not talking sheer athleticism; I'm talking basketball player.
Michael Wilbon: It's certainly fair to start wondering, after eight years in the league, if LeBron lacks certain attributes, and killer instinct is the one I wonder about. And you are absolutely on the money in that too many people confuse athleticism with playing the game. Magic and Bird had little in the way of jumping and explosion but it didn't matter at all because inherent leadership ability, drive and killer instinct they had in abundance ... So, by the way, does (or did) Dwyane Wade, who exhibited these things in 2006.
I'd argue they're having LeBron do too much. I'd like to see Wade, Miami's best half-court player, with the ball in the final 10 seconds because we've seen what Wade can do in those situations.
People are starting to compare LeBron more and more frequently with Wilt, who had all the skills, every physical attribute you could want, but couldn't match Bill Russell when it came to the intangible attributes you mention.
At some point, though, LeBron is going to have to figure out that winning is difficult and it demands certain sacrifices you might not want to make but have to. When? I don't want to say he can't, but he certainly hasn't yet. And eight years in is a little long, considering just how skilled he is.
By Jon Greenberg
ESPN Chicago.com

CHICAGO -- The Chicago Bulls' offense on Monday night was best defined by Kyle Korver, who was left to pantomime a proper 3-point stroke after a timeout in the fourth quarter.
He couldn't make the shots he was actually taking, so maybe some imagination was necessary.
Korver missed all four of his 3-point attempts and the Bulls went 4-for-20 from behind the arc in an ugly shooting night that came on the second night of a back-to-back after an emotional, season-defining win over the Miami Heat on Sunday afternoon.
But guess what, they won. Again.
Chicago pulled out an inartistic 85-77 victory over the New Orleans Hornets, improving to 9-3 when scoring fewer than 90 points -- a telltale sign this team can win those grueling playoff contests in which each possession is a battle unto itself.
Not that the Bulls were aware of that statistic.