1. No Title Assurance, But Bulls Keep Winning

By Nick Friedell
ESPNChicago.com
Archive
CHARLOTTE, N.C. -- A lot of people around the league thought Chicago Bulls owner Jerry Reinsdorf was crazy for saying he believed the Bulls could win "at least four championships" if the team stayed healthy in the coming years, but when you hear the greatest Bull of all time speak about the present king of the franchise, it's not hard to understand why the veteran owner is so confident.
"MVP of the season," Michael Jordan said of Derrick Rose, after Rose and the Bulls defeated Jordan's Charlotte Bobcats 101-84 on Wednesday night. "He deserves it. He's playing that well. He deserves it. Without a doubt."
With Rose leading the way for seasons to come, it's no wonder Reinsdorf sounds as cocky as he has since Jordan left his team more than a decade ago.
Rose is that good.
"If you don't see something special in Derrick Rose, then you're blind," Reinsdorf told the Chicago Sun-Times. "We have an outstanding coach, an outstanding bunch of players, the team is deep, and if we stay healthy we have an awfully good chance of winning at least four championships."
Rose and the Bulls made Reinsdorf look wise Wednesday night as the 22-year-old point guard sliced and diced the Bobcats to the tune of 20 points, six assists and four rebounds. What's even more impressive is the way Rose continues to carry himself in the face of all the accolades that come his way. He smiled in awe when told of Jordan's comments and he didn't shy away when asked about the hefty expectations that his owner has for him and the team.
"We got to win one first," Rose said with a laugh Wednesday morning. "It's great that he has that confidence in us.
"I think everybody on this team is focused. And we're happy that he's our owner and the Bulls organization has been doing a great job with marketing us and making sure that we've got everything we want. We can't complain about anything right now."
That's exactly the way Bulls head coach Tom Thibodeau feels as well.
"For us, for our team, we don't want to skip any steps," Thibodeau said. "So we're just focused on improving each and every day, getting ready for the next day; the thing that I do like, we know we have great ownership with Jerry. I think it's championship ownership. Our team management is outstanding, I think it's championship-caliber. I think we have an excellent group of assistant coaches. and we have a great group of players and we're hoping to be a championship-caliber team, so that's what we're striving for. And we feel we have all the pieces necessary to move in that direction."
Despite the confidence from within the organization, the Bulls players know they still have a long way to go before reaching the heights Reinsdorf has set for them.
"We have a long way to go before we're at championship level," said Bulls sharpshooter Kyle Korver after dropping 20 points on the Bobcats. "Championship level, you know what I mean? It's going to be tough. Boston, the Lakers, guys like that, but that's so far down the road. We've got to worry about Atlanta; we owe them one. And we've just got to keep on rolling."
That's the beauty of the system Thibodeau has implemented in his first season with the Bulls. His players really do focus on just one game at a time. All season long, the 53-year-old coach with the baritone voice has preached patience. He won't allow his team to look ahead or believe the hype that has suddenly engulfed them as quickly as one of Rose's patented drives to the rim.
That's why Reinsdorf believes he can speak with such conviction.
And that's why, despite what some may think, Thibodeau and his team didn't feel Reinsdorf's comments put that much undue pressure on them … because they believe the same thing their owner does: All the pieces are in place for the Bulls to be good for a long time to come.
"I think the sky's the limit for us right now," Rose said. "I think everybody in this locker room, they want to win a championship. They're winners.
"Who's to say that we can't win it this year?"
That's the kind of attitude that led Jordan and the Bulls to six championships in the '90s, and that's the single biggest reason Reinsdorf feels he is headed to basketball's promised land once again.
Dimes past: Feb. 15 | 16 | 17 | 18 | 23 | 24 | 25 | 28| March 1 | 2 | 3 | 4 | 4-6 | 7 | 8 | 9
2. Does Melo Do This? Yes, He Does
By Chris Sheridan
ESPN.com

Anthony
MEMPHIS -- "I do this."
Those were the three words Carmelo Anthony yelled to the Memphis Grizzlies' bench as the final buzzer sounded, Anthony reveling in the glory of hitting his first game-winning shot as a member of the New York Knicks.
Trash talk had been hurled Anthony's way as the ball was in the air, but the final words were his.
"Yeah, man, they were just yelling: 'That [shot] is off. It's off, it's off,'" Anthony recounted after sinking a 16-foot jumper with 0.5 seconds left that allowed the Knicks to eke out a 110-108 victory over the Grizzlies on Wednesday night.
As Anthony was mouthing those three words, Tony Allen of the Grizzlies was staring at him with a look of admiration on his face, nodding his head in a gesture of respect.
This was the type of game-closing play the Knicks knew they would be getting when they set their sights on acquiring Anthony, and he did what the best closers in the game do.
The Knicks might not have needed Anthony's shot if they had played as well in the fourth quarter as they had in the first three periods. But they allowed Memphis to get back into the game with an 8-0 run early in the fourth, then tie it with a 10-0 run late in the period, ending on Zach Randolph's three-point play with 14.2 seconds remaining after he was fouled in the paint by Anthony.
Knicks coach Mike D'Antoni eschewed calling a timeout after Randolph's free throw tied it, electing instead to let the Knicks go for the win immediately.
"I don't like to do that," D'Antoni said of calling a timeout. "That gives them a chance to put all their good defensive players in. It gives them a chance to talk about what's going on. That's too much stuff.
"We've got guys that know how to play, and when we call a timeout and put the ball in Melo's hands, it's like 'Duh.' That's where it's going to go. We knew it, and we got it done," D'Antoni said.
So the buzz back in New York will only be louder now for the Knicks, who kick off a 19-game stretch to close the season. It was a quality victory against a formidable opponent that has surged over the second half of the season, including recent victories over Oklahoma City and Dallas, to put itself squarely into the Western Conference playoff picture.
3. Daily Dime Live
Zach Harper, TrueHoop bloggers, ESPN.com's NBA crew and DDL regulars hold forth and give their in-game opinions on all topics throughout Wednesday's slate in Daily Dime Live.
4. Rose Has MVP Edge Here, Too

Rose
Uzair (Chicago): Is D-Rose the MVP?
Chad Ford: Been going back and forth all season between Derrick Rose, LeBron James and Dwight Howard. LeBron is the best player in the NBA. … But his unpopularity and failures in the clutch the past month probably have killed any chances he has to win it. Howard may be having the best season of anyone and his defense is truly game-changing. But I still lean toward Rose. He kept the team together through two big injuries and has the Bulls poised to be serious contenders in the East right now. He's my slight favorite over Howard right now.

Anthony
WEDNESDAY'S BEST
Carmelo Anthony, Knicks: His 16-footer with less than a second left helped the Knicks fend off the charging Grizzlies 110-108. Anthony finished with 31 points and six dimes. Melo is 6-3 with NY.
---
WEDNESDAY'S WORST

Granger
Danny Granger, Pacers: Accepting this award on behalf of his team's 29 percent shooting performance, Granger led the clankfest with a 2-19 outing in a 101-75 loss to the hapless Wolves.
---
TWEET OF THE NIGHT
Love the fans in MSP…appreciate all the love you guys give us win or lose. And I appreciate all the support for the streak.11:15 p.m. ET via Twitter for iPhone
Kevin Love
kevinlove
---
QUOTE OF THE NIGHT
"I think I've shown over my time in this league I'm a pretty capable player that can step in and fill in when something's necessary. I got here just off of hard work. I know I'm not the most talented, biggest, fastest, quickest or whatever, but I know I'm going to go out there and give it my all every time."
-- Hornets guard Jarrett Jack, after dropping 21 points in a Chris Paul-less win over the Mavs
---
7.

Love, Wilt And The Big E

Love
Kevin Love registered his 52nd consecutive double-double with 16 points and 21 rebounds at the expense of the Indiana Pacers. Despite what you may have heard or read elsewhere, that's not an NBA record. It's not even close. Wilt Chamberlain had separate streaks of 227, 220 and 133 consecutive games with double-doubles; those are the three longest streaks in NBA history. The most recent player with a streak as long as Love's was Elvin Hayes, who had double-doubles in 55 straight games for the Capital Bullets in 1973-74.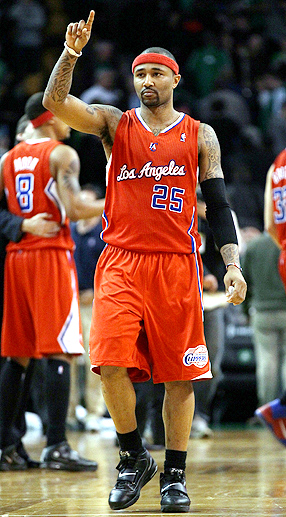 Elsa/Getty Images
Mo Williams dropped 28 on the Boston Celtics in the Los Angeles Clippers' 108-103 win. It was his first game back in Boston since he scored 22 points in the Cleveland Cavaliers' Game 6 Eastern Conference semifinal loss last year.
By Dean Oliver
ESPN.com

So how can the Heat score against the best defenses?
How about a pick-and-roll, for cryin' out loud! Go to the basket, guys!
Contrary to his complaints, Chris Bosh shouldn't need plays run for him in order to score. When the defense leaves him, he should go to the basket. When the defense leaves a perimeter player, he should go to a place where he is available and can score. That is not just the 3-point line, but also down the lane.
The Heat should be able to do this, as Dwyane Wade and LeBron James do not have this problem in their history. In previous seasons, they have been able to find big men in the lane. Last season, James had 268 dimes to guys in the lane in the half-court; this season, just 79. Last season, Wade had 145 assists to guys in the lane in the half-court; this season, just 43.
How about a pick-and-roll with James setting the pick and Bosh going to the basket? Give the ball handlers an inside option that is moving. Those top defenses will have a harder time setting their big men at the top of the charge circle and just waiting. Then they'll actually have to worry about someone else who can score.
No one will care if Miami players were crying in March if they win in June. They'll have to figure out how to move the ball on the inside if they are going to give themselves a chance to do so.