1. Heat's Winning 30 For 30 Story

By Michael Wallace
ESPN.com
Archive
MIAMI -- Chris Bosh won't have to worry about getting another round of frantic calls from his friends after Monday night's performance by the suddenly surging Miami Heat.
That season-long, five-game losing streak that left the Heat stumbling into third place in the Eastern Conference standings and mumbling their discontent through the media? Gone. The roller-coaster ride Miami has been on all season now has Bosh, LeBron James and Dwyane Wade on the upswing again.
That 30-point thrashing in San Antonio two weeks ago that served as the Heat's most lopsided loss of the season? Avenged. ESPN's latest 30-for-30 episode was delivered Monday night at AmericanAirlines Arena, where the Heat responded to a 125-95 loss to the Spurs on March 4 with a 110-80 victory that extended their winning streak to three games.
It was after that setback in San Antonio when Bosh said he received calls from friends, ones who weren't even basketball fans, who asked him what was wrong with the Heat after they were embarrassed on national television.
"That's when I knew it was a problem," Bosh said the other day as he relayed the story. On Monday, the Heat took advantage of their shot at redemption.
Same nationally televised spotlight. Same opponent. Different venue. Completely different result. Problem solved.
"It's not like they didn't try in San Antonio or that they tried harder [Monday night]," Spurs coach Gregg Popovich said of the Heat. "We made a lot of shots in San Antonio; they made a lot of shots down here. What goes around comes around, and defense helps create that."
The Heat continued their turnaround with another dose of dominant defense. Miami held the Spurs to 38.6 percent shooting from the field, marking the third consecutive game an opponent has finished below 41 percent. The Heat also have held those opponents below 90 points in the three victories. Monday's effort against a Spurs team with the league's best record came two days after Miami's 115-85 victory against Memphis, which followed Thursday's 94-88 win against the Los Angeles Lakers.
Bosh, James and Wade all insist the Heat still remain humbled by the recent losing streak that brought everything into question from their chemistry to their acceptance level of the coaching schemes Erik Spoelstra has used this season.
But that cohesion -- and results -- improved with a renewed commitment to defense. That's why even on a night when Bosh, James and Wade combined to score 80 points, which matched the Spurs' overall total, the offense was overshadowed by what the Heat accomplished defensively.
"Any kind of win against any team gives us confidence," Bosh said. "The Lakers [victory] was significant because they are the Lakers. But we were in a situation where we had to close a game out. We needed that more than anything else, especially against a great team. To close that game out the way we did and to really just put it on the last two teams is building confidence. I think we've seen a shift in how we work now. Everybody wants more."
So much more that Wade, James and Bosh didn't want to be taken out of the game against the Spurs.
"All of us wanted to stay in," Wade said of the unit that remained on the floor to start the fourth quarter with the Heat on the verge of pushing a 14-point lead to 33.
"Much different, obviously, than what we showed in San Antonio," Spoelstra said. "The ball was moving. Bodies were moving. It makes us much more difficult to defend. We have to quiet everybody, and quiet the noise out and continue to work together to get better. The consistency that we've had in the last three games is something that we can build on."
Bosh said the main motivation for the Heat the past three games has been to avoid having to cope with the doubt, crushing collapses down the stretch and uncertainty about their individual roles that provided the undercurrent during the losing streak.
"It's been a lot of ups and downs for us," Bosh said. "But it's all part of what we have to go through to get to where we want to go. That's helped us pay attention to detail. When you feel that pain, you never want to feel it again. So we're always on edge, we're always relentless and paying attention."
That wasn't necessarily the case a week ago for the Heat. But it's their story now, one they're sticking to as long as the winning and the defense continue at this rate.
Responding to their worst loss of the season with arguably their most impressive victory against those same Spurs was significant for the Heat. But it didn't require a pseudo-celebration afterward. Before Monday, the Heat were 0-9 this season against the Chicago Bulls, Boston Celtics, Dallas Mavericks and the Spurs -- the top two teams in each conference. Miami's toughest stretch of the season continues Wednesday when Oklahoma City visits as the ninth opponent in a stretch of 11 games against teams with winning records.
"It is definitely a good win," James said. "We know what they did to us last time. We can't let it linger too much. We wanted to continue to keep the rhythm we've had the last few games. It's a big win for us. But we have to continue to stay the course to improve like we've been doing."


NBA Writer Michael Wallace
• On Twitter @WallaceNBA_ESPN | On ESPN.com
• Follow ESPN's NBA coverage on Twitter | On Facebook | On Google+
Dimes past: Feb. 23 | 24 | 25 | 28| March 1 | 2 | 3 | 4 | 4-6 | 7 | 8 | 9 | 10 | 11 | 11-13
2. Bynum Helps Lakers Shine When Kobe Doesn't

Bynum
LOS ANGELES -- This time of year I look at which teams can win on bad nights. Granted, it's generally something I look for in my NCAA tournament picks, because in a single-game elimination format I like to see teams that can survive the off nights. For example, Kansas got a 63-62 Big 12 tournament victory over Oklahoma State despite shooting a combined 35 for 85 from the field and free throw line.
In the NBA, one loss won't wreck your playoffs. But substandard play from your superstar typically will, which is why it's worth noting the Lakers' best stretch of the season hasn't coincided with Kobe Bryant's best play. In the first 10 games after the All-Star break, Kobe was down in the categories of scoring (from 25.1 points per game to 24.1), field goal percentage (46 percent to 43 percent), rebounds (5.4 to 4.2) and assists (4.8 to 4.4). Yet the Lakers won nine of those games, and they won again Monday, another victory against a quality opponent (Orlando) on another night Bryant was quite ordinary, scoring 16 points with five rebounds and four assists.
The story of the game -- as it's been throughout the Lakers' recent surge -- was Andrew Bynum. He grabbed 18 rebounds, blocked four shots and scored 10 points, and in my made-up SOBOA stat (Shots Over Bynum's Outstretched Arms), the Magic were 4-for-12. I don't even have a stat to describe Bynum's best sequence of the night, when he challenged Dwight Howard and forced him to pass, then challenged Jameer Nelson and forced another pass, causing a three-second violation against the Magic.
How about this concept: Bynum could be playing Howard off the West Coast. If Bynum keeps playing this well, do we really need to keep alive the notion that the Lakers should make a play for the potential 2012 free agent Howard, knowing Howard would cost more money and demand more offensive touches than Bynum?
With every game, Bynum is further removed from that offseason knee surgery. With every game, he's getting into better game shape. With every game, he gets more positive reinforcement from his dedication to rebounding and defense.
"Since the All-Star break, people are trying to ask why we've been so much better, and I'll start with him," Derek Fisher said.
3. Daily Dime Live
Zach Harper, TrueHoop bloggers, ESPN.com's NBA crew and DDL regulars hold forth and give their in-game opinions on all topics throughout Monday's slate in Daily Dime Live.

Bosh
MONDAY'S BEST
Chris Bosh, Heat: What a week for CB. He went for 30 points, hitting all 10 of his free throws, and 12 boards in a 30-point win over the Spurs. He's shooting 61.4 percent in his past three games.
---
MONDAY'S WORST

Rondo
Rajon Rondo, Celtics: Going 1-for-10 from the field in a showdown with Deron Williams hurt the C's in a 88-79 loss in Newark. In his past five games, Rondo is averaging seven points and eight assists in 34.2 minutes.
---
TWEET OF THE NIGHT
Whoa, just saw the story about ref suing AP writer over a tweet. For the record, Javie's 1 of best refs (just known to call a tech or 2)11 p.m. ET via ‹berSocial
J.A. Adande
jadande
---
QUOTE OF THE NIGHT
"It doesn't matter that we know people are hurt, and it's a rebuilding process, you still shouldn't not have no heart, not fight, not compete, not be into games."
-- Wizards rookie John Wall, whose dismay was so strong after losing to the Thunder he pulled off the rare triple negative.
---
By Mike Mazzeo
ESPN New York

Williams
NEWARK, N.J. -- With 35.6 seconds left, New Jersey Nets point guard Deron Williams let a 3-pointer from the right wing fly without any hesitation.
Swish.
Just like that, Williams had delivered the final blow in the Nets' biggest victory of the season.
Williams' fourth 3-pointer of the game gave his team a seven-point lead it would never relinquish, and the Nets went on to upset the Boston Celtics 88-79 on Monday night in front of a sellout crowd of 18,711 at the Prudential Center. New Jersey (23-43) has now won a season-high five games. It's the first time the Nets have won that many games in more than three years. The last time they accomplished the feat was Dec. 28, 2007-Jan. 5, 2008. The Nets are 5½ games out of the eighth and final playoff spot in a weak Eastern Conference with 17 games remaining.
"Deron is a closer," head coach Avery Johnson said. "And I was hoping and praying that he'd close it for us."
Williams did just that, capping off a 16-point, nine-assist, six-rebound, three-steal performance by draining his first big-time shot since being acquired from New Jersey in a blockbuster trade from the Utah Jazz three weeks ago.

Griffin
The Memphis Grizzlies held Blake Griffin to eight points on Monday, marking the first time in Griffin's 68-game NBA career that he was held to fewer than 10 points. Griffin's career-starting streak of 67 games scoring in double-digits was the longest by any NBA player since David Robinson began his career by scoring at least 10 points in each of his first 77 games in 1989 and 1990.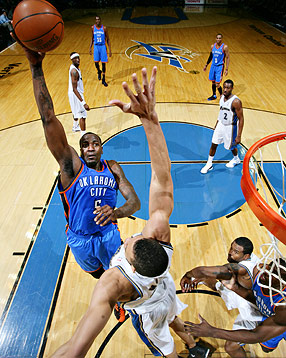 Ned Dishman/NBAE via Getty Images
Kendrick Perkins made his Thunder debut, netting six points and nine rebounds in 20 minutes of play. Perkins said his conditioning was fine after missing nine games with a sprained left knee.
The B.S. Report: 3/14
Bill Simmons and ESPN NBA Insider Chad Ford take a look back on last year's NBA draft and break down the NBA prospects in the NCAA tournament.