1. Blowout Not Helping Bucks' Case For No. 8

By John Hollinger
ESPN.com
Archive
ATLANTA -- There's a race going on for the final playoff spot in the East, and at least somebody is playing like it. But it wasn't the team here.
While Indiana's Danny Granger was hitting a tough game winner to beat the Knicks for a second straight game, the Milwaukee Bucks sleepwalked through a 110-85 defeat to the Hawks. Milwaukee, which looked to be in the catbird's seat in the three-way race for the final spot three days ago, now is in danger of losing contact with the Pacers and Bobcats.
"Tonight's game doesn't put us out of anything," Bucks coach Scott Skiles said, in a statement that neatly encapsulates how pathetic the Eastern Conference playoff race has become.
His club is 26-40, has the league's worst offense and has lost its past two games by a combined 56 points. But no, the Bucks aren't out of it.
They are teetering on the brink, though. Milwaukee now sits two and a half games behind Indiana and two behind Charlotte, with only one of the three teams able to claim the final spot. The Bucks aren't out of it because they play the Pacers again and, with a win, will own tiebreaks against both Charlotte and Indiana. And it's not like their two rivals are blowing away the field, either.
But to get back in it, they'll have to play more the way they did in three double-digit wins last week and less like they did Tuesday night. Milwaukee gave up a 20-0 run bridging the first and second quarters, and never got within 12 points the rest of the night, trailing by as many as 33.
As per usual, the Bucks struggled to score; they had only 55 through the first three quarters after netting a pathetic total of 56 in Boston on Sunday. Unusually, the Bucks' third-ranked defense also let them down. Joe Johnson scored 36 points in just three quarters of work, including a string of five 3-pointers in the second quarter that blew open the game, and Atlanta shot 63 percent for the night.
"I think we focused too much on scoring today and not enough on defense," said Milwaukee center Andrew Bogut, leaving one to shudder at how little the Bucks might have scored if they weren't focusing on scoring.
Said Skiles: "Defensively, we weren't up and into them and aggressive and weren't dictating to them; they were dictating to us."
While the defensive struggles can be partly ascribed to some unusually torrid 3-point shooting from the Hawks -- Atlanta earned only eight free throws and committed 21 turnovers but was 11-of-19 on 3s and shot 64.8 percent on 2s -- it's the consistent offensive struggles that remain the worrisome trend in Brewtown.
If the Bucks don't make the playoffs, an attack that has trouble creating decent shots will be the reason. Once again, the perimeter players struggled to beat defenders and get to the rim, leaving the Bucks shooting long, contested jump shots or relying on Bogut to flip in contested turnarounds.
"It's been one of our issues," Skiles said. "Most of the year, really. We've had trouble getting in [the paint], and when we've got in there, we've had trouble converting and making decisions. No question, tonight and against Boston, too much lateral and not enough getting in the paint and making whatever decision the game dictates."
The inability of the guards to make plays also puts a focus on second-year guard Brandon Jennings, who played well earlier in the season but has had a rocky return since missing 18 games with a broken foot. In particular, the left-hander needs to improve his weak hand to stop opponents from overplaying him.
"He's having some trouble out there," Skiles said. "Some of it revolves around just being able to beat the other team's bigs when they show on pick-and-rolls, and getting to his right and beating people with his right hand. He's still working on it."
The Bucks' flagging offense could get a lift. Sharpshooter Michael Redd worked out hard before the game and could be back in action in a week or so. While his minutes will be tightly rationed, even brief doses of his scoring could provide a boost on this team. Forward Drew Gooden also might be back soon as he recovers from a plantar fascia injury that has swallowed nearly his entire season.
However, they're running out of time. The Pacers and Bobcats left the door wide open for the Bucks to salvage an incredibly disappointing season, but the Bucks have shown no inclination to charge through it. Even now, merely finishing the season 9-7 in their final 16 games might get them into the postseason.
"We've been saying for a couple of months now," Skiles said, "that at some point we're going to have to string together some wins."
Unfortunately, that point appeared no closer Tuesday.


ESPN Insider John Hollinger
• Twitter @johnhollinger | ESPN.com | TrueHoop | Email | Stats
• Follow ESPN's NBA coverage on Twitter | On Facebook | On Google+
Dimes past: Feb. 24 | 25 | 28| March 1 | 2 | 3 | 4 | 4-6 | 7 | 8 | 9 | 10 | 11 | 11-13 | 14 | 15
2. Play By The Rule: Pacers Sink Knicks
By Chris Sheridan
ESPN.com

INDIANAPOLIS -- Carmelo Anthony and Jared Jeffries were not aware of the history or the application of the "Trent Tucker Rule."
Had they known it, the New York Knicks might have -- emphasis on the word might -- had a chance to win this one at the buzzer.
After Danny Granger sank a 17-foot jumper over both Shawne Williams and Jeffries with 0.3 seconds left Tuesday night, the Knicks called timeout and had one last chance to go for the tie or the win.
Except they didn't know it.
With Anthony left wide open outside the 3-point line and calling for the ball as Jeffries prepared to inbound it, Jeffries ignored him and went for a lob pass to Landry Fields near the basket. Fields barely got a fingertip on the ball, the horn sounded, and the Knicks went down to a 119-117 defeat against the Indiana Pacers that stretched their losing streak to three games.
"I definitely would have tried, I definitely wanted to try. As the referee was holding the ball I was yelling at him to let him know how far my [defender] is back in the paint, but it's over with," said Anthony, who gave an earful to Jeffries as the two walked off the court, but admitted he was oblivious to the intricacies of the Tucker Rule.
3. Daily Dime Live
Zach Harper, TrueHoop bloggers, ESPN.com's NBA crew and DDL regulars held forth and gave their in-game opinions on all topics throughout Tuesday's slate in Daily Dime Live.
4. NCAA Tourney Watch: Best Of The Bracket

Sullinger
Jared Sullinger, PF, Ohio State
The good: Sullinger has been the most productive freshman in the country. He's a monster in the paint -- both as a scorer and rebounder. He has long arms, boasts a very high basketball IQ and will surprise you with his play on the perimeter.
The bad: He's undersized. If Sullinger were 6-foot-11, he would be, hands down, the No. 1 pick in the draft. He's a solid athlete, but not as explosive as scouts would like.
The upside: Sullinger has drawn comparisons to everyone from Elton Brand to Paul Millsap. He has led Ohio State to a No. 1 ranking in the country and does it without flash. If he has a huge tournament, he could end up going No. 1 overall -- especially if a team such as the Sacramento Kings, Washington Wizards or Detroit Pistons gets the No. 1 pick.
• Check out more of the East Region's best pro prospects at our NBA Draft Blog

By Justin Verrier
ESPN.com

Hansbrough
TUESDAY'S BEST
Tyler Hansbrough, Pacers: Hansbrough sure knows how to turn it on in March. "Psycho T," the 2008 NCAA POY and former national champ at North Carolina, went nuts against the Knicks (again), scoring a career-high 30 points on 12-for-17 shooting to set the stage for Danny Granger's almost-buzzer-beating game winner.
---
TUESDAY'S WORST

Milwaukee Bucks: Not even a 30-point fourth-quarter "surge" from the offensively challenged Bucks, dead last in the league in offensive efficiency, could save them from a beatdown down south, as the Hawks chewed up the No. 3-ranked defense 110-85.
---
TWEET OF THE NIGHT
How do I put it gently ... if somebody says "I got caught in Hawks traffic," they're lying. Place emptier than Nick Young's scoring average.7 p.m. ET via web
John Hollinger
johnhollinger
---
QUOTE OF THE NIGHT
"Those guys saved my life."
-- Former Clippers coach Kim Hughes, to the Journal Times of Racine, Wis., on a group of former players who covered his medical bills for prostate cancer surgery in 2004.
---
By Nick Friedell
ESPNChicago.com

CHICAGO -- Keith Bogans has heard all the negative things that people have said about his game this season and he doesn't care.
Seriously, just ask him.
"It doesn't frustrate me at all. I'm being talked about," Bogans said after dropping 17 points in a 98-79 win over the lowly Washington Wizards on Tuesday. "I've been around long enough, people are going to say things. But, I'm here for my team, I want to win. I'm not worried about individual stuff. I've had individual things; my main goal is to win a championship. That's what I'm focused on."
That's the attitude of the 2010-11 Bulls in a nutshell.
Playing without Carlos Boozer (left ankle sprain) and Joakim Noah (flu-like symptoms) Bogans and the rest of the Bulls proved once again why their team has been so successful this year: There's always somebody to step up and fill somebody's shoes when they need it. Aside from Bogans' 17 points, the Bulls got a combined 28 rebounds from Taj Gibson and Kurt Thomas. Not to mention the usual 43 combined points from Derrick Rose and Luol Deng.
"We're playing hard," Rose said. "All the people that came in filled them spots. Like Taj, KT. Keith had a huge night tonight, Kyle [Korver]. Lu gave us all he got. That's what it's all about. Them giving us their all and playing hard."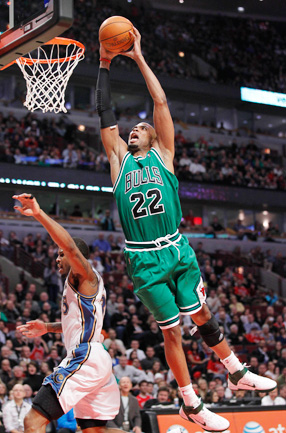 Mike DiNovo/US Presswire
Even without Carlos Boozer and Joakim Noah, Taj Gibson and the Bulls -- decked out in St. Patty's Day green -- were still money, coasting to a 98-79 win despite a triple-double from JaVale McGee.
7.

Awards Watch: MVP Rankings
By Maurice Brooks
ESPN.com

Rose
1. Derrick Rose, Bulls:
"MVP of the season," Michael Jordan said. "He's playing that well. He deserves it. Without a doubt. And if he doesn't get it, now he'll see how I felt a lot of years."
2. LeBron James, Heat:
Rose and Howard supporters will point out the times LeBron failed in the clutch, overlooking the stats in his favor, such as win shares (second in league) and PER (first).
3. Dwight Howard, Magic:
At 25 years and 95 days, Howard is the fifth-youngest player to pass the 10,000-point mark. The players who accomplished the feat quicker? LeBron, Kobe, Melo and T-Mac.
4. Kobe Bryant, Lakers:
Despite playing with a sprained left ankle Monday night against the Magic, he managed to play almost 31 minutes, finishing with 16 points, five boards, four dimes and a W.
5. Dirk Nowitzki, Mavericks:
Mark Cuban on Dirk, who won the MVP in 2007: "The less likely Dirk is to be the MVP, the better we're playing as a team. I don't think Dirk cares about winning another MVP."