1. Who'll Be Cinderella For NBA's Madness?
While the NCAA tournament season of Kemba, Jimmer and Jared has just begun, others look ahead to the NBA tournament, which begins shortly after the last horn of the regular-season games sounds on April 13.
Who could become the Morehead State of this year's NBA playoffs? Our writers weighed in.

Henry Abbott, ESPN TrueHoop: The Nuggets.
Midseason trades are like a spin of the roulette wheel. The cool part is that I don't even think the Nuggets made that deal to be great this season, and their salary structure would suggest they'll be in flux for a while.
But the last few weeks suggest that the roulette ball is settling precisely where the Nuggets wanted it. There might be magic there.

J.A. Adande, ESPN.com: Can the No. 4 seed in the West get past the overall top seed? Well, if their recent games against Miami are any indication, Oklahoma City's 41 points better than San Antonio. OK, so the Spurs have won all three head-to-head meetings with the Thunder. But those were before the Kendrick Perkins trade, before the Thunder got on a 9-1 roll in March. Let the Madness begin.

Kevin Arnovitz, ESPN.com: They bombed on Thursday night, but the Memphis Grizzlies. Yes, they're flawed. Sure, Zach Randolph won't give you any weakside help. Of course they don't have any real knockdown shooters. But on certain nights, they show an uncanny ability to compensate. Randolph is incredibly efficient at certain tasks. They have a couple of wings who can defend. They've got a nice high-low game.
Many nights, they play with that Spurs-ish preparedness, and they keep getting smarter. The redemption of a historically lousy program or franchise always makes for a good narrative. If the Grizzlies can get a contribution from a Rudy Gay when he returns, then lock in for three or four weeks, who knows?

Chris Broussard, ESPN The Magazine:
Well, this isn't college so there won't be any real Cinderellas. I love Memphis but will they beat San Antonios in the first round? No. I don't see any crazy first-round upsets (not when we have seven-game series). I'll say this, though: New York is probably the most dangerous underdog. I know their defense reeks, but in
Carmelo Anthony
and
Amare Stoudemire
they've got two veteran superstars who have been to the conference finals and won't be overwhelmed or intimidated by the moment.

Chris Forsberg, ESPN Boston: Philadelphia 76ers. There are a handful of reasons the top three teams in the East would love to snag the No. 1 seed and, maybe beyond only the home-court advantage that comes with it, avoiding an upstart team like the 76ers in the first round might be the biggest benefit.
Playing some of the East's most inspired ball since late January, and with wins already this season over Boston and Chicago, Philadelphia is capable of hanging with the big boys. The 76ers, who will likely earn a No. 6 or 7 seed, probably don't have the juice to upset one of the East's top dogs in a seven-game series (not yet, anyway), but a team like the Celtics or Heat are going to expend a whole lot more energy than they want to in the early round of the postseason, making the road to the NBA Finals that much more daunting.

Dave McMenamin, ESPN Los Angeles: Denver. The Nuggets are 9-2 since the Carmelo Anthony trade while the Knicks are just 6-6. George Karl has his guys primed for a No. 5 seed in the West and have become only more relevant in their conference while Melo and the Knicks are in sixth in the East and sinking. Even if Denver doesn't get out of the first round of the playoffs, if they finish the regular season strong and give their playoff opponent a series, they'll be eligible for trading their sneakers for glass slippers.

J.M. Poulard, ESPN TrueHoop (WarriorsWorld.net): The Orlando Magic have been to an NBA Finals and made back-to-back Eastern Conference finals appearances the past two years. And yet the world is convinced that either Boston, Chicago or Miami will be representing the East in June.
Although the Magic have made some moves during the season, they seem to have more continuity than Miami. Also, the team has some individuals who have played together and gained some valuable playoff experience (Hedo Turkoglu, Jameer Nelson, Dwight Howard and J.J. Redick) whereas the Bulls' top players have not yet played a full season together (Boozer and Rose) . The one team that we know that has the Magic's number is the Celtics and if they were to fall in the second round. ... Well, the Magic would be able to go on a run and make it to finals.

Danny Savitzky, ESPN TrueHoop (NetsAreScorching.com): At first glance, the Philadelphia 76ers appear to be a team with average talent playing middle-of-the-road basketball. While they are just two games over .500 in seventh place in the weak Eastern Conference, they have demonstrated that they can play with cohesion and aplomb against top teams.
Andre Iguodala has emerged as an elite perimeter defender, Jrue Holiday is exceeding expectations at point guard, and Elton Brand has shifted the momentum of his career -- there are shades of his excellent play in Los Angeles in his game this season. Meanwhile, Doug Collins has proven capable of motivating a team that has previously been content with floundering in the lottery or being enervated first-round fodder. The Sixers certainly aren't doormats, and Boston, Miami, Chicago and Orlando should be prepared for a long series -- if not a knockout -- if they draw the matchup come April.

Chris Sheridan, ESPN.com: Nobody talks about them much nationally because they are not as sexy as so many other good teams, plus their 4-13 start took them off a lot of people's radars.
But the Philadelphia 76ers have quietly and steadily been building both momentum and chemistry, and they have every necessary ingredient -- an effective and efficient big man in Elton Brand, a lockdown defender in Andrew Iguodala, a guy who is becoming a semi-prolific 3-point shooter in Jodie Meeks, speed at the point in Jrue Holiday and Lou Williams, and size off the bench -- needed to match up with the top four in the East. The clinching Cinderella quality is that no one will pay attention to them until the big dance arrives.

Brian Windhorst, ESPN.com:
To be a Cinderella you have to pull off an upset and for the Thunder that would probably mean reaching the conference finals. It would be a feat for a team that has yet to win one playoff series together but they have the classic ingredients needed to pull it off.
They have two game-changing offensive players who could be the difference in a close game in Kevin Durant and Russell Westbrook. Plus their new beefed up interior and overall size will have a wearing effect on any opponent over the course of six or seven games. Their record against the league's elite isn't good, there's no debating that. But they seem to be building confidence as they churn toward the playoffs, especially on defense.
Dimes past: March 1 | 2 | 3 | 4 | 4-6 | 7 | 8 | 9 | 10 | 11 | 11-13 | 14 | 15 | 16 | 17
2. Douglas Operates Knicks' Heavy Machinery
By Chris Sheridan
ESPN New York.com

NEW YORK -- The coach was joking when he said people needed to start taking Prozac to cut down on the hysteria regarding his up-and-down New York Knicks.
Perhaps Mike D'Antoni should have prescribed Antivert, which fights motion sickness.
Better yet, if he could just find a way to make his team defense and Toney Douglas' shooting stroke have some semblance of consistency, the drug humor could all just go away.
Douglas tied a team record by making nine 3-pointers as the worries about the Knicks' defensive capabilities were fogged over for a night, with D'Antoni's team playing the best they have in more than a week in defeating the Memphis Grizzlies 120-99 on Thursday night.
"It means a lot any time you have to stop the bleeding, and when there is a sense of urgency, we have played well," D'Antoni said after New York ended its three-game losing streak and presumably silenced some of the critics who were unprepared for what a roller-coaster ride the finishing stretch of this turbulent season was going to be.
As a team, the Knicks set a franchise record with 20 3-pointers and improved to 7-6 since pulling off the trade to acquire Carmelo Anthony and Chauncey Billups from the Denver Nuggets, who have ended up being the team that has gotten the bigger short-term boost since the three-team, 14-player deal was consummated.
The Knicks remain right where they've been since before the trade, sitting precariously in the sixth position in the Eastern Conference, one eye on the Philadelphia 76ers, who are chasing them, another eye on the top half of the conference standings where their eventual playoff opponent currently resides.
3. Daily Dime Live
Zach Harper, TrueHoop bloggers, ESPN.com's NBA crew and DDL regulars hold forth and give their in-game opinions on all topics throughout Thursday's slate in Daily Dime Live.

Douglas
THURSDAY'S BEST
Toney Douglas, Knicks: Ties franchise record held by Latrell Sprewell and John Starks with nine 3-pointers on 12 attempts in N.Y.'s 120-99 rout of the Grizzlies. The Knicks made a team-record 20 3s.
---
THURSDAY'S WORST

The Wish-We-All-Could-Be California Cavs: The only thing wrong with the Cavs? Clearly, they need to be in California. Having dispatched the Clippers, Lakers and Sacramento in their three of their last four games against California teams (losing to GSW), they rolled into Oregon and got stomped by the Trail Blazers, falling behind by 25 after the first quarter. Final score: 111-70.
---
TWEET OF THE NIGHT
xbox kinect sports is the best in home workout ever!!! lol I'm over here pouring down n sweat!!!8 p.m. ET via TweetDeck
Kyle Lowry
Klow7
-- Rockets guard Kyle Lowry, getting in a home workout with his team's next game not until Sunday.
---
QUOTE OF THE NIGHT
"I'm not fully healthy."
-- Lakers center Andrew Bynum, who says he has fluid on his right knee and even ices his knees before he practices or plays a game.
---

Hill
Scott (Northglenn, Colo.): To you who is/was the best player: Grant Hill, Chris Webber, Juwan Howard or Jalen Rose?
Michael Wilbon, ESPN: Grant Hill, no question. Grant was the best player (sorry, but Christian Laettner didn't win a title without Hill). Grant led a team with no great player back to the Final Four as a senior. Grant's first seven seasons in the NBA were better than any stretch the other guys had, although I thought Jalen was under-utilized at a couple of stops. The Suns, I think, could have gotten over the hump had Mike D'Antoni played Jalen more when the Suns needed a veteran swing player off the bench.
Of course, C-Web was the most talented of the bunch. ... Well, maybe he and Grant were even. ... Web had such great hands, such a quick jump, such an imaginative passing game, could finish around the basket. Web was a MARVELOUS talent, seriously. He led the Kings to the brink of an NBA championship and was hosed against the Lakers. Hosed, yes. I covered that series and will go to my grave believing that. It was an embarrassment.
Wow, had Weber and Sac gotten past the Lakers and into the NBA Finals history would view him so much differently. None of those guys won an NBA championship (illustrating how difficult it is). If you've forgotten (Grant did) how great Hill was go look at him on YouTube. He was a triple-double threat every night AND a great defender. I'm still taking Hill, I think.
7.

Shooting Pains For Stars
By Devin Kharpertian
ESPN TrueHoop

Rose

Williams
It's almost paradoxical that a game prominently featuring two of the most innovative point guards in the league today was defined by such ugliness on both sides. Derrick Rose and Deron Williams combined to shoot just 9-for-35 from the floor, and if you include backups, all the point guards for both teams combined to shoot just 10-for-48. Yes, that number actually gets uglier the more you look at it. Both stars shot poorly for different reasons. For Williams, it was a matter of his hand injury, while Rose struggled to get in rhythm with his jumper.
Rose also had at least four moments on offense that served as nice "oh yeah, that's why people think he should be MVP" reminders, but he also had a pretty poor overall game. Rose is approaching Kobe Bryant territory in this sense; Kobe could go 7-for-25 and all I'll remember is how pretty those seven shots looked. Similarly, Rose went 8-for-23 and all I remember is that ferocious dunk, those two gorgeous floaters in the lane, and that coast-to-coast layup right after Kris Humphries tied the game at 67.
As an aside, it's interesting how two guys who are legitimate stars at their position have significantly different roles. Rose is expected to anchor the Chicago Bulls' offense, while Williams is a cog in creating everyone else's offense. Rose is expected to carry that huge offensive burden, and when his jumper's not falling, it can cause a lot of problems for Chicago. That was evident against the New Jersey Nets.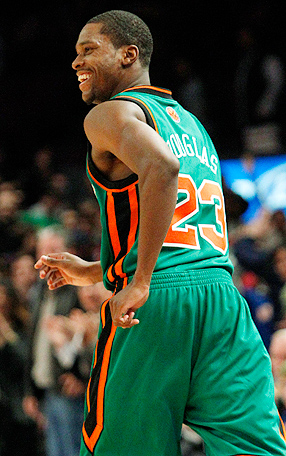 AP Photo/Frank Franklin II
Knicks guard Toney Douglas reacts after hitting his ninth 3- point basket to tie a team record. Douglas scored 29 points as the Knicks won in front of Lindsay Lohan and other celebs.