1. Lakers, Suns Add Another Chapter In Rivalry

By J.A. Adande
ESPN.com
Archive
LOS ANGELES -- Suns versus Lakers should be like this game Tuesday night, continuing on and on, with enough memorable plays to fill a hard drive with the downloaded highlights.
Everything ends though, even this game, three overtimes later, with the Lakers prevailing 139-137. It's a devastating loss for the Suns (35-34), who trail the Grizzlies (39-32) by three games in the hunt for the eighth and final playoff spot in the Western Conference and must climb past the Rockets (37-34) to get there. To top it off, the Suns have to come right back and play the Raptors in Phoenix on Wednesday.
Now it's less likely that the Lakers and Suns will see each other this postseason, and you never know how often they'll meet in these incarnations in the future.
Suns forward Jared Dudley compared their meetings to a clash of different boxing styles, with the Lakers trying to exploit Phoenix's size and the Suns trying to spread the floor and utilize speed. There have been substantial changes on each side, of course. There's no Mike D'Antoni for Phil Jackson to order to sit down. It's strange to see Steve Nash coming off screens and leaving passes for Marcin Gortat instead of Amare Stoudemire. Key figures such as Shawn Marion and Raja Bell are no longer with Phoenix. Pau Gasol has been incorporated by L.A. along the way.
It's almost unimaginable to think of Suns versus Lakers without Nash at all ... but if the Suns can't get to the playoffs with him, is it essential that they retain him for the final year of his contract next season, or bring him back after that?
"I plan on being here next year," Nash said. "Who knows what's going to happen?"
To Kobe Bryant, it doesn't matter who is wearing the uniform. It doesn't even matter if the jerseys say "Suns" or "Los Suns." He sees the team that beat him twice in the playoffs, one of only three teams (along with Utah and San Antonio) to do so. And he sees Nash, the two-time MVP -- and many NBA observers think at least one of those Maurice Podoloff trophies should belong to Bryant.
So Bryant viewed this game with all sorts of malicious potential.
"We had an opportunity to put them in a little bit of a hole in terms of getting in the playoffs," Bryant said. "And I can't say I didn't enjoy doing that."
His intentions nearly caused him to shoot the Lakers out of it. After an efficient start (Bryant made 9 of his first 14 shots) and solid all-around effort that helped him make a run at a triple-double (42 points, 12 rebounds, nine assists), he missed 5-of-6 against Grant Hill's defense in the first two overtimes.
But Bryant helped extend the game at the end of the second overtime. He leaped in the air as he bobbled a Lamar Odom pass that led him toward the baseline, did a quick scan and bounced the ball through traffic to Gasol.
"I just had to find an angle to get it to him," Bryant said. "I didn't want to float it ... the guys were too long. So I found an angle to bounce it to him."
"He made a very tough play," Gasol said. "I thought he wasn't going to get through."
Gasol gathered it and was fouled with 2.5 seconds remaining. He made both free throws to tie the score and send the game into a third overtime.
The saga continued in the first triple-overtime NBA game played at Staples Center. The numbers grew ridiculous: 57 minutes played for Channing Frye, 53 for Gortat, 55 for Odom and 52 for Gasol. Twenty assists for Nash. A season-high 29 points for Odom, to go with 16 rebounds ... and one large mistake, fouling Frye on a scrambling 3-point attempt with 8.3 seconds remaining in the first overtime and the Lakers ahead by three. Frye made all three free throws.
Frye also made a 3-pointer with just over a minute left in regulation to bring the Suns within three, enabling Hill to tie the score on a 3-pointer off his own offensive rebound with 31.8 seconds remaining. For good measure, Frye added a 3-pointer that swung the lead in Phoenix's favor with 52 seconds left in the second overtime.
"I just love the opportunity to be out there," Frye said. "People use that term 'thirsty' and I am super-thirsty all the time."
Plus, a trio of stellar plays by Lakers forward Ron Artest produced three distinctive celebrations: blowing kisses to the crowd, a double-bicep kiss and a little head-and-hand-shake, commemorating a 3-pointer, a steal-and-dunk, and a running jump shot -- all critical shots.
"I just think his mood is good," Jackson said. "I think he recharged at the All-Star break. He kind of recharged and got back on the beam."
Someone needs to plug in Suns guard Vince Carter, who missed 11 of 13 3-point shots and grabbed only three rebounds in 40 minutes. Lakers guard Derek Fisher was 0-for-7 from the field, but he did come up with four steals.
And the Lakers and Suns came up with another addition to a rivalry that dates back to the spring of 2006, when the eighth-seeded Lakers took a 3-1 lead over the Suns in the first round of the playoffs, only to watch Phoenix storm back and take the series in seven games. Then the Suns took out the Lakers in five games the next year ... something the Lakers had to sit on until 2010, when they defeated Phoenix in six games in the Western Conference finals.
"Last year we went all the way to the end," Nash said. "This year we're just trying to get to the playoffs and they're trying to win their third straight championship. There's a history there, lots of great games.
"I think we like playing against these guys," Suns coach Alvin Gentry said. "It goes back to when Steve first got here seven years ago. A little bit of a rivalry developed. Even when we got by them, we couldn't get past San Antonio. The difference has been that they've been able to come up and win championships."
The difference Tuesday night was just a couple more championship-type plays by the Lakers. For all of his struggles, Bryant scored five points in the final 2:09 of the third overtime. The Lakers were victorious in this chapter of the rivalry. And you wonder how many stories are left to be told.


ESPN senior writer J.A. Adande
• On Twitter @jadande | On ESPN.com | On TrueHoop | On e-mail
• Follow ESPN's NBA coverage on Twitter | On Facebook | On Google+
Dimes past: March 4-6 | 7 | 8 | 9 | 10 | 11 | 12-13 | 14 | 15 | 16 | 17 | 18 | 19-20 | 21 | 22
2. Horford, Noah Heading In Different Directions
By Bret LaGree
TrueHoop Network

Noah

Horford
In March 2007, Al Horford and Joakim Noah were teammates at the University of Florida, the frontcourt anchors of nature's perfect college basketball team, on the verge of a second consecutive national championship.
As professionals, Horford and Noah have provided fairly similar levels of value (if by fairly inverse approaches) to their respective teams. What they share is the ability to complement their obvious strengths, on the defensive end for Noah and on the offensive end for Horford, with somewhat less obvious contributions on the opposite end of the floor.
The bulk of Noah's value comes on the defensive end but he's also a demon on the offensive glass and quite efficient when he scores.
Horford will likely improve both his offensive production and his offensive efficiency for a third straight season (despite being Atlanta's third or fourth option most of the time), but he's also providing solid-to-excellent defense all over the floor, both before and after the opposition attempts a shot.
Now, in March 2011, their paths appear set to diverge. While the Chicago Bulls, losers in the first round of the playoffs each of the past two seasons, battle for home-court advantage in the Eastern Conference and embrace the expectations commensurate with such an accomplishment, the Atlanta Hawks, swept out of the second round each of the past two seasons, appear certain to begin the 2011 playoffs on the road, where expectations are measured in the number of games rather than the number of rounds the team will win.
Tuesday night's game, a 114-81 Bulls win, clarified the differences between the teams. The Bulls, and Derrick Rose especially, appeared determined to avenge a March 2 loss in Atlanta. In that game, the Bulls blew a 19-point lead, Rose made just 5 of 21 shots and undermined a 12-assist effort with six turnovers. Tuesday, Rose scored 30 points on 20 shots and earned 10 assists against a single turnover.
3. Daily Dime Live Recap
Zach Harper, TrueHoop Network bloggers and fans gave their in-game opinions on all topics throughout Tuesday's slate of NBA roundball talk in Daily Dime Live.
By Justin Verrier
ESPN.com

Rose
TUESDAY'S BEST
Derrick Rose, Bulls: After letting a 19-point lead slip away the last time he and the Bulls sojourned down south to Hotlanta, D-Rose guaranteed another collapse wouldn't happen again. Tuesday, the likely MVP-to-be made good on his word, scoring 30 points -- all before the fourth quarter -- to help preserve a 29-point halftime lead in a 114-81 Chicago victory.
---
TUESDAY'S WORST

Atlanta Hawks: The same Hawks that 20 days ago shut down D-Rose and charged back from 19 down were nowhere to be found on their home court, as Atlanta lost its second straight against the hard-charging Bulls and seventh in its past 10.
---
TWEET OF THE NIGHT
Lamar Odom, after playing 55 minutes in the triple overtime win: "I'm tired. I'm ready to go home. And I'm in the mood for pancakes."3 a.m. ET via web
Dave McMenamin
mcten
---
QUOTE OF THE NIGHT
"The slow death is almost over. It's painful."
-- Sacramento mayor Kevin Johnson, discussing the possible relocation of the Kings to Anaheim in a blog post on his Web site.
---
6.

Bulls Get Revenge On Hawks
By Nick Friedell
ESPNChicago.com

ATLANTA -- Derrick Rose never forgets the bad things that happen to him on a basketball court.
It gives him the drive to be successful day in and day out. He remembers every misstep, every wrong decision and every game that didn't go his way. He wants to prove any person who may have doubted him, or the way his team would bounce back in the face of adversity, wrong. Plain and simple: Derrick Rose wants to beat you. EVERY. SINGLE. NIGHT. And if for some reason he doesn't, and the other team gets the best of him or his team, watch out. The next time he sees that team, he'll be sure to get the job done.
The 22-year-old point guard proved that one more time on Tuesday night. After the Bulls allowed a 19-point lead to slip through their hands the last time they played the Hawks in Atlanta, Rose made sure the Bulls didn't make the same mistake twice. Chicago blitzed the Hawks from the outset and didn't let its foot off the gas this time around. Rose, who played poorly in that particular contest, finished with 30 points, 10 assists and 4 rebounds. He shot 6-of-8 from beyond the 3-point arc.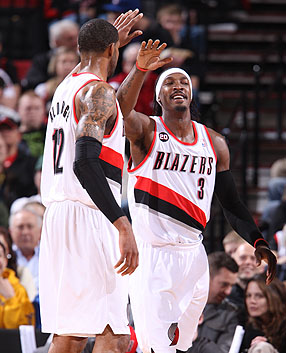 Sam Forencich/NBAE/Getty Images
New Blazer Gerald Wallace powered in 28 points and LaMarcus Aldridge added 22 as Portland took care of Washington with ease at home, 111-76.
9.

What Wall Can Learn From CP3

Wall
John Wall has physical gifts that Chris Paul could only dream of -- he's faster, taller and longer. Imagine Paul, the world's best point guard, in Wall's body. Frightening. Which is why the Wizards rook needs to study Paul, who is the master of the "slow is better" dribble game.
Nobody reads the game like Paul, who goes fast only when the moment calls for it, as opposed to Wall, who plays at the same supersonic speed most of the game, which gets him into trouble frequently. Wall has "world's best point guard" talent, but he'll need to play a lot more like CP3 to get there.
• Find out who other rooks should study