1. Now The Knicks' Offense Is Hurting, Too
By Ethan Sherwood Strauss
ESPN TrueHoop
Archive
Obviously: A good defense beats a formerly good offense. The Orlando Magic poked another hole in the rapidly deflating New York hype balloon as the Knicks wheezed to the tune of missed shots and whiffed rebounds in a 111-99 home defeat Wednesday. Dwight Howard tallied 33 points and 11 boards while rendering the paint his Draconian dominion. The New York Knicks shot a mere 39 percent on 2-pointers, mostly due to Dwight difficulty.
During free throws, Amare Stoudemire received faint "M-V-P" chants that only Howard could have accepted with chin upturned. The Knicks center was sync-less, save for a brief fourth-quarter stretch that included a bounding three-point play off a rebound. Although Carmelo Anthony flashed an unexpected distribution dalliance (nine assists), it was not enough to animate a recently stagnant New York offense. Mike D'Antoni's club had owned offensive prowess prior to dealing for the offense-minded Anthony. Since the trade, the Knicks have lost that trademark while growing nothing in its place. So far, it would seem: The Knicks traded for an offensive player and got a worse offense in return.
New York treated the glass as though it was broken, getting out-bounded 49 to 35. On one particular possession, a shot caromed off the rim in a trajectory long and loping. Howard calmly snagged a flat-footed rebound -- in a crowd.
It did not start off this way for the blue and orange. The Knicks raced out to a four-point halftime lead, playing in a carefree, shot-clock-oblivious style that bordered on insouciance. After the second quarter, Chauncey Billups was interviewed, stating that the team needed to "run and play and not think so much." Perhaps -- going forward -- New York players will mine the instinctual, because they are flagging within the structure of D'Antoni's system. But, if those instincts insist on ceding the kinds of easy transition buckets that Orlando almost jogged to, the Knicks are far from the level of relying on reflex.
This was not a perfect game for the Magic, who mirrored their opposition with many contested chucks early in the contest. Eventually, Orlando rounded into shape, even procuring a passable performance from Gilbert Arenas. Although balky and turnover prone, Arenas was able to provide nine points in 19 minutes to stand out amid an overall poor bench effort.
Apart from Howard, Hedo Turkoglu contributed 16 efficient points -- although he did this with some head-scratching shots. Brandon Bass hit only one-third of his field goal attempts, but he provided solid defense down low.
Orlando and the game itself revolved around those 41 Dwight Howard minutes. He was the argument the Knicks could not rebut; he was the force New York could only accept. While this performance might not have been as dominating as Derrick Rose's recent thrashing of the Hawks, it certainly could have served to remind viewers of Dwight's MVP-level credibility.
Magic players have been quoted as intending to grow "playoff beards" between now and their eventual exit. While the impact of that aesthetic choice remains to be gauged, it is quite clear: Even clean shaven, the Magic appear far grittier than this incarnation of the Knicks.
Ethan Sherwood Strauss' work appears on Warriorsworld.net, Hoopspeak.com and Salon.com.
Dimes past: March 8 | 9 | 10 | 11 | 12-13 | 14 | 15 | 16 | 17 | 18 | 19-20 | 21 | 22 | 23
2. Heat's Bench Splinters The Pistons
By Michael Wallace
ESPN.com

AUBURN HILLS, Mich. -- They were the four most important -- and potentially dangerous -- words Miami Heat coach Erik Spoelstra spoke Wednesday night.
"We aren't there yet," Spoelstra said.
He could have been talking about a number of things when that assessment was made before Wednesday's game against the Detroit Pistons.
The cohesion among LeBron James, Dwyane Wade and Chris Bosh? While that remains a work in progress, the Heat's key three players have figured out enough about themselves and each other over the course of this season to present a tremendous headache for any team they face down the road.
The revolving door at point guard and center? It was obvious a long time ago that those two positions would be the Heat's greatest weaknesses. The players who have been shuttled in and out of the starting lineup in those spots have proved, at times, to be as interchangeable as they are insignificant.
What Spoelstra was addressing instead was his team's final frontier of development. It's the one chink in the Heat's armor that threatens to derail their progress and weaken their prowess.
It's their bench.
Seventy-one games into the season, a combination of injuries, inconsistent production and one or two ill-fitting parts still have the Heat searching for the one thing that remains missing from their arsenal: a set playing rotation Spoelstra knows he can rely on heading into the playoffs.
One of the Heat's biggest priorities over the final dozen games of the regular season was to solidify some sense of order among their reserves to maximize their production and shore up what's easily the biggest question mark on this team.
The Heat took a significant step in that direction with their 100-94 victory over the Pistons. James, Wade and Bosh combined for 66 points, 15 rebounds and 13 assists to lead the Heat to their sixth victory in the past seven games.
But it was Miami's bench that provided the boost that lifted the team out of a stretch of sluggish play that allowed the Pistons to control the game through the first three quarters. Mike Miller, James Jones and Eddie House combined for 26 points off the bench to make sure Miami wouldn't let one get away.
3. Lucky 13
By Elias Sports Bureau

The Grizzlies defeated the Celtics on Wednesday despite no player contributing more than 13 points -- Leon Powe and Zach Randolph shared the team lead with 13 points apiece. That was the lowest total for an NBA winning team's leading scorer(s) since the Celtics defeated the 76ers on March 28, 2004, with their high scorers (Mark Blount, Ricky Davis and Jiri Welsch) each contributing 13 points. And it was the lowest total by a winning team's leading scorer(s) against the Celtics in the shot-clock era.
4. Daily Dime Live Recap
Zach Harper, TrueHoop Network bloggers and fans gave their in-game opinions on all topics throughout Wednesday's slate of NBA roundball talk in Daily Dime Live.

Griffin
WEDNESDAY'S BEST
Blake Griffin, Clippers: Chuck Hayes had a triple-double in Houston, but the Blake Show rules this honor again. Griffin went for 33 points (14-for-19 FG), 17 rebounds and 10 assists in outdueling fellow ROY candidate John Wall in a 127-119 double-OT win over the Wiz.
---
WEDNESDAY'S WORST

Diaw
Shotless Boris Diaw, Bobcats: With playoff hopes hanging by a tether, Diaw decided shooting was not for him. Coach Paul Silas pulled him for good after Diaw eschewed a shot in the lane in favor of a behind-the-head pass. "I just told him in all my 40 years in the NBA, I've never seen anyone do that -- not take one shot in 24 minutes," Silas said.
---
TWEET OF THE NIGHT
I just killed a big snake in my backyard. Glad my dogs warned me @ItsMeCandyD http://t.co/ZG2dqst9 p.m. ET via Twitter for iPhone
TJ Ford
tj_ford
-- Shelved Pacers guard T.J. Ford, who might want to get a mongoose. And then cook the snake with a balsamic glaze.
---
DUNK OF THE NIGHT
•
Josh McRoberts throws down the oop

---
PLAY OF THE NIGHT
•
Wilson Chandler shoots Nuggets past Spurs

---
QUOTE OF THE NIGHT
"What you tend to learn from being around older guys is that when you throw all the hidden agendas out of the way, you throw all the stats out of the way, and if you just go out there and play to win the game, I think everybody gets a piece of the pie at the end of the day."
-- Thunder center Kendrick Perkins, applying some wisdom earned during his Celtics tenure after a 106-94 win over the Jazz.
---
By Chris Sheridan
ESPN New York

NEW YORK -- One month from now, the New York Knicks will be sitting in their locker room, preparing to play Game 3 of their first-round playoff series. And if they are sitting there tied 1-1 in that series, nobody is going to remember what's been happening this March.
So climb off the ledge and get back inside. Knock off the panic. Cool it on the doomsday hysteria.
The Knicks might seem like they are in a world of trouble, but they aren't.
And if you don't want to hear that from a sportswriter, consider this: That message is exactly the message Chauncey Billups delivered to the rest of the New York Knicks in the wake of their 111-99 loss to the Orlando Magic on Wednesday night, their seventh defeat in the past eight games as they dropped one game below .500 (35-36).
"There's a light at the end of the tunnel," said Carmelo Anthony, who, like many of the Knicks, was not as downcast as one might expect from a team that seems to be sliding off a cliff. "We just need to relax, man. I think it's we're just putting a lot of pressure on ourselves. I think we're playing too tense out there on the court; everyone needs to relax and have fun.
"These times ain't going to last forever. I've been through it before, I'm sure a lot of the people in this locker room have been through it, so I'm not too concerned about it. These times are not going to last forever."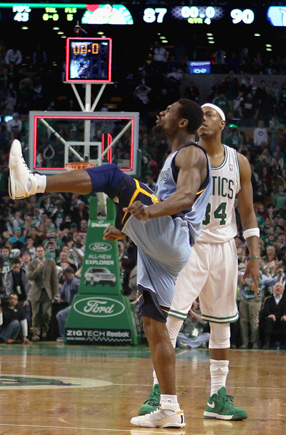 Elsa/Getty Images
Grizzlies guard Tony Allen celebrates the closing of a 90-87 win over his former Celtics team. Allen had eight points, while Celtics 2008 NBA Finals standout Leon Powe had 13 for the Grizz.