1. Tabuse Hoping To Give Japan Big Assist

By Marc Stein
ESPN.com
Archive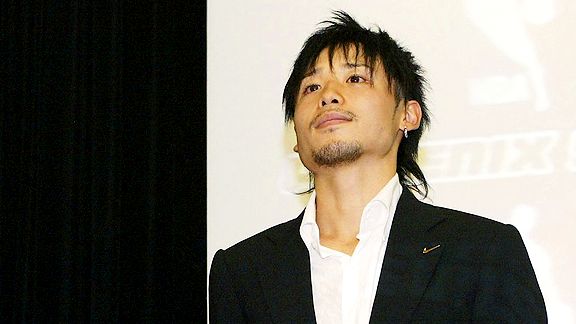 Junko Kimura/Getty ImagesEx-Phoenix Sun Yuta Tabuse wants to run the point on NBA relief efforts for his native Japan.
The floor itself was bouncing. Yuta Tabuse looked up and the roof was shaking, too. To the players inside the Brex Arena Utsunomiya, it felt like the whole gym was being dribbled. And violently so.
Japan's most famous basketball player was gliding through a light scrimmage on the afternoon before a game when a magnitude 9.0 earthquake slammed the country's northeast region with no mercy. The force was such that, even five hours away from the epicenter, Tabuse and his Link Tochigi Brex teammates felt the need to run for their lives, sprinting out of the building and onto an adjacent street to find that cars were swaying back and forth like everything else.
In the world of Japanese basketball, work stoppage means something else entirely. Two weeks after the earthquake and the ensuing Pacific tsunami leveled many low-lying areas in northeast Japan and inflicted devastating damage on the Fukushima nuclear power plant, it's a community dealing with a real-life doomsday scenario, as opposed to the prospect of a mere lockout.
"The aftershocks were a little bit scary, but the radiation [threat throughout Japan] was the real, real big factor why I left," ex-Marquette center Scott Merritt -- who plays with Tabuse for Link Tochigi after playing with Dwyane Wade in college -- told ESPN.com this week after returning to his offseason home in Milwaukee.
"A lot of people are still scared. Because depending on how the radiation [situation] plays out, it's possible that the worst is still yet to come."
Two weeks after Japan was struck by its own heartless cousin to Hurricane Katrina, Tabuse and Merritt have no practices to attend because the eight-team Japan Basketball League has canceled the rest of the season. Three teams in the rival 16-team bj-League -- including the Tokyo Apache coached by NBA veteran Bob Hill and featuring American big men Robert Swift and Jeremy Tyler -- have also suspended operations for the season's final two months amid what experts regard as the world's most serious atomic crisis since Chernobyl in the mid-1980s and an estimated $300 billion in damages.
By now you've undoubtedly seen Kobe Bryant's public-service announcement seeking donations on behalf of the Red Cross, which is a natural cause for Kobe to champion given that his father, Joe "Jellybean" Bryant, was in Japan the time of the earthquake and coached the Apache before Hill did. A handful of Bryant's big-name peers -- including Lakers teammate Pau Gasol, Portland's LaMarcus Aldridge, Atlanta's Al Horford, Chicago's Derrick Rose and Oklahoma City's Russell Westbrook -- have followed up by pledging to donate $1,000 to the Japan relief effort for every point they score in designated games this weekend through Direct Relief International.
And now Tabuse is back to give the cause its Japanese voice. He took NBA interest in his homeland to unseen levels when he unexpectedly made the Phoenix Suns' roster as Japan's first-ever NBA player in the 2004-05 season and just returned to the States in hopes of using his NBA and Nike connections to raise awareness of Japan's plight. The 5-foot-9, 165-pound point guard, who turned 30 in October, arrived in Los Angeles on Thursday night and hopes to connect with former teammates such as Steve Nash, Amare Stoudemire and Shawn Marion. The plan? Arrange a charity game to raise emergency funds and/or bring NBA players to Japan as soon as possible for youth clinics.
Tabuse only appeared in four games with the Suns in '04-05, for a whopping total of 17 minutes, but he's been a known quantity to NBA personnel folks for years, even before he was out of high school. When Dallas Mavericks assistant coach Dwane Casey was coaching Japan's national team in the mid-1990s, Casey let Tabuse play in some of the exhibition games leading up to the 1998 FIBA World Championships, cementing Tabuse's rock-star status at home. The little speedster's celebrity is such that he appeared on the cover of the Japanese edition of EA Sports' "NBA Live" video game in 2006, despite the fact that he was waived in training camp by the Los Angeles Clippers in the fall of 2005 and didn't play at all in the NBA in the preceding season.
"He's the Ichiro of Japanese basketball," Casey says.
He's also still waiting for that NBA recall, true, but Tabuse remains unconvinced that his window is as shut as it seems. He's oblivious to the likelihood that even his biggest NBA fans in Dallas -- who gave Tabuse his first summer-league shot in 2003 before inviting him back in 2006 and 2009 -- almost certainly don't have the appetite to develop another small guard after getting as much as the Mavs have out of J.J. Barea.
Although he's spent the past two seasons in the JBL, after a three-season run in the D-League trying to stay on the NBA's radar, Tabuse's agents Ian Rubel and Marc Cornstein managed to secure an NBA out clause in his Brex contract, just in case Tabuse is the one who's proven right. Just in case the New York Knicks, as Tabuse keeps believing, will keep him in their thinking somewhere as long as Mike D'Antoni is coaching them.
"True point guards are one of the most valuable commodities in the sport," Mavericks president of basketball operations Donnie Nelson said. "And Yuta has NBA experience. Those kinds of players are always in the mix."
Recalling his 2½ months of desert heaven with D'Antoni's Suns, Tabuse said: "It was the best time of my life. It was a dream come true. My dream is still playing [in the] NBA. That hasn't changed."
Except that it has changed somewhat. From now on, Tabuse will be playing for his flag more than ever. Whether he's with Link Tochigi or the national team or on NBA summer-league duty somewhere trying to keep that lifelong dream alive, Tabuse will also be playing for the visibility he can bring to Japan's crisis, which has left more than 25,000 people either missing or dead … and has turned the Brex Arena Utsunomiya into a shelter for those displaced by the radiation scare.
"The earthquakes are still coming, two times or three times a day," Tabuse said earlier this week. "So we're worried about the earthquakes and the radioactivity. But we [will] try to overcome this. We try to overcome the disaster.
"If I keep challenging to make [the] NBA, it's [encouragement] for the Japanese people. Of course I want to play for myself, but I want [to] encourage the victims. I want to play for the Japanese people, especially for the kids."


ESPN.com senior writer Marc Stein
• On Twitter @ESPNSteinLine | On TrueHoop | On ESPN.com | On email
• Follow ESPN's NBA coverage on Twitter | On Facebook | On Google+
Dimes past: 10 | 11 | 12-13 | 14 | 15 | 16 | 17 | 18 | 19-20 | 21 | 22 | 23 | 24 | 25
2. Western Conference

In the latest of many recent signals that the Sacramento Kings will be playing in Anaheim next season -- whenever next season starts -- sources close to the situation told ESPN.com that the Lakers privately see little hope of rallying the requisite support from other teams needed to block the Kings' move.
The Lakers and Clippers strongly oppose the Kings' move, sources say, because it would bring a third team into their market playing out of a building (Anaheim's Honda Center) that sits just 30 miles away from Staples Center.
But the Lakers and Clippers would need 14 other teams to oppose the Kings' relocation when it reaches the voting stage. They will undoubtedly have a few supporters -- big-market teams such as Golden State that don't want to see another franchise move right into their neighborhood as the Kings are planning in Southern California -- but one source said there are already strong indications in circulation that the Kings will be able to secure the minimum 16 votes required (and maybe more) to clinch the simple majority needed to ratify any proposed relocation.
It would appear that the best L.A.'s teams can hope for is a hefty relocation fee that could dissuade brothers Joe and Gavin Maloof, who co-own the Kings. Relocation fees in the NBA are "discretionary," meaning that the fee is established by the league's Board of Governors and varies from relocation to relocation. The Seattle SuperSonics, for example, paid a $30 million relocation fee when they moved to Oklahoma City. It remains to be seen if the Maloofs are asked to pay more.
It would appear that the best L.A.'s teams can hope for is a hefty relocation fee that could dissuade brothers Joe and Gavin Maloof, who co-own the Kings. Relocation fees in the NBA are "discretionary," meaning that the fee established by the league's Board of Governors vary from relocation to relocation. The Seattle SuperSonics, for example, paid a $30 million relocation fee when they moved to Oklahoma City. Could the Maloofs be asked to pay more? Time will tell.
One bookkeeping footnote as confirmed this week by the league office: The league-owned Hornets and the Kings themselves would indeed both participate in the down-the-road vote, with league-appointed Hornets governor Jac Sperling casting New Orleans' vote.
Yet it also remains to be seen how soon such a vote would actually take place. The Kings have an April 18 deadline to formally file for relocation, after which the league must appoint a relocation committee to take 120 days to research the pros and cons of the proposed move and then submit a voting recommendation to the NBA's Board of Governors. The looming lockout in the NBA this summer is not expected to impact that timetable for now, but it is up to the Board of Governors how quickly the process moves during what is going to be a busy summer.
---
Some numbers of note in the West this week:
15: Triple-doubles in back-to-back games by Rockets teammates Kyle Lowry and Chuck Hayes marked the first time in 15 years that a team got triple-doubles from two different players in consecutive games. New Jersey's Shawn Bradley and Chris Childs were the last tandem to do it back in March 1996.
13: Memphis' win Wednesday night in Boston came without a single Grizz player scoring more than Zach Randolph's or Leon Powe's 13 points. That was the lowest total for a winning team's leading scorer(s) since the Celtics beat Philadelphia on March 28, 2004, with three players (Mark Blount, Ricky Davis and Jiri Welsch) each scoring 13.
5: The Suns' Steve Nash has played in five regular-season games that have lasted at least three overtimes after Tuesday night's marathon in L.A. with the Lakers, tying him for the most among active players with Atlanta's Jamal Crawford.
80: Golden State had allowed a league-high 80 double-doubles this season before becoming the team that somehow halted Kevin Love's run of 53 consecutive double-doubles earlier this month.
26: The Warriors' 26 consecutive losses in San Antonio date to Valentine's Day in 1997, when victorious Golden State got 18 points from Chris Mullin at the Alamodome. Tim Duncan? He was still a senior at Wake Forest.
---
The chance to sign the No. 7 overall pick from the 2007 draft, even though they've played Corey Brewer sparingly since acquiring him March 3, was too enticing for a team accustomed to drafting in the mid-to-late 20s every June to pass up. The Mavericks, after all, badly needed a perimeter defender and an injection of youth.
But Dallas might have to spend a little more on Brewer than initially believed.
The three-year guaranteed contract -- worth in excess of $7 million when the sides agreed to the deal after Brewer was traded by Minnesota to New York in the Carmelo Anthony deal and then bought out by the Knicks -- has been officially recorded at nearly $9.2 million because of unspecified bonuses that are deemed as "likely." The year-by-year breakdown as the contract currently appears on the Mavs' books: $2,875,000 this season, $3,059,000 in 2011-12 and $3,243,000 in 2012-13.
3. Two Good

Derrick Rose is bidding to become just the fifth player in NBA history to average 24 points, eight assists and four rebounds for an entire season, powering the Bulls to the top of the Eastern Conference and putting himself in line to join an ultra-select club with Oscar Robertson, Jerry West, Michael Jordan and LeBron James.
Tom Thibodeau, meanwhile, is on course to record the second-highest winning percentage for a first-year coach in league history, with Chicago (51-19) at a robust .729 entering the weekend, which would leave him just short of Paul Westphal's .756 success rate with the 1992-93 Phoenix Suns (62-20).
In just his third season, Rose has made the unquestioned leap to full-fledged superstar. Along the way, Thibodeau appears to have quickly (and stunningly) inched within touching distance of the Phil Jackson/Gregg Popovich/Doc Rivers stratosphere of NBA coaches who enjoy the rare privilege of claiming total buy-in from their franchise player. With Rose shouldering a huge offensive and leadership load and Thibodeau demanding (and getting) the stingiest defense in the league, Chicago is on pace for 60 wins, despite the fact that its second- and third-best players -- Carlos Boozer and Joakim Noah -- have combined to miss 54 games.
It is thus time to start pondering, with award ballots about to be distributed to voters by the league office, whether the Rose-and-Thibodeau tag team has a chance to sweep the NBA's Most Valuable Player and Coach of the Year awards.
It'll be a meaty topic for the final 20 days of the regular season, before ballots are due April 14, but this much is certain: Rose and Thibodeau would be the 12th tandem in league history to be named MVP and COY if they prevail together in media balloting ... although our man Pete Newmann from ESPN Stats & Info and the Elias Sports Bureau report that only four times in the previous 11 instances has the team that snagged both of those coveted trophies gone on to win the championship.
The history:
| Team | MVP | Coach Of Year | Postseason |
| --- | --- | --- | --- |
| 2008-09 Cavaliers | LeBron James | Mike Brown | L, Conf. finals |
| 2004-05 Suns | Steve Nash | Mike D'Antoni | L, Conf. finals |
| 2002-03 Spurs | Tim Duncan | Gregg Popovich | W, NBA title |
| 2000-01 76ers | Allen Iverson | Larry Brown | L, NBA Finals |
| 1995-96 Bulls | Michael Jordan | Phil Jackson | W, NBA title |
| 1989-90 Lakers | Magic Johnson | Pat Riley | L, Conf. semis |
| 1972-73 Celtics | Dave Cowens | Tom Heinsohn | L, Conf. finals |
| 1969-70 Knicks | Willis Reed | Red Holzman | W, NBA title |
| 1968-69 Bullets | Wes Unseld | Gene Shue | L, Conf. semis |
| 1965-66 76ers | Wilt Chamberlain | Dolph Schayes | L, Conf. finals |
| 1964-65 Celtics | Bill Russell | Red Auerbach | W, NBA title |

O'Neal
Five questions with Celtics center Shaquille O'Neal:
Q: How much do you look forward to the opportunity to go up against guys like Dwight Howard or Andrew Bynum in the playoffs?
A: Excuse me? Don't ask me a question like that.
Q: But that's what people want to know. Those guys are playing so well and everyone wants to see if you can match up with them one-on-one.
A: First of all, they won't dare play me one-on-one, even at the tender age of 39. And you know what? Playin' those teams, it ain't gonna be about the [center] matchup, so I don't really worry about that.
Q: So there's not more pressure on you now because the Celtics traded Kendrick Perkins away?
A: No. Because I've just got to rebound and play good defense. And I can do that. If I was getting the ball and taking all the shots, it'd be a lot of pressure at 39. But I've just got to rebound and play D.
Q: However you feel health-wise right now, you're convinced that you're going to be healthy enough to be a factor in the playoffs?
A: Yeah. Gotta be.
Q: How much thought have you given to playing beyond this season? Is there a chance that this is the last season for you?
A: I don't know yet. Probably not.

Howard
Orlando's Dwight Howard enters the weekend averaging 23.1 points and 14.2 rebounds … and shooting a gaudy 60.2 percent from the field.
If he maintains the latter figure for 10 more games, Howard will become just the fourth player in league history to register a 20/10/60 season.
Wilt Chamberlain did it with Philadelphia in 1966-67. Kareem Abdul-Jabbar did it with the Los Angeles Lakers in 1979-80. And Shaquille O'Neal did it with Miami in 2004-05.
And for those of you wondering how a 20/10/60 season might enhance Howard's MVP chances against the ever-swelling support for Chicago's Derrick Rose … Wilt and Kareem won MVPs in their 20/10/60 seasons. But Shaq didn't.
---
Some numbers of note from the East this week:
23: With 23 boards in Wednesday's OT win over Cleveland, Kris Humphries became the first Net to reach that plateau since Jamie Feick's 25 rebounds against Detroit on Jan. 20, 2000.
2: In Wednesday's double-OT defeat to the Clippers, Washington's John Wall (32 and 10) and Jordan Crawford (25 and 10) became the first teammates to each record at least 25 points and 10 assists in a loss since Michael Finley and Elliot Perry for Phoenix in a loss to Dallas on Jan. 12, 1996.
5: Miami's LeBron James recently became the fifth player in league history to reach 17,000 career points before the end of his eighth season, joining predecessors Michael Jordan (19,000), Kareem Abdul-Jabbar (18,638), Oscar Robertson (18,306) and Wilt Chamberlain (23,442). At 26 years and 78 days old when he got there, LeBron is the youngest player ever to score 17,000 points, beating Kobe Bryant (28 years and 86 days old) by more than two years. James enters Friday's play with 17,064 career points.
10: Before Wednesday's rally from 11 points down to beat Atlanta, Philadelphia had been the only team in the league this season that had not won a home game in which it had trailed by more than 10 points.
1: Indiana became the first team all season to win a road game by 20 points or more after trailing by at least 10 with Wednesday's road rout of the Bobcats in Charlotte.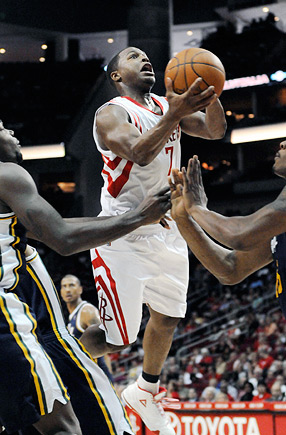 AP Photo/Michael Conroy
Kyle Lowry notched the first triple-double of his career (28 points, 11 boards, 10 assists) against Utah. What made that special? (See Box 2.)

Kerr
"I don't recall a trade like that ever happening, to be honest with you. The Pistons won the title when they got Rasheed Wallace at midseason, but they didn't give anything up. They altered their chemistry, but they didn't subtract a key guy. I've never seen anything like this."
TNT's Steve Kerr, referring to the controversial deal Celtics president of basketball operations Danny Ainge swung last month that sent Kendrick Perkins to Oklahoma City and landed Jeff Green in Boston, abruptly changing the identity of a team that, as of All-Star Weekend, was the closest thing in the league to a consensus title favorite.
I suppose that I should have renamed this item as Bill's Quote, since I stole it straight from the B.S. Report podcast, but I grudgingly have to admit that the Sports Guy elicited a must-swipe response on the matter from Kerr, who swung a pretty notable blockbuster himself at the 2008 deadline when he brought Shaquille O'Neal to Phoenix … but nonetheless said this week that he'd have been too conservative in his GM days to make the radical in-season alteration Ainge just made.
Kerr applauded Ainge's willingness to ignore the inevitable negative reaction to do what he thought was right, sounding legitimately envious of the decisiveness required for Ainge to send Perkins away before facing the expensive prospect of trying to re-sign him to import Green and a 2012 first-round pick to fill the Celts' clear need for youth and athleticism in the frontcourt.
"So gutsy and so risky," Kerr said.
Yet he also echoed the widely held notion that Boston's vets were rocked emotionally by such an unforeseen in-season change and still haven't recovered a month later. For all the justified rationalization about how hard it was to play both Perkins and Rajon Rondo together in crunch time because of their offensive limitations, Kerr is among the many league observers who can't forget how proudly Celtics coach Doc Rivers liked to remind folks that Boston had never lost a playoff series in the Kevin Garnett era with its full complement of players.
"They're missing something right now," Kerr said of the Celts' psyche.
ESPN analyst Tim Legler and host Jonathan Coachman check in from the "NBA Tonight" desk to weigh in on the latest edition of Marc Stein's weekly Power Rankings, which are published every Monday during the regular season.

Rose
Marc Stein joined four other ESPN.com writers earlier this week for a 5-on-5 roundtable to debate five of the league's most pressing topics.
Is Stan Van Gundy correct? Have we already anointed D-Rose as MVP?
I would appear to be guilty. The Bulls would have to hit a serious skid here in their last 12 games to convince me otherwise.
Howard has played at a higher level of statistical efficiency and has kept Orlando in the top five defensively all season, even though he's surrounded by bad defenders. But the combination of the on-the-court load that Rose shoulders along with the galvanizing effect he's had as a leader for a team that's exceeded all expectations with Carlos Boozer and Joakim Noah combining to miss 54 games … yup. Guilty.
• To read the rest of the roundtable, click here »