1. Hornets' Hopes Sink If West's Missing
David West doesn't often dunk on the run, so it was especially exciting when he slammed one home with 20 seconds left, tying the Hornets and Jazz at 103. Hornets fans back in New Orleans were on their feet, but West unfortunately was not. He lay writhing in agony after being bumped by Paul Millsap on the play. West suffered what the team is describing as "left knee trauma," and had to be taken off in a wheelchair.
Making matters even worse, the Hornets faced near-certain defeat in a must-win game with near-certain playoff implications. Emeka Okafor (who subbed in for West) fouled Millsap with 1.2 seconds to go and the score tied at 103. After Millsap made the first, a Utah victory was a mere formality. The Hornets were out of timeouts and seemingly out of hope.
But then something unexpected happened: March's madness found its way to the NBA. After Millsap made the free throw, giving the Hornets an inbound pass to set up their shot, Aaron Gray heaved the ball into the paint on the opposite end, where a flailing Chris Paul managed to tip it to Okafor. Yes, the same Emeka Okafor who shoots 56 percent from the free throw stripe, and had been benched for the entire fourth quarter until West was injured.
Okafor cleanly received the ball and instantly fired up a turnaround bank shot in which he most certainly did not call glass. The smile on his face afterward said it all. Just like that, the Hornets were back in business.
Unfortunately at that point Paul was still down on the ground, having fallen hard after batting the long bomb to Okafor. After watching West go down after a glorious dunk only minutes earlier, Hornets fans could only think the worst.
He got up, but not before scaring everyone for just a little too long. He laid it all out to make contact with that ball, and his body paid the price. Thankfully it was just a hard fall and nothing else. Hornets fans have dealt with enough this year.
In the overtime period New Orleans relied on none other than Aaron Gray to hold its lead. After making a crucial layup with 35 seconds left to give the Hornets a four-point advantage, Gray, a career 58 percent free throw shooter, calmly nailed four free throws after being intentionally fouled.
As gratifying a win as it was for the Hornets, and as low as they may have sunk had Okafor not made the turnaround bank shot, the team still must now contend with the reality that West might not be available for the remainder of the season.
If the injury is serious and West cannot return right away, he will likely be replaced by Carl Landry in the starting lineup. Landry came over from Sacramento in a deal that cleared out some room in the Hornets' backcourt and provided insurance in the event of an injury just like this one. The time is now for Landry to step up and contribute, because the Hornets can't afford any sort of letdown.
Even with the win Thursday, they still reside at the tail end of the Western Conference playoff picture, sitting only three games ahead of ninth-place Houston. They head to Phoenix on Friday for what is sure to be another challenging game on a schedule that features games of only that variety.
The Suns sit only three games out of the eighth and final spot, and will be looking to pick up some ground against a Hornets team that left it all on the court against Utah. Paul played 44 minutes, and Ariza 48, leaving some doubt as to how fresh they will be for the second of their back-to-back games.
Joe Gerrity's work appears on hornets247.com.
Dimes past: March 8 | 9 | 10 | 11 | 12-13 | 14 | 15 | 16 | 17 | 18 | 19-20 | 21 | 22 | 23 | 24
2. Dallas Living In The Fifties Again
By Jeff Caplan
ESPNDallas.com

DALLAS -- Make it 11 in a row.
The Dallas Mavericks extended their run of 50-win seasons Thursday night, recording the milestone victory with a 104-96 victory over the Minnesota Timberwolves.
Dallas joined the San Antonio Spurs, Boston Celtics, Chicago Bulls and Los Angeles Lakers with at least 50 wins this season. With 11 games left, the Mavs have a shot at reaching 60 victories for the first time since winning 67 in 2006-07, and for what would be only the fourth time in franchise history, all accomplished during this 11-year span.
"That's incredible, to be able to win 50 in 11 straight seasons," point guard Jason Kidd said.
Dallas made Kidd the second overall pick in 1994. In the three previous seasons, the Mavs won a total of 46 games. And in the three seasons after Dallas traded Kidd to the Phoenix Suns, the team won a total of 79 games (1997-2000) before perennial All-Star Dirk Nowitzki and owner Mark Cuban changed the course of the franchise and won 50 games for the first time in 2000-01 (53-29).
The Mavs' run started under Don Nelson for four-plus seasons. Avery Johnson continued it after he replaced Nelson at the end of the 2004-05 season and then extended it three more seasons, posting consecutive 60-win campaigns in 2005-06 and 06-07. Rick Carlisle has now joined Johnson as a three-time member of the 50-win club.
"You can't get spoiled as a fan," Kidd said. "That would be unfortunate, because it's not guaranteed that you can win 50 games every year. It can turn the other way quickly."
The streak puts the Mavs in elite company. Only two other teams in NBA history have recorded at least 11 consecutive seasons of 50 wins or more. The Spurs, at 57-14, extended their current run to 12 seasons under the leadership of coach Gregg Popovich and power forward Tim Duncan. The Magic Johnson-era Lakers also put together a string of 12 from 1979-91.
3. Utah's OT Streak Halted
By Elias Sports Bureau

The Jazz lost 121-117 in overtime to the Hornets on Thursday night. Utah entered play with the NBA's longest current streak of consecutive wins in games decided in overtime (nine), a run that began in March 2009. No other NBA team has a current streak of more than three straight wins in OT games.
4. Daily Dime Live Recap
Zach Harper, TrueHoop Network bloggers and fans gave their in-game opinions on all topics throughout Thursday's slate of NBA roundball talk in Daily Dime Live.

Randolph
THURSDAY'S BEST
Anthony Randolph, Timberwolves: With Kevin Love hurt, the Knicks castoff made his first start and proceeded to sink 14 of 20 shots, good for a career-high 31 points and 11 rebounds in a 104-96 road loss to the Mavs.
---
THURSDAY'S WORST

Playoff hopes for Jazz: If ever a game signaled that the postseason is not in the cards, this was it. When David West went down, Utah seemed primed to beat the Hornets in regulation. Then Emeka Okafor made a shot for the ages. Now the Jazz are below .500 with only a Lloyd Christmas chance at the playoffs, Hollinger's odds show.
---
TWEET OF THE NIGHT
Kemba walker got SDSU on that slow roast, he is the real deal!!! Great day to watch some unbelievable scorers!!9 p.m. ET via Twitter for BlackBerry®
Kevin Durant
KDthunderup
-- Kevin Durant, taking in March Madness
---
DUNK OF THE NIGHT
•
Tyson Chandler jams on Wolves

---
QUOTE OF THE NIGHT
"We could have laid down when we lost D-West, but we saw it as an opportunity to lift one of our brothers up."
-- Hornets guard Chris Paul, on the win over the Jazz.
---

In some locker rooms around the NBA, there is a list of the updated division and conference standings, reminding the team where it is, where it needs to go and where it need not go.
You won't see any of that in the Celtics' locker room at TD Garden. There are a couple of inspirational sayings, a lot of photographs of Celtics past and present, and absolutely no indication of where the Celtics stand in the Eastern Conference. That's by design, of course.
"I haven't even mentioned it to them," Doc Rivers said. "But I'd be surprised if they didn't know. You guys ask them all the time."
Of course they know. Of course he knows. They all know Chicago has passed them and that Miami is breathing down their necks. They talk constantly about having the No. 1 seed and the home-court advantage that comes with it. It's been an ongoing refrain since the team lost Game 7 of the NBA Finals on the road. (It lost Game 6 as well.)
"We want that home court for the playoffs," Glen Davis asserted after Wednesday's loss to Memphis, all the while insisting he really didn't pay any attention to the standings. "We got to get it together."
Paul Pierce chimed in: "We've got to get our heads right for the rest of the season. It's a mental thing now. We want to get the No. 1 overall seed."
Wednesday's result certainly didn't help the cause -- but the cause is far from lost. The Celtics trail the Bulls by only one game. Each team has 12 games left.
The good news for the Celtics: no remaining home games against the Western Conference, whose teams are responsible for their seven home losses.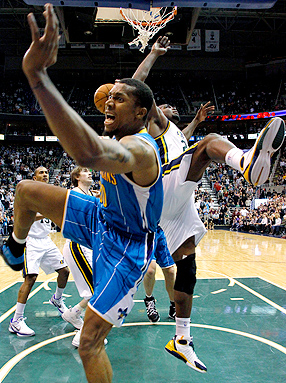 AP Photo/Jim Urquhart
Hornets forward David West falls out of bounds after dunking on Jazz forward Paul Millsap. West was hurt and taken off in a wheelchair.