1. Big Three's 30-10 Night Had One Final Push

By Michael Wallace
ESPN.com
Archive
MIAMI -- These were the kind of moments LeBron James, Dwyane Wade and Chris Bosh had in mind when they joined forces in free agency last summer to sign with the Miami Heat.
"One of the things we talked about when we came together was making history," Bosh said after the Heat's 125-119 home victory Sunday against the Houston Rockets. "People kind of thought we were crazy a little bit. But to be great, I think you have to have crazy thoughts. It's nice to talk about it."
On Sunday, the Heat's top three players didn't just talk about it.
They did something about it.
They carved out their own spot in the Heat's franchise record book and also joined another high-powered, productive trio in the league's all-time annals. Continuing their recent hot streak, James, Wade and Bosh each finished with at least 30 points and 10 rebounds to lead the Heat to their fifth straight victory and eighth in their last nine games.
It was only the second time in NBA history that three teammates each reached those minimum totals in an NBA regulation game. The last time it happened was in 1961, when Oscar Robertson, Wayne Embry and Jack Twyman accomplished the feat with the Cincinnati Royals.
And it was also the first time in the Heat's 23-year history that three teammates have scored at least 30 points in the same game. James, Wade and Bosh each took over at different stages of the game to hold off the relentless Rockets, who played with the desperation of a team fighting to remain in the race for the eighth and final playoff seed in the Western Conference.
"That's what makes great players special, which is they can be great during the year but still find another gear or another level to go to," Heat coach Erik Spoelstra said after watching James, Wade and Bosh all close with double figures in points and rebounds for the second consecutive game. "That's what you're seeing with those guys ... they're getting more comfortable and are being able to play without thinking and using more of their instincts."
James set the tone by making five of his first six shots for 11 points in the first quarter on his way to scoring 33, grabbing 10 rebounds and dishing 7 assists in 40 minutes.
Wade did majority of his damage in the second quarter, when he scored 10 of his 30 points and also went on to finish with 11 rebounds, 5 assists and 2 blocks in 37 minutes.
James and Wade were safe in the 30-10 clubhouse with less than a minute to spare. And that's when the suspense started after the Heat gained possession of the ball, up 120-115, with 26.3 seconds to play.
At that point, Bosh, the straggler, went to the line for two free throws, having already secured the requisite 12 boards, and in need of only two points to reach 30. James and Wade stood at the opposite end of the court and glanced at the statistics on the scoreboard.
The meeting commenced.
"I looked up at the scoreboard late in the game and Chris had 28," James said.
Bosh's first attempt at his 29th point bounced off the back of the rim.
James and Wade, standing side by side near the Heat's bench, shook their heads.
"He went to the line and missed one of the free throws and I didn't think he was going to get back to the line," James said of Bosh, who made the second of his two attempts. "Me and D-Wade were just talking about how great it would be for all three of us to have 30. And I had no idea that we also had double-digit rebounds, too. To know the history of the game, to have three teammates to have 30 and 10 for the first time in over 50 years is unbelievable."
It was also unfinished business.
Stuck on 29 points with time running out, Bosh was content with simply walking away with his seventh double-double in eight games.
James went to the line and made two free throws to make it 123-117 with 16 seconds left. Houston's Kyle Lowry then missed a 3-pointer and the ball rolled out of bounds off the Rockets.
Heat ball.
One last inbounds play for the home team.
How much did this Big Three milestone to Miami? Enough for James to motion for Bosh to get an open spot to receive the inbounds pass. Enough for Wade to set a subtle screen on Bosh's defender and point out to James just how open Bosh was on the wing.
Spoelstra figured something was brewing when he saw Wade, Bosh and James communicating, even though he wouldn't admit it afterward.
"I try not to listen to that," Spoelstra deadpanned. "You know how coaches are. It's not about the statistics. It's about the W's."
Play resumed.
Bosh caught the ball. Luis Scola applied the necessary foul, with the Rockets clinging to a pulse while needing two Bosh misses and at least two more scores of their own with 10.1 seconds left.
That's when the not-so-subtle dose of encouragement came from a certain pair of Bosh teammates.
"When [Bosh] had another opportunity to do it, to get up there, we let him know, 'Hey, get up there and make one of these free throws,'" Wade said. "It's a true testament to the reason we all came together. It's a great feat."
The feat had also been a figment of Miami's imagination just a couple of nights earlier. In Friday's 111-99 win against Philadelphia, the Heat fell short of the feat when Wade had 39 points and 11 rebounds, James got 32 and 10 and Bosh closed with 20 and 10.
Wade wondered if there could possibly be more in store. The last NBA team to have three players reach the 30-10 plateau was the Portland Trail Blazers on Nov. 14, 1997, when Brian Grant (37 and 17), J.R. Rider (35 and 10) and Arvydas Sabonis (31 and 10) did it in quadruple overtime against Phoenix.
Portland accomplished it in what turned out to be a 68-minute game.
The Heat did it in 48 minutes. Well, actually 47 minutes and 49 seconds. Bosh left 10 seconds to spare.
After Friday's near feat, Wade figured it would be only a matter of time before they pulled it off.
"We actually had a conversation previous to this," Wade said Sunday. "The other night, me and [LeBron] had 30 and Chris had 20-something, and we talked about how great it would be to have a 30, 30, 30 night. And it came the next [game]."
This time, Bosh knocked down both free throws to get to 31 points. He'd arrived.
And, it came at a time when the Heat's key players are consistently showing how potentially dangerous they can be for opponents as the playoffs approach. The past two games have seen Wade, James and Bosh combine for 91 and 94 points.
Regular-season accomplishments are fine. But even after executing one of the most productive nights three teammates have had in NBA history, Bosh acknowledged the ultimate accomplishments won't come until the postseason.
That's when this Heat team and its three stars will be judged.
"We're trying to accomplish the major goal of winning a championship," Bosh said of maintaining perspective amid Sunday's trio of 30-10 performances. "Sometimes you can enjoy the little things in between. Fifty years from now, someone can say this hasn't been done since that other, other, other Big Three did it."


NBA Writer Michael Wallace
• On Twitter @WallaceNBA_ESPN | On ESPN.com
• Follow ESPN's NBA coverage on Twitter | On Facebook | On Google+
Dimes past: March 8 | 9 | 10 | 11 | 12-13 | 14 | 15 | 16 | 17 | 18 | 19-20 | 21 | 22 | 23 | 24
2. Playoff Preview? Fine By Lakers
By J.A. Adande
ESPN.com

LOS ANGELES -- No matter how much you adjusted the contrast on your television set you couldn't get a starker disparity between college and the NBA than Sunday. Hours after Virginia Commonwealth upended No. 1 seed Kansas on the way to the Final Four, the Lakers poured a cold bucket of reality on the New Orleans Hornets, by a 102-84 score.
The overcoming-the-odds act doesn't really play in the NBA. Especially against a plugged-in Lakers squad.
The Lakers (53-20) are targeting the second-best record in the NBA, and maybe the top overall spot with a couple more breaks. So they took no time to pity the misfortunate of the Hornets, who are fighting to keep a spot in the playoffs after David West was lost for the season with a torn ACL in his left knee. The Hornets have a tenuous grasp on the Nov. 7 seed, one game ahead of the Memphis Grizzlies (41-33).
The Grizzlies, lest we forget, are playing without Rudy Gay. And the Houston Rockets (38-35) are still in the playoff race, even though Yao Ming has been sidelined almost the entire season. So it's not as if the Hornets are at a disadvantage.
And it's not as if they seek your sympathy.
"Life's not fair," New Orleans coach Monte Williams said. "Where we live at, in New Orleans, do you think anyone's going to listen to us complain about basketball, with the money we're being paid?"
The Lakers completed a four-game season series sweep of the Hornets. Asked to explain their success in the first three games, Phil Jackson said, "Our size is a factor."
You think?
The Lakers had a 28-16 advantage in points in the paint during the first half. When the Lakers weren't throwing passes over the top to Pau Gasol, Andrew Bynum was backing Hornets defenders down for dunks.
It could have been worse. But Bynum was in foul trouble and played only 14 of the first 36 minutes. Kobe Bryant shot 2 for 10 in the third quarter. And the Laker bench flirted with trouble again with mall cop-level-protection of a lead at the start of the fourth quarter. But the best the Hornets could do was come within six points. Even though Bynum picked up his fifth foul, he scored seven points in less than three minutes and the Lakers were firmly in control.
"They're the tallest team in the league," said Carl Landry, who had 24 points and 10 rebounds starting in West's power forward spot. "They've got two 7-footers down there, and sometimes they play big with Lamar at the three, so they're really long."
The Lakers would be the opponent the Hornets faced in the first round if the playoffs started today, and it's clearly a bad matchup. So the only sliver of good news is that the probability became a little less likely based on Sunday's results. But they're a little more likely to miss the playoffs entirely.
"We've just got to get in," said Chris Paul, who had 10 points and nine assists. "I don't care." When it gets to the playoffs, anything can happen, it's a whole new ball game. I feel like we've jut got to get into the playoffs. I don't think many teams want to play us."
The Lakers probably wouldn't mind.
3. Daily Dime Live Recap
Zach Harper, TrueHoop Network bloggers and fans gave their in-game opinions on all topics throughout Sunday's slate of NBA roundball talk in Daily Dime Live.

Wallace
SUNDAY'S BEST
Gerald Wallace, Blazers: With a few more makes late in the game, Wallace would've pulled off an impressive win over the Thunder. Instead, he finished with 40 points on 16-of-28 shooting in a 99-90 road loss to OKC.
---
SUNDAY'S WORST

Sixers' bench shooting: How did a team driving for the playoffs lose to the visiting Kings? When your reserves shoot 4-for-25 (16 percent) from the field, that's a sign of a problem.
---
TWEET OF THE NIGHT
Just landed from a six hour flight from Philly ....congrats to the cats way to rep the #BBN10:30 p.m. via Twitterrific
demarcus cousins
boogiecousins
-- Kings big man DeMarcus Cousins, saluting his Kentucky Wildcats for reaching the Final Four.
---
QUOTE OF THE NIGHT
"They've got a great two-headed snake over there."
-- Bobcats forward Gerald Wallace, taking note of Kevin Durant and Russell Westbrook in OKC.
---
6.

Westbrook Or Ellis? You Decide
By Chris Palmer
ESPN The Magazine

Ellis

Westbrook
This week's matchup features a pair of explosive guards capable of playing both positions who excel in up-tempo situations. Russell Westbrook and Monta Ellis have a lot in common -- game-changing athleticism, 6-foot-3, 185-pound frames, full-throttle mentalities and a flair for the dramatic.
But their main contributions come in different ways. Ellis pours in points by the truckload, while Westbrook has a hand in just about every phase of Oklahoma City's attack.
One is possibly the most underrated player in the game. The other is a rapidly improving cornerstone on a championship-contending franchise. But which player's skill set has the biggest impact night in and night out?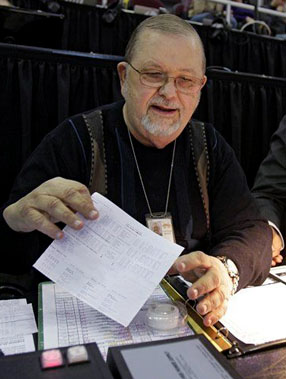 AP Photo/Mark Duncan
Veteran Cleveland Cavaliers broadcaster Joe Tait prepares to call Sunday's Cavs-Hawks game in Cleveland. Tait was back for his first game of the season after recovering from heart surgery.
8.

Back-To-Backs? Chicago OK
By Nick Friedell
ESPN Chicago

CHICAGO -- Most teams crumble on the second night of a back-to-back. The players are exhausted from having played the night before, their legs are dead and their energy level is shot.
But the Chicago Bulls have bucked that trend this season. With a win over the Milwaukee Bucks on Saturday night, the Bulls are now 15-5 in the second game of a back-to-back. Bulls sharpshooter Kyle Korver has a pretty good idea as to why it keeps happening.
The Bulls are now 15-5 in the second game of back-to-backs this season. "Because we base our team on defense," he said. "On the back-to-backs, it's usually your offense that stinks a little bit. You don't have the legs in your jump shots, you're not quite as crisp. But when you count on your defense every night, you're able to respond better in those games. [When I played] in Utah, we were an offensive team, and in back-to-backs we stunk. We might have won three or four one year. This team, because we rely on our defense every night, that always gives us a shot."
Then Korver added one more crucial reason.
"And then we have Derrick Rose at the end of the game," Korver said. "So it's good."
9.

Dalembert's Board Works

Dalembert
Samuel Dalembert's return to Philadelphia might not have ranked with those of Allen Iverson, Donovan McNabb, or even the Rocky statue for celebrity sizzle. But Dalembert's 19 rebounds in support of Marcus Thornton's 32 points were an integral part of the Kings' 114-111 overtime victory at Wells Fargo Center on Sunday.
Only one other former 76ers player recorded as many rebounds as Dalembert in his first game back in Philadelphia, and it wasn't even Wilt Chamberlain. Moses Malone grabbed 21 rebounds for the Washington Bullets in his return to The Spectrum on Christmas Day 1986. For the record, Wilt had 17 rebounds and scored 15 points his first game back in Philadelphia after being traded to the Lakers in 1968.