1. Something Completely Different For Knicks

By Jim Cavan
ESPN TrueHoop
Archive
During the New York Knicks' recent skid, the outlook of Carmelo Anthony had been like that of the doomed Black Knight in "Monty Python and the Holy Grail": a mix of comical nonchalance and frightening denial in the midst of repeated, very bloody setbacks.
"It's just a flesh wound," he seemed to say after every disappointing outing or fourth-quarter collapse -- wounds that time and practice would surely heal.
That all changed before Monday's matchup against the Orlando Magic -- their second meeting in less than a week -- with Anthony reluctantly labeling the game a must-win. Still, against an Orlando squad the Knicks had yet to best in three tries, you could forgive the New York faithful for assuming that even Melo's contrite clarion call wouldn't be enough to stop the bleeding.
Instead, Knick Knation was treated to a much-needed win as zany and unexpected as any Python skit, as New York topped Orlando 113-106 in overtime. Once again the Knicks squandered a second-half lead -- this one a six-point spot late in the fourth quarter -- allowing the Magic to extend the game on Jason Richardson's 25-foot bomb with little more than five seconds remaining.
Despite sloppy play on both sides -- and Dwight Howard's 17th technical of the season -- the Knicks managed to pull away in OT behind the timely scoring of Chauncey Billups (17 points, six rebounds, six assists and an overtime 3-pointer that put the Knicks up for good, 106-104), Toney Douglas (16 points, four rebounds, an equally clutch overtime 3 and a team-best +/- of plus-20), and Anthony himself.
Fittingly, it was Melo who made the most of his palpable pregame urgency, banking his Knick tenure-high 39 points on 26 shots -- including a whopping 33 points in the second half, 19 in the third quarter alone -- to go along with 10 rebounds and one gigantic sigh of relief that fans would be content to mark an assist.
All in all, it was a game that displayed both the best and worst of New York's prodigal star. At times Anthony was unstoppable, and his teammates were more than willing to oblige his iso tendencies for the sake of a much-needed hot hand. Like the team as a whole, on defense Anthony was engaged throughout, deflecting passes and exuding an enthusiasm for the craft seldom seen since his late-February arrival.
But he also missed a wide-open Landry Fields while draped with no fewer than three defenders as time expired in regulation, and hoisted a number of ill-advised shots that -- short of taking away from his enormous contribution to the desperately needed W -- couldn't help but make any Knicks fan feel just a little bit nervous.
If Melo made the Garden floor his center stage, Amare Stoudemire played the opera's phantom, netting a quiet but efficient 20 points on just 10 shots. Despite barely touching the ball throughout the fourth and much of overtime, by game's end it was Stoudemire's $100 million smile that beamed the brightest, as the palpable burden that seemed to weigh on his shoulders more than any other during the team's brutal stretch seemed for a moment lifted by the raucous Garden cheers.
The Knicks benefited greatly from the absence of Jameer Nelson, who sat out with a minor knee tweak. Nelson had given New York fits of late, averaging 22.5 points on 62 percent shooting in their past two meetings. But despite a timely 3-pointer that helped close the gap in regulation, Gilbert Arenas struggled mightily in Nelson's stead -- his first start since being traded from Washington on Dec. 19 -- netting just nine points on 2-7 shooting and a team-high five turnovers.
Like Anthony, Dwight Howard supplanted a quiet first two quarters with a truly beastly second half in which he scored 25 of his 29 points and grabbed 13 of his 18 rebounds. Seemingly out of answers for a honed-in Howard, Mike D'Antoni decided to throw seldom-used Shelden Williams -- acquired from Denver in the Anthony trade -- into the fire midway through the fourth. Williams responded with a key stretch in which he stole an entry pass intended for Howard, tied him up for a jump ball and grabbed an offensive rebound that resulted in a timely Stoudemire lay-in.
With his serviceable play on the defensive end, Williams may have earned himself heavier minutes (if not the outright starting slot) going forward. In the process, he may help fill a void that had plagued the Knicks throughout their recent skid -- a 10-game streak in which D'Antoni had started four different centers and six different lineups (resulting in nine losses) in a desperate attempt to find the right mix for their first playoff appearance in seven seasons.
The Knicks will play one more game -- Wednesday night against the Nets -- before a much-needed three days of rest leading up to Sunday's series finale against the confounding Cleveland Cavaliers, whom the Knicks have yet to best in three tries this season. With their next three games at home against middling opponents, the Knicks couldn't have picked a better night to get back on track. And while it would still take a collapse on the order of the 2007 Mets to put them in the lottery and out of the playoffs, their new-found sense of urgency -- and defensive intensity -- should remain ready for the tapping as they head into the final pre-playoff stretch.
Jim Cavan's work appears regularly on KnickerBlogger.net
Dimes past: March 11 | 12-13 | 14 | 15 | 16 | 17 | 18 | 19-20 | 21 | 22 | 23 | 24 | 25-27 | 28
2. Whatever Motivated Melo, It Worked
By Chris Sheridan
ESPN.com

NEW YORK -- It was only one play, but it typified the defensive intensity that transformed the Knicks on the night Carmelo Anthony delivered on his "must-win" premise.
In overtime, Hedo Turkoglu had the ball far outside the 3-point arc, near midcourt, and Anthony was absolutely hounding him and would not stop as the shot clock ticked down. The relentlessness -- hands poking at the ball, body pressed up close -- did not cease, and Turkoglu ultimately had to let fly from 35 feet away with a hand in his face.
Defensive intensity like this had not been seen from the New York Knicks in weeks, and it was the key factor (aside from Anthony's 39 points) that fueled the Knicks on Monday night as they snapped their six-game losing streak by defeating the Orlando Magic 113-106.
Was it a matter of pride?
Of shame?
Coach Mike D'Antoni didn't buy the latter theory.
"No, heck, that's hard. That's tough," D'Antoni said. "No, it's a product of we're in trouble.
"We just kept ratcheting it up. Again, a lot of games, a lot of nights, a lot of things, and who knows what causes it? Sometimes things sap your energy and you might not even be aware of it, but with efforts like this the team will come together, and we'll be better for it."
The Knicks held the Magic to 18 first-quarter points, the first time since Dec. 5 against Toronto they held an opponent to that low a total in a first quarter. Dwight Howard did not have a single field goal in the first half despite the Knicks starting with Shawne Williams as the primary defender on him, later switching to Jared Jeffries, Shelden Williams and finally Amare Stoudemire in the fourth quarter and overtime.
Howard ended up getting his numbers (29 points, 18 rebounds), but the Knicks' ability to keep him from hurting them in the beginning when they went with a small starting lineup buoyed their confidence and boosted their energy, helping those qualities stick through the second half and the overtime when every deflected pass and every loose ball they made an extra effort for helped make the ultimate difference.
3. Daily Dime Live Recap
Zach Harper, TrueHoop Network bloggers and fans gave their in-game opinions on all topics throughout Monday's slate of NBA roundball talk in Daily Dime Live.

Anthony
MONDAY'S BEST
Carmelo Anthony, Knicks: Melo gave the Knicks 39 points, 10 boards and major effort on the defensive end, helping pull out a 113-106 OT win over the Magic to snap a six-game losing streak.
---
MONDAY'S WORST

Miles
C.J. Miles, Jazz: Miles almost entered Jimmer territory with the volume of 3-point hoisting, missing 9 of 12 shots in a home loss to the Wiz. Over his past five games, Miles is shooting 5-for-39 (12.8 percent) from beyond the arc.
---
TWEET OF THE NIGHT
I need my brother in law, Manny Malhotra of the Vancouver Canucks, to have a successful eye surgery tomorrow saving his eye and vision.3 p.m. ET via Echofon
Steve Nash
SteveNash
---
QUOTE OF THE NIGHT
"The first time we walked into this building, we got beat by 45 points and now we've beaten them the last two times we've played them. This is the best team in the East, so our guys should know we should be capable of playing against anybody."
-- Sixers coach Doug Collins, whose team beat the Bulls.
---
By Michael Wilbon
ESPN.com

Bryant
Jay (L.A.): Can you give me any reason why Kobe Bryant is not the MVP, he and Derrick Rose have similar numbers and teams with same record? How does kobe only have 1 MVP? How?
Michael Wilbon: I do have a vote and right now I'm trying to figure out whether Kobe or Dwight Howard is second (to Rose), and I'm leaning toward Kobe.
For me as a voter, and each of us has different ways of deciding these things, one of the things I look at what the team IS because of the player in question and what they'd be without him. … AND what the player has to work with. And while I love what the Bulls are becoming, is anybody going to argue that the Bulls' "other" players are as accomplished as Pau Gasol and Lamar Odom and Derek Fisher? Seriously, who's going to make that case? Doesn't Kobe have more to work with, more accomplished players who help the Lakers win? Of course they do.
Now, I'm of the opinion that Kobe Bryant is one of the 10-12 greatest players in the history of the NBA and he's rising on that list all the time. … BUT, Rose is the MVP this year. Kobe exerted himself, wisely I would add, for about 50 percent of this season. Rose has been great from Day 1, and without his second/third best players (Carlos Boozer and Joakim Noah) for about 50 games.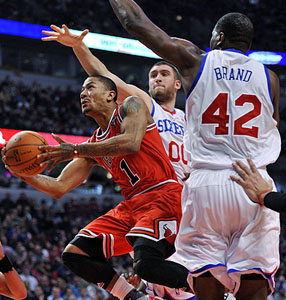 AP Photo/Mark Duncan
9.

Henderson Keeps Hope Alive

Henderson
Gerald Henderson scored the final seven points of the game in the Charlotte Bobcats' win over the Milwaukee Bucks. It was the third time this season that a player scored the final seven or more points of a game. All three happened this month: Brook Lopez scored the final seven points of the game in 94-90 win for the New Jersey Nets over the Golden State Warriors on March 9 and Jason Kidd scored the final eight points in the Dallas Mavericks' 91-83 win at Phoenix Suns on March 27.
The last NBA player to score the final seven or more points of a game in a one-point win was Kobe Bryant in a 107-106 overtime victory for the Lakers at Milwaukee on Dec. 16, 2009.