1. Cavs Overcome LeBron, If Only For One Game

By Brian Windhorst
ESPN.com
Archive
CLEVELAND -- Reality took a blissful vacation for a bruised fan base Tuesday night, even if LeBron James still left the floor down the visitors tunnel and the Cavs are still headed to the lottery.
For months, Miami Heat players and Cavs fans talked about the boorish treatment they gave James in his first return to his scorned hometown on Dec. 2. Both wore it as a badge of pride -- the Heat for playing through it and putting together a powerful performance that turned around their season, and the fans for sending a stronger message than their beleaguered team the night of that 28-point loss.
When they all met again, the game was not defined by boos or by James' ability to make them hollow, as he did with 38 masterful points earlier in the season. Instead, the Heat lost something of real value, and the fans and Cavs players left with a memory that might salvage some of what has been a miserable year.
The Cavs' 102-90 win over the Heat wasn't just stunning; it was numbing. The wave after wave of sound from fans too stubborn to be disenchanted. The uprising of the Cavs' justifiably unheralded role players. The meltdown of the Heat's defense and their general lack of energy on a night when they could have taken sole possession of the No. 2 seed in the Eastern Conference.
Cavs fans have bought nearly 98 percent of available tickets this season, a relic of faith and renewed season tickets, but also an expression of hope that they could be underdogs that could -- just like that ragtag group of overachieving misfits in "Major League," a fictional story about the Cleveland Indians. Fictional because Cleveland won in the end, but certainly based on the true story of the fans' eternal suffering.
Dec. 2 was another chapter in that legacy, when Cleveland so badly wanted to win, even if it was the only game the team won all season. Instead, the Cavs were simply dreadful, which sucked the life out of the dreams for the first post-James months.
The events Tuesday didn't wipe everything away, but it was an escape complete with roller-coaster drama. The Cavs built and lost a 23-point lead in the second half, the crowd twisting with emotion all the way. The fans had mostly forgotten to continue to boo James, who was in the midst of a triple-double, because they wanted to cheer for their team too badly.
Finally it broke. The Heat ran dry as a frustrated coach Erik Spoelstra rode most of his starters for the whole second half, and the Cavs made virtually every shot in the fourth quarter.
Ryan Hollins seemed like he played his best game since his UCLA days. Even though it was just 13 points and three rebounds, he outplayed the recently hot Chris Bosh (5-of-14 shooting). Anthony Parker hit nearly everything he threw up at the rim. And rookies Christian Eyenga and Luke Harangody outperformed the entire Heat bench by themselves. J.J. Hickson, who had 21 points and 12 rebounds, was the most active player the court.
"That was such a great feeling because I thought the first time we played them here we were embarrassed and they took a little bit from us," said Parker, who had 20 points on just nine shots. "This was the night we wanted to get that back. For us, but more so for the fans. That was a great feeling, getting it back from them."
At the final horn, James, who had 27 points, 10 rebounds and 12 assists, hugged the handful of ex-teammates and coaches still with his old franchise. Then, under heavy security, he strode off the floor with his head down but his ears open.
"The fans are unbelievable; I've always said that," James said. "They were great for their team."
The Heat will want to be the exact opposite of the Cavs -- they'll want to quickly forget their performance. Their energy level hinted at arrogance as they arrived with a five-game win streak, and their collective defensive effort raised some alarm bells inside the locker room.
Spoelstra, frustrated by watching one of the worst offensive teams in the league shoot 58 percent, finally threw in the towel and went to a zone defense to prevent the Cavs from pounding the Heat inside. It worked for a while but, like most gimmicks, was just a bandage.
The coach said he was worried about this for several days, dating back to Sunday when the Heat got away with giving up 119 points to the Rockets because Wade, James and Bosh were all on fire. This night, Wade and Bosh combined to shoot 13-of-34. Not even 23 points from Mike Bibby could save the defensive effort.
"The process of losing this game started two games ago," Spoelstra said. "That's the reality; this was coming to us, and the majority of the time in this league you get what you deserve and we got exactly what we deserved."
After winning eight of nine games and showing nice offensive development, the Heat looked like they might have turned a corner and started to get a rhythm heading toward the postseason. But the NBA is fragile, and the Heat suddenly looked that way.
Mike Miller limped badly to the bus, and Spoelstra admitted before the game that an MRI had revealed Miller's left knee wasn't just bruised but also had a mild sprain. Mario Chalmers is at least a week away from coming back from his sprained knee. And while Udonis Haslem is now traveling with the team, Spoelstra hinted he is still a month away from coming back.
That lack of depth has removed some of the Heat's margin for error, which would require a rededication to defense. Right now, that's not happening, and it flustered a team that looked so confident just a few days ago.
"We're playing for something big, and right now we just took a step backwards," James said. "We don't want to do that at this point."


NBA Writer Brian Windhorst
• On Twitter @WindhorstESPN | On ESPN.com
• Follow ESPN's NBA coverage on Twitter | On Facebook | On Google+
Dimes past: 12-13 | 14 | 15 | 16 | 17 | 18 | 19-20 | 21 | 22 | 23 | 24 | 25-27 | 28 | 29
2. Losing Nothing New For Nets
By Mike Mazzeo
ESPNNewYork.com

NEWARK, N.J. -- Avery Johnson always said he knew what he was getting himself into when he signed on to become the head coach of the lowly New Jersey Nets prior to the start of the season. Still, that hasn't made any of the last 50 losses -- the latest by 25 points -- any easier to swallow. Especially for someone who came into 2010-11 as the most successful regular season head coach in NBA history (.735 winning percentage).
"I knew it would be a lot of long nights," Johnson said after the Nets were blown out by the Houston Rockets, 112-87, on Tuesday night at the Prudential Center. "But that's what the challenge was. When you're a team that was decimated like we were, and we had to change off the roster, we knew we would have some long days. And it would be a process. And that's why we've been preaching 'process.' We knew we would have some difficult moments, disappointing results and some embarrassing losses, but that didn't sway us one bit. And it still doesn't today."
However, backup-turned-starting point guard Jordan Farmar, who inked a 3-year, $12 million free agent contract with the Nets in the offseason, had a different take. In his first four NBA seasons as a key reserve on the Los Angeles Lakers, Farmar had made the playoffs all four times, advanced to three NBA Finals and won two of them. He had a feeling it was going to be tough. But this tough?
"I didn't know exactly what it is was," Farmar said. "When you sign, you expect to be a difference maker and someone that can help turn things around. And compared to last season, this is a pretty big turnaround. It's just a matter of time and continuing to work and stay positive. You can stay positive, or you can go in the wrong direction."
3. Daily Dime Live Recap
Zach Harper, TrueHoop Network bloggers and fans gave their in-game opinions on all topics throughout Tuesday's slate of NBA roundball talk in Daily Dime Live.
By Justin Verrier
ESPN.com

TUESDAY'S BEST
Cathartic Cavs: They have almost four times as many losses as wins, but the Cavs' victory over the Heat in LeBron James' second trip back to The Q since his summertime decision is better than a season's worth of wins to Cleveland fans. Even better for bitter Cavs backers: The loss drops James and the Heatles from a tie for second in the Eastern Conference playoff chase.
---
TUESDAY'S WORST

New Jersey Nets: The Nets showed little will without D-Will, losing at home against the Rockets for the eighth consecutive time -- tied for the second-longest active streak in the NBA, according to Elias. (But at least they're not the Wolves, who have three such active eight-game streaks against them.)
---
TWEET OF THE NIGHT
Not in our garage!!10 p.m. ET via Twitter for BlackBerry®
Dan Gilbert
cavsdan
-- Cavs owner Dan Gilbert, hours after LeBron's entourage was turned away from the underground parking garage at The Q.
---
QUOTE OF THE NIGHT
"It's been maybe the hardest month I've played in my career."
-- Amare Stoudemire, after a madness-filled March that saw the Knicks go 6-10.
---
By Tom Haberstroh
ESPN.com

Bosh
With under two minutes remaining in Tuesday night's game, Chris Bosh contested a driving layup from Baron Davis. But the Heat power forward was too late in rotating over and fell flat on the floor after losing his balance in the air. Davis' shot put the Cavaliers up 97-85 and Heat coach Erik Spoelstra called timeout as Bosh lifted himself off the hardwood in front of an electric Cleveland crowd.
Bosh faceplanted not just then, but for the entire game.
After recording seven double-doubles in his previous eight games, Bosh finished with 10 points and 4 rebounds on the night and got completely outplayed by his opponent, whether it was J.J. Hickson or Ryan Hollins.
Sometimes single-game plus-minus can lie. But the minus-24 next to Bosh's name in Tuesday night's box score says it all. When Bosh was on the court, the Heat were outscored by 24 points. Conversely, in the 15 minutes that he sat on the bench, the Heat pummeled the Cavaliers by 12 points.
Bosh was timid, choosing to lay the ball up underneath when he could have dunked it. Bosh was jittery, repeatedly fumbling the ball when routine passes were sent his way.
But worst of all, Bosh was out-hustled.
That fact was no more evident than during a critical juncture with just five and a half minutes to play in the see-saw battle.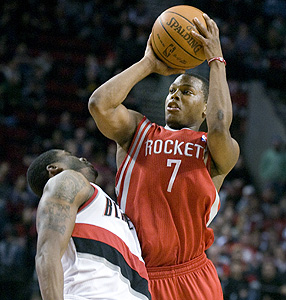 Steve Dykes/US Presswire
Powered by a near-triple-double from Kyle Lowry (16 points, 10 assists, seven boards), the Rockets ran over the Nets, putting them just two games back of the Grizzlies for a West playoff spot.
8.

Thunder Excelling In Overtime

• Oklahoma City topped Golden State by one point in overtime Tuesday night. It marked the eighth time this season that the Thunder won a game in overtime, which is one win shy of the single-season record in that category. Sacramento registered nine overtime wins during the 2000-01 season, and three other teams won eight such games in a season: Milwaukee (1977-78), Philadelphia (1990-91) and Detroit (2002-03).
• Cleveland spoiled LeBron James' night by beating the Heat by 12 points. It is only the second time over the past 14 seasons that a team won a game by more than 10 points against an opponent that entered the game with at least 35 more wins in the standings. The only other time that happened since the start of the 1997-98 season was on April 20, 2005, when Charlotte (17 wins) defeated Detroit (54 wins) by 11 points.
The B.S. Report: 3/29
Bill Simmons breaks down the Celtics and Knicks since their big trades with Sean Grande and Frank Isola.