1. Jason Collins, The Superman Stopper

By John Hollinger
ESPN.com
Archive
ATLANTA -- It looks like at least one of the Eastern Conference first-round playoff series will be interesting. And it will be that way largely because of a player who had a mere three points and five rebounds Wednesday night.
Jason Collins might not have had much of a stat line, but his defensive work against Dwight Howard was the key to Atlanta's 85-82 win Wednesday and the key to Atlanta's 3-1 series win over Orlando on the season. It's a stark turnaround from the 4-0 demolition job Atlanta suffered in the second round of the playoffs last year, as the changes to both rosters in that time have made the Hawks much more capable of checking the Magic attack.
"They're better than us right now," Magic coach Stan Van Gundy said. "That's the bottom line."
Actually, they're not, but in the playoffs, that doesn't necessarily matter. What does matter is the individual matchup, and this one appears to level the playing field between two teams that, on paper, are fairly far apart.
Collins started all four meetings this season, and the Hawks held Orlando to an average of 82.5 points in those games. The key was not just that he limited Howard's points and periodically got him out of the game entirely with his penchant for drawing charging fouls, but that his single coverage took away Orlando's 3-point game. Orlando made only 19 of 84 3-point attempts in the four meetings; that's obviously a lower rate of accuracy than the Magic's norm, but perhaps more notably a lower frequency of attempts.
Normally, Collins' glaring deficiencies on offense make it too expensive to leave him on the court for his defense, but normally, the Hawks aren't playing the game's most dominant big man. On this night, Collins swung the game to the Hawks' advantage early by drawing two quick fouls on Howard, one on the offensive boards and the other with one of his patented flops in the low post. That sent Howard to the bench just four minutes into the game, and he struggled with fouls all night.
"Jason set the tone early in the game," teammate Al Horford said. "He was really the difference."
"That's the best defense on [Howard] on all year," Van Gundy said. "[Collins] did a great job. [Howard] missed a couple of good shots against Horford, but against Collins he didn't even get many good shots. I thought he did a great job on him.
"He's big, he's physical, he doesn't give him many angles to the basket, he doesn't give him anything easy, and Dwight had trouble just getting good, on-balance shots."
Collins did one other thing as well that had Howard and the Magic upset -- when Howard got a clear look, Collins fouled him. HARD. A neck-tie by Collins in the second quarter had Howard particularly vexed, especially in the wake of the near-scandalous officiating at the end of Monday's loss to the Knicks. Amazingly, Howard has not had an opponent called for a flagrant foul the entire season.
"It is what it is," Van Gundy said. "I'm not going to worry about that stuff anymore; it's Game 75."
What Van Gundy does need to worry about, however, is that the Hawks appear to match up better against his team than they do against almost anyone else. While Atlanta's defense has been Swiss cheese for most opponents -- the Hawks are only 15th in defensive efficiency -- the ability to use Collins to help neutralize Orlando's best player seems to give them a leg up on the Magic.
All this might come as shocking news to those who saw Orlando brutalize the Hawks in four lopsided games a year ago, but a lot has changed for both teams since then. Collins, who sat at the end of the bench a year ago, got himself in much better shape. Mike Bibby, torched by Jameer Nelson last spring, was exchanged for the defensively solid Kirk Hinrich. And Josh Smith (26 points) improved his shaky jumper juuuuuuust enough to provide a plausible answer at small forward, enabling the Hawks to use the "big" lineup with Collins at center and Horford and Smith at the forwards.
None of this means the Hawks will prevail when these two teams renew acquaintances in two weeks. (Although neither team has technically clinched its position in the standings, a Hawks-Magic matchup is virtually assured). Orlando might shoot 3s more accurately, might figure out how to get Howard easier touches against Collins and, barring that, might still shut down the Hawks' sputtering offense enough to prevail anyway.
But unlike a year ago, we're looking at a genuinely competitive series. For that, you can thank the guy with three points and five rebounds.


ESPN Insider John Hollinger
• Twitter @johnhollinger | ESPN.com | TrueHoop | Email | Stats
• Follow ESPN's NBA coverage on Twitter | On Facebook | On Google+
Dimes past: March 14 | 15 | 16 | 17 | 18 | 19-20 | 21 | 22 | 23 | 24 | 25-27 | 28 | 29 | 30
2. Melo's Big Night Ends In Nets Loss
By John Kenney
ESPN TrueHoop

Carmelo Anthony might want to start describing more games as "must-wins." The New York Knicks star forward posted a superstar-like stat line of 39 points, 10 rebounds and five assists to lead the Knicks to a razor-thin 120-116 victory over the New Jersey Nets, the second consecutive "must-win" victory for the Knicks.
Especially impressive was his incredible third quarter, during which he scored 20 points. Due largely to Anthony's brilliance, the Knicks were only a point behind entering the fourth quarter after being down 10 at the halftime break. After a back-and-forth fourth quarter, the Knicks finally took the lead for good with 1:07 left in the game on a two-point basket by -- who else? -- Carmelo Anthony.
Fortunately for the Knicks, the big three of Chauncey Billups, Amare Stoudemire and Anthony combined for 95 points in the game, leading the team back from the precipice of what would have been one of the worst losses in the Melo era. The hero of the game was undoubtedly Anthony, as he repeatedly showed a rugged determination to drive to the hoop and was persistent on defense throughout the game. It was the kind of display that gives Knicks fans hope that Melo will become a two-way force over the course of his contract.
However, as exciting as the eventual victory was, a four-point win over the Nets does not inspire confidence in the postseason hopes for this team. The lack of team depth was quite apparent in the first half, as the Knicks' reserves could not keep pace with the Nets when the stars took to the bench in the second quarter. While several reserves made key plays late (Toney Douglas snagged a crucial offensive rebound in the last minute of the game, then buried two foul shots to stretch the lead to four), the poor first-half performance -- at one point, the Knicks trailed by 16 -- displayed a reality of the post-trade Knicks, which John Hollinger touched on recently.
The Knicks blew up their squad to obtain Anthony, at much too high a cost. While Anthony is certainly better individually than any of the players the Knicks sent out, the combined sum of the players traded is enough to leave Knicks stuck as an average team for the foreseeable future. And so fans are left hoping that, somehow, a third star comes to join Anthony and Stoudemire. That reality is a sobering thought on a night when the Knicks barely clawed past their metropolitan nemesis.
3. Daily Dime Live Recap
Zach Harper, TrueHoop Network bloggers and fans gave their in-game opinions on all topics throughout Wednesday's slate of NBA roundball talk in Daily Dime Live.

James
WEDNESDAY'S BEST
LeBron James, Heat: One night after getting shut out of Cleveland's garage, "The King" ruled the capital, going for 35 points, 8 rebounds and 8 assists in the 123-107 win over the Wizards. LeBron was a model of efficiency, sinking 12 of 16 shots to help Miami rebound.
---
WEDNESDAY'S WORST

Batum
Nicolas Batum, Blazers: His run of strong games came to a crashing thud in Louisiana. Averaging 16.8 points over his previous five games, Batum went 0-for-7 from the field, pulling down just one board in the 95-91 loss to New Orleans.
---
TWEET OF THE NIGHT
Suddenly the 10 bucks Dominique Wilkins owes me doesn't seem so important.12:30 a.m. ET via web
chris palmer
thechrispalmer
-- Hall Of Famer Dominique Wilkins reportedly vigorously repels an alleged attack by a former NBA referee, apparently over a debt.
---
QUOTE OF THE NIGHT
"Got hit by the elbow and reacted to it. Disappointed in the way I reacted. I let my teammates down, let the organization down. It was two elbows. I got hit with the first one; I stopped and waited. And the second one, I got hit, and I just reacted."
-- Wizards rookie John Wall, on swinging his right hand at Heat center Zydrunas Ilgauskas
after getting hit by an elbow.
---
6.

Ainge Rolls Dice In Boston
By Jackie MacMullan
ESPNBoston.com

There was a time when Celtics president of basketball operations Danny Ainge was roundly booed by Boston fans -- in the middle of a ceremony to honor his former teammate Cedric Maxwell. Five years later, after he delivered a championship, he was toasted by those same fans as the boldest general manager in the game.
In between, Ainge traded 35 players and 11 draft picks.
He sent Antoine Walker packing in 2003, then reacquired him in 2005, neither of which seemed like a particularly good idea at the time. He traded for such immortals as Raef LaFrentz, Ricky Davis, Jiri Welsch and Chris Mihm, yet eventually parlayed them into new players and more draft picks that helped the Celtics win.
"He runs his basketball team the same way he used to play -- he lets it fly,'' asserts Indiana Pacers president Larry Bird. "It's always all out with Danny.''
Since the Celtics' title run in 2008, Ainge has swapped out 10 players and one draft pick.
As the Celtics stagger toward the finish line of the regular season, Ainge's controversial decision to deal the popular Kendrick Perkins to Oklahoma City as well as introduce five new players to the mix has the boobirds warming up their vocal cords again. Team chemistry has clearly suffered, the Big Four is underperforming, and after an initial burst of spirited play, center Nenad Krstic has slipped into the lackluster play that made him expendable in Oklahoma City in the first place.
With home-court advantage seemingly slipping away and Boston having lost three of the past four (and seven of 12), its front-office guru is once again under scrutiny.
Ainge isn't flinching. Although he concedes it was excruciating to deal Perkins -- "I love that kid; I raised him'' -- he still believes the trade made sense in both the short and long term.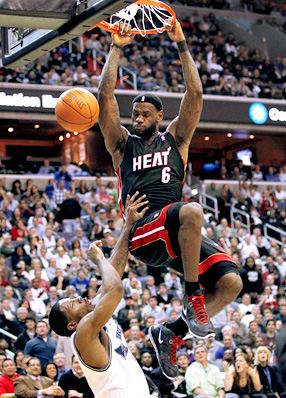 Geoff Burke-US PRESSWIRE
LeBron James dunks the ball over Wizards guard Othyus Jeffers during the Heat's 123-107 win.
9.

CP3: Missin' And Dishin'

Paul
Chris Paul scored only 11 points while making four of 15 field goal attempts, but he managed to distribute 12 assists to contribute to the Hornets' 95-91 win over the Trail Blazers. It was the 46th game of Paul's NBA career in which he missed 11 or more shots from the floor, but he's registered double-digit assists in more than half of those games (26 times).
•
More from Elias