1. Playoff Intensity Arrives For Lakers, Mavs

By J.A. Adande
ESPN.com
Archive
LOS ANGELES -- The net result of Thursday night's showcase games was that the Lakers' chances of catching the Spurs for the best record in the league grew even stronger ... and that's something we should all root against.
If the Lakers surpass the Spurs for the No. 1 Western Conference seed -- and L.A. is only 2½ games back after beating the Mavericks while the Spurs lost to the Celtics on Thursday -- it would take L.A. off its current track of a second-round playoff meeting with the Mavericks. And Lakers-Mavericks is something we really, really need to see after a 110-82 Lakers victory on Thursday that was more notable for the altercations than the competition.
"We didn't want the game to end up like that," Lakers coach Phil Jackson said after things cooled down following the skirmish-filled fourth quarter. "You want to see players competing and carrying about the game at a level which brings that kind of intensity. It's just a buildup, a buildup for what we can see down the road."
We should be so lucky. While the decisive advantages the Lakers would enjoy in a series -- strong inside play versus a team that relies on jump shots -- were on full display, we know the Mavericks are capable of better nights than the 36 percent they shot Thursday. And if emotions could elevate this high when they're battling for playoff seeding -- the Lakers have a 1½-game lead over the Mavericks for the No. 2 spot in the West -- imagine how hot things would get in the actual playoffs.
Kobe Bryant and Dirk Nowitzki have never faced each other in a playoff series. The Lakers and Mavericks haven't played each other in the postseason since the 1988 Western Conference finals, which is so far in the past it's even beyond the range of Jason Kidd's first go-round with the Mavericks (and that feels like it was a looong time ago). Since then the teams have mostly been rivals from afar, with Jackson and Mavs owner Mark Cuban bashing each other through the media in the stead of actual bashes during the postseason.
On Thursday night, the teams got up-close, personal and physical. After the Lakers blew the game open in the third quarter, tempers grew J. J. Barea-short in the fourth. Five players were ejected and the testiness even spread to the stands, where two fans were ejected for fighting and a partially clothed woman was ejected for trying to rush the court.
A Staples Center official said no arrests were made for the crowd incidents. Now it's up to NBA headquarters to rule on any further punishment for the players involved on the court.
In order:
• Dallas guard Jason Terry shoved Steve Blake to the ground after Terry had already fouled him.
"It's been a long week for me," said Terry, who shot 2-for-11 after shooting 5-for-16 the night before. "Emotions got the best of me tonight. I apologized to the team. You just can't let that happen in big games. But the game was getting out of hand, so things happened."
Terry was called for a flagrant foul 2 and ejected.
• Blake got up, rushed to Terry and yelled at him. Blake was ejected.
• Lakers forward Matt Barnes started circling around the gathering pack of players and headed toward Terry, talking to him.
According to Terry, Barnes was saying the "same thing he's been saying since he played for Golden State, which is a bunch of nothing."
Then official Joey Crawford pushed Barnes away, like a hockey defenseman riding an opponent into the boards, except instead of finishing off with a hard check Crawford finished off by ejecting Barnes. Once Barnes reached the sideline, Mavericks assistant coach Terry Stotts tried to restrain him from behind. That led Barnes to throw Stotts off him, and a member of the Mavericks said Stotts landed on a courtside fan and injured her.
"I didn't know who grabbed me, to tell you the truth," Barnes said. "Joey bodied me all the way to the middle of their bench, so I'm just trying to walk to our bench and someone's trying to bear-hug me. I didn't realize it was a coach. Until I turned around, after he was thrown off me. I definitely wouldn't want to push a coach, but he was bear-hugging me right on their bench."
• Dallas center Brendan Haywood followed Barnes to the sideline, pointing at him. He got ejected, possibly for having the misfortune of being the nearest player around once Crawford went into toss-out mode.
• Finally, Lakers guard Shannon Brown was ejected in the final two minutes, with the outcome long decided, for stepping to Brian Cardinal after Cardinal took a whack out Pau Gasol.
Bryant, who was on the bench when the Terry-Blake-Barnes skirmish went down, was proud that no Laker incurred an automatic suspension by venturing onto the court, and was just as proud that the players on the court had their teammates' back. "That's what we're supposed to do," Bryant said. "Can't let that stuff slide."
Stotts and Crawford had nothing to say when I asked them for comment. Cuban was unusually subdued, writing off the bad loss as "one game."
It was a close game in the first half, which the Lakers won 54-51. But this game did show that the Mavericks don't have an answer for the Lakers at their best, when the Lakers have balanced scoring and great all-around play from Lamar Odom off the bench, and then can turn up the defense the way they did in the third quarter.
While the offensive rebounds were almost equal, a 12-11 edge for the Lakers, there's a difference between a 7-footer going after a missed layup at the rim and a guard tracking down a clanged 3-pointer.
"They were able to control the paint very well," Mavs forward Shawn Marion said.
"We have to tighten things up," Mavs center Tyson Chandler said. "I think this game just exposed a lot of those things."
In the process, it gave a national TV audience a glimpse at what could be in store in a playoff matchup. Unlike, say, the rough-and-tumble series between the Knicks and Heat in the '90s, this could actually feature some good basketball.
"If we see them down the road, I'm sure it will be more of what you saw tonight," Bryant said.
We should be so lucky.


ESPN senior writer J.A. Adande
• On Twitter @jadande | On ESPN.com | On TrueHoop | On e-mail
• Follow ESPN's NBA coverage on Twitter | On Facebook | On Google+
Dimes past: March 16 | 17 | 18 | 19-20 | 21 | 22 | 23 | 24 | 25-27 | 28 | 29 | 30 | 31
2. What Should Concern Lakers The Most?

What is the main worry for the Lakers as they roll toward a three-peat?

Spencer Hall, Salt City Hoops: The Lakers can't ignore the Spurs and get caught thinking about potential opponents from the East. The emergence of the Bulls has provided another chance for people to overlook pesky San Antonio this year.
John Hollinger, ESPN.com: It has to be Andrew Bynum's health, because he's always been the wild card for this team. When he's healthy, their size up front is something virtually no team can match; without him, the Lakers become a very beatable offense-first outfit.
Brendan Jackson, Celtics Hub: The Lakers' biggest worry is the same as the Celtics', it just has not been as apparent. The Lakers will need all of their key guys healthy in order to have the clear advantage in the playoffs, with the biggest red flag being Andrew Bynum.
Bret LaGree, Hoopinion: The biggest worry is that their defensive effectiveness is highly reliant on Andrew Bynum's good health. Which says something given that Derek Fisher and Steve Blake combine for 48 unproductive minutes a night at the point.
Jeff Skibiski, Forum Blue & Gold: Aside from injuries, the Lakers' biggest worry at this point has to be the prospect of facing an athletic team like Miami in the NBA Finals. L.A. matches up well with Chicago and Boston, but the tandem of LeBron James and Dwayne Wade has given the Lakers fits in their two meetings this season.
3. Daily Dime Live Recap
Zach Harper, TrueHoop Network bloggers and fans gave their in-game opinions on all topics throughout Thursday's slate of NBA roundball talk in Daily Dime Live.

Rondo
THURSDAY'S BEST
Rajon Rondo, Celtics: A night of much swishing and dishing for RR. Most notably, Rondo had 14 assists and zero turnovers in a 107-97 win in San Antonio. And he even looked like a man accustomed to hitting jumpers en route to 22 points.
---
THURSDAY'S WORST

The Mavs' de-swaggered: Losing by 28 to the Lakers, and the way they lost, could just about KO the confidence a team needs to compete in the playoffs. Seems like a different Mavs team needs to show up if these two end up meeting in the Western Conference semis.
---
TWEET OF THE NIGHT
Random lady in phoenix: "you're tall you should play basketball" Me: "Ehh I dunno" lady: "no really!" me: "ok I guess I'll give it a try"9 p.m. ET via web
Blake Griffin
blakegriffin
---
QUOTE OF THE NIGHT
"I know that Mark likes to prick the skin of people. But he's not a player. He just sits behind the bench with his suntanned face and has to make comments like that. He's got nothing to do with it. I know that he's provided a great roster that's almost as good as money can buy. But not quite."
-- Lakers coach Phil Jackson, taking note of Mavs owner Mark Cuban's views of Ron Artest
---
6.

One O'Neal Returns For C's
By Chris Forsberg
ESPNBoston.com

O'Neal
SAN ANTONIO -- When the Celtics and Jermaine O'Neal sat down to map out a plan of attack for his return to game action, they could have easily given him a couple of extra days of practice time and brought him back on Sunday at the TD Garden against the 26-win Detroit Pistons.
But what's the fun in that? O'Neal figured if he was going to jump back in the fire, why not pick the spiciest game on the schedule.
So there was O'Neal, back on the floor at the AT&T Center on Thursday night for the first time since Jan. 12, giving a quick dap to San Antonio Spurs big man Tim Duncan, then immediately leaning on the future Hall of Famer to prevent him from establishing post position.
"You don't want to try to find a lesser talent," said O'Neal. "You want to put yourself to the test, and we looked at the calendar and this is when we picked to come back. ... I've always, throughout my career, I've tried to contribute at a high level, so I couldn't have picked a better place to come and challenge what I've been through for the last three months [than] against a good team like San Antonio."
O'Neal's stat line was modest: 2-for-2 shooting with five points, a rebound and an assist over 11:12. He played in two short bursts midway through the first and third quarters, but earned big praise from Celtics coach Doc Rivers each time he came back to the bench.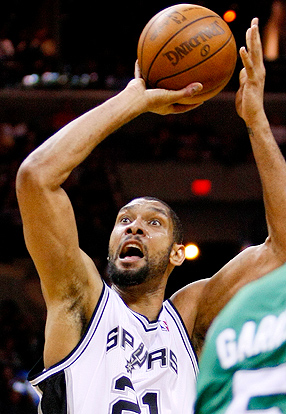 AP Photo/Darren Abate
Spurs power forward Tim Duncan returned after missing the past four games (all losses) with a sprained ankle and finished with 20 points and 13 rebounds in the loss to Boston.

The Celtics defeated the Spurs 107-97, extending San Antonio's losing streak to five games. It's the first time since Tim Duncan joined the team before the start of the 1997-98 season that the Spurs have lost five or more consecutive regular-season games. San Antonio had been the only team in the league without at least one five-game losing streak over those 14 seasons. In fact, every other NBA team has had no fewer than six separate five-game losing streaks over that span. Prior to Thursday night, the Spurs' last five-game losing streak came in April 1997, when they lost their last six games of the 1996-97 season, just prior to drafting Duncan.
The Spurs' just-concluded span of 1,112 games without losing five in a row was the second-longest such streak in NBA history. The record is held by the Celtics, who went 1,412 games without losing five straight games from 1950 to 1969.
•
More from Elias