1. Strong Second Half Shows C's Strength

By Brian Robb
TrueHoop Network
Archive
BOSTON -- Just eight points had separated the Boston Celtics and Philadelphia 76ers in their first three bouts of the 2010-11 regular season. Entering Tuesday night's tilt, with the playoff picture slowly coming into focus, whispers swirled around what lined up as a potential preview for the first round of the Eastern Conference playoffs.
Would the up-and-down Celtics -- still struggling to put their new pieces together since the midseason trade of Kendrick Perkins -- be ripe for an upset by the upstart Sixers in a seven-game series?
A dominant second half out of the defending Eastern Conference champions quickly quieted any such speculation, as Philadelphia was held to 28.6 percent shooting and just 32 second-half points in a 99-82 Boston win at the TD Garden.
The victory gave the Celtics a 3-1 edge in the season series with Philly and a noteworthy reminder to all those who doubt their championship potential to think again.
"Tonight was a good test for us," Rajon Rondo said. "That might be a first-round opponent, and we did a good job of making a little statement, as far as them knowing it's going to be tough to beat us in a seven-game series."
The return to form of the Celtics' All-Star point guard has coincided with the team's positive strides on both ends of the floor. The offense was there all night long for Rondo (16 points, 13 assists) and the C's, but it took until the second half for them to turn up the defensive pressure another notch, a reality not lost on their opponent.
"We ran up against a team that played probably as well as they've played in a long time," 76ers coach Doug Collins noted. "I told our guys how that's really what championship teams do. They might not play it for 48 minutes, but they're going to lock you down for stretches. When they play like that, it should make Doc Rivers smile because they're one of the best teams in the league."
It's been a while since Rivers has been able to smile, however, as his team has struggled through scoring slumps, countless injuries and perhaps a lack of intensity from key players such as Rondo.
"I don't know if he plays with great focus all game," Rivers said. "Right now, I wonder if any of our guys do."
As the Celtics have won three of the past four games in convincing fashion, the positive efforts from the team's core have returned.
"You can see what they're all doing. They're sharpening their tools in spurts. It's tough for a coach," Rivers said. "You'd like to do that and keep doing it. They know where they're at, though."
Andre Iguodala agreed.
"They're on the same page, and they have veteran guys who all understand what it takes to win basketball games," Iguodala commented.
There is still work to be done for both sides, as both Boston and Philadelphia jockey for seeding with the Miami Heat and New York Knicks, respectively.
The Celtics are even with the Heat for the second seed, with a road battle looming Sunday afternoon on South Beach, which will more than likely decide the battle for the spot, and an important home-court edge for later rounds.
Meanwhile, the Sixers await a showdown with the suddenly surging Knicks on Wednesday night back home, as they cling to just a half-game lead over New York for the six-spot in the East.
Complicating matters for Philadelphia is the absence of bench spark plug Lou Williams, who missed Tuesday's game and is out for the rest of the regular season with a strained right hamstring.
The Sixers hope to return to full strength by the next weekend for the postseason opener. With Williams back, they'll plan to use their overall athleticism, balance and defense to give the defending East champs a run for their money in a first-round showdown.
The Celtics believe with the return of their final -- and perhaps most crucial -- piece in Shaquille O'Neal in the next week, things should improve for them as well.
With Shaq's return, the entire Celtics roster will likely be intact for any first-round battle. The process to get to full strength has been longer than Rivers had counted on, but the fact remains: At complete health, the Celtics are deeper than ever. And with that possibility combined with flashes of the team's outstanding play returning to the surface, it may be time to push Boston back down to the bottom of the wishlist of any potential first-round foe, even Philadelphia's.
Read more from Brian Robb at Celtics Hub, the TrueHoop Network's Boston Celtics blog.
Dimes past: 17 | 18 | 19-20 | 21 | 22 | 23 | 24 | 25-27 | 28 | 29 | 30 | 31| April 1 | April 4
2. Spurs Earn Space In Race For Top Seed
By John Hollinger
ESPN.com

ATLANTA -- Mission accomplished, it seems.
The San Antonio Spurs made the race for the Western Conference's top seed awfully interesting by losing six straight games at the end of March, but with Tuesday night's 97-90 win in Atlanta they appear to have done just enough to fend off the Lakers for home-court advantage in the playoffs.
Tony Parker and Manu Ginobili helped bring San Antonio back from an early 11-point deficit by combining for 32 second-half points, as the Spurs moved 3½ games ahead of the Lakers after L.A.'s loss to the Utah Jazz at Staples on Tuesday.
More importantly, it gives the Spurs the latitude to lose in L.A. on the second-to-last day of the season and still fend off their rivals for the top seed. San Antonio has three other games to play in addition to that one, and must win all of them if the Lakers also win out. But with three lottery teams on the slate -- home games against Utah and Sacramento and a season-ending visit to Phoenix -- Tuesday's game against a 44-win Atlanta team was the most realistic possibility for the Spurs to drop one.
It wasn't always pretty, but the Spurs took care of business. Ginobili got the Spurs into the bonus early in the fourth with his penchant for drawing fouls, Parker (26 points) riddled the Atlanta defense with his pick-and-roll play and unusually accurate mid-range shooting, and George Hill led a strong defensive effort.
Yet there were few champagne toasts in the San Antonio locker room. The Hawks were undermanned, with Josh Smith resting a sore knee and Jason Collins leaving early with an ankle sprain. (A potentially huge loss for Atlanta if he's not back for the first-round series against Orlando, a pairing that became locked in place with the Sixers' loss to Boston.)
Much as in the recent skid, San Antonio bench players besides Hill continue to underwhelm. Matt Bonner and Gary Neal combined to shoot 1-for-10, while recently demoted starter DeJuan Blair continued his uneven play as a reserve by getting rim-checked on an open dunk attempt to end the third quarter.
3. Daily Dime Live Recap
Zach Harper, TrueHoop Network bloggers and fans give their in-game opinions on all topics throughout Tuesday's slate of NBA roundball talk in Daily Dime Live.
4. Bench Could Be Big Boost For Denver
By Jeremy Wagner
TrueHoop Network

The Denver Nuggets can defy contradicting conventional wisdom when the postseason arrives. One long-held theory is that depth is not as big an advantage in the playoffs as it is during the regular season.
And it's true, too. With so many more off days scheduled between games, depth is not necessary to protect a team from fatigue.
But the depth featured on the post-trade Nuggets could be different.
While most coaches voluntarily shorten their rotation in the postseason, George Karl won't need to. Mostly because Karl's current rotation is partially dependent on playing whomever plays well at that moment.
On March 23 against the San Antonio Spurs, Al Harrington played 28 minutes and scored 27 points, carrying the Nuggets to a victory. It was the most minutes Harrington had played in 20 games, and he has not played that many since. Karl saw how well he was playing and stuck with him. In the playoffs, on another equally deep team, Harrington would not get on the floor, but for Denver, Karl will give him a few minutes and grant him the opportunity to earn more.
And it's not just the number of bodies the Nuggets can throw on the floor; it's also the flexibility their roster offers.
There are seven players who can carry the load offensively on any given night, or during any given half. Like on Sunday against the Lakers, when Danilo Gallinari scored 22 points in the first half and Raymond Felton took over in the second and totaled 16 for the game.
Problem is, sometimes, no one may step up. On Tuesday, Denver's bench scored just 23 points in a loss to the Thunder, its likely first-round opponent.
Still, with the track record the team's bench has built up since trade Carmelo Anthony, those nights appear few and far between.
Read more from Jeremy Wagner at Roundball Mining Co., the TrueHoop Network's Nugs blog.
By Justin Verrier
ESPN.com

Hayward
TUESDAY'S BEST
Gordon Hayward: It isn't all bad, Butler. A night after his Bulldogs were served their second straight loss in the NCAA championship game, in unceremonious fashion, Hayward had the best game of his career (22 points on 9-for-14 shooting) to help the Jazz knock off the Lakers.
---
TUESDAY'S WORST

Houston's big problem: Fighting tooth and nail for their playoff lives, the Rockets were dealt a big blow by coach Rick Adelman's former team. After a 104-101 loss to the lowly Kings, at home, Houston is now grasping at postseason straws, sitting three games behind the Grizzlies for the No. 8 spot out West with only four games left on its schedule.
---
TWEET OF THE NIGHT
On to the Bulls. Btw in team film session this am it was a D Rose highlight reel! He's so good I was laughing out loud! Who says MVP?6:11 p.m. via Echofon
Steve Nash
SteveNash
---
QUOTE OF THE NIGHT
"Nah, he's still soft, but he's a good player, you know what I mean. But he has also help. He has help down there with Lamar Odom, Andrew Bynum, those 7-footers down there. So he has a supporting cast."
-- Amare Stoudemire, calling out the Lakers' Pau Gasol in a video clip circulated this weekend on YouTube. Asked Tuesday if the comments were out of context, Stoudemire didn't back down. "No, I don't think so."
---
7.

Thunder Show Mean Streak
By Ethan Sherwood Strauss
TrueHoop Network

The Oklahoma City Thunder are often depicted as youthful innocents, and there could be truth in that caricature. But such a portrayal did not fit a team that bullied the Denver Nuggets en route to a 101-94 Tuesday victory. In this likely preview of the best first-round playoff series, Oklahoma City appeared harrowing while converging on Denver's bigs; stifling when halting a rarely interrupted post-Carmelo offense.
Perhaps it's the Kendrick Perkins infusion. After a second-quarter shoving match with Nene Hilario, Perkins bellowed words that HBO seemingly couldn't air. It set a tone for double technicals, and an intensity that was only belied by Nene's neon shoes.
Denver's star center was shaky and lacking for oxygen in half-court sets. He went 3-for-10 and tallied seven points. Reserves did not fare much better, as the Nuggets' subs let the game slip away early in the fourth quarter. It was in this stretch that Eric Maynor managed to successfully run an offense that had eluded Russell Westbrook for much of the night. Maynor had seven points in the fourth stanza, as Westbrook (5-of-17) rested for much of it.
While the Thunder had Nene solved, they struggled to contain Ty Lawson, whose blurry waltz led to a career-high 28 points. The young point guard had little trouble eluding a big, slow Oklahoma front court.
Late in the contest, Denver mounted a small comeback in what amounted to the final throes. Game-extending intentional fouls brought friction to the closing moments: With 12 seconds left, Danilo Gallinari and Kevin Durant exchanged bumps, technical fouls. Durant -- one of the NBA's best citizens --clearly shoved Gallinari. Kevin's snarl was as memorable as his brilliant 32-9-9 performance. There's no way to gauge whether playoff-tested Perkins helped imbue Durant with a nasty streak, but it's one of many possible subplots in what should be a fantastic first-round series.
Read more from Ethan Sherwood Strauss at HoopSpeak and WarriorsWorld.net.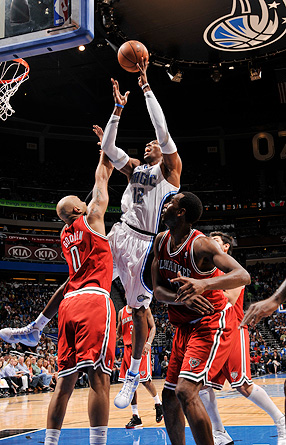 Fernando Medina/NBAE/Getty Images
Powered by 18 points and 17 rebounds from Dwight Howard, the Magic wrapped up the East's No. 4 seed with a 78-72 win over the Bucks.
9.

Melo Is Knicks' Golden Ticket
By Ian O'Connor
ESPN New York

Anthony
NEW YORK -- Even when the New York Knicks were losing at a manic pace -- losing at a Larry Brown and Isiah Thomas pace -- the notion that they had made a bum deal with Denver was not worth the paper Mike D'Antoni's defensive schemes weren't written on.
D'Antoni's newfangled team had dropped nine of 10, George Karl's Nuggets had evolved into a monument to good can-do chemistry, and still the Carmelo Anthony trade remained one of the best trades in Knicks history.
Why?
"This is a league of stars and talent," Toronto assistant P.J. Carlesimo said, "and the Knicks got two more stars and a ton more talent."