1. Without D-Wade, Heat Troubles Magnified

By Brian Windhorst
ESPN.com
Archive
MIAMI -- Dwyane Wade missed the Heat's costly loss Wednesday night to the Bucks with a bruised thigh. That's OK; Wade really should take as long as he can to rest up and get healthy for the playoffs. Because no matter what seed the Heat end up earning for the postseason, their only chance is that their three stars carry them until they can't.
For months now, the Heat have had this in-plain-sight issue that won't go away. When one of their star trio has an off game, they have a consistently difficult time winning. And when one of them is out altogether, well, they're a losing team with two All-Stars.
The 90-85 defeat to the Bucks dropped the Heat to 5-8 when LeBron James, Chris Bosh or Wade doesn't play or doesn't finish a game due to injury. Even when the Heat win, often it comes with an unexpected burden on those three to deliver probably more than their share.
"Nobody said this was going to be easy," Heat coach Erik Spoelstra said, trying to buck up after a loss that dropped his team a half-game behind the Celtics in the loss column for the No. 2 seed in the Eastern Conference. "This was a tough, painful loss, and it feels like the playoffs now, as it should."
Honestly, the Heat have felt like they've been in the playoffs for months. And honestly, yes, they thought it was going to be easier. Most losses have been magnified because of the interest level in the team; life as a target has been both stressful and relentless.
In general, they have shown plenty of improvement as the games have gone on. But in reality, they just don't look like the team they all thought they would turn into months ago. It didn't take losing to the Bucks to prove that, either.
With the playoffs only days away, there's no use asking for time and talking about process. Losing to the Bucks, who had their long-shot playoff hopes dashed before halftime when the Pacers won in Indianapolis, isn't a mortal sin.
But losing because the supposedly most star-studded team in the league doesn't have enough talent and depth is just more foreshadowing. If the Heat win their last four games, their huge free-agent haul will have meant a grand total of 11 more regular-season wins than the expiring free-agent crew Wade carried around all of last season in overachieving purgatory.
Unless the Celtics lose twice and the Heat win out, adding James and Bosh will have earned the Heat a mere two higher seeds in the standings, unimpressively going from No. 5 to No. 3. Indeed, the playoffs are the time for salvation, but the data doesn't add up to an inspiring projection.
"What does the 2 seed guarantee you?" asked James, who had 29 points and eight assists in the loss.
"It doesn't guarantee you win the series. ... I'm a prime example. The last two years, I have been the first overall seed of everybody, all 16 teams, and it didn't pay off for us."
James isn't wrong, and the Heat are hardly resigned, yet. If the Celtics lose in Chicago on Thursday night, the Heat find their destiny with the No. 2 seed right back in their hands with the Celtics visiting Miami on Sunday.
James also is spinning. The regular season has been a disappointment for the Heat, and unless there are some shifts -- and signing Eddy Curry probably doesn't qualify -- the postseason looks like it's going to be an uphill battle.
Mike Miller was dragging his bum knee up the floor Wednesday, grimacing and hustling to get flat-footed rebounds. He finished with 11 of them and probably needed a handful of anti-inflammatories to get to sleep. Joel Anthony also had eight points and 11 rebounds off the bench.
This qualifies as super night from the beleaguered Heat reserves -- it was the first time two Miami reserves had double-digit rebounds since the heady days of Rony Seikaly and Matt Geiger in 1994. But without Wade, and with Bosh going 6-of-15 on shooting, it once again wasn't enough. In fact, "wasn't enough" dangerously could be the phrase of the Heat season.
Had Wade played, and Miller and Anthony played that strongly, the Heat probably would have won and been pleased with a four-game win streak. This column wouldn't be getting written, and everything would seem just fine. But the problems would still be there.
Now 78 games in, it can be said the Heat just don't put things like that together much. If Bosh, Wade and James combine for 80 points, it's a good night. If they hit just their averages, it's probably a battle. And if Bosh is playing passively or Wade can't get in the lane or James is settling for jumpers, it turns into a dogfight no matter the opponent.
In the playoffs, dogfights are expected, and the Heat's record in them just isn't very good.
This time a sore point was the offense at the end of the game. After Wade had settled into a nice little role taking charge in the stretch runs over the past month, the Heat wheezed without him. James forced up some shots and missed a key free throw while the game was in the balance in the final minute.
James really hasn't had more than a few bad games all season, but he's had a lot of bad possessions that have contributed to losses. The idea was his new team would have a margin of error to overcome stuff like that. But that team hasn't materialized.
"You lose, and everybody is ready to panic and shovel dirt on whatever we're trying to do," Spoelstra said. "We just have to stay the course, take care of our business and take care of these games one at a time."
There isn't panic; this is what the Heat are. A team that is going to need some amazing basketball from its three stars for the next two months.


NBA Writer Brian Windhorst
• On Twitter @WindhorstESPN | On ESPN.com
• Follow ESPN's NBA coverage on Twitter | On Facebook | On Google+
Dimes past: March 19-20 | 21 | 22 | 23 | 24 | 25-27 | 28 | 29 | 30 | 31| April 1 | 2 | 6
2. With Playoffs Near, Mavs Keep Losing
By Rob Mahoney
ESPN TrueHoop/thetwomangame.com

The Mavericks that hit the floor Wednesday night were quite a bit different from the team that lost its previous three games and dropped six of its previous 12. Second-year guard Rodrigue Beaubois started in place of the resting Jason Kidd. Tyson Chandler, the anchor of the Mavs' defense, sat with a lower back injury. The seldom-used Corey Brewer played 20 productive minutes, his highest total since arriving in Dallas a month ago. And perhaps most importantly, the energy that had been sapped during the Mavs' nine-day, six-game road trip finally returned.
Yet ultimately, Dallas ended its game against the Denver Nuggets with the same unfortunate verdict that marked its previous three outings; despite a second-half surge, the Mavs folded in the final minutes and lost 104-96. There are plenty of positives to take away from Dallas' competitive play (that fact alone is a significant improvement from the Mavs' no-show against Portland on Sunday), but nothing can change the fact that Dallas is struggling to win games with the playoffs right around the corner. That's not quite the end of the world, but should the Mavericks meet an early postseason demise, no one can claim that the omens weren't present in their regular-season performance.
Dallas allowed Denver to score at a rate of 114.3 points per 100 possessions, a pretty poor mark even when taking the Nuggets' high-powered offense into account. If this were a singular hiccup on an otherwise strong defensive résumé, perhaps the Mavs' performance could be chalked up to a bad night or Chandler's absence. However, this type of defensive showing has grown to be more or less routine for the Mavs over the past few months. In the playoffs, Dallas can't afford to play sound defensive basketball for merely half a game, as it did Wednesday. With the Portland Trail Blazers and these same Denver Nuggets as possible first-round opponents, the Mavs will need to be on top of their game and prepared to execute on defense with consistency.
Dallas has that potential, but the proof just hasn't been there of late. There might have been a handful of small differences for this particular game, but the changes made were largely cosmetic ones. The quality of Dallas' overall performance endured, and if the Mavs are going to reverse their losing ways when the games matter most, the differences in their play will have to be more substantive.
• For more from Mahoney, check out the Mavs blog thetwomangame.com »
3. Daily Dime Live Recap
Zach Harper, TrueHoop Network bloggers and fans gave their in-game opinions on all topics throughout Wednesday's slate of NBA roundball talk in Daily Dime Live.

WEDNESDAY'S BEST
Warriors: After a dozen straight losses to Kobe & Co., Monta Ellis, Steph Curry and David Lee sent the champs to a third straight loss, a 95-87 decision in Oakland. Get those "We Believe!" T-Shirts out of the rag bag.
---
WEDNESDAY'S WORST

Meeks
Jodie Meeks' normally good 3-ball: The Sixers reserve went 0-for-8 from beyond the arc in a 97-92 loss to the Knicks. Meeks is shooting 42.1 percent from distance this season.
---
TWEET OF THE NIGHT
Yessirrrrrrrrrrrr WE IN!!!!!!!!! @TA_Iam1 @CarlLandry24 @QuincyPondexter @pewingjr6 @29Dwest @marcobelinelli @randygup11:40 p.m. ET via Twitter for BlackBerry®
Favorite
Retweet
Reply
CP3
Oneandonlycp3
-- Chris Paul, who helped make the playoffs a reality, going for 28 points, 10 dimes and nine boards in a 101-93 win over Houston.
---
QUOTE OF THE NIGHT
"Eighteen championships ... I see myself trying to do the same things they have."
-- LeBron James on buying a piece of Liverpool soccer club. LBJ's earlier single-digit title aims clearly were waaaaaay too low.
---
By Jim Cavan
ESPN TrueHoop/KnickerBlogger.net

Anthony
Early in the season, the Knicks and Sixers were in similarly dire straits. Eleven games in, New York was 3-8 and in the midst of a six-game losing streak. The Sixers, meanwhile, stumbled even more clumsily out of the gate, starting 3-13.
The difference lay in expectations. While the Knicks were projected to ride the sometimes bumpy learning curve to their first playoff appearance in seven years, most thought the Sixers would be content to leave only Toronto and New Jersey in their middling wake.
Fast-forward five months. While the Knicks have largely stuck to their up-and-down program, it's been the Sixers who have completely re-written theirs, entering Wednesday's showdown in Philly in sole possession of sixth place in the Eastern Conference at 40-38, a half game ahead of New York.
But it was New York's narrow 97-92 win that flipped the standings' script -- at least for a night. Carmelo Anthony continued his recent torrid play, netting 31 with 10 rebounds, including five 3 pointers. During the Knicks' five-game winning streak, Anthony has averaged 31.4 points and 8.8 rebounds on 51 percent shooting, including 52 percent from beyond the arc.
Amare Stoudemire added 18, while Toney Douglas again provided a key spark off the bench, scoring 17 -- many of them after replacing Chauncey Billups, who left with a minor right thigh contusion late in the third quarter.
Just as their newfound defensive intensity had in their previous four wins, Wednesday's victory saw the Knicks exorcise yet another demon: that of the second-half collapse. While the Bockers once again allowed an opponent to storm back -- they were up by 13 at the start of the fourth -- timely threes from Anthony and Douglas helped New York pull away down the stretch.
For a team just ten days removed from feeling both its fortunes and its fan base deteriorating by the New York minute, the Knicks' recent streak certainly boasts a fortuitous timing. They'll certainly need the momentum: With rest for many of the starters likely at some point during their final four games, at least the Knicks will have this stretch to look back on -- and tap into -- when the time comes to rev the playoff engines.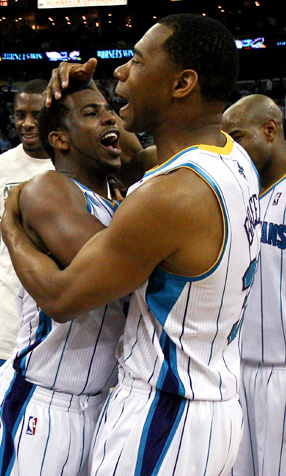 Derick E. Hingle-US PRESSWIRE
Hornets guards Chris Paul and Willie Green celebrate following a playoff-clinching 101-93 win over the Rockets at the New Orleans Arena.

All five Pacers starters scored at least 15 points and shot 50 percent or better from the field in a 136-112 win over the Wizards. The last set of Pacers starters to do so included Rik Smits, Detlef Schrempf and Reggie Miller, also against Washington, when the team was known as the Bullets (Jan. 19, 1993).
•
More from Elias