1. Award Ballots: And The Winners Are ...

By Marc Stein
ESPN.com
Archive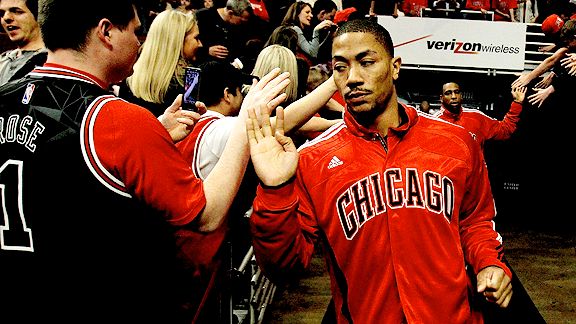 Jonathan Daniel/Getty ImagesRose insisted before the year he could mount an MVP campaign. Consider one ballot-holder convinced.
The bubbling anticipation generated by the tasty postseason so many of us expect can't completely flush out the feeling of dread here at Stein Line HQ.
Reason being: It's hard not to wonder -- while assembling the season's final Weekend Dime and preparing Monday's farewell batch of Power Rankings -- how long we're going to have to wait for next season to start. Since these staples can't return, obviously, until we know there's a next season.
The best we can do is sign off indefinitely from Weekend Dimedom in the traditional manner, which means sharing my year-end award ballots (in Box 1, 2, 3 and 4) in the seven categories I've been asked to vote on by the league office.
The actual ballots, for the record, are due back to the league by Thursday at 3 p.m. In the unlikely event that something happens in the season's final five days to change my mind on any of these award picks, I'll blog an update via TrueHoop.

Rose
MOST VALUABLE PLAYER: Derrick Rose, Chicago Bulls
Can we all agree, at the very least, that this season's incredibly polarizing (and occasionally hostile) MVP chase is the way we really like it?
Passionate debate, even if it occasionally strays into angry debate, is so much better than what we got last season, when LeBron James had the thing clinched by All-Star Weekend. The absence of a consensus MVP selection has actually made us all smarter, because it leads to so many league observers with different perspectives and backgrounds chiming in. Which can't be a bad thing. Overly heated at times, yes. But so much more interesting and intelligent than the alternative.
That said …
I have consumed every pro-Dwight Howard argument I could find, soaked in every word of my dear colleague John Hollinger's recent must-read missive on Howard's MVP-worthiness, but still can't co-sign. The MVP to me, after nearly two decades as a voter, is the player of the season. However true it is that there is only one Dwight Howard in this age nearly bereft of dominant big men, Howard did not have a better season than Derrick Rose on this scorecard, once you plug in all the subjective factors along with the statistically tangible ones.
The word valuable in MVP is what throws everyone, because value cannot be universally defined, but it's instructive to note that the MVP ballot comes in the same email dispatch from the league office that includes ballots for Coach of the Year, Rookie of the Year, Defensive Player of the Year, etc. The voter's task, in my view, is not measuring how irreplaceable someone is, or how his team would theoretically fare if you fantasy-swapped him with someone else, or trying to determine who would be chosen first in the starriest of NBA pickup games. I've always believed that the voter is tasked with identifying who had the best overall season, as computed by gauging a variety of factors.
The stats are obviously paramount. You can't just dismiss the offensive improvements in Howard's game or the titanic impact he has defensively on a team full of non-defenders. But the raps against Rose's statistical efficiency strike me as easily explained, since he's the only Bull who can create his own shot and faced a ridiculous amount of defensive attention all season because his two main sidekicks, Carlos Boozer and Joakim Noah, combined to miss 60 games.
I can pardon Rose's slightly iffy efficiency because of everything else he supplied and improved. The on-court load he shoulders, along with the galvanizing effect he's had as a leader for an injury-riddled team that's exceeded all expectations, is the clinching combination here.
Steve Nash, maybe the most controversial MVP of all time when he won the award in 2005, has a great description for the phenomenon at work with Rose. "When I won it [for the first time]," Nash says, "I believe it's because people saw me as the best teammate."
Bingo.
In other words? Nash was the most influential single teammate of the season in question -- instantly changing the culture of a 29-win team with his free-agent return to Phoenix -- just as Rose was this season. Except that Rose didn't change a culture in Chicago. He established one.
It is largely Rose's unflinching support and immediate buy-in to the preachings of ultra-demanding rookie coach Tom Thibodeau that enabled Thibodeau to coach the Bulls with the veteran authority of a Phil Jackson or Gregg Popovich. And this is no small thing. There's no way to measure it statistically, but it's easy to forget all the uncertainty attached to Thibodeau when Chicago hired him. Passed over for several jobs before finally landing this one, Thibodeau was seen in some circles as a career assistant, somehow unfit for the big chair. We all should have known that's not true, after seeing what Thibs did with Boston's defense for the past few seasons, but that skepticism could have easily sprouted in the Bulls' locker room if Rose hadn't instantly committed.
Nearly 60 wins later, Rose is still the Bulls' most powerful messenger. He called out his team this week, loudly warning them -- in the midst of a 20-4 run since the All-Star break -- that they've achieved virtually nothing and had even begun to backslide. Thibodeau could hardly contain his glee when he saw the result Thursday night: Chicago's 97-81 trouncing of the Boston Celtics to all but clinch the East's No. 1 seed.
Imagine what Erik Spoelstra would give for that kind of buy-in from just one of his superstars. Mike D'Antoni certainly doesn't have it with the Knicks, since Carmelo Anthony's arrival, anywhere close to the way he had it was Nash in Phoenix. The legendary Jerry Sloan lost it this season in Utah for maybe the first time in two decades, which conspired with Sloan's waning energy at the age of 69 to send him into sudden midseason retirement. Even the Celtics' famed unity has been rocked, although the vets' quarrel is obviously more with Danny Ainge's decision to trade away Kendrick Perkins than anything that's changed with Doc Rivers.
The point? The sort of relentless leadership and drive to win that stems from Rose really stands out this season. When you add up that subjective stuff with the Bulls' team success relative to preseason expectations, Rose's success in crunch time, how good he's had to be scoring the ball just to get a largely punchless team up to 12th in the league in offensive efficiency and the way he's blossomed as an outside shooter and free throw magnet … you get the 2010-11 MVP.
Especially since Howard, his chief threat in this race, so often leaves you wondering about his abilities as a tone-setter, whether we're talking about how serious he is … or his trouble with technical fouls … or the fact that his free throw frailties still leave the Magic unsure which way to go at the ends of games. Whereas the uber-aggressive Rose, by contrast, is breeding teamwide confidence with a demeanor that screams "Follow my lead."
Would Chicago's role players defend with the ferocity we've seen if Rose hadn't embraced the first-year coach so openly and ramped up his own commitment to D? Would Thibodeau be able to play so many defensive specialists if Rose couldn't shoulder such a heavy offensive load? How meaningful -- how "valuable" -- is Orlando's status as a top-three team defensively if the Magic can't even be considered clear-cut favorites in their forthcoming first-round matchup with an underachieving Atlanta team? All valid questions.
Howard should not be unfairly punished for the deficiencies of the retooled supporting cast around him -- which clearly isn't as good as Rose's when the Bulls are at full strength -- since he's not the one who makes the trades. But the legit concern in Orlando about how effective Dwight will be in the first round against the single coverage of the Hawks' Jason Collins suggests that the stats in Howard's favor, most notably his robust PER of 26.19, aren't nearly as conclusive as they look.
In a season so rife with MVP candidates that overwhelming preseason favorite Kevin Durant can't even make my five-spot ballot, Rose simply checks the most boxes for me, just as Nash did with his transformative make-everybody-better presence in 2004-05. The best individual season of Howard's career, on this ballot, is only No. 2 to Rose's.
I fully expect more passionate pushback from those who prefer the cleaner résumés, numbers-wise, belonging to Dwight and LeBron, but that's no prob. I'd argue that there's at least one more MVP layer that will generate unanimous agreement amid all the screaming: We're all going to greatly miss these raging arguments in November, December and January if all the increasingly pessimistic lockout projections in circulation prove to be accurate.
Stein's ballot
1. Rose
2. Howard
3. James
4. Kobe Bryant
5. Dirk Nowitzki
October prediction: Kevin Durant
Editor's note: My biggest MVP regret is not having one more slot for the tireless Chris Paul, who's right there with Bryant and Nowitzki with me after dragging the skeletal Hornets into the playoffs despite the limitations of his surgically repaired left knee. Which means that, yes, I have Durant in seventh. (Which honestly doesn't feel so great, either.)


ESPN.com senior writer Marc Stein
• On Twitter @ESPNSteinLine | On TrueHoop | On ESPN.com | On email
• Follow ESPN's NBA coverage on Twitter | On Facebook | On Google+
Dimes past: March 21 | 22 | 23 | 24 | 25-27 | 28 | 29 | 30 | 31| April 1 | 2 | 4 |6 | 7
2. Awards, Part Deux
Coach of the Year: George Karl, Denver Nuggets

Karl
Yes. Again.
Yet again, for the umpteenth season in a row, I'm going to moan about how difficult this one is.
How difficult? So difficult that I can't squeeze Gregg Popovich into my top three, even after Pop marked his 15th season in charge in San Antonio by surprising us all with up-tempo tweaks to his offensive approach, adapting to his personnel as well as anyone in the business and racking up 60 more wins as of Friday morning to put the Spurs in pole position for home-court advantage throughout the playoffs heading into the final week of the regular season.
And if Pop can't even make my ballot? You can guess what that means for coaches in the West who kept winning no matter what adversities confronted them: Portland's Nate McMillan, New Orleans' Monty Williams and Houston's Rick Adelman. Ditto for Phil Jackson, who is an every-year contender like Pop and has submitted maybe his best coaching job in his two tours with the Lakers, maintaining behind-the-scenes order in Lakerland when panic oozed all over the place from Christmas through All-Star Weekend.
The reality is that the 2010-11 field is so stacked that you could honestly give the COY to any one of four coaches.
If not Popovich, then Chicago's Tom Thibodeau, who could still tie Paul Westphal's 62-20 mark with Phoenix in 1992-93 for the best record ever posted by a rookie coach if the Bulls sweep their last four games.
If not Thibodeau -- whose relentless, every-possession-matters sideline screaming on D is the co-catalyst for Chicago's breakout success alongside Derrick Rose -- then Philadelphia's Doug Collins. On a team that started 3-13, changed almost nothing roster-wise since last season and doesn't have a single top-40 scorer, Collins has Philly defending intensely and sharing the ball like none of that matters. You actually can't quite call them starless anymore because, with Collins, they are elite on the bench if nowhere else.
And if not Collins?
Then you are inevitably drawn to George Karl, whose stunning second-half rush clinches my vote. He'd get my vote even if you didn't factor in the battle with throat cancer that took him away from the Nuggets with 18 games to go last season.
First, Karl somehow churned out a 32-25 record to start the season, amid the suffocating Melo Drama that lasted more than six months and realistically should have splintered the Nuggets. Since the All-Star break, with all those new pieces from the Carmelo Anthony trade, Denver is 16-5 … and No. 2 in the league in offensive efficiency. The Nuggets, as a result, only need to split their final four games to reach 50 wins.
Which means that Karl is the only coach in this race who had to coach two completely different teams this season … and managed to overachieve with both.
Stein's ballot
1. Karl
2. Thibodeau
3. Collins
October prediction: Jerry Sloan
---

Griffin
The numbers did decline slightly after he jumped over a car to win the dunk contest at All-Star Weekend, but let's be clear here: They still sparkle. Since the All-Star break, Griffin is averaging 21.8 points, 11.1 rebounds and 4.2 assists.
The rookie wall, in other words, is feeling the impact much more than Blake Superior felt it.
So …
The only ROY suspense we can muster surrounds (A) whether Griffin will rightfully join Ralph Sampson (1983) and David Robinson (1989) as the only unanimous ROY selections since the NBA/ABA merger in 1976-77, and (B) who gets third place behind John Wall.
Even with New York's Landry Fields tailing off, Sacramento's DeMarcus Cousins doesn't have the third slot sewn up because of Detroit's Greg Monroe, who might just lead the league in improvement between Oct. 1 and April 1. As one of the few tangible sources of optimism in Detroit, Monroe is averaging 14.3 points and an even 10 boards per game since the break.
Cousins' emergence as the Kings' best player -- as hard to coach as he can be some days -- makes him my No. 3 behind Wall, who overcame his various early-season maladies (knee and foot) to put up some all-around solid numbers (16.3 ppg, 8.5 apg and 4.6 rpg) for the Wiz.
But don't be surprised if Monroe swipes some of those third-place votes, knowing that Cousins is going to turn off a peer or three.
Stein's ballot
1. Griffin
2. Wall
3. Cousins
October prediction: John Wall
3. Three More Awards

Odom
The hometown hoopla factor of an All-Star Game in Hollywood didn't get Lamar Odom any closer to his long-awaited first All-Star selection. That's the bad news.
The good news: Odom has emerged as a strong favorite to snag a Sixth Man Award as a satisfying consolation prize.
He's admittedly struggled at times with accepting his status as a nonstarter on the Kobe-and-Pau Lakers -- and doesn't hide the fact that he relished those 34 starts he did get to make when Andrew Bynum was sidelined -- but this is the season Odom married peak efficiency to his longstanding versatility.
Some would say he's been the season's second-steadiest Laker despite the occasional missed box out, shooting better than 53 percent from the field and nearly 40 percent from the 3-point line, while also ranking among the league's elite in post D.
The competition unexpectedly wound up being fairly fierce even with perennial favorite Manu Ginobili dropping out of contention by starting a career-high 77 games. In addition to Glen Davis, 2010 winner Jamal Crawford, James Harden, Philly teammates Thaddeus Young and Lou Williams and second-half party crashers Marcin Gortat and Tony Allen, Odom has to beat out 2009 winner Jason Terry, who is the first player since Dell Curry in the early 1990s to post three consecutive seasons with at least 1,000 points off the bench.
But even Terry's regular crunch-time production in tandem with Dirk Nowitzki -- they've combined for more points (918) in fourth quarters than any duo -- is unlikely to trump everything Odom has given the reigning champs as a role player supreme in his best-ever season. The Mavs needed even more out of Terry than usual after the Jan. 1 loss of Caron Butler to a knee injury, but Odom has been giving his team(s) extra since last summer, when he won raves for his work as a center for Team USA at the FIBA World Championship.
Stein's ballot
1. Odom
2. Terry
3. Gortat
October prediction: Lamar Odom
---

Howard
Said so at the second-trimester pole and can only reiterate those thoughts: Howard is the runaway DPOY no matter where you have him in your MVP thinking.
His ability to keep the Magic in the top three in defensive efficiency despite the fact that he's surrounded by suspect defenders makes this no less a rout than Blake Griffin's ROY coronation.
Doesn't matter how long ago it was you leapt off Orlando's bandwagon. The reasonable question now is how many times in a row Howard -- who's about to claim his third successive DPOY -- plans to win this award?
I nonetheless urge you, despite the complete lack of suspense here, to refer to Professor Hollinger's insanely comprehensive All-Defensive Team submission from earlier this week, which covers a Dwight-sized amount of territory by zooming through defensive résumés of about 50 players.
(For the record: Kevin Garnett gets the second spot on my ballot for his efforts keeping the Celts in the top three in DE even after the Kendrick Perkins trade and Rajon Rondo's subsequent in-and-out focus … with Andrew Bogut next in line for making sure something lived up to billing in Milwaukee this season.)
Stein's ballot
1. Howard
2. Garnett
3. Bogut
October prediction: Dwight Howard
---

Love
I detest myself today.
I detest myself on a lot of days, actually, but especially so when I violate one of my own long-held credos.
I know, I know. I'm the guy who's always prattling on about how MIP consideration shouldn't be given to former top lottery picks, who are supposed to be great when they're drafted so high and are merely developing at the expected rate when they make a major leap.
This season, though, so many good young players made such significant improvements that I kept finding myself gravitating to that group. LaMarcus Aldridge. Russell Westbrook. Eric Gordon. That Derrick Rose character. And Love, obviously. All have a case.
I swore to myself that I was going to going to stick to the Dorell Wright set … with Wright, for starters, on the verge of finishing his first season in Golden State with more points than he scored in his previous six seasons. Someone like Kyle Lowry or Wes Matthews, who both bailed out their injury-hit teams by pulling off the rare feat of producing far more than expected after signing a lucrative new contract. Arron Afflalo, Tony Allen and, of course, Kris Humphries -- who transformed himself into a legit double-double guy as well as a go-to guy for Power Rankings fodder after winning the Kim Kardashian lottery -- all have a case as well.
Yet only Love can say he beat out Dwight Howard for the rebounding title, emerged as an elite 3-point shooter (41.7 percent) and strung together those 53 consecutive double-doubles after starting the season with the slightly more modest goal of convincing his coach to let him play 40 minutes once in a while. He was the poster child from a Team USA squad that launched several of its players to new stratospheres.
I detest myself for not finding a way to somehow do more for Aldridge, who seems to be this season's Mr. Near-Miss no matter what we're debating, even after he impressively broadened his game with some long-awaited inside scoring and gave the (physically and emotionally) battered Blazers someone new to build around. Love, though, just proved too tough to resist in the most complicated category of them all.
Stein's ballot
1. Love
2. Aldridge
3. Humphries
October prediction: James Harden
The instructions: Voters are asked to fill out three teams and urged to select players at the position they play "regularly."
First team
F: LeBron James
F: Dirk Nowitzki
C: Dwight Howard
G: Derrick Rose
G: Kobe Bryant
Second team
F: Kevin Durant
F: Amare Stoudemire
C: Pau Gasol
G: Dwyane Wade
G: Chris Paul
Third team
F: Paul Pierce
F: Zach Randolph
C: Tim Duncan
G: Russell Westbrook
G: Tony Parker
The thinking: Just as it was at All-Star time for East and West coaches, nothing is tougher for All-NBA voters than trying to wedge in all the worthy forwards.
Just look at the list of names I couldn't find room for: LaMarcus Aldridge, Blake Griffin, Kevin Love, Kevin Garnett, Chris Bosh and even Carmelo Anthony.
The first and second teams generally sorted themselves out. Dirk edged Durant for the only first-team spot in question thanks largely to Durant's statistical dips from last season and the clearly larger load Nowitzki has to carry. On the second team, Stoudemire's unforgettable first half -- when he looked like MVP material -- and the stints at center that Gasol was forced to take on while Andrew Bynum was injured were keys to landing them spots alongside no-brainers Durant, Paul and Wade.
Narrowing down the third team, though, was as agonizing as ever.
There might have been room for both Randolph and Aldridge had we omitted Duncan, but the only team in the league to win 60 games (only Chicago can still join them) deserved two All-NBAers in my view, especially after seeing the mighty Spurs promptly lose four straight games as soon as Duncan twisted an ankle. Parker narrowly edged Manu Ginobili as the second Spur, which is bound to surprise those who haven't been watching closely enough to see Parker hit a level of steadiness at 28 that meant as much this season as Manu's flair for the spectacular. Filling the solitary Boston berth, meanwhile, was only slightly easier, with leading scorer Pierce edging Celts defensive anchor Kevin Garnett and floor leader Rajon Rondo (who took himself out of the running with his second-half fade).
Moving to the third team, New York's ups and downs since acquiring Melo and Denver's takeoff without him undoubtedly cost the league's No. 4 scorer on this scorecard. But even after excluding Anthony -- as well as Bosh since he's merely Miami's No. 3 option and Carlos Boozer and Joakim Noah because of their time lost to injuries -- you still had Randolph, Aldridge, Griffin and Love bidding for one spot. Randolph's best all-around season, leadership and dependability in the wake of Rudy Gay's season-ending shoulder injury ultimately won out, although it can be argued that Aldridge did as much yeoman stepping up in Portland after Brandon Roy went down.
All that congestion, furthermore, naturally meant no shot for the likes of Al Horford (who might have had his best season despite playing out of position), Bynum (after he missed 27 games) and Monta Ellis (whose numbers weren't quite gaudy enough to convince me). Or for All-NBA regulars such as Deron Williams, Steve Nash and Joe Johnson.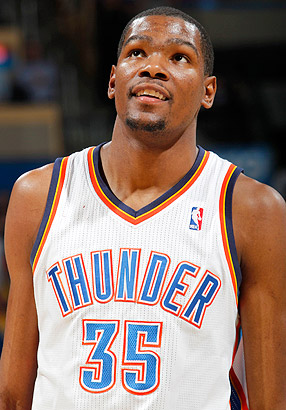 Layne Murdoch/NBAE via Getty Images
Kevin Durant will win his second straight scoring title, but the OKC star and preseason MVP favorite did not snag one of the five spots on Marc Stein's official ballot. (See Box 1).
6.

One-On-One ... To Five

Griffin
Five questions with Clippers rookie Blake Griffin after Griffin was announced by Panini America as the sports and entertainment collectible company's latest NBA signee alongside Kobe Bryant, Kevin Durant and John Wall:
Q: What's your favorite Blake Griffin dunk of the season?
A: I think the one [over Phoenix's Marcin Gortat] that they called the offensive foul. I liked that one the best. I guess that doesn't count, but I'll still go with that one.
Q: How 'bout the dunk you like best that counted?
A: I'd probably say the one against the Knicks. On the break, not the one [over Timofey Mozgov]. Just the speed of it and everything.
Q: How much pressure do you feel on a nightly basis to deliver dunks like that? I know people here in Dallas came away from your first game against the Mavs complaining because you only had one dunk.
A: For me the highlights ... it's just something that happens. It's not like my main goal coming into games. I don't feel the pressure to come in and try to put on all these highlights. You just can't do it every night.
I understand it. Nobody is gonna want to see a highlight of a five-foot hook shot. It's not going to make the highlight reel unless it's a game-winner. So I understand it. But for me I know it's not all I that I do. It's one of those things where I'm working on becoming an all-around player, but it's going to take time. So it's not like I'm going to stop dunking so people will stop focusing on that.
Q: What's your relationship like with [Clippers owner] Donald Sterling?
A: I don't know him real well. I've obviously met him and talked to him on several occasions. I've heard this and heard that, but for the most part, as long as we keep moving forward as a franchise and he's making moves that are good, then I don't really have a problem with anything that's going on.
I think [the Clippers' image is] getting better, to be honest. Definitely since last year. I think the excitement that our team has brought this year has helped. But at the same time, I think everybody knows that the Lakers are the team in that town. Obviously they've won it all the past two years, so they've earned the right.
Everybody always asks me what it's like to play in the same town with the Lakers. It's not about competing with the Lakers for us. It's about competing with the other 28 teams. I don't have a problem with it.
Q: Will we see you in the dunk contest again or is it "been there, done that" thing now for you?
A: To be honest, from the beginning, I wasn't really big on the dunk contest. That's not really my thing. But I would like to do it over again. I feel like I wasn't really, I guess, prepared well enough. Some of the stuff, it could be a lot better. & If somebody does a dunk you were doing, it just completely takes the air out of it.
I feel like it's either we should get away from all the props, get away from all that, or kind of have a plan to where the guys know that they're not going in there with four dunks and then one of the other guys does one of your dunks and you just have to make up a dunk on the fly. That's what I had to do on two of my dunks, so that's why I feel it could go better.
Q: What would winning Rookie of the Year mean -- because I've got a hunch that you've got a decent shot at it -- and what do you say to folks who've said that you had an unfair advantage over other rookies like John Wall because you had a full year of observation last season while you were out injured?
A: It would be just a great accomplishment. But I said at the beginning of the year and I say it when everyone always asks me: For me it was a lot more important to be able to play the year and be healthy. It's not like Rookie of the Year was going to make or break my career.
But in the game of basketball, if you've ever played basketball, you can't take a year off and have an advantage. I tried to make the most of the situation, but I didn't play for a whole year. So I had the uncertainty of whether or not when I came back it would be the same. I'm not trying to say, like, "Oh, I deserve [Rookie of the Year]." But I wouldn't say that it was an unfair advantage. If people want to look at it that way, it's fine. I won't lose any sleep over that, either."
PS -- Nobody minds that I sneaked in a sixth question on the season's final Q & A, right? Don't tell my eds.

Karl
"Not really."
Nuggets coach George Karl, when asked if there's any level at which he can see positives about playing Oklahoma City twice in the space of four days less than two weeks before a likely hookup in the first round of the playoffs.
Karl might have had a different view if Denver hadn't followed up its momentous victory Sunday at Staples Center over the Lakers by losing at home Tuesday to the Thunder. Yet you can easily understand why Karl isn't basking in the widespread anticipation of a Nuggets-Thunder series, since he's the one who'll have to come up with schemes to try to slow Kevin Durant and Russell Westbrook and score against the imposing interior tandem of Kendrick Perkins and Serge Ibaka.
I, however, can't stop thinking about the pressure this pairing would heap on the Thunder, since the post-Melo Nuggets have the capacity to make the Thunder supremely uncomfortable in a first-round series … and virtually nothing to lose with a starless roster. Can't wait to see how the Thunder -- who probably are the biggest threat to the Lakers in the West with their athleticism and newfound toughness through Perkins -- cope with their first-ever experience as the clear-cut playoff favorites.
With an array of shooters, deadly ball movement and drastic defensive improvement since Carmelo Anthony's departure, Denver has been one of the league's top three teams since the All-Star break. Throw in the Nuggets' famed home-court advantage in the altitude and the knowledge that losing in the first round would rank as the first serious setback of the Durant era and the Thunder will have a lot to cope with if they wind up as the West's No. 4 seed.
There's always the chance that the Thunder could leapfrog Dallas in the season's final few days and stick the Mavs with the unwelcome Round 1 assignment of playing Denver. But Karl doesn't see that happening, either. Not even after his Nuggets won Wednesday night in Dallas to slice the Mavs' lead over the Thunder to a game.
"I just think it's gonna be Oklahoma City," Karl said.
He went on to share more of what he thinks while in Big D this week with Ian Fitzsimmons of Galloway and Company and ESPN Radio in Dallas, going so far as to admit that he'd prefer to see the Mavs in Round 1 because of OKC's explosiveness.
"If we had to pick and choose on it, we would probably say 55 percent Dallas, 45 percent Oklahoma City, only because Oklahoma City is athletic like we are and they have two great players," Karl told 103.3 FM's Fitzsimmons, referring to Durant and Westbrook. "They have two All-Stars who are really in their prime and have never won on the playoff stage. [But] I just think right now our speed might have more effect against Dallas than it will against Oklahoma City."
ESPN The Magazine's Ric Bucher and host Jonathan Coachman check in from the "NBA Tonight" desk to react the latest edition of Marc Stein's weekly Power Rankings, which appear every Monday during the regular season.

Rose
Derrick Rose wouldn't merely be a controversial selection if he lives up to his apparent status as the MVP favorite and wins the game's most prestigious individual award.
He'd also be a historic selection.
Rose -- who'll be 22 years and 191 days old on the final day of the regular season -- would easily rank as the youngest MVP in NBA annals and would also become just the 10th player to snag the trophy within his first three seasons. With help from the Elias Sports Bureau, here's the breakdown:
Youngest MVPs In NBA History
| Year | Player | Team | Years-Days |
| --- | --- | --- | --- |
| 1968-69 | Wes Unseld | BAL | 23-9 |
| 1955-56 | Bob Pettit | STL | 23-92 |
| 1959-60 | Wilt Chamberlain | PHI | 23-201 |
| 1974-75 | Bob McAdoo | BUF | 23-203 |
| 1970-71 | Kareem Abdul-Jabbar | MIL | 23-337 |
NBA MVPs
As rookies: 2 (Wilt Chamberlain, Wes Unseld)
In second season: 3 (Bob Pettit, Bill Russell, Kareem Abdul-Jabbar)
In third season: 4 (Abdul-Jabbar, Dave Cowens, Bob McAdoo, Moses Malone*)
*Although Malone, then playing for Houston, was only in his third NBA season when he won his first of three MVP awards, 1978-79 was actually his fifth season as a pro after playing in the ABA in 1974-75 and 1975-76.