1. Rose Rules Rondo As Bulls Stand Tall
By Beckley Mason
ESPN TrueHoop
Archive
The Chicago Bulls put the Eastern Conference's reigning bully in a headlock and pummeled the Boston Celtics into submission. The 97-81 win was a beatdown, a spanking, that all but assured the Bulls the Eastern Conference's top seed while leaving Celtics neck-and-neck with the Miami Heat for the No. 2 spot.
The vaunted Chicago defense smothered the league's most efficient offense with hard, consistent close-outs and disrupted play in the passing lanes while the Celtics' engine, Rajon Rondo, stalled. Looking disengaged and even telegraphing passes, the typically clever point guard's mental game broke down.
His frustrations were almost certainly a result of the exhilarating play of Derrick Rose, who carved the remaining letters of his name into the MVP trophy with each jet-propelled drive to the basket. Twice, Rose completely lost Rondo with hard crossovers. In the second quarter, he drew a loud "oooaaah" from the crowd when Rose duped Rondo by stepping back and left, eyeing the rim as though to shoot, then crossing back to his right and exploding through a thicket of green jerseys for the layup.
It was just one of a series of superlative plays that contributed to Rose's sterling stat line: 30 points on only 16 shots to go with eight dimes and a plus-24 plus/minus rating -- all game-highs for Chicago. Meanwhile, Rondo, who is second in the NBA in assists per game, could manage only six helpers and 3-for-10 shooting, and contributed to the Celtics' worst plus/minus rating. Those misses include a bricked, uncontested breakaway layup that revealed just how out of sorts Rondo and Boston were offensively.
The Celtics may never find a suitable answer for Rose, but looking ahead to a potential Eastern Conference championship series, it should be more disconcerting that the Bulls' defense so thoroughly dominated the game, forcing Boston into an anemic 38 percent shooting from the floor. And like the Celtics of the past few seasons, Chicago did it with rigorous attention to detail and an ethos of toughness that seemed to knock Boston on its heels, even as the game stayed close through the first two and a half periods.
If the two teams end up meeting a month from now, it will be up to Rondo to find the elusive seams and creases in Chicago's defense. Part of that task will involve forcing the Bulls to account for him as a scoring threat, something Rondo was incredibly reluctant to do Thursday night. If he can't recover his confidence in time for the playoffs, the Celtics will surely falter. Without the open shots for shooters like Ray Allen and Kevin Garnett that Rondo's penetration can create, the Celtics were often doomed to force offense against a dwindling shot clock.
It's telling that Paul Pierce, the Celtics' best isolation player, was their most effective scorer.
More than anything, Boston looked like an old, worn-down team being overwhelmed by a faster, more active and more confident Chicago club. And strangely, it was the young Bulls who looked like they had their identity and gameplan figured out, while the sage Celtics seemed unsure, still fitting the new pieces together.
To this dilemma, is the return of injured Celtics center Shaquille O'Neal really the answer?
Perhaps. After all, Jermaine O'Neal was surprisingly effective at both ends at the start of the game, and Shaq's absence left Glen Davis and Jeff Green to contend with the much longer players in Chicago's front line. Starter Carlos Boozer is easily Chicago's worst frontline defender, and playing Shaq would force Joakim Noah off Garnett, who seemed to struggle with Noah's size and physicality after a hot start.
But more important than matchups or shooting percentages was the emotional message delivered by the Bulls. They will not be bullied or intimidated; quite the opposite. Of course we've seen Boston teams look disheveled and vulnerable heading into the playoffs before. Yet again, they will enter the playoffs with plenty of concerns that their increasingly aged bodies may not be able to answer.
Meanwhile, Rose and the Bulls seem to be peaking. This game made clear that, in the East, the road to the finals runs through Chicago.
Beckley Mason's work appears on hoopspeak.com, part of ESPN's TrueHoop Network
Dimes past: March 19-20 | 21 | 22 | 23 | 24 | 25-27 | 28 | 29 | 30 | 31| April 1 | 2 | 6 | 7
2. This Puts Stamp On Rose MVP Case
By Jon Greenberg
ESPN Chicago.com
CHICAGO -- The acclaim has rolled in from coast to coast, as writers, broadcasters, players, coaches, mascots, dancing geezers -- everyone associated with the National Basketball Association -- has concurred almost in unison: Derrick Rose is the most valuable player.
The sweet-smiling, hard-driving kid from the South Side is the true people's champion, and while it took a little time for the outsiders to catch on, there's little time or reason for an argument.
"If this game doesn't put the stamp on the MVP vote, I don't know what else you can say," Chicago Bulls center Joakim Noah said.
Rose played at another level Thursday night in a nationally televised 97-81 win over the Boston Celtics that made the Bulls' coronation as No. 1 seed in the East a mere formality.
Rose finished with 30 points, eight assists and five rebounds, hitting nine of 16 shots and all 10 free throws. He was artistic and disciplined and at times just plain brilliant.
"They're not chanting MVP for nothing," Kevin Garnett said. "His play is doing all the talking."
Rose, of course, demurred any talk of personal awards. He threw a new wrinkle in his humility campaign, passing his vote to teammate Luol Deng.
"He's the most consistent player this year on our team," Rose said. "Playing defense, playing when he's hurt, just playing tough. This year, man, he got my MVP vote."
Deng gets a lot of credit in his locker room. He certainly shed his Charmin label by playing every game thus far and proving he can be the perfect running buddy to Rose. Deng finished with 23 points and six rebounds, playing hard despite foul trouble. That's great, but that's what was expected of Deng when he signed his large second contract. Deng is a poor man's Scottie Pippen. Derrick Rose is just Derrick Rose.
"The guy's special, and he does it with the right mindset," said Noah, who has become an expert at lavishing Rose with praise. "You say the same thing every day, the same praise. He comes in with the same mentality every day, he's a hard working dude, tough as hell, and it's great to have someone like that on your team."
Rose had little problem attacking the Celtics' defense, with Garnett consistently a step late in closing the lane, and perhaps Danny Ainge now sees why it was a bad idea to shed Kendrick Perkins. The Bulls don't fear Boston anymore.
3. Daily Dime Live Recap
Zach Harper, TrueHoop Network bloggers and fans gave their in-game opinions on all topics throughout Thursday's slate of NBA roundball talk in Daily Dime Live.

Rose
THURSDAY'S BEST
Derrick Rose, Bulls: The MVP-in-waiting goes for 30 points, eight rebounds and five assists in a 97-81 win over the Celtics. The Bulls' 17th win in 19 games put them four up on Boston and Miami with four to play in the regular season.
---
THURSDAY'S WORST

Wounded Celtic pride: The Big Three barely outscored D-Rose (32-30). The 3-point attack (2-for-10) was feeble and ineffectual. Unless the C's are playing possum, this night does not bode well for the men in green looking ahead to a possible playoff matchup with the Bulls.
---
TWEET OF THE NIGHT
Top 5 ACTIVE game dunkers: 1. Blake Griffin 2. LeBron James 3. Shannon Brown 4. JaVale McGee 5. Russell WestbrookMidnight ET via TweetDeck
Favorite
Retweet
Reply
chris palmer
thechrispalmer
---
QUOTE OF THE NIGHT
"This better be a wakeup call. If not, we won't make it far."
-- Rajon Rondo, after his team was routed by the Bulls.
---
By Jeff Caplan
ESPN Dallas

Marion
DALLAS -- Dallas Mavericks coach Rick Carlisle has said he's prepared to keep Shawn Marion as his starting small forward.
It has been brought to his attention that as well as Marion has played this season, the Mavs are just 10-13 when he starts. For much of the season, Marion and Jason Terry served as co-sixth men, often subbing into the game at the same time, and it was a formula that served the Mavs very well.
The pair was permanently split up, however when Peja Stojakovic was sidelined for six games with a stiff neck in mid-March.
Carlisle scoffed at reading into the team's record with Marion as a starter and said there should be an asterisk by that 10-13 mark.
"Let me clear that up: We're 8-4 when he starts at the 3 [small forward] with Dirk [Nowitzki] and Tyson [Chandler]," Carlisle said. "He started a lot during that period when Dirk was out. He started some periods where we were struggling and Dirk was on his way back. So, it's important to understand that there have been some mitigating circumstances and the overall record with him as a starter is deceiving because he was playing different positions at times and with a vastly different surrounding cast."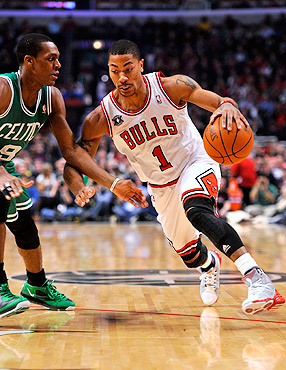 Rob Grabowski-US PRESSWIRE
Bulls point guard Derrick Rose could not be contained by Rajon Rondo and the Celtics.

Chicago Bulls guard Derrick Rose handed out eight assists against the Boston Celtics on Thursday to increase his season total to 606, a career high. Rose is the sixth player in Bulls history to hand out at least 600 assists in a season, but none of those players had more than one such season for Chicago. The highest single-season assist totals in franchise history belong to Guy Rodgers (908 in 1966-67), Ennis Whatley (662 in 1983-84), Michael Jordan (650 in 1988-89), Norm Van Lier (636 in 1976-77) and Clem Haskins (624 in 1969-70).
•
More from Elias